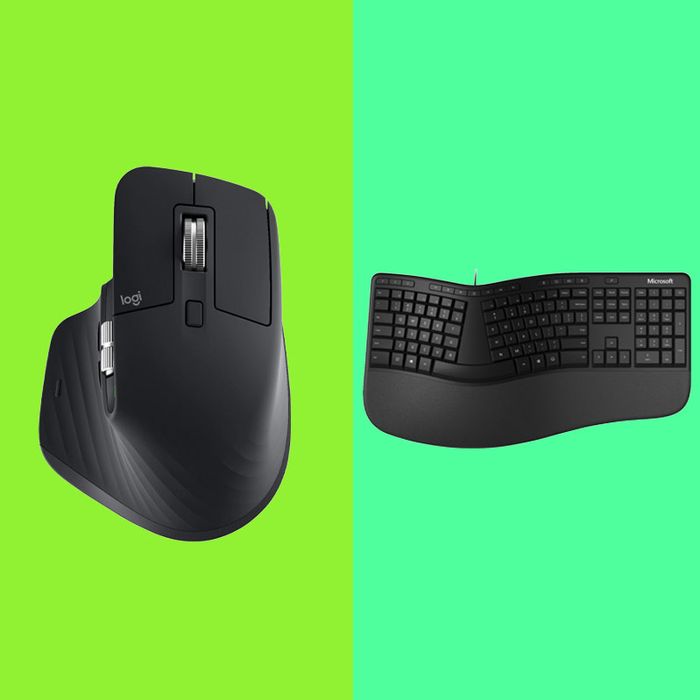 Photo-Illustration: Kinesis
If you spend most of the workday staring at a screen, chances are you've developed tech neck or, even worse, a bad back. And the constant clacking on a keyboard or clicking on a mouse doesn't help matters much, either. In fact, Dr. Scott Weiss, a physical therapist and board-certified athletic trainer, says, "The wrong mouse-and-keyboard setup can wreak physical havoc on your hand, wrist, and forearm." There are plenty of potentially severe side effects to the wrong wrist position. Take, for example, carpal tunnel syndrome, which can cause tingling in the side of your hand, explains Dr. Gbolahan Okubadejo, a spinal and orthopedic surgeon. Or a weak grip, which "is tied to shoulder stability, or lack thereof, in turn leading to tightness in the upper traps and neck," according to chiropractor Dr. Emily Kiberd of the Urban Wellness Clinic. "Too much wrist flexion" — a fancy way of saying bending — "can undoubtedly cause pain and nerve compression," Weiss says, adding that a movement as simple as reaching your pinky too far out over your keyboard or mouse can, over time, damage cartilage in your wrist.
The good news is that these long-term office injuries from typing can be prevented, especially with the right ergonomic desk setup. Still, you should probably understand the proper position for your wrists in the first place. Many of us using laptops tend to hover our hands over the keyboard, wrists extended, says physiotherapist Lyndsay Hirst, but the best way is to rest them instead. Hirst adds that this isn't always possible with the way most mouses on laptops are set up, however. That's why a wireless keyboard or Bluetooth mouse (or both) might be a necessary work-from-home accessory. "Your keyboard should be positioned in a way that keeps the wrist pointed straight and does not make the wrists face duck-footed outward or pigeon-toed inward," Okubadejo recommends. Joseph Santillo, director of industrial medicine at ReLive Physical Therapy, thinks finding a mouse that you can use with either hand can help take off some of the strain. With a new keyboard or mouse, consider the advice of Carrie Schmitz, a wellness-and-ergonomic research manager at Ergotron: "What you need to do is position the equipment in relation to your body in such a way that you're not in some sort of an awkward posture." 
While there are a lot of products on the market that are branded as ergonomic — promising to maintain your posture while you type away — not all of them are that effective. So we spoke to all sorts of experts — ranging from physical therapists to trainers and ergonomists to help you find supportive office gear to prevent wrist pain (and avoid carpal tunnel) including ergonomic keyboards, vertical mouses, and more.
Best ergonomic keyboards
It's a little strange-looking, but Weiss says a split keyboard helps maintain your natural alignment. Because you want to keep your shoulder in line with your wrists, this keyboard lets you adjust your hand position according to the width of your shoulders. "The last thing you want is to have your shoulders curled inward for extended periods of time, as that can cause many issues and lead to chronic pain," he says.
[Editor's note: While this keyboard has limited availability on Amazon right now, you can find it for slightly more at Office Depot.]
Here's another slightly strange-looking one: Okubadejo praises this keyboard for its ability to change configurations both vertically and horizontally, which can help reduce discomfort during the day. "The V-shape of the keyboard always places less stress on the wrists," Okubadejo says. He recommends you find a keyboard that has an adjustable angle, suggesting that the best ergonomic ones will have a split keyboard design, which "allows for a more natural position for the arms."
Okubadejo, Kiberd, and Hirst recommend this Logitech keyboard, which our tech writer Jordan Bowman previously called "a great budget pick for a high-end keyboard." So what makes it special? Okubadejo points out that its curved keyframe can help improve your typing posture since your forearms, fingers, and wrists would be in a much more natural position. "There is also a wrist rest that provides wrist support and it contains asymmetrical keys that make it easier to find your way around the keyboard," he says.
If you're using an external keyboard and mouse, you may run into the issue of having to move your mouse farther out to the right (assuming you're using your right hand on the mouse) to accommodate the keyboard's number pad, which forces you to extend your right elbow. "What happens with mouse use, for many of us, is that over minutes and hours and days and weeks and years, we can have quite a lot of injury happening to the right arm because we've thrown our right arm farther over to the side," says Schmitz. "The farther away from the waist your arm is, the more risk that you're going to be exposed to." While not all keyboards have number pads these days, if you regularly use one for work, Schmitz recommends looking for a keyboard with a separate number pad, like this one.
Santillo's advice? The right keyboard will keep your wrists straight and in a neutral position — and allow you to raise or lower it in order to keep that stance. This keyboard fits the bill, plus it features a cushioned palm rest.