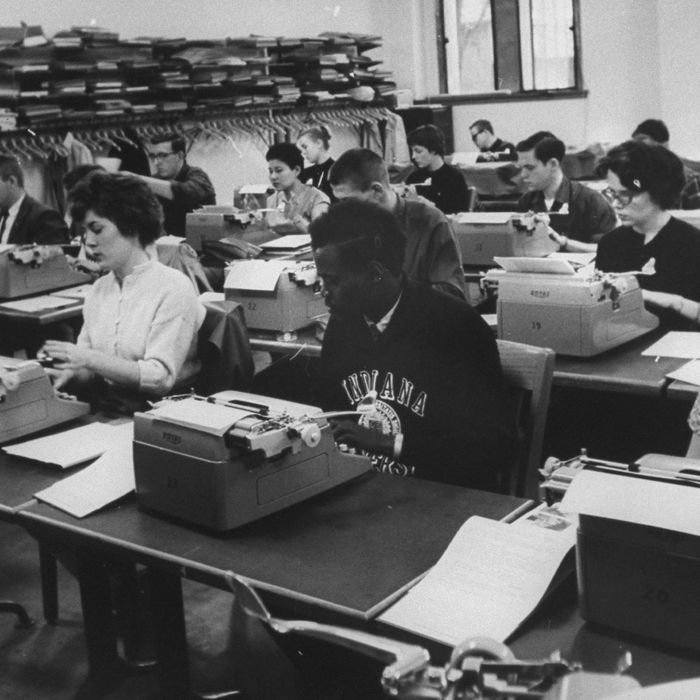 Photo: Ted Russell/The LIFE Images Collection/Getty
"No doubt about it, the wrong mouse-and-keyboard setup can wreak physical havoc on your hand, wrist, and forearm," explains Dr. Scott Weiss, a physical therapist and board-certified athletic trainer. Those small, repetitive motions that are causing minor discomfort in your wrists now can lead to more serious problems down the road, like carpal tunnel or worse. "Too much wrist flexion" — a fancy way of saying bending — "can undoubtedly cause pain and nerve compression," he says, adding that a movement as simple as reaching your pinky too far out over your keyboard or mouse can, over time, damage cartilage in your wrist and cause long-term, chronic issues.
The good news is that these long-term office injuries from typing and clicking can be prevented with the right gear and ergonomic desk setup. "What you need to do is position the equipment in relation to your body in such a way that you're not in some sort of an awkward posture," explains Carrie Schmitz, a certified health coach who's currently a wellness-and-ergonomic research manager at Ergotron. You want to maintain a neutral posture, meaning your joints are naturally aligned. "The neutral posture is going to be one where you have the most amount of balance and power," says Schmitz, "which means there's going to be less stress and strain on your muscular skeletal system."
And though there are a lot of products on the market that claim to be ergonomic and help you maintain a safe, neutral posture while you type, not all of them are that effective. That's why I talked with physical therapists, trainers, and ergonomists to help you find the best office gear to prevent wrist pain and carpal tunnel, from ergonomic keyboards to vertical mouses and more.
"I bought this pad for my husband who was complaining of carpal tunnel syndrome, and it was on Amazon with an attached mouse pad for $15. Works great. Don't forget, also, to adjust the elbow and arm supports and look at where the forearm is resting. Sometimes the forearm is resting on the edge of the table, and this pressure impinges a nerve in the arm. The sensation may feel like wrist pain, but is actually originating higher up. Play around with the angle or height of the keyboard as well and see if symptoms fare better, according to the wrist angle. You want to keep the wrist at the most neutral angle (meaning little to no bending forward or bending up)." —Alice Holland, physical therapist, Stride Strong Physical Therapy
"Your elbows need to be about the same height as your keyboard, and your arms should be hanging comfortably from the side of your body. Your shoulders should be relaxed, your wrists should not bend up or down or on either side during keyboard use … So thinking about getting that keyboard in the right position means having, possibly, a keyboard tray or an adjustable-height desk that puts it at the same height at your elbows. And then when you stand up, if you have a standing desk, you'll lift the desk up and get the keyboard tray — or the portion of the desk that carries they keyboard — at about your elbow level." —Carrie Schmitz, certified health coach; wellness-and-ergonomic research manager, Ergotron
"I would use a split keyboard if you are truly at the computer all day. You can control where you want both sides, according to the size of your own hands, and more importantly, adjust them to fit the width of your shoulders. The last thing you want is to have your shoulders curled inward for extended periods of time, as that can cause many issues and lead to chronic pain. Besides getting a new gadget, one must be conscious and change it up. Stand up. Stretch out and get away from the desk. It will only help balance out the sitting position, which is paramount." —Dr. Scott Weiss, physical therapist and board-certified athletic trainer
(This split-keyboard setup is also great for those with wide shoulders, "so they can be adjusted to a wider width apart from hand-to-hand," notes Holland.)
"When you're working on the keyboard or mouse, you want your elbows tucked in [so that you're not reaching too far or taking yourself out of a neutral posture]. There's a built-in design problem with most keyboards in the sense that the number pad makes it necessary to put the mouse actually even farther to the right, and what we'll notice is, when you reach for the mouse, suddenly your right elbow is no longer touching the sides of your body and tucked in nicely like your left is. (That's assuming you're mousing with your right hand.) So what happens with mouse use, for many of us, is that over minutes and hours and days and weeks and years, we can have quite a lot of injury happening to the right arm because we've thrown our right arm farther over to the side, farther away from the waist it is, the more risk that you're going to be exposed to. So one way to avoid that is to purchase a keyboard where the number pad is separate, and that's the kind that I use." —Schmitz
If you use the number pad frequently and don't want to get rid of it entirely, Holland recommends getting a side number pad, to accompany your ergonomic, number pad–less keyboard.
"Mice that allow for the natural internal rotation of the hand is best, but support surface needs to be looked at as well to avoid nerve impingement as parts of the arm rest on the table," says Holland. "For those with limited desk spaces and need to use the mouse frequently: Kensington Orbit Trackball With Scroll Wheel. For those with mousing problems, [I like] Ergo Works Evoluent Vertical Right & Left Hand Mice. This allows the hand to be rotated to a comfortable angle." —Holland
"The product that I give to all my clients to use throughout the day — every hour, for one to two minutes at a time, to correct their poor posture and tech neck from hunching over devices — is the BodyworksBall … I have them roll the BodyworksBall on their wrists and forearms, and also on their pec minor and shoulders, as it's all connected to the root cause. Ergonomic keyboards and wrist rests don't encourage people to take the needed hourly two-minute breaks that they need, these products encourage people to continue working without taking breaks. I'm used to working with pro-boxers who have wrist and shoulder injuries from impact; however, in my 30 years of training athletes and 'office athletes,' I have never seen this amount of tech neck, carpal tunnel and thumb issues, [though] there are hundreds of ergo keyboards and mouses on the market, and it's not making the needed impact (in my opinion) … These hourly two-minute breaks make a huge difference. This product has a bungee cord and foam grip handle, which allows the user to hold the product in place, to self-direct where they need the relief." —David "Scooter" Honig, personal trainer and fitness consultant
The Strategist is designed to surface the most useful, expert recommendations for things to buy across the vast e-commerce landscape. Some of our latest conquests include the best women's jeans, rolling luggage, pillows for side sleepers, ultra-flattering pants, and bath towels. We update links when possible, but note that deals can expire and all prices are subject to change.
Every editorial product is independently selected. If you buy something through our links, New York may earn an affiliate commission.