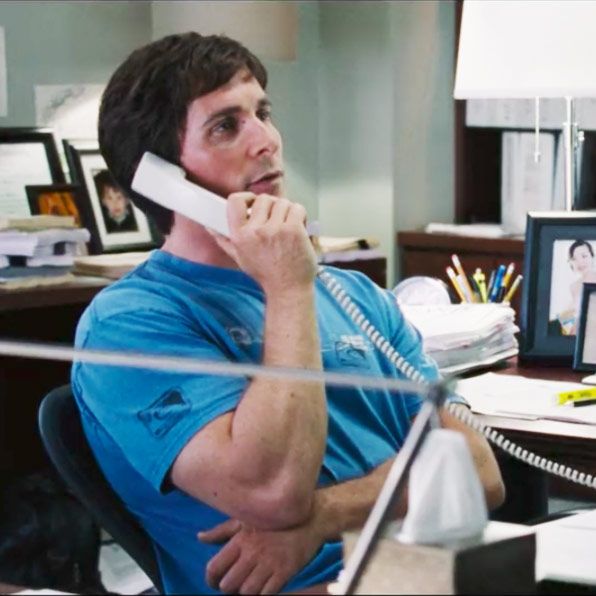 Photo: Paramount Pictures
For many of us who shifted to working from home at the start of the pandemic, we considered it temporary, and our workstations reflect that. We claimed corners of coffee tables as our desks, grabbed whatever folding chair we could find. Or we just plopped down on the couch and comfortably got to work. But after a few months—and with WFH refusing to let itself ever become just a memory — it's time to get serious (and so much less ergonomically devastating) with your home-office setup.
But like anything, we all have different needs. If you're hunched over your desk like a Disney villain over a cauldron, we found the best office chairs with lumbar support. If your wrists have been folded back on each other to type, we found the perfect ergonomic keyboard. There's an ultrawide monitor if you are the kind of person who needs to constantly have your email, Slack, and Spotify open at the same time.
We've listed these products in order of necessity. At the start of the list are things that will improve any office setup, even one that you hope to no longer be working from come 2021. As the list continues, the items are a bit more niche. Intense home workers who really want their space to be perfect, these things (like a dedicated wireless charger, a footrest, or an office chair with a built-in back massager) are for you.
For people with sore wrists
This is a great budget pick for a high-end keyboard. It doesn't have all of the features of a more expensive option, like a rechargeable battery or backlight, but our colleagues at the Verge say the K860 "still looks and feels like a high-end professional product." The cozy wrist pad and ergonomic contouring will be a real upgrade from your cramped laptop keyboard.
For people who do a lot of scrolling
Tyler Stalman, a photographer, tech YouTuber, and podcaster, recommended the MX series in our story on the best wireless mouses. "It has all the features you want and nothing extra," he says. The other four experts we consulted felt similarly. They love the customizable thumb Scroll Wheel, which allows you to quickly and precisely scroll up and down on the screen, and the fact that the mouse can connect to up to three devices simultaneously, in case you need to switch from your laptop to your tablet.
For people who are tired of squinting
Strategist contributor James Lynch says this monitor changed how he worked from home (and watched TV). "Having room for two documents side by side on my screen, rather than having to flip back and forth between them, made me work so much faster," he says. He also loves the stand, which "lets you raise, lower, and tilt the screen in four different planes, so I can set the screen at the perfect height to keep my neck straight when I work and raise it up above old coffee cups that line my desk when I watch TV from bed."
For people who are really tired of squinting
If you need to feel like you're in the Matrix, or maybe you just need extra room on your monitor, to swap between windows, Sarah Drasner, Strategist contributor and Microsoft senior developer, recommends an ultrawide monitor. "This screen is just the right dimensions for someone like me who needs to have multiple windows open for things like my code, the output, my terminal, and chat, without having to break up the space."
For people with too many roommates (even if too many is just one)
Noise-canceling headphones like the Sony WH-1000XM3 are a work-from-home staple if you need to block out roommates or kids running rampant during work calls or Zooms. Strategist contributor David Pogue describes these headphones as "supremely comfortable and lightweight, with pillowy ear-cup padding and just the right amount of head grip. And it does an astonishingly good job at noise reduction."
For people who always drop off of Zoom calls at their desk
If your desk happens to be in your home's Wi-Fi dead zone, Strategist UK contributor Hanna Hanra likes this option for its low price and easy setup ("The simple 'push and connect' was a dream to use," she says). She recommends it for anyone who is not "naturally technical."
For people who always drop off of Zoom calls no matter where they are in the house
If you spend more time trying to find stable Wi-Fi than doing your actual job, a mesh system should solve your problem, filling your entire home (not just patching a part of it, the way an extender does) with a strong signal. "Google's second-generation system comes with two nodes and can cover as much as 5,400 square feet," says Strategist contributor Tobey Grumet Segal. Google's system has an added benefit: Each access point serves as a Google Nest home device with a built-in speaker and Google Assistant.
For people who can't make it another day on the couch
Three editors at the Verge swear by Jarvis standing desks, which come in a variety of sizes and adjust from 24.5 inches to 50 inches high, making it perfect for sitting or standing. Deputy editor Dan Seifert has one of the larger sizes, which "has served me well for about four years now," he says. "It's a comfortable, stable, spacious desk that has more versatility than typical desk options."
For people who need an easy seat upgrade
Mia Leimkuhler, the Strategist's manager of audience engagement, found the perfect solution to the aches and pains of sitting on an uncomfortable chair: the Purple Royal Seat Cushion. "It was like I was held up — nay, massaged — by a thousand interlaced fingers: firm with just a bit of squish," she says. "Made of a 'hyperelastic polymer in a grid pattern' that's similar to the gel cushioning inside an ergonomic backpack strap, Purple's seat cushion cups the butt and tailbone, even as you shift about and change positions … I rely on it to transform an ordinary dining chair (and barstool, and couch, or even sometimes the floor) into a very pleasant place to work."
For people who need an easy ergonomic seat upgrade
"I started tooling around on the internet and discovered the Easy Posture Lumbar Back Support Mesh," says Strategist contributor Maureen O'Connor. "The device borrows its strategy from the wildly popular (but unpleasantly stern-looking) Herman Miller Aeron Chair, the office status symbol that says, 'Someone cares enough to spend a grand on my spine.'" The posture mesh is a gentle reminder to keep your back straight throughout your workday.
For people who need an ergonomic seat upgrade (and have a higher budget)
Instead of rolling up a towel and putting it behind your back, if you can afford it, invest in a good chair. "Makeshift setups can cause a laundry list of problems, including back, shoulder, and wrist pain," says Dr. David Perna of Back and Body Medical. A great ergonomic chair is going to help maintain your posture and help you keep your elbows at wrists at a 90-degree angle. Chiropractor Randi Jaffe loves Herman Miller's Aeron Chair because it has adjustable lumbar support, as well as an adjustable seat and armrests and three different size options.