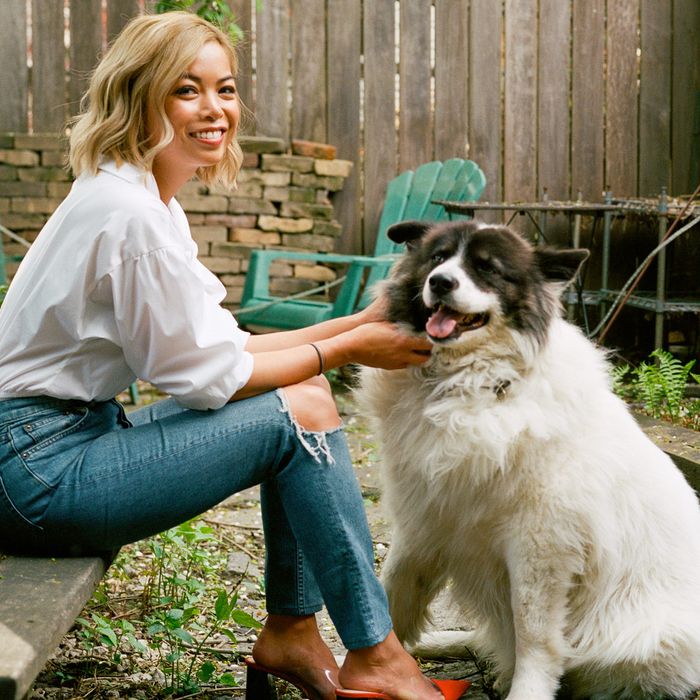 Tolentino, with the dog whose face adorns her favorite mouse pad.
Photo: Elena Mudd Photo
Every month, the Strategist editors do their version of a haul blog, jibber-jabbering about their favorite purchases of the last four weeks. To get that same personality and taste insight (via receipts), we're inviting interesting friends of the Strat to run down their own buys. For this installment of the Guest Strat Haul, Jia Tolentino, a staff writer at The New Yorker and author of the forthcoming book Trick Mirror: Reflections on Self-Delusion, tells us what she bought in June.
I recently went on a couple hiking trips: One in Utah, to Arches and Capitol Reef (the latter of which was so beautiful I couldn't stop crying), and another in Yosemite after a friend's wedding. On the first trip my daypack's zipper kept malfunctioning, which caused me to almost drop the keys to my rental Jeep down a 50-foot crevice while I was on a little bit of shrooms. Stressful! Before the second trip, I went looking for a new daypack with zero zippers on it, and I was glad to find this one — which is also cute!
I have always only owned one purse at a time (they're a little bit over my head, personally). As a result, I like a purse that works in basically any situation. For me that means a cross-body purse in a soft, sturdy leather that holds up to 7,000 pieces of purse garbage while also being small enough that you can go out dancing with it and not feel encumbered. I've had this Deadly Ponies guy since 2013, but recently bought an identical replacement after I looked inside (at the aforementioned wedding in Yosemite) and saw that the internal lining was shredded to pieces, suggesting I had finally run it into the ground.
Along with Stabilo highlighters and Le Pens, these notebooks are very important to my "process." I write and highlight in books a lot when I'm researching, and I use notebooks when I can't look at a screen anymore, or when I'm reporting. All of this jotting is much more pleasurable when the stuff you're using is physically satisfying to the touch. Rollbahn notebooks come in great colors and size options. The pages are gridded (very important) and they rip out easily; the thick cardboard cover and the elastic strap means that the notebooks don't feel precious, but not disposable or forgettable either. I go through two XL and two A5-sized ones every year.
I was really mad about buying this again, because it's absurdly expensive and I didn't want to admit to myself that I liked it enough to repurchase it after having recently lost and broken not just one — but two — of these delightful little pots. The first casualty occurred on that shroom-chocolate day in Utah (in saving my keys, I lost the lip balm down the crevice). Two weeks later, I shattered the brand-new replacement at a music festival. It was a repeat reminder from the universe that I am too much of a trash raccoon to own a $35 lip balm, and yet, here we are, on pot number three.
Photo: Reid, Hilary
Am I allowed to talk about weed beans? All I can say about these beans is that they're very, very special. The emoji representation that my friends and I use for these beans is juggler emoji + rocketship. One of the most absorbing New York City experiences I've had recently is getting beaned to go see the Dan Deacon ballet.
[Editor's note: these only ship to California.]
Due to a fit of late-capitalist anxiety about how my life is organized around production rather than caretaking, I recently went from a person with zero plants to a person with 20 plants. This aglaonema was a replacement for a plant that died after my dog Luna shattered its pot while trying to bark her way out of my bedroom window. She's a superstar of an animal, but a very bad dog.
A theme is emerging in this list of purchases: I lose, damage, and misplace everything that I love. This speaker was yet another replacement, as I left my beloved primary speaker in my friend's VW bus after that wedding in California. And if I go even two days without this speaker, particularly while traveling, I start feeling that I am wasting one of the small opportunities that is available to us all the time (if we're lucky): to make music sound as good as you can. This speaker is perfect — it sounds great, it syncs instantly, and when you hit max volume it makes this "BOOP" noise that interrupts whatever song you're playing with perfect comic timing. It's also waterproof, so you can fully put it in your shower if you want to, which I do.