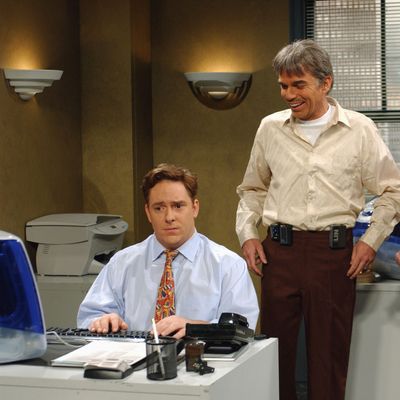 Photo: Courtesy Columbia Pictures
While we've written about lots of tech things — including the best TV and the best outdoor TV antennas — here we've rounded up the best cable modems, as praised by the most enthusiastic reviewers on Amazon.
Related Articles: Wi-Fi Mesh Systems | Wi-Fi Routers
Best-rated cable modem
One reviewer, who had seven devices —including iPhones, Xbox gaming consoles, and PCs — all dragging down their internet speed, noticed a massive speed boost after purchasing the CM1000. "I'm very happy and impressed on how drastically this improved my speed," they write. "Plugged in everything, set up everything, then I tested my speed. And Jesus. I was getting 235 Mbps download and 12 Upload 10 ping." Other reviewers mention the simple setup process: "The new modem was up and running in less than ten minutes. Holy smokes! What a difference this made," one says. According to another, it "changed my internet from bullet speed to light speed. I'm paying for 250 mbps but this thing keeps clocking in close to 600 mbps. So … yeah … pretty damn satisfied!!"
Best rated (less-expensive) cable modem
One satisfied reviewer who bought this modem instead of renting one from his service provider says, "let me tell you this is a great product. I waited a few months to write this review and ensure that my Wi-Fi has functioned properly before writing this and so far it has been great and almost paid for itself." Another reviewer praises the Arris for its stability in a crowded building: "The apartment complex where I live requires you to have your own modem/router. I haven't had a single glitch or problem with it and I've been using it for almost two months now. It was super easy to install, just attach it to your internet, and plug it in." The easy setup was seconded by another reviewer, who considers themselves "no tech wizard." After years of owning a router, modem, and microcell booster, "I researched and discovered all three could be replaced with one system," they say. "it was like 'where the hell have I been?'"
Best cable modem for easy setup
"This will be all the modem you ever need unless you plan to go over 450 megs in the future," writes one IT professional. More than 1,000 reviewers give this cable modem a five-star rating, with hundreds saying this works well for everyday streaming and connecting multiple electronics. "I have the following items that may be online at any time and all at once: Xbox One, PS3, two laptops, one desktop, one cell phone, and one tablet," one reviewer writes, explaining, "I can play Netflix on all devices…and there is no buffering at all." Reviewers also praise this modem for saving them money. "If you're paying for renting a cable modem, get this," one urges, saying, "You will start saving money in 3 months. It's a no brainer. Easy set up — just plug in and call." Many remind future customers that this is not a router, and they will need to buy that separately, but according to at least one reviewer "You can pick whatever wireless router meets your needs and connect it directly to this modem."
Best cable modem for faster download speeds
One user who "upgraded our service to a 400mbps because we have a gamer in the house plus about 14 connected devices on our WiFi" found that "every speed test I have performed since activating has delivered 375-395mbps," which is very fast. They add that "the difference is remarkable" compared to their old modem. Another reports that this modem is "completely reliable with no downtime." Dozens more note that this runs cool and is easy to setup, which came as a relief to one self-proclaimed "not tech-savvy" reviewer. "Sometimes you just got to take a chance on life, so I took the plunge and bought it because the Motorola website said it would provide technical support if I ran into any problems…My fears were for naught because the set up was super easy." Reviewers report using this modem with a variety of service providers including Spectrum, Xfinity, Suddenlink, and Cox. Many users don't even mention the lack of telephone call capacity or WiFi with this modem, because there other devices pair well with this one. One says they have "a daisy chain of equipment flowing from the Motorola" including "an Ooma Internet phone device, then a Tenda mesh network, then a four port N router" and "All seem to play together well."
Best combination cable modem and router
If you're looking for a "zero-frustration" cable modem, one reviewer claims this is it. "We saw great reviews for this product when we purchased it and we can now confirm that this is super fast, easy to install, reliable, reasonably priced, and maintenance free," they write. With this dual cable modem and WiFi router device, reviewers say they get a strong connection throughout their home. One writes, "Strong signal throughout my 2 floor home, with range to the street, in my garages and throughout the backyard," while another says "the WiFi reaches the whole house at 1700 square feet." Another reviewer who thinks it was "definitely worth the upgrade" praises this device not only for its WiFi but Ethernet speeds as well. "Speeds on Ethernet connections improved 15% and now my WiFi connected devices are running double to triple the speeds compared to my old modem." Another writes, "I have a 100 mbps plan and WiFi is consistently delivering 60 mbps to 70 mbps," adding, "Ethernet is giving about 80 mbps to 100 mbps."
Best cable modem for streaming video on multiple devices
"The days of experiencing problems streaming media via Firestick, phone, computer is over," raves one reviewer who has "3 smart TVs, 2 Firesticks, 3 laptops, 3 cell phones and numerous video games using WiFi at any given time" and has "never seen the modem/router even flinch." Another user says that after they "finally got rid off Spectrum's shitty modem they give [you] and a old router" their internet was much faster. "Plugged in everything set up everything then I tested my speed. And Jesus. I was getting 235 Mbps download." In layman's terms, that means "the two gamers can play online at the same time without raging on the lag and screaming get offline across the house." Dozens of other users note how consistent this device is with constantly fast speeds with one even saying, "My tested download speeds were even faster than my service provider stated they would be."
Best cable modem for gamers
"I was randomly losing connection for a few seconds at a time. I'd be watching TV, and it would start buffering out of nowhere. I'd be playing online games and get dropped from the server, constantly. I couldn't use discord [a messaging and voice-chat platform popularized by gamers]. All in all, it was miserable," writes one reviewer. "But then on a whim I decided to try a new modem. I have not had a single issue since I got this. I receive consistent speeds and no more dropped connections." Another satisfied customer says, "You will not regret this purchase! Easily pays for itself in 18 months and is much better than any modem you can rent; a MUST HAVE for any serious internet-gaming enthusiast." Many reviewers highlight how the new device helped stop lagging while playing intense online games like Overwatch. And while one person didn't notice an improvement in internet speeds, which were already good in their case, the new modem greatly improved signal consistency.
Best long-range cable modem and router
"If you want it all, get this bad boy," writes one reviewer, as this device comes with voice modem and router that many reviewers helps boost the range of their Xfinity WiFi connection. That's why this reviewer thinks this modem is great for large homes, noting that it has"excellent range even though the antennas are built in internally." Another says they have "good long range" in their 3,000 square foot home. This gets top marks from streamers, internet browsers and also gamers. "This works great in our home and handles all our gaming, video, and network needs," one reviewer notes. They add, "We have 3 serious towers that get used for both gaming and regular computing along with all the regular phones, pads, etc. This keeps the bandwidth open for everyone. It was easy to install and has been flawless for more than 6 months now. The increase in range is great. We are very happy with it."
Best Docsis 3.1 cable modem
Docsis, which stands for "Data Over Cable Service Interface Specification," is a technology that allows your modem to provide faster broadband-internet access. Buying a Docsis 3.1 modem essentially ensures that you'll always be able to get the maximum speed your ISP offers. According to one very satisfied reviewer, "The Arris SB8200 is also the only Docsis 3.1 modem with two Ethernet ports capable of doing 2Gbps down and is the most future proof of any modem on the market." Plus, they explain, "this modem has 3GB of RAM, which the other Docsis 3.1 modems have 256MB [of] or less! This would be great if you wanted to connect a gaming console directly to the modem for the best speeds and then connect your home router to the second." Other reviewers also like the simple setup process: "Total time from un-boxing to blazing fast, consistent Internet speed was less than 10 minutes flat."
The Strategist is designed to surface the most useful, expert recommendations for things to buy across the vast e-commerce landscape. Some of our latest conquests include the best women's jeans, rolling luggage, pillows for side sleepers, ultra-flattering pants, and bath towels. We update links when possible, but note that deals can expire and all prices are subject to change.
Every editorial product is independently selected. If you buy something through our links, New York may earn an affiliate commission.