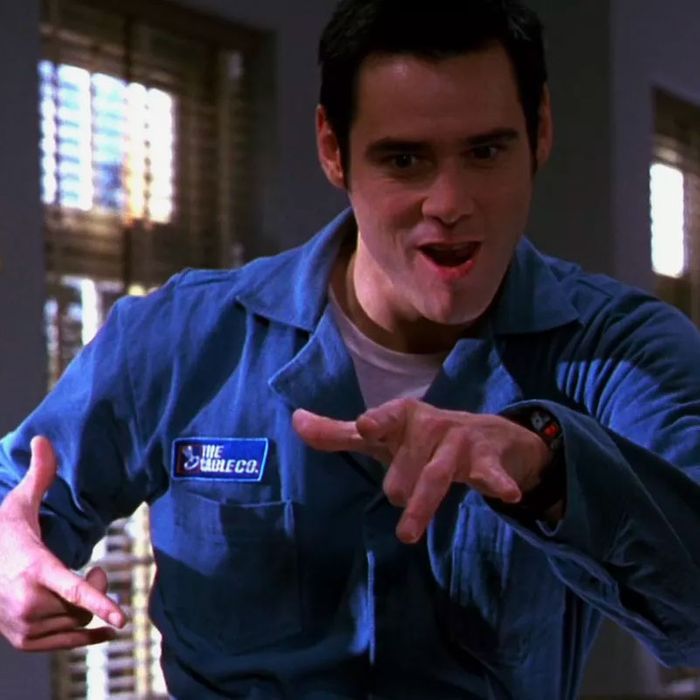 Photo: Courtesy Columbia Pictures
Here at the Strategist, we like to think of ourselves as crazy (in the good way) about the stuff we buy, but as much as we'd like to, we can't try everything. Which is why we have People's Choice, in which we find the best-reviewed products and single out the most convincing ones. (You can learn more about our rating system and how we pick each item here.)
And while we've written about lots of tech things — including the best TV and the best outdoor TV antennas — here we've rounded up the best cable modems, as praised by the most enthusiastic reviewers on Amazon.
Best-rated cable modem
"This is a good solution if for nothing else than to stick it to your cable company," one reviewer writes of this cable modem, echoing the sentiment of many reviewers who purchased this to avoid renting one from their internet provider. "I bought this to avoid having to pay my cable company 10 dollars a month to rent one," another user writes, adding, "It works excellent and I like the fact that it has two channels so if your cable signal is not coming in strong on one channel you can switch the channel and pick up on the other one." Reviewers also appreciate that this is a cable modem and a WiFi router all in one. "The WiFi has great range, we live in a 2 1/2 story house, and have excellent coverage throughout the house," one user writes, while another says "We run multiple computers, phones, pads, and a Roku TV at once, and have never run into a buffering issue." The ability to set up a guest WiFi network is another feature reviewers appreciate, and many also appreciate that this modem is easy to setup and that the device is compact. "Having just one device to deal with made the process quick and easy," one writes, adding, "Also to note, it was a much smaller unit than I expected, and doesn't take up too much space."
Best rated (less-expensive) cable modem
One reviewer, who "called Time of Death" on their old Netgear modem, was surprised to find out "this modem was a dream," praising the easy setup and increased speed. One reviewer who is "not an IT expert or computer specialist" didn't have the technical vocabulary to explain what this cable modem did, but simply says, "I've been using it for about 4 months now and it's performed perfectly." They add, "I have Comcast Xfinity Internet service with a 150mbps plan. This modem gives me consistent speeds all day long, and has never failed." Someone who does work actually in IT calls this the "meat and potatoes cable modem" because it "does what you need it to do." One user notes that this is a modem you can grow with as it "has the capability to handle even faster speeds should they be available in the future."
And now for some micro-picks for every type of cable modem you might be looking for. 
Best cable modem for all cable providers
"This will be all the modem you ever need unless you plan to go over 450 megs in the future," writes one IT professional. More than 1,000 reviewers give this cable modem a five-star rating, with hundreds saying this works well for everyday streaming and connecting multiple electronics. "I have the following items that may be online at any time and all at once: Xbox One, PS3, two laptops, one desktop, one cell phone, and one tablet," one reviewer writes, explaining, "I can play Netflix on all devices…and there is no buffering at all." Reviewers also praise this modem for saving them money. "If you're paying for renting a cable modem, get this," one urges, saying, "You will start saving money in 3 months. It's a no brainer. Easy set up — just plug in and call." Many remind future customers that this is not a router, and they will need to buy that separately, but according to at least one reviewer "You can pick whatever wireless router meets your needs and connect it directly to this modem."
Best cable modem with no phone service
One user who "upgraded our service to a 400mbps because we have a gamer in the house plus about 14 connected devices on our WiFi" found that "every speed test I have performed since activating has delivered 375-395mbps," which is very fast. They add that "the difference is remarkable" compared to their old modem. Another reports that this modem is "completely reliable with no downtime." Dozens more note that this runs cool and is easy to setup, which came as a relief to one self-proclaimed "not tech-savvy" reviewer. "Sometimes you just got to take a chance on life, so I took the plunge and bought it because the Motorola website said it would provide technical support if I ran into any problems…My fears were for naught because the set up was super easy." Reviewers have reported using this modem with a variety of service providers including Spectrum, Xfinity, Suddenlink, and Cox. Many users don't even mention the lack of telephone call capacity or WiFi with this modem, because there other devices pair well with this one. One says they have "a daisy chain of equipment flowing from the Motorola" including "an Ooma Internet phone device, then a Tenda mesh network, then a four port N router" and "All seem to play together well."
Best cable modem and router for WiFi and ethernet
If you're looking for a "zero-frustration" cable modem, one reviewer claims this is it. "We saw great reviews for this product when we purchased it and we can now confirm that this is super fast, easy to install, reliable, reasonably priced, and maintenance free," they write. With this dual cable modem and WiFi router device, reviewers say they get a strong connection throughout their home. One writes, "Strong signal throughout my 2 floor home, with range to the street, in my garages and throughout the backyard," while another says "the WiFi reaches the whole house at 1700 square feet." Another reviewer who thinks it was "definitely worth the upgrade" praises this device not only for its WiFi but Ethernet speeds as well. "Speeds on Ethernet connections improved 15% and now my WiFi connected devices are running double to triple the speeds compared to my old modem." Another writes, "I have a 100 mbps plan and WiFi is consistently delivering 60 mbps to 70 mbps," adding, "Ethernet is giving about 80 mbps to 100 mbps."