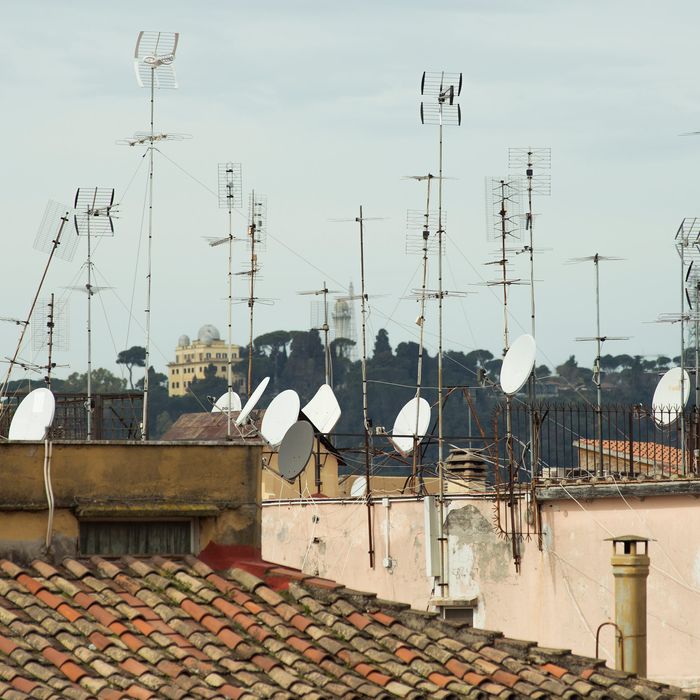 Photo: Vittoriano Rastelli/Corbis via Getty Images
We've written about lots of TV tech before — including the best streaming services and home-theater projectors — and here, we've rounded up the best outdoor TV antennas that you can find on Amazon, as praised by the site's most enthusiastic reviewers.
Related Articles: Cheap TVs |A Palm-Sized Projector| Best Sound Bars
Best-rated outdoor TV antenna
Outdoor TV antennas help cord-cutters get cable for free, and more than 70 percent of reviewers think this one is the best because it is compact while still being strong enough to get them tons of clear channels. "When I first received this RCA Yagi Antenna, I tested it by connecting it to my family-room TV in the first floor, and without aiming it anywhere I was able to pick up 130+ channels," one reviewer says. Another reviewer who was "skeptical that this would work since [it's] so small" says they get 186 channels. And while this is an outdoor antenna, it doesn't have to be mounted on the highest point of your roof. Reviewers still have success mounting this on the side of their house or in the attic. "I am 51 miles southwest of Toledo, Ohio, and 61 miles east of Fort Wayne, Indiana," one reviewer says. "With the antenna mounted 25 feet high, I can get all of the Toledo channels without the pre-amp." A reviewer who only put theirs ten feet off the ground reports, "I get around 40 channels, all very clear." The same person points out that having success with any antenna is reliant on you pointing it in the right direction. "You can Google the locations of your local stations, what degree they face from your house," they explain. "Then download a compass app to your phone and point your antenna to the correct heading. This will ensure a much stronger signal."
Best-rated (less expensive) outdoor TV antenna
"All I can say is 'bye bye, cable TV company,'" writes one cord-cutter who says this antenna will pay for itself in as little as two months. Many reviewers call out the savings they get with this antenna, receiving the same, if not better, service than what they had with cable. "I just mounted this in the attic of my two-story house with concrete roof tiles, and I'm getting 100 percent signal quality," one says. Another writes, "We get a lot of channels that we didn't get with Xfinity, and we have HD for free on most of the network channels." And while many reviewers have luck with installing this in their attic, one reviewer says the reception gets even better when you take this outside. "I'm in a rural area 50–60 miles from the broadcast towers, and with this in the attic I got nothing," they explain. "I temporarily set it aimed out of an upstairs window and got very good reception of about 20 channels. I then mounted it on the edge of the roof, right above the gutter, about 25 feet off the ground, and I'm receiving 28 channels clearly." No matter where you install it, reviewers say the installation process is straightforward but admit that the directions are hard to read: "Unfortunately, the instruction booklet is tiny and written in such small type that I had to keep getting a magnifying glass to read it."
Best VHF and UHF outdoor TV antenna
"This is the one you want to get VHF and UHF," writes one reviewer of this antenna, which receives both VHF, low-numbered channels, and UHF, high-numbered cable channels. "A lot of antennas you will see on Amazon only get UHF, and you won't get the lower channels from 2 to about 11. In my case, CBS is VHF, and it was a requirement from the wife we get it." Another says, "I purposely bought this antenna for it's VHF capabilities as I could not pick up channels 7, 9, 11, and 13 since they are broadcast on high-band VHF." This antenna picks up VHF and UHF signals so well that it reaches towers over the 65-mile range. As one reviewer reports, "I can get my long-distance VHF, and I have even picked up two UHF channels that are about 75 miles away." With an antenna so powerful, it's no surprise users say it's huge. "The antenna is 11 x 8 feet. It is huge and awkward," one reviewer said, which can make installation a hassle. But even if you pay to have it installed, as some reviewers have, they still say it's worth the investment. One writes, "Three months without DirecTV will pay for the hardware and installation."
Best long-range TV antenna
The above antenna has a pretty impressive range, but this antenna reaches beyond that. "I had my TV do a search for channels, easily picked up all our locals, and some from over 100 miles away," one says, while another notes they are "getting KTLA 5 broadcast from Mount Wilson, 117 miles away better than ever." Reviewers are also getting lots of channels with this.
"Tonight, I installed this Winegard and immediately got 93 channels," one says, and another notes they "found 148 channels 30 miles away." And don't think that with its wide reach these channels are coming in pixelated. Nearly 15 percent of reviewers describe their picture as clear. As one concludes, "To my surprise, I got EVERY single broadcast channel available in my area crystal clear."
Best easy-to-install outdoor tv antenna
If the idea of cutting the cord sounds appealing to you but all this antenna-tower-station-reception talk is making your head spin, about one-fifth of reviewers describe installing this one as easy. "This product was extremely easy to install and tied right into the existing infrastructure in my home," one says. "I used a compass to ensure I was at the right azimuth for the broadcasting station and receive 32 digital channels over the air for free! I live 25 miles from the broadcast station in a housing development, so I was worried about interference, but everything worked great." Another says, "It snaps together easily, and a reasonably handy person can mount it on a roof or the side of the house." It also comes with suction cups for mounting on a window, and reviewers have luck mounting this in their attic, too. The connection is strong either way. A reviewer who has theirs outside says, "The quality never wavers no matter what the weather is," and another person who has theirs inside notes, "I went from getting 19 channels with the other two antennas to getting 30 channels with this antenna, including the one I was trying so hard for." Best of all, it holds up to its 60-mile-range claim: "I live in the Ventura County area (about 60 miles away from MT Wilson), and I built my own multidirectional HDTV antenna and got about 100 channels installed outside on my roof."
The Strategist is designed to surface the most useful, expert recommendations for things to buy across the vast e-commerce landscape. Some of our latest conquests include the best women's jeans, rolling luggage, pillows for side sleepers, ultra-flattering pants, and bath towels. We update links when possible, but note that deals can expire and all prices are subject to change.
Every editorial product is independently selected. If you buy something through our links, New York may earn an affiliate commission.