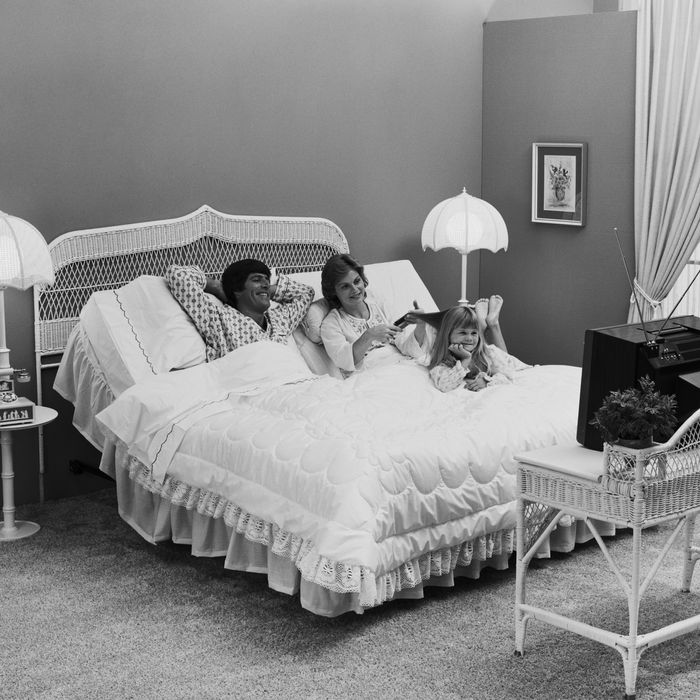 The Great Streaming Wars of 2020 are fully underway, and at just the right moment, considering how much TV we've all been watching during quarantine. Joining the big four of Netflix, Hulu, Amazon Prime Video, and Disney+ are services like Quibi, which launched in the spring (not that anyone noticed). HBO Max debuted in May, while NBC's Peacock rolled out nationwide in July. It's a lot to keep track of — especially when you consider the 200 or so other niche streamers offering highbrow foreign films, sleazy slashers, or shojo cartoons. (Luckily, many services offer free trials, in case you need a minute to figure out if you want to commit.) To help make sense of this new and overwhelming landscape (and plan your next binge), we asked more than two dozen interesting folks with highly discerning tastes to share their personal screen-time cocktails.
The dad desperate to entertain his toddler
Eugene Mirman, comedian and star of the new documentary It Started As a Joke
Noggin and Amazon Prime Video for kids' shows: "So much of the streaming I do now is looking for shows my son will like. Noggin has PAW Patrol, which I guess kids enjoy and parents need. It's fine. It's not like the morals are bad. Like, there are no kids' shows that end with, 'And that's why you should kill the weak.' But shows like Shaun the Sheep and Wallace and Gromit are just more pleasant. Same with Tumble Leaf. It's wonderful. Just really mellow. I also like kids' shows that follow an adventure, like Octonauts (available on Netflix and Amazon Prime Video). We went to an aquarium months ago, back when you could be in public, and my son Ollie says to me, 'That's a poison dart frog!' And I look at him like, 'That is a poison dart frog. How do you know that?!'"
Disney+ for Marvel Movies: "We just got Disney+, thinking it would be for Ollie, but I probably stream that more than him. I've been rewatching all the Marvel movies."
DC Universe: "For DC stuff."
CBS All Access: "For Picard and Star Trek: Discovery."
The K-drama Addict
Gina Paek, radiologist
Rakuten Viki: "Of the streaming options for Korean programming, I prefer Rakuten Viki, which has several titles that are exclusive to it, including Hotel del Luna, Father Is Strange, and Weightlifting Fairy Kim Bok-joo. Viki is also set up differently from other K-drama sites: The subtitles are translated by groups of fans dedicated to making the shows available to people who aren't native Korean speakers. Though I understand Korean, there are some colloquialisms or technical terminology where having subtitles is helpful."
The pastor who loves a good period piece
Kevin Miller, rector at Church of the Savior
PBS and Hulu: "My wife and I would much rather read books or listen to podcasts, but when we do stream, we're suckers for period pieces like Sanditon or Poldark."
Disney+ for The Mandalorian: "It was a grittier and fresher installment in the Star Wars universe than any of the last three theatrical releases."
Amazon Prime Video for TV shows and movies: "That's where we watch Death in Paradise, The Middle, and movies. Next up for us is Emma., and probably the faith-based movie about Jeremy Camp called I Still Believe. We tend not to go for straight-ahead religious channels such as UP Faith & Family, Crossflix, or Pure Flix. Maybe because the scriptwriting and production quality are generally low? Or the answers are too easy?"
The classic-cinema fan (with a taste for anime)
Bob Thompson, professor of TV and popular culture at Syracuse University
Criterion for classics and curated themes: "I still watch a lot of TV on my thousands of Beta tapes, VHSs, and DVDs, but on the first day of "stay at home," my Betamax broke during a marathon screening of Manimal (NBC, 1983). So, in this pandemic spring, an old man's fancy turns to streaming. The Criterion Channel is a breathtaking collection of the finest movies ever made anywhere, presented with the same care that Criterion brought to their most excellent — and most pricey — DVD releases. No Olympics in Japan this summer? Ichikawa Kon's Tokyo Olympiad will bring you back to the last time the Summer Games were held there, in 1964. It's one of the finest sports films ever made. Criterion also has lots of extras and monthly curated, themed suggestions — up right now are 15 films with musical scores by Quincy Jones."
Brown Sugar for classic black cinema: "Cooley High, Cleopatra Jones, Foxy Brown, and Slaughter got me through Wednesday."
Crunchyroll for anime: "My daughter (who is not at home with me) and I schedule designated times to 'sync watch' anime. We're into The Promised Neverland now."
The weather geek who loves HBO
Aaron Shaffer, meteorologist at ForecastMN
HBO for … nearly everything: "It's like a great brewery — you may not like the genre of a show or the premise, but you can always trust it to be well-produced. My wife and I really liked The Outsider, a good detective show with supernatural elements."
SevereStudios for storm chasing: "You can get your geek on by livestreaming the storm chasers at SevereStudios. It's best to watch during a severe weather event, although there aren't many chasers out these days due to COVID-19."
WeatherNation: "More like a free version of the Weather Channel."
The fitness addict whose television doubles as a home gym
Emily Derr, freelance consultant
Apple TV and Prime Video for some workouts: "I stream everything there, including Ballet Body: Total Body Workout and XtendBarre."
NEOU for all of the rest: "It has every class imaginable, from Bollywood to Forme Barre. I've tried Jane DO, which is a New Jersey–based women's dance-, step-, and bootcamp-infused workout founded by two former Radio City Rockettes; Fit and Lit, a hip-hop bootcamp rhythm workout; TrueForm Runner, a treadmill workout that I use on my elliptical; and BASE, a mobility and recovery workout."
Kanopy or Hoopla for indie films: "They are free if your local library participates. You can get five borrows per month on Hoopla, including movies, music, audiobooks, and e-books, and four movie borrows per month on Kanopy."
The outdoors and music aficionado whose girlfriend loves the Kardashians
Michael Gordon, co-founder of Kush Tourism and Kush.com
Hulu Plus for live TV: "Mostly football (when we had football), and my girlfriend watches Keeping Up With the Kardashians."
Amazon Prime Video for movies: "Old movies like Mrs. Doubtfire."
Netflix: "We watched Tiger King, of course. I also like their documentary series, including one called Blown Away, about glassblowing. That was really fun. We also watched 100 Humans. It's really awkward! They put 100 people in a grid and say, 'Raise your hand if you believe you're in the top 50 percent of good-looking people in the group.' And, like, 75 percent of the people raise their hands. It creates a lot of social pressures. I also watched The Dawn Wall, which is about climbing and free soloing."
Facebook for outdoor content: "I'm a big outdoors enthusiast — a white-water kayaker by trade, but I like snowboarding, mountain biking, and climbing. Red Bull Media has its own streaming service, but Facebook is best at streaming content for outdoors folks."
Digital Mirage's music festival and Tomorrowland's YouTube livestream for music: "We put it up on the TV or project it onto a wall and we're up dancing like in high school until 4 or 5 a.m."
The expat with a taste for dystopian sci-fi
Tanya Toft Ag, art scholar and associate curator at the Streaming Museum
Danish and Norwegian news and programming sites for … Danish and Norwegian news and programming: "I find myself getting into fiction series driven by human existential searches for truth and meaning (Herrens Veje, Exit), or plots situated in difficult times of history."
Netflix and Amazon for WWII shows and sci-fi movies: "For some reason, maybe because I am in the process of moving to Berlin, I got into quite a lot of World War II shows like Babylon Berlin and World on Fire. I am also crazy about science fiction. I recently watched Inception, Blade Runner 2049, and The OA. Maybe this current situation of complete destabilization and worldly disaster draws me into these themes."
Viaplay for Scandinavian series: "Occasionally I sign up for temporary memberships to watch a specific fiction series like Outlander. Time travel fascinates me, mostly the thought experiment of bringing knowledge from the future into the past and potentially changing the course of history."
The Anglophile with a taste for classic film (and cooking)
David Fear, senior editor, film and TV at Rolling Stone
The Criterion Channel: "For their collection, complete with commentary tracks, special features, and guest curators — everyone from Kareem Abdul-Jabbar to Mary Karr — weighing in on their favorite selections. They also have paired matinee and double-feature suggestions, a series of brief cinema-history lessons ('Observations on Film Art'), and monthly programming that allows you to deep dive into, say, '70s Style Icons,' the career of legendary Japanese actor Toshiro Mifune, or Quincy Jones's moonlighting gig as a movie composer."
Arrow Video for genre movies: "Criterion's grungy, grimy, giddily gross-as-can-be counterpart is available as an app on Apple TV and Roku. A British-based label that specializes in cult movies, cinema du psychotronica, and other less reputable corners of the medium, it has a selection of genre entries to die for: '60s yakuza thrillers, '70s drive-in movies, '80s slasher flicks, spaghetti Westerns, women-in-prison potboilers, vintage sexploitation, J-horror, and Italian giallos with insanely verbose names (sample: Your Vice Is a Locked Room and Only I Have the Key)."
BritBox for British programming: "Classic BBC sitcoms, some of the best Agatha Christie adaptations around, and the Beeb's deep bench of police procedurals. (If there's a show involving a Cockney accent and a corpse, chances are it's being binged here.) Or you can work your way through Michael Apted's legendary 7 Up series of docs, which profiled a group of English schoolchildren in 1964 and has checked in with them every seven years since then to see how their lives have progressed."
Food Network GO for cooking shows: "My teen daughter's current favorite. She's been feasting on bulk episodes of Cutthroat Kitchen, Iron Chef Gauntlet, Bizarre Foods, Chopped Junior, and Worst Cooks in America. I do not condone unlimited screen time for my kid, but if I'm going to end up getting cupcakes, homemade croissants, and an artisanal chicken potpie out of this, she's welcome to park herself in front of our TV as long as she wants."
The triathlete who races on virtual courses
Andy Feyen, sales executive
Zwift for virtual worlds to ride or run in: "It's also a social network where people around the world are logged on and riding the same course you are. As a Minnesotan, this has greatly improved my bike performance, since I am stuck training indoors seven to eight months out the year."
Showtime: "So I can watch Billions and Homeland."
HBO GO: "For amazing series like Succession and Watchmen."
Disney+: "Required because I consume all things Star Wars and Marvel."
Netflix: "For both movies and shows, including The OA, Altered Carbon, and Narcos."
The self-improvement buff
Keenan Beavis, founder of Longhouse Media
MasterClass for online learning: "The instructor designs the curriculum they want to teach and the team behind MasterClass sets up prerecorded video content, a class workbook, interactive assignments, and community activities. My favorites are former FBI hostage negotiator Chris Voss on the art of persuasion and director David Lynch on creative filmmaking."
The superhero-loving father of three
Arye Dworken, creative director
Netflix: "I watch sci-fi and superhero thangs like Umbrella Academy, Stranger Things, and Daredevil. But recently, I've been using it a lot for The West Wing and comedy specials, because Lord knows we need them both in these times. My kids — ages 9, 6, and 4 — use it for She-Ra, Barbie garbage, and watching Spider-Verse over and over again. My wife uses it for shows like Dear White People."
Hulu: "We use this less because it's random AF: Devs, Dave, Rick and Morty. Its original content isn't the best. As far as older shows are concerned, I watch Happy Endings and 30 Rock. Fun, quick nibbles. And my wife uses it for that scary dystopian nun show."
Amazon Prime Video: "For movies, plus a series called Tales From the Loop. And I just finished Hunters, which I loved."
(The in-laws') HBO: "For High Maintenance. And eventually The Leftovers, which I've been meaning to watch forever but feels weird now because it's too real."
Disney+: "I've got three kids and I'm also super into superheroes."
The reality-TV fanboy
Ronnie Karam, co-host of Watch What Crappens and Rose Pricks: Bachelor Roast
YouTube TV for cable: "It's where I record all of my Bachelor and Bravo shows, including the Real Housewives, Vanderpump Rules, Shahs of Sunset, and Top Chef."
Netflix: "Mostly to watch mystery shows and dubbed-over foreign stuff like Dark and Elite."
Hulu: "I'm using this more and more for shows like Devs and to binge older things I missed like 12 Monkeys."
Amazon Prime Video for Broadway shows: "It's easier to manage add-on channels like BroadwayHD, where I watch shows like Falsettos."
The reality-TV fangirl who got really into YouTube
Andi Crumbley, art director and art-department coordinator
Reality TV on Hulu or Netflix: "What my boyfriend and I would watch before quarantine and what we watch 'stuck' in the house aren't necessarily the same. After a 12-hour day at work, I would typically watch some reality TV like My 600-lb Life or The Great British Baking Show, or maybe brain-bubblegum cartoons like Bob's Burgers."
Disney+: "For The Simpsons."
The Criterion Channel or HBO NOW: "For classics"
YouTube for tutorials: "We still use those other services, but what we're actually consuming all day long is YouTube. We're watching clips of people analyzing dead technology, making cheese, reviewing cars, full concerts, chefs cooking with limited supplies in their home kitchens, and artists doing makeup tutorials."
Facebook Live for church and local concerts: "Something that seemed a bit cringey and reaching before is now a little haven of interpersonal connectivity."
The horror fan who likes to work out
Clint Fargason, librarian
Philo, Pluto TV, and Locast: "For live TV."
Shudder for horror: "I've been a fan of this app for years. There's just so much for $5 a month. Some things are app-specific, like Horror Noire, a documentary about African-Americans in the horror genre. They also have curated collections, ranging from slasher classics to sci-fi horror to suspense. But the best thing I streamed on that service was the Channel Zero series and Hell House LLC. Kinda goofy, kinda creepy."
Daily Burn 365 and Beachbody for fitness: "Because we're trying to stay active during the quarantine, we have a lot of exercise apps we're using during their free trials. We do mainly cardio or body-weight training. I like Daily Burn and my husband likes Beachbody for its Shaun T. workouts."
The paranormal enthusiast
Ross Allison, paranormal investigator and founder, AGHOST
YouTube: "I switch over to YouTube to watch shows like Nuke's Top 5, featuring some of the latest paranormal evidence captured from around the world."
Netflix: "A paranormal enthusiast can drown themselves in 14 seasons of Supernatural or shows like the Chilling Adventures of Sabrina, The Haunting of Hill House, or Haunted."
Hulu: "It offers up some creepiness with Castle Rock and Syfy's Paranormal Witness, or you can get caught up on most of the paranormal reality shows."
Amazon Prime Video: "For the series Lore and to get my chills and thrills from favorite movies like The Woman in Black and The Orphanage."
Disney+: "I just watched Onward. I also enjoy the Marvel movies and Star Wars saga, not to mention childhood favorites like Escape to Witch Mountain and Flight of the Navigator."
The Zeitgeist follower who also loves the classics
Angela Jackson, special-education teacher
Netflix: "I saw Tiger King, along with the rest of America, plus Killer Inside: The Mind of Aaron Hernandez, Abducted in Plain Sight, Making a Murderer, and Don't F**k With Cats. I also watched Nailed It! and Love Is Blind. The Narcos series is my favorite, plus it lets me practice my Spanish. I also use it in the classroom: My kids enjoy Carmen Sandiego and The Who Was? Show, which talks about different historical figures."
Hulu for old-school shows: "Friday Night Lights, Melrose Place, Beverly Hills, 90210."
Crunchyroll for anime: "My 16-year-old son's favorites right now are Given and Demon Slayer: Kimetsu no Yaiba. He likes it more than other third-party anime sites because you don't need an ad blocker."
The priest who wants to connect with his millennial congregants
Lukasz Wnuk, parochial vicar
Prime Video and Netflix to keep up with his flock: "I consider it essential for a priest to keep abreast of the likes of the faithful. Not only do I use streaming services for personal leisure, I use it as an added function to my ministry. For example, I could relate the story of a specific character in a series to the Gospel of the day. That is very advantageous, especially for young people. Amazon has quality productions like Carnival Row and an alliance with History Channel. Netflix is my favorite though. I watch content that has drama, suspense, religiosity, history, or material based on real-life events. Netflix offers a wide range of content from series, movies, and documentaries, but its most outstanding feature is the multiculturalism of its portfolio. Through these productions, one can discover different realities. Another characteristic I love about Netflix, and I say this from my point of view as a Catholic priest, is the religious theme of some of its productions and how religion influences the life, thought, and behavior of some people or society at large. Likewise, in ecumenical terms, some Netflix productions like Unorthodox and Messiah offer a sketch of the challenges present in other faiths."
The true-crime addict
Aliza Sherman, author
BritBox for British crime dramas: "I gravitate toward the damaged protagonist — she or he is seriously flawed but somehow brilliant and able to solve complex crimes that involve a lot of psychological cat and mouse. My favorite shows are Prime Suspect, Shetland, Marcella, Happy Valley, and Silk. I tend to watch late at night and can fall asleep without any problem, no matter how gruesome the murders."
The die-hard sports fan
Master Tesfatsion, senior writer and host of Untold Stories at Bleacher Report
Old games and highlights on YouTube and on NBA TV: "I'm trying to scratch that sports itch. I'm a big [Dallas] Mavs fan, and they had one day where they went through Dwyane Wade and Dirk Nowitzki's best battles. They faced off in the NBA Finals in 2006. I cried like a little baby, but in 2011, thankfully Dirk beat Dwyane Wade and LeBron James in one of the greatest upsets in NBA Finals history."
Instagram Live: "I never watched IG Live until the last two or three weeks. Tory Lanez has an incredible feed; his Quarantine Radio is so entertaining. Then you have these battles going on, like Scott Storch and Mannie Fresh, Sean Garrett versus The-Dream, and Teddy Riley versus Babyface."
Showtime: "Desus & Mero. Also, I've been on and off with Billions."
HBO GO: "Oh, man, I've been going back to the classics: The Sopranos, The Wire. They're about to drop HBO Max, so I'm anticipating some new shows I can add to my roster of quarantine content. I am turning every stone possible trying to escape."
The nostalgic veteran
Corporal R.A. Farrer, retired U.S. Marine
Amazon Prime Video and Netflix: "For movies and TV shows."
Disney+: "For Star Wars."
YouTube: "For Christ Church Cathedral sermons because of COVID-19."
VET Tv for memories of the good old days: "The shows are funny as hell and capture what transpires in military service — the camaraderie, the animosity toward higher command, and the basic grab-ass behavior found in most units, especially the infantry. From A Grunt's Life to Devil Docs, the shows bring me back to drinking in the barracks, getting into trouble, getting out of trouble, hanging out with my fellow Marines, and living life without a care in the world. A lot of veterans come back from overseas with PTSD, depression, anxiety, loss, addiction. I suffer from all of the above, and VET Tv helps soothe the savagery. The dark humor keeps us sane."
The triathlete who only watches when he rides
Peter Shankman, author and host of Faster Than Normal
Netflix and Hulu: "If I get into a show, nothing else matters until I've finished it, so I have one specific rule: I watch streamed shows only while I'm on my Peloton. I'm currently training for an Ironman Triathlon, which means most of my rides now are longer distances: 40, 50, 75, 100 miles. If I'm peddling, I'm watching. It keeps me focused, and guarantees I won't fall into a 48-hour couch bender. I'm currently on season two of Better Call Saul. I usually ride in the super-early mornings, from 3 a.m. to 6 a.m., before my daughter wakes up."
The nonfiction fan who won't say no to romantic comedy
S. Brian Matthews, private investigator
Netflix: "I'm old-school, partial to nonfiction, though every now and again I force myself to watch a romantic comedy. Because of the life I lead, it's difficult to become stimulated! I streamed Designated Survivor with Kiefer Sutherland."
The esoteric
Sam Pocker, artist and filmmaker
Rain, thunder, and ocean-waves videos on NicoNico: "It's like the YouTube of Japan. I've become a bit of a connoisseur. Within seconds I can tell you which ones are good, which ones will put you to sleep, and which ones are just someone recording their dishwasher."
A few notes on pricing:
If you are an Amazon Prime member, you already have Prime Video. Otherwise you can subscribe to the video-only service for $9/month or get it as part of a 30-day free trial with Prime. All prices in this post are for monthly service, but you can often get a better deal by paying for an entire year in advance.
Channels like CBS All Access, HBO, PBS, Showtime, Shudder, and others can be purchased directly or through Amazon, which lets you bundle premium services with Amazon Prime Video if you want to watch everything in one app.
YouTube TV includes more than 70 channels and some live TV like sports and news. In case you were wondering why it was so much more expensive than the others.
The Strategist is designed to surface the most useful, expert recommendations for things to buy across the vast e-commerce landscape. Some of our latest conquests include the best acne treatments, rolling luggage, pillows for side sleepers, natural anxiety remedies, and bath towels. We update links when possible, but note that deals can expire and all prices are subject to change.