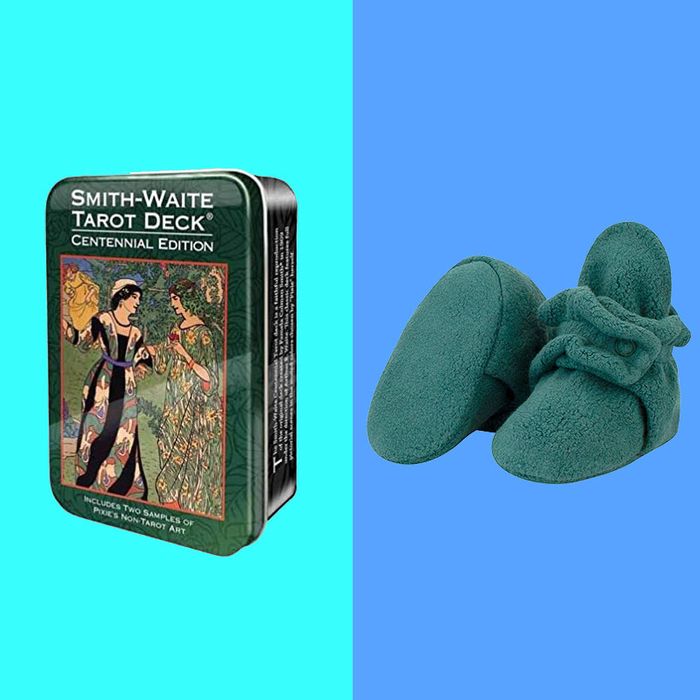 Photo-Illustration: Retailer
Sometimes you don't want to spend a ton of money on a gift — but that doesn't mean your gift can't be thoughtful or covetable. Whether you're looking for a present for a hard-to-please mother-in-law, a trendy teen, or a tasteful friend, we compiled a list of nice under-$25 options that will impress everyone on your list. And to make holiday shopping even easier, we've checked to make sure everything will arrive in time for Christmas.
For the friend who's "swearing off coffee"
For the roommate who has sweared off single-use plastic
These Swedish dishcloths are "a game-changer," according to Strategist contributor Ashlea Halpern, a self-described compulsive cleaner who "could plough through half a roll [of paper towels] in one cleaning session." She uses them just as she would a paper towel and estimates that she's cut down on her paper-towel consumption by at least 80 percent.
For the college kid who studies only the night before the exam
A must for late-night cram sessions, this book light keeps "the blue-light blues at bay," according to writer Molly McGhee.
For the co-worker with a black thumb
The serial plant killer in your office needs these very convincing fake succulents.
For the teen who rarely leaves their room
These strip lights proved to be very popular among teen boys. In our 2021 teen poll, Claudio told us they're "a fun alternative to conventional lighting and very laid-back for a night in with friends." They can change colors and go pretty much anywhere and would definitely up the vibe in any teen boy's room.
For the person who runs hot
If they break out in a sweat when the temperature rises above 70 degrees, consider gifting them this mini handheld fan. Strategist writer Dominique Pariso says it's "an essential, on par with my house keys and debit card" because it's compact, and, more important, powerful.
For the cook who likes their food hot
"This is the most elegant hot sauce I've ever eaten," LeVar Burton told us. Not only does its ingredient list include truffles but "the flavor it delivers, in conjunction with the heat, has a great balance," he says.
For the neat freak with a grout vendetta
Strategist editor Maxine Builder calls the Drillbrush — a brush attachment for your power drill — the best thing that ever happened to her shower: "The drill did all the hard work, scrubbing faster and harder than I ever could by hand, and the results were noticeable even after the first pass. All the built-up grime had basically disappeared, though I did a second round just to be sure. The nylon bristles were gentle enough that I couldn't find a single scratch afterward."
For the mom who's still overbrewing her Lipton
Shifting gears from tea bags to loose-leaf teas is simple with a good infuser. "My favorite infusers are made by Finum. They last forever and can be thrown in the dishwasher," says Tony Gebely, owner and founder of Tea Epicure.
For the co-worker who makes a list for everything
Former Strategist contributor Molly Young refers to this notebook as "organizational ecstasy." As she puts it, "This is a keepsake, not a utility." Each of the 144 pages is printed with a variable grid design. You progress through the notebook not knowing which grid design will greet you on the next page.
For the roommate who lets leftovers spoil
Here's a compost bin nice enough to leave out on the counter. When Strategist editor Maxine Builder went on a hunt for a stylish model, she described this one as "much more attractive than the pale-brown city-administered food-scraps bin."
For the co-worker who takes calls while walking their dog