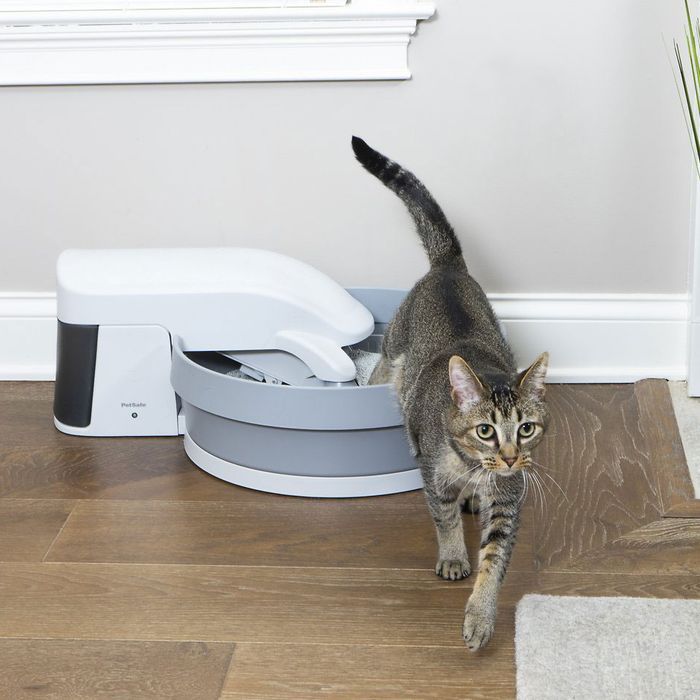 Photo: Courtesy of the vendor
Like lots of pet owners, I enjoy spoiling my cat, an 8-year-old fluffy tabby named Lovey. From human-grade food to fancy-looking furniture, I treat her to the best of the best. But one area I've yet to dabble in is self-cleaning litter boxes. I scoop her litter at least twice daily, and, even with my beloved liquid-absorbing Pretty Litter, there's still a distinct litter-box smell lingering in my apartment. Instead of choosing to spend my entire day scooping, I decided it was time to try an automatic litter box. The only problem was, I didn't know how well they actually worked.
To find out, I called in samples of three popular models (including the Litter-Robot that Jonathan Van Ness tells us "changed [his] life") and used each one for a month. All three worked as promised, keeping litter clean with very little effort from me, although there are big differences in how each one works. Read on to see which style might be best for you and your cat.
How it works: Easily the most high-tech of the three boxes I tried, the Litter-Robot is a space-age-looking, egg-shaped container that flips upside down to sift litter through a filter. Solid waste and clumps fall down into a drawer underneath the box and the rest filters back inside. It uses a motion sensor to detect when your cat's inside the box, and you can choose for the cleaning cycle to start 3, 7, or 15 minutes after your cat exits. There's also the option to select an eight-hour window for "sleep mode" during which the box won't run (helpful if you sleep nearby), and you can lock out the control buttons on the front so curious kittens won't accidentally change the settings. The Connect version of the Litter-Robot links up to a smartphone app that notifies you when your cat uses the box and when it's time to empty the waste compartment, tracks daily cleaning cycles so you can see patterns developing (like if your cat starts going to the bathroom more frequently which could be a sign of illness), and even lets you control the box remotely.
Pros: Although it might take a while for your cat to adjust to this unique box (more on that below), this was the most human-friendly litter box I tried in terms of overall cleanliness and ease of use. The regular cleaning cycles kept odor under control and the litter looking clean. I loved being able to use the app to see how frequently my cat was using the box. Emptying the box is easy, too: Just press a button and the box runs a normal cycle, only instead of sifting litter through the filter, it pushes all of it into the waste bin.
Cons: Cats used to an open box (or even a standard enclosed one) will probably be intimidated at first. Mine was. The loud sound of the cleaning cycle was also a bit jarring for her. Each time it went off, she'd stare at it with wide-eyed shock from across the bathroom, and it took her a few days to realize it wouldn't start moving while she's inside. Also, the entrance to the box is a few inches off the ground, so it's not ideal for kittens or older cats with mobility issues. Finally, at $499 it's very expensive for a litter box.
Best for: Cats who are fine with enclosed litter boxes and are able to reach the entrance, and owners who want an app to track their pet's bathroom habits.
How it works: Like the Litter-Robot, the ScoopFree box has a motion sensor, which you can set to start the cleaning cycle 5, 10, or 20 minutes after your cat leaves the box. To clean, a rake combs through the box catching solid waste and clumps of litter, which it then deposits into the covered-up front section of the box that serves as a waste container. The bottom of the box is a disposable plastic tray that you'll replace each time you change the litter. A digital counter (that you can reset manually) displays how many clean cycles have been run.
Pros: This litter box comes with an attachable hood, so it works for cats (or owners) who prefer open or closed boxes. Compared to the Litter-Robot, ScoopFree isn't quite as loud and didn't seem to scare Lovey, who was basically indifferent to the machine while it was cleaning. Even though the instructions suggest using ScoopFree's crystal litter, I still used the litter my cat is used to, and it worked just fine. The box worked great for controlling odor.
Cons: There's no permanent base, just the disposable plastic trays, and that feels a little wasteful. (There is an option to buy a reusable tray for an additional $50, however.) The cycle counter lets you know how frequently your cat is using the box, but you'll have to manually reset the counter each day (or at the end of whatever time period you want to track). You're going to have to record this information yourself, too, since there's no accompanying app.
Best for: Cats who like open or closed boxes, and owners who don't mind repurchasing plastic trays (or buying a reusable one separately), and who want a cheaper alternative to the Litter-Robot.
How it works: Unlike the other boxes, the Simply Clean doesn't have a motion sensor or discrete cleaning cycles. Instead, the round box constantly rotates at a nearly imperceptible rate, making a full turn every 90 minutes. There's a grate on one side for clean litter to pass through while clumps and solid waste are separated and carried up the chute to the waste container.
Pros: Because this box is open, my cat, who regularly uses a covered litter box, seemed less hesitant to enter it than the other two. The lack of sudden loud sounds during cleaning mode made her much less fearful of it, too, and after an initial inspection she used the box normally. Throughout my testing period, the litter looked clean, and the waste container kept odors trapped inside. It's also the most affordable option of the three.
Cons: An open box is a messy box, at least for my cat, who kicked lots of litter over the edges and onto the floor. Even though PetSafe is generally quieter than the other boxes, my cat definitely noticed the constant low noise of litter moving through the filter, and she cautiously sniffed around the perimeter to see what was going on before she felt safe to jump in. I noticed it, too. In my apartment, the bathroom (where we keep the litter box), is right next to the bedroom. I started unplugging the unit at night so it wouldn't keep me up. Finally, if you're looking to keep track of how often your cat uses the box, without the built-in motion sensor, you're going to need to figure out your own way.
Best for: Larger cats and cats that aren't used to covered litter boxes; owners who are fine with the constant, low hum of the motor running and litter crunching as it goes through the grate.
The Strategist is designed to surface the most useful, expert recommendations for things to buy across the vast e-commerce landscape. Some of our latest conquests include the best acne treatments, rolling luggage, pillows for side sleepers, natural anxiety remedies, and bath towels. We update links when possible, but note that deals can expire and all prices are subject to change.