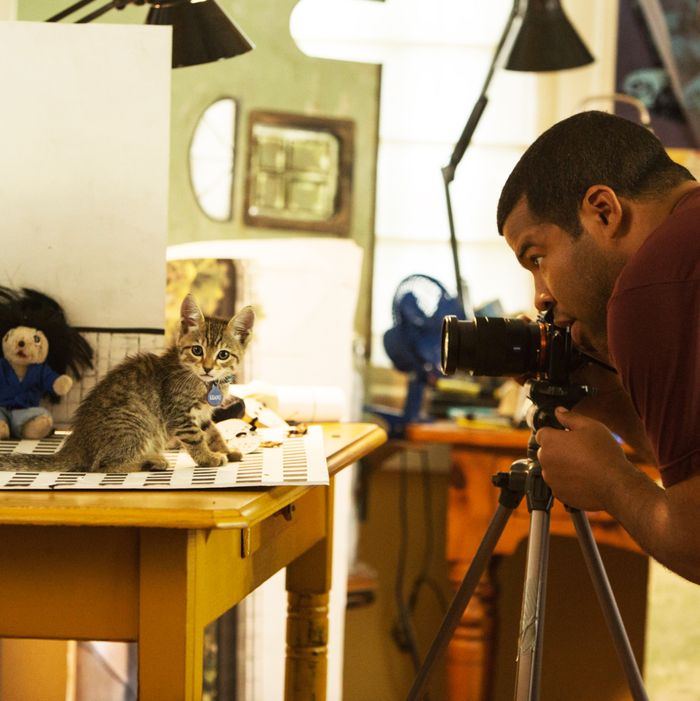 Temperamental loners indifferent to human affection, cats have long played second fiddle in public opinion to man's best friend, the simple-minded dog. But cats have won the internet, as some famous felines (Suki, the Dark Lord) have more followers on Instagram and command higher appearance fees than the average B-list celebrity.
While it might be second nature to tag your cat-loving friends in a cat meme every now and then, it can be baffling to buy an actual gift for a cat parent now that there are more cat-themed items available than ever before. With help from experts — including animal-behavior specialists, advocates, and pet-store owners — we've sifted through the vast world of cat products to find the very best gifts for cat lovers, including some favorites we've found in our own years as cat moms.
Scratching posts
"Every cat needs a scratching post," advised Tazz Latifi, owner of pet-supply store and grooming parlor Petropolis in lower Manhattan. Mikel Delgado, a cat-behavior expert with Rover, explained that scratching is a way for cats to "mark their territory, and it keeps their claws in good shape." Because cats love stretching out, Latifi said a post should be at least 24 inches high to make it an attractive alternative to cat owners' furniture.
At 32 inches high, the SmartCat Ultimate Scratching Post is a top choice among experts. Nora Wood, adoption-event coordinator for Anjellicle Cats, a New York-based all-volunteer cat rescue and nonprofit with foster homes throughout the five boroughs, said it's the ideal gift because "cats can't knock it over — very important! — and the cat can stretch out her back while scratching." Anjellicle cat-behavior specialist Astrid Hanenkamp calls it "the best out there," and Delgado mentioned it by name as well.
Since it takes up more space than a vertical scratching post, Wood said this "wonderful" scratcher lounge is a great gift "if your friend has a good-sized apartment." Conrad Russo, blogger and owner of Pet Gear Lab, also said the PetFusion scratcher is a "favorite" among cat lovers, and proud cat lady Kristin Perrotta agreed. "It's cool-looking and you can flip it over when your cat annihilates one side," she said.
Cat furniture
There are plenty of splurge-worthy cat trees out there, but if you feel a little silly spending triple digits on furniture made for a cat, this affordable version is both feline and human approved. With natural wood grain and plush white carpeting, it looks nice in any home, and it has plenty of space for kitty to perch on. Strategist senior writer Karen Iorio Adelson's cat splits her time between the cubbyhole in the middle and the top level.
Photo: Courtesy of the retailer
Animal advocate and educator Hannah Shaw, a.k.a. the Kitten Lady, stresses the importance of "providing [cats] with an enriching home environment. Cats need access to vertical spaces and climbing structures in order to feel mentally stimulated." A first-time cat owner, or one moving into a new place, may appreciate a perch, lounger, or tree that will make their home more welcoming to cats. Shaw buys a lot of her cat furniture from Hauspanther, like this wall-mounted perch that doubles as a scratching post and has room for toy storage.
If a friend is welcoming a new cat to the family, Leilani Shimoda, the owner of Instagram darling Bunni (and the late Shrampton), recommended "a cozy bed or cat cave to help ease their anxiety by giving them their own private space that feels safe and warm." She recommends this shark bed for a fun and affordable gift.
Even your most design-conscious friend won't be ashamed to display this handsome tent from Tuft + Paw (curator of the world's most unique and aesthetically pleasing cat accessories) in their living room. It's more expensive than most of the cat beds out there, but I had a chance to test it out recently and I was impressed by the high-quality construction, sturdy wood base, and thick canvas cover.
If you've ever seen a cat sprawled out in a patch of sunlight or enjoying some outdoor time on a hot summer day, you know that felines seek the heat. Delgado told us "a cat's comfort zone starts at around 82 degrees" and they'd appreciate the added warmth of a heated bed. Angie Krause, a holistic veterinarian and consultant for I and Love and You pet food, agreed that "cats love to be warm," and suggested this style of bed. While the brand advertises its "heavy-duty chew-resistant" electrical cord, it's always best to use a heated bed under supervision to avoid any accidents.
A perfect gift for a multiple-cat household, a cat tree with tiered perches and resting spots offers each kitty a little personal space. "Cats are territorial so giving them a space that feels like their own is important," says Delgado. "Being up high can help cats feel safe, and if you have more than one cat, it helps them share the territory." If a traditional cat tree doesn't mesh with your recipient's décor, Russo recommends this "more quirky" style. It has faux-suede covers and a modern curvy design, but still caters to cats' needs. A more skittish cat might feel safest on the highest level, from which she can observe the room below while staying out of reach, and a cat looking for some peace and quiet for napping will love the enclosed hideaway on the bottom.
This compact cat tree (it takes up less than two feet of ground space) has a perch for cats to get some height, a hideaway spot for some alone time, and a scratching post to distract them from the furniture. With its wood frame, it'll also blend in nicely with your living-room furniture. It's popular among Amazon reviewers, with one satisfied shopper calling it "sleek and modern."
Wand toys
In addition to helping sedentary cats with weight loss and maintenance, Shaw said that "keeping cats physiologically enriched will make them less inclined toward destructive behaviors." One of the best ways to get cats up on their toes — and in the air — are wand toys and teasers, which would make great gifts for owners dealing with misbehaving cats. Along with staving off boredom, Delgado said "playing with your cat provides them with exercise and can be a great way to bond." These toys from cat behaviorist and My Cat From Hell host Jackson Galaxy's collection were top picks among experts. The air-prey version, for cats that enjoy leaping into the air, is Shaw's personal favorite.
Latifi also raved about the ground-prey wand for cats that prefer to hunt on the ground.
For a small gift under $10, you can't go wrong with a Da Bird wand toy that got rave reviews from experts and cat owners alike. Hanenkamp said, "It offers hours of interactive playtime for a cat and its owner." Heather Henley, a certified feline-training and behavior specialist at Best Friends Animal Society is a "big fan" of the simple feather toy, and it also earned shout-outs from Latifi, Delgado, and Perrotta, who said "all cats go mental for it."
"I've always given Cat Catcher teaser wands as gifts because I never met a cat who didn't like them," said Yuki Atsumi, an Anjellicle seminar leader. From the maker of the beloved Da Bird teaser, the Cat Catcher will also give cats the thrill of the hunt, but for a mouse instead of a bird. Atsumi adds, "Wand toys should always be put away after playing because cats might chew the string or wire and ingest it."
Catnip toys