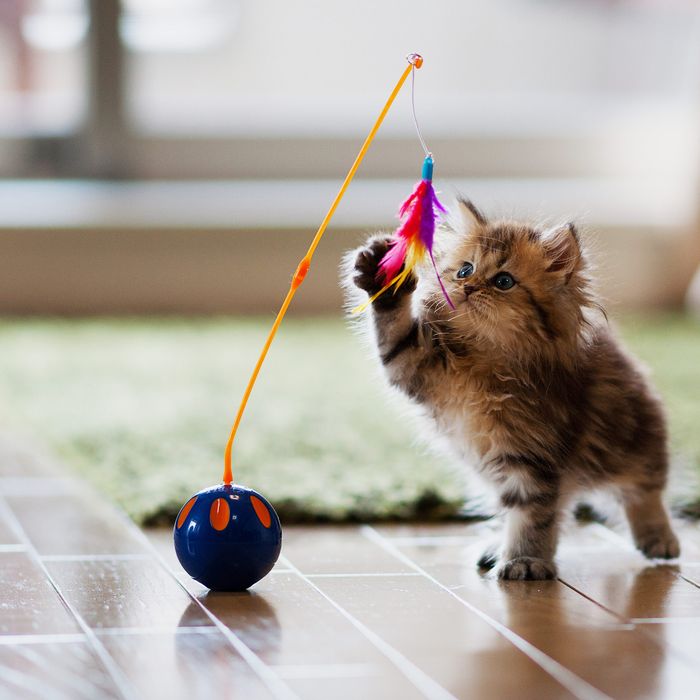 Photo: Benjamin Torode/Getty Images
Temperamental loners indifferent to human affection, cats have long played second fiddle in public opinion to man's best friend, the simple-minded dog, but cats have won the internet, as some famous cats (Suki, the Dark Lord, etc.) have more followers on Instagram and command higher appearance fees than the average B-list celebrity.
While it might be second nature to tag your cat-loving friends in a cat meme every now and then, it can be baffling to buy an actual gift for a cat parent now that there are more cat-themed items available than ever before. With help from experts — including animal-behavior specialists, advocates, and pet-store owners — we've sifted through the vast world of cat products to find the very best gifts for cat lovers, including some favorites I've found in my own years as a cat mom.
Scratching posts
"Every cat needs a scratching post," advised Tazz Latifi, owner of pet-supply store and grooming parlor Petropolis in lower Manhattan. Mikel Delgado, a cat-behavior expert with Rover, explained that scratching is a way for cats to "mark their territory, and it keeps their claws in good shape." Because cats love stretching out, Latifi said a post should be at least 24 inches high to make it an attractive alternative to cat owners' furniture.
At 32 inches high, the SmartCat Ultimate Scratching Post is a top choice among experts. Nora Wood, adoption-event coordinator for Anjellicle Cats, a New York-based all-volunteer cat rescue and nonprofit with foster homes throughout the five boroughs, said it's the ideal gift because "cats can't knock it over — very important! — and the cat can stretch out her back while scratching." Anjellicle cat-behavior specialist Astrid Hanenkamp calls it "the best out there," and Delgado mentioned it by name as well.
Since it takes up more space than a vertical scratching post, Wood said this "wonderful" scratcher lounge is a great gift "if your friend has a good-sized apartment." Conrad Russo, blogger and owner of Pet Gear Lab, also said the PetFusion scratcher is a "favorite" among cat lovers, and proud cat lady Kristin Perrotta agreed. "It's cool-looking and you can flip it over when your cat annihilates one side," she said.
Cat furniture
Photo: Courtesy of the retailer
Animal advocate and educator Hannah Shaw, a.k.a. the Kitten Lady, stresses the importance of "providing [cats] with an enriching home environment. Cats need access to vertical spaces and climbing structures in order to feel mentally stimulated." A first-time cat owner, or one moving into a new place, may appreciate a perch, lounger, or tree that will make their home more welcoming to cats. Shaw buys a lot of her cat furniture from Hauspanther, like this wall-mounted perch that doubles as a scratching post and has room for toy storage.
If a friend is welcoming a new cat to the family, Leilani Shimoda, the owner of Instagram darling Bunni (and the late Shrampton), recommended "a cozy bed or cat cave to help ease their anxiety by giving them their own private space that feels safe and warm." She recommends this shark bed for a fun and affordable gift.
Even your most design-conscious friend won't be ashamed to display this handsome tent from Tuft & Paw (curator of the world's most unique and aesthetically pleasing cat accessories) in their living room. It's more expensive than most of the cat beds out there, but I had a chance to test it out recently and I was impressed by the high-quality construction, sturdy wood base, and thick canvas cover.
If you've ever seen a cat sprawled out in a patch of sunlight or enjoying some outdoor time on a hot summer day, you know that felines seek the heat. Delgado told us "a cat's comfort zone starts at around 82 degrees" and they'd appreciate the added warmth of a heated bed. Angie Krause, a holistic veterinarian and consultant for I and Love and You pet food, agreed that "cats love to be warm," and suggested this style of bed. While the brand advertises its "heavy-duty chew-resistant" electrical cord, it's always best to use a heated bed under supervision to avoid any accidents.
A perfect gift for a multiple-cat household, a cat tree with tiered perches and resting spots offers each kitty a little personal space. "Cats are territorial so giving them a space that feels like their own is important," says Delgado. "Being up high can help cats feel safe, and if you have more than one cat, it helps them share the territory." If a traditional cat tree doesn't mesh with your recipient's décor, Russo recommends this "more quirky" style. It has faux-suede covers and a modern curvy design, but still caters to cats' needs. A more skittish cat might feel safest on the highest level, from which she can observe the room below while staying out of reach, and a cat looking for some peace and quiet for napping will love the enclosed hideaway on the bottom.
Wand toys
Latifi raved about the ground-prey wand for cats that prefer to hunt on the ground.
In addition to helping sedentary cats with weight loss and maintenance, Shaw said that "keeping cats physiologically enriched will make them less inclined toward destructive behaviors." One of the best ways to get cats up on their toes — and in the air — are wand toys and teasers, which would make great gifts for owners dealing with misbehaving cats. Along with staving off boredom, Delgado said "playing with your cat provides them with exercise and can be a great way to bond." These toys from cat behaviorist and My Cat From Hell host Jackson Galaxy's collection were top picks among experts. The air-prey version, for cats that enjoy leaping into the air, is Shaw's personal favorite and Latifi raved about the ground-prey wand for cats that prefer to hunt on the ground.
For a small gift under $10, you can't go wrong with a Da Bird wand toy that got rave reviews from experts and cat owners alike. Hanenkamp said, "It offers hours of interactive playtime for a cat and its owner." Heather Henley, a certified feline-training and behavior specialist at Best Friends Animal Society is a "big fan" of the simple feather toy, and it also earned shout-outs from Latifi, Delgado, and Perrotta, who said "all cats go mental for it."
"I've always given Cat Catcher teaser wands as gifts because I never met a cat who didn't like them," said Yuki Atsumi, an Anjellicle seminar leader. From the maker of the beloved Da Bird teaser, the Cat Catcher will also give cats the thrill of the hunt, but for a mouse instead of a bird. Atsumi adds, "Wand toys should always be put away after playing because cats might chew the string or wire and ingest it."
Catnip toys
For years I wondered why every cat I've ever owned was obsessed with this banana toy, choosing it over toys that squeak, move, or were just way more expensive. So I felt validated when Wood called it the "best catnip toy" because it's the "perfect shape" for cats to sniff, snuggle, and kick, and it's better than "lots of crap catnip out there." I've had cats with very different interests and personalities, and all of them have gnawed on the banana until it's covered in cat drool. Back when I had two cats, I bought a second one so they wouldn't have to share.
Latifi called Colorado Kitty Pot "one of my favorite companies" for their "amazing catnip toys," and because "they give a lot of their money away to animal shelters and rescue." She said even cats that aren't usually interested in catnip go crazy for it. The cute "munchie" shapes (there are also taco and cookie versions) are adorably Instagrammable when paired with a loopy-looking cat indulging in some 'nip.
According to Stray Cat Social Club founder Scott Bleicher, Polydactyl Cats "creates unique cat toys with equal parts irony, pop culture references, and a dash of fast-food fun." Their organic catnip toys come in shapes like popcorn and sushi, guaranteed to appeal to owners and cats alike. Shimoda, who also loves the brand, said, "I love to make themed gifts [like] the hot-sauce toys with sombrero combo." And, yes, the included sombrero is for the cat.
Like wand toys, play mice give cats the opportunity to hunt and "kill" their prey. I personally prefer bright colors that aren't found in nature because there's definitely been times a realistic-looking brown or white mouse toy gave me a scare. For some very fake-looking mice that cats will still get a kick out of hunting down, Bleicher recommended Bruce & Fox Designs for their "fun prints and contemporary patterns." Along with catnip, these toys are stuffed with silvervine, another plant that naturally attracts cats.
Feeder toys
Another way to tap into a cat's natural hunting instinct is a puzzle feeder that hides treats or dry food pieces so that cats have to actively poke around to find them. Henley loves that the SlimCat makes cats "move with it, so they aren't sitting still and eating." Since it's simple to use, it's a good entry-level feeder toy for cats who are new to the concept. Latifi, also a SlimCat fan, advises filling it with freeze-dried raw food, which is healthier and easier on cats' digestion than conventional food. (Primal Pet Foods' Primal Freeze-Dried Nuggets Formula for Cats are a healthy option that will fit in a feeder toy.)
If you aren't sure if the cat lover in your life has used feeding toys before, this option may be your best bet. Latifi likes that it has "a really big food hole," which is easier for cats new to feeding toys to figure out before moving on to more complicated toys.
On the other hand, if you know you're shopping for a puzzle-feeder pro, this tree-style toy is more difficult, as kitties have to move their treats down each level by sticking their paws in the side holes before the food lands in the bottom dish. "[It] helps mimic a cat's hunting behavior," said Krause. "It helps relieve stress and prevent boredom."
"Cats are notoriously poor water drinkers," according to Krause. Feline dehydration can lead to fatal kidney issues later in life. (It's one of the reasons vets prefer cats eat moisture-rich canned food.) To encourage a friend's pet to up its water intake, Krause recommends this flowing drinking fountain that's more appealing to cats than a bowl. "Many cats like fresh, running water and will drink more when water stays fresh," she said.
For senior cats
When gifting to a cat owner with an older cat (Cats are considered seniors once they turn 11), Atsumi recommends "a cushioned, heated cat bed for achy joints." While all cats appreciate a warm napping spot, it's especially important for seniors. Krause explained that "as they age, cats tend to seek heat and have more trouble staying warm in the winter." Henley suggested this mat that has an insulated layer that keeps cats warm using their own body heat (instead of electricity) so you don't have to worry about leaving your cat with it unattended.
According to Henley, "Senior cats can have issues with arthritis just like people. It's nice to have pet stairs for them to use when jumping becomes painful." A set of pet stairs is a good gift for a friend with an older cat that's having trouble getting on the couch or bed. With natural wood siding, these stairs will fit right in in a cat lover's living room, and there's an area for storage under each step.
More cat accessories
Unlike dogs, who get excited for a ride in the car or a walk around the block, cat owners know that getting an unenthusiastic kitty into a carrier can be a bit like, well, herding cats. Kerrie McKeon, resident cat expert at the animal welfare and adoption organization Bideawee, said "The key to easier travel, whether it's simply a trip to the vet, or a car trip over the holidays, is a carrier your cat doesn't hate and fear." To solve the problem, she recommends the Sleepypod, calling it a "game changer, as your cat can use it as a bed when at home, thereby reducing negative associations." Just fold down the sides and it becomes a plush, semi-enclosed bed.
After discovering that her cat, Captain, loved being outdoors, comedian and writer Liz Carey bought this harness and leash set so she could take him on walks — and was pleasantly surprised with how well it worked out. "I braced myself for a struggle, but Captain could not get his paws into the harness fast enough," she wrote. Plus, the harness is secured with velcro closures and a buckle clasp so "you really don't have to worry about your cat slipping out, even if you have a Houdini on your hands."