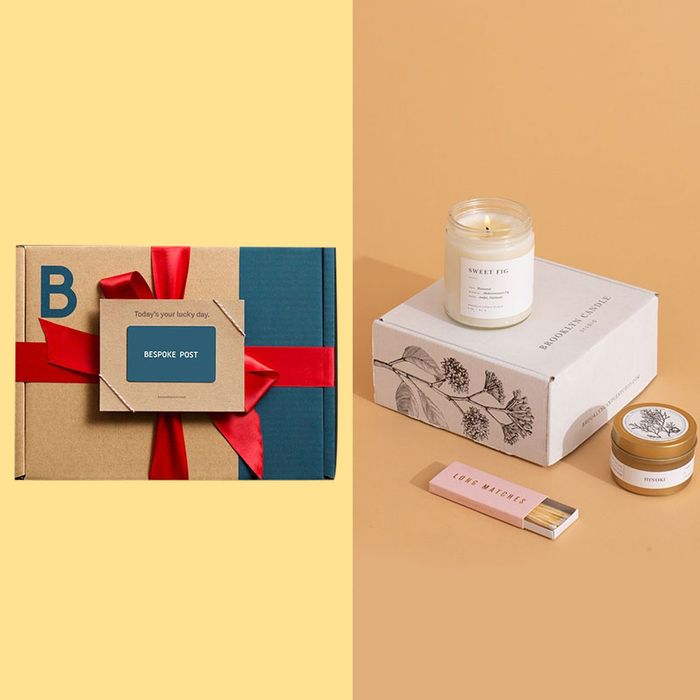 Photo-Illustration: The Strategist; Photos: Retailers
When you don't know someone that well (or are just fresh out of ideas), it can be hard to find a gift that's thoughtful but doesn't require much effort on your part. And though gift certificates are great, they can feel a little impersonal. Subscription boxes, however, fall right into that good-gift sweet spot. With so many different-themed boxes out there, choosing the right one shows that you at least put some thought into it — but because someone else is curating the box, putting it together, and doing the packaging and delivery, it's just as simple as getting an e-gift card. It's just as quick, too. This is another way to avoid a shipping delay nightmare, since most of these arrive with an email notification (or you can print out the confirmation on your own and wrap it up). And to make it even easier, we curated a list of some of the best giftable subscription services out there — many of which our writers and editors have tried themselves, so they're actually good, not just boxes of junk.
Below, our picks for the best subscription boxes to gift to every person on your list — from the wine drinker to the beauty blogger to the avid reader. For ease of navigation, we've categorized these subscriptions into five sections: Food and Drink, Beauty and Grooming, Accessories, Books, Kids, and Home.
For your friend who starts a new diet every January
A shipment of fresh greens will definitely align with whatever lifestyle change they are planning to make in 2022. For the holidays, Willo is offering a subscription that gives you a sneak peak at what a membership with it would be like. Willo is an AI-powered vertical farm and as a member, you own a share of it. Through an app, you can select and monitor your crops and get them sent directly to you. Its Holiday Reset boxes offer a chance to try the produce before committing to a membership. They are available for purchase until December 31, and then delivery begins the first week in January. Boxes ship in two-week intervals. This $100 tier will get you two deliveries with items like Toscano kale, joi choi, onion microgreens, and Genovese basil.
For your friend who will not be starting a diet in the New Year
Shark Tank success story Doughp launched a subscription service for its egg-free cookie dough. Each month, subscribers will get two pints of dough that can be eaten raw or baked into cookies. The "secret" portion of this subscription is that the flavors will be a surprise every month, but considering the brand's classic flavors like Cookie Monsta, Fairy Dust, and Cinna Mood, whatever they get should be exciting and delicious.
For your friend who hosts a weekly dinner party
There are plenty of wine deliveries on this list, but this subscription is for those looking for a stiff drink. With Cocktail Courier, you'll receive a cocktail-making kit weekly, biweekly, or monthly, each making six to eight drinks. At $30 per kit, you get all the mixers and garnishes you need to make the featured recipe, and for $50, the alcohol comes with it too. You can select your spirits of choice; the rest is up to them, but through a subscriber dashboard, you can swap, skip, or add kits whenever you like.
For the postpartum mom too focused on baby to worry about herself
Making time for your own health as a new mom can be challenging, but if you think your friend who just gave birth will eat a cookie before they swallow a handful of supplements, this is the perfect subscription box for them. Agni makes foods that are both healing and delicious. This gift box for new moms comes with double chocolate chip cookies, oatmeal chocolate chip cookies, sesame nori seasoning, and tulsi cinnamon tea, all made with ingredients that support digestion, breast milk production, restful sleep, immune health, and hormone balance. You can buy a single box for $65, but the brand recommends subscribing for three or six months to fully heal, which brings down the price per month.
For the person who religiously watches Diners, Drive-Ins and Dives
Photo: Retailer
If they're into discovering eats from all around the country, Mouth's Indie box will satisfy. Each month, the box focuses on a different region and includes snacks, condiments, and more from each place. You can easily prepay for either a 3-, 6-, or 12-month subscription, and your recipient can expect things like Spielman's Bagel chips in the Oregon box and Lillie's Q barbecue sauce when they get into the southern regions.
For the celebrity-chef stan
With YesChef, each class includes a documentary-style film narrated by a famous chef, along with a series of on-demand cooking lessons shot at the chef's home, for a total of at least five hours of instructional video. Most of the lessons are just 25 minutes long, so it's not a huge time commitment either. Some of the current chefs on the platform include Edward Lee and Nancy Silverton and classes from Kwame Onwuachi, Nina Compton, Asma Khan, and more are coming soon.
For the person who can't stop raving about Moon Cakes
If they appreciated our dive into moon cakes, they're probably interested in more Asian snacks and treats. With a Bokksu subscription, every month they'll get 20 to 24 snacks and teas sourced directly from small family businesses in Japan, along with a guide to each product's origin and flavors, and a list of any allergens you need to know about. To give you a little taste of what they might get, previous boxes included a black sesame cookie, walnut mochi, and chili-oil chips.
For the person who attended every day of the San Gennaro festival
If they can't get enough Italian food, you can try to satisfy their cravings with a three-month pasta-of-the-month-club membership with Sfoglini. Each month brings a box of the brand's signature organic semolina pasta and a surprise seasonal option, along with recipe cards so they can make the most of these premium noods.
For the person who thinks loving cheese is a personality trait
This entry-level subscription will let them try three to four cheeses a month, though at the highest level you can get a full cheese board — perfect for people who entertain regularly.
For the person who only seasons their food with salt and pepper
Expand their palate with a Spice of the Month Club subscription. Once a month, they'll receive a freshly ground small-batch spice blend along with recipes to make with it. Previous blends have included garam masala with recipes from North Indian cookbook Just a Dash by Neeti Singhal, so you know they'll get to taste flavors from around the world. You can gift this subscription for three, six or 12 months.
For the person always dragging you to a raw bar