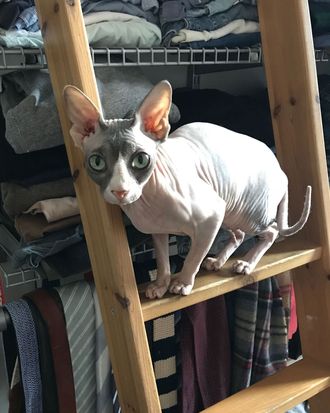 The author's hairless sphynx cat, Pebbles.
Photo: Courtesy of Duncan Goodwin
Six years ago, I and my then boyfriend, now husband (and Strategist senior editor), decided to get a cat. While we both thought of ourselves more as dog people at the time, our work schedules and the tiny apartment we shared in the East Village meant a cat just made more sense. Still, we'd met enough standoffish cats over the years to know we wanted one that maybe behaved more like a dog when it came to companionship. We did our research on small breeds and came across a few options, all of which had hair. But then a friend got a hairless sphynx cat and told us how affectionate and social the breed is. Long story short, we met that cat, saw that affection and personality with our own eyes, got her breeder's number, and became the proud dads of Pebbles, a cat with no hair.
Having grown up with cats in our households, we already knew what basic stuff — litter, litter box, bowls for food and water, food and water — we'd need. But what we did not know is that there are even more things a hairless cat owner should have on hand in order to properly care for the weird little animals — and the spaces they live in. Read on for the shampoo, wipes, warm clothes, stain remover, and other extra things we rely on to keep a happy home with a hairless cat. It's worth noting that we've discussed many of these products with our vet (including any that come in contact with Pebbles's skin), who has assured us they are safe and effective.
The shampoo
While it maybe should have come as no surprise, perhaps the biggest difference between caring for a hairless cat and one with hair is that the former require a lot more baths. Hair helps to dissipate sweat by pulling droplets away from a cat's body — without it, that sweat just pools on Pebbles's skin, where it dries and leaves a dirty film on her or on our possessions. (Try as she might, she just can't get rid of all the sweat residue on her body with her regular tongue baths.) We try to bathe her twice a month in the bathtub, and when we do, we use this all-natural shampoo from a brand that vets say is gentle enough for animal and human skin. One nice thing about its formula is that Pebbles can continue to lick herself as much as she wants without us worrying about exposure to any harmful ingredients. Another: It's 100 percent biodegradable, so we could wash her in a stream if we wanted to (but she would never want us to).
The wipes
As much as we try to keep to Pebbles's bath schedule, there are some times when we — or she — just can't. On those occasions, we'll rub her down with these hypoallergenic wipes from the same company that makes her shampoo. They are good for sensitive skin, which is important, because Pebbles, like so many of us, is prone to small breakouts. While she does not enjoy the wiping process any more than she enjoys the bathing process, she always seems a lot happier (running around, screaming) after either.
The ear cleaner
We have never measured Pebbles's ears against those on other breeds, but for such a small cat (she's roughly eight pounds fully grown), she has some pretty big ears. Due to their size — and, again, her lack of hair — those ears can also get real gunky really quickly. In a pinch we've used our bare fingers (gross and not recommended), and we've also tried Q-tips (both regular and for babies), which are fine, but somewhat precarious because she understandably gets jerky when we put anything in her ears. In relaying this to our vet, she recommended this product by name, telling us to just squirt a bit on a soft cloth and rub it gently around Pebbles's ears with our finger. It manages to grab the gunk pretty effectively (and quickly), and has resulted in less frequent cleanings.
The stain remover
Just like human sweat, cat sweat will stain things. (Sphynx owners should prepare themselves to forgo crisp white sheets if the amount of time Pebbles spends sleeping in our bed is any indication.) One of her favorite places to nap is on our antique sofa upholstered in millennial-pink velvet, which looks less and less pink after every nap. We tried a few products to remove the stains, but they all somehow just made the areas look more pronounced and also dried in a way that made the velvet rougher to the touch. Since we couldn't really stop her from jumping on it (especially when we aren't home) we resigned ourselves to eventually having to reupholster the couch — but then my brother-in-law told us about Whip-It, a product his cleaning-obsessed mom swears by. It's proven to be the most effective thing we've found at eliminating Pebbles's sweat stains. While it hasn't rid the couch of them entirely, it really has faded them to the point that you wouldn't necessarily notice them unless you know they are there.
The clothing
Pebbles likes clothing as much as the next animal. But the reality is that, without hair, she actually needs another layer when it gets cold. There are of course any number of animal-apparel lines, and really anything that fits comfortably and isn't too tight to prevent movement would be fine. Most recently we got her this LoveThyBeast tee, in a size extra-small, which fits her snugly without being restrictive. While it's called a tee, it's definitely thick enough to provide extra warmth on those drafty days.
The toys
Yes, toys are one of those basic pet accessories that cats of any breed will (or often will not) enjoy. But one thing we learned after taking Pebbles home is that even though she spends three quarters of a day sleeping, when she's awake, she's awake. She loves to run around and touch — and topple — anything she can get her paws on, and when we first met our friend's sphynx, he was equally energetic. Among the toys she's taken to are the "unicorn" tunnel that Rio kindly gave her after writing about how much her own cat, Martini, loves it, and this strange, whack-a-mole-style gadget that keeps her attention (but is a bit noisy to leave on for too long). But Pebbles's favorite activity is to play fetch (seriously), and for that, nothing beats these teeny fake mice. We have them littered throughout the house and she will regularly find one, put it in her mouth, trot over to wherever we are, drop it at our feet, and look up until we toss it. Then she'll repeat the process about 20 more times.
The Strategist is designed to surface the most useful, expert recommendations for things to buy across the vast e-commerce landscape. Some of our latest conquests include the best acne treatments, rolling luggage, pillows for side sleepers, natural anxiety remedies, and bath towels. We update links when possible, but note that deals can expire and all prices are subject to change.