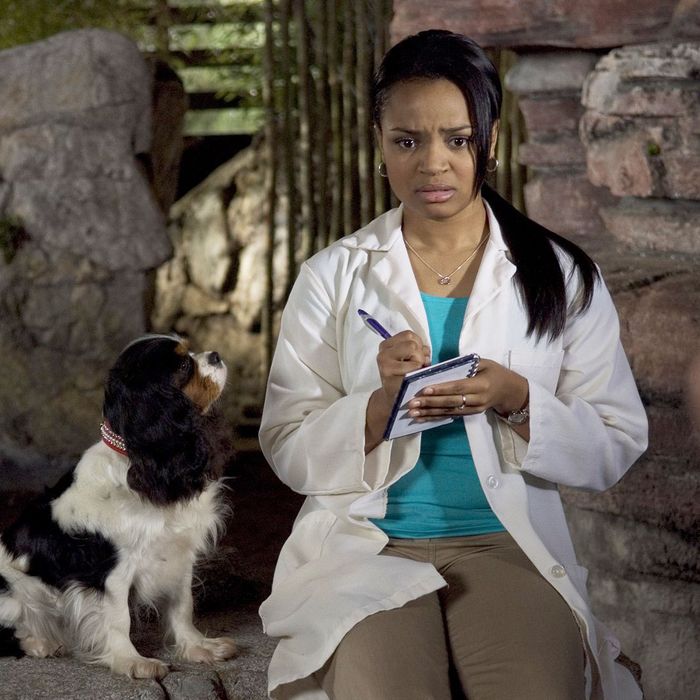 Photo: Twentieth Century Fox
For a lot of people, social distancing and working from home have made getting a pet more appealing (not to mention easier to do). But as any dog or cat owner will tell you, surprise trips to the vet, as when Fido swallows a sock or Felix develops a giant hair ball, can quickly drain your bank account. In an emergency, a good pet insurance will cover medical costs so you don't have to choose between going into debt and saving your pet's life. "We have done a lot of research on how to promote pet insurance, because when people can't afford veterinary care, they drop their animals in shelters," says Dr. Sarah Reidenbach, a California veterinarian. It's best to buy pet insurance before any health concerns arise or accidents occur, but even elderly pets or those with preexisting conditions can benefit from insurance. "There are a million things other than preexisting conditions that could go wrong. You can still get covered for those things," says Reidenbach.
If you think you can't afford insurance or don't think it's worth it, Reidenbach recommends looking into catastrophic plans that will at least cover lifesaving surgeries and medical emergencies. To put things in perspective, some accident-only plans will cost you less than $10 a month and could save you $10,000. "Pet insurance is all about securing peace of mind for the future," says Jennifer Fitzgerald, CEO and co-founder of Policygenius. But as with health insurance for humans, understanding the nuances of pet insurance plans isn't easy. So we talked to Reidenbach, Fitzgerald, and three other veterinarians and pet experts about how to find the best pet-insurance policy for you and your dog or cat.
Don't wait
Whether you're bringing home a 6-week-old kitten or adopting a 12-year-old rescue pup, everyone we spoke to agrees that the sooner you sign up for pet insurance, the better. "When we do adoptions, we say at least ten times, in ten different ways, 'Check out pet insurance immediately.' There are great offers that have to be started within 72 hours to seven days of adoption," says Jme Thomas, executive director of Motley Zoo Animal Rescue in Redmond, Washington. Pet insurance tends to get more expensive as your pet gets older, and many companies don't cover preexisting conditions, "so as your pet ages and experiences more accidents or illnesses, it can be harder to secure affordable coverage for them," says Fitzgerald. Still, if your pet is older and uninsured, our experts say it's worth pursuing. As Thomas says, "You will pay a bit more for an older animal and the costs associated with aging, but pet insurance can still be extremely beneficial."
Consider your dog's or cat's age, medical history, and breed
A lot of the questions you'll need to ask will depend on your pet's particular profile, so you'll need to know its age, breed (if possible), and medical history. Certain dog breeds are predisposed to dental disease, bloat, breathing problems, even joint issues. If you know your dog's breed, Stephanie Seger, whose blog bigdogmom.com is a resource for other large dog owners, recommends checking with its "national breed club to get a list of common health conditions for that breed, then cross-reference it with what is covered by an individual plan." If your pet has been sick in the past, you'll want to find out if that illness qualifies as a preexisting condition and thus will not be covered. Reidenbach says even partially related treatments can be excluded. "For example, diabetes can lead to urinary-tract infections, so those infections may not be covered," she says.
Shop around
Taking the time to compare plans can save you money and potential heartache down the line. Seger recommends getting quotes from multiple companies, including the one your vet recommends. There are lots of variables, including cost, deductibles, wellness coverage, and perks. Thomas suggests comparing the details of each company side by side. She also advises taking a company's ratings into consideration, since "cheaper is not better if they get poor reviews for finding clever ways to avoid paying out." Reidenbach says a lot of veterinarians (herself included) recommend clients check out the website Pet Insurance Review to help choose what works for them. "The ratings on the website are based on user experience, so it's as unbiased as you can get," she says.
Pay only for the stuff you need
"We know our pets are due for blood work and vaccines each year, so we can budget and plan for those expenses," says Dr. Katie Woodley, a holistic veterinarian. For young, healthy pets, picking a plan that covers only emergencies and catastrophic illness will help you save money every month. Reidenbach, for instance, opted for a plan that covers only major events like broken bones and hospitalization. "Personally, I can manage paying for an annual wellness visit and vaccines. I can't financially manage a major issue like a torn ligament or anything requiring major diagnostics or hospitalization. So I chose a plan that will cover expensive, 'catastrophic' things only," she explains.
Insurance
Plans
and
what
they
offer
Best overall pet insurance
Both Seger and Reidenbach recommend Trupanion. "I have Trupanion and have been happy with it so far," says Reidenbach, who spent thousands of dollars at the vet in the first year she had her two pups before finally springing for insurance. Now she says she's glad she has it. Trupanion offers comprehensive coverage, which includes most illnesses and injuries unrelated to a preexisting condition. The policies feature a lifetime "per-condition" deductible, meaning you pay the deductible for a condition that won't reset over the life of your pet. Trupanion is unique in that it will pay claims directly to your vet or animal hospital, so you don't have to bother with filling out forms and you'll never have to pay expensive bills up front. You can add one of two additional packages: Recovery and Complementary Care, for nonclinical procedures like acupuncture and physical therapy, and Pet Owner Assistance, which helps cover the cost of things outside veterinarian bills, like advertising, rewards for lost pets, and boarding fees in the event that you are hospitalized. According to Pet Insurance U, an online comparison service recommended by Woodley, Trupanion's average starting monthly premium for dogs is $59 and $32 for cats.
Best (less expensive) pet insurance
Healthy Paws aims to make your pet-insurance experience as simple as possible and covers any treatment for a new injury or accident that isn't part of a preexisting condition. That includes hereditary or congenital conditions. The company also offers unlimited benefits for the life of your pet, so if your cat gets cancer, Healthy Paws will never put a cap on coverage for cancer treatments. It offers a handful of deductible options, which can help when you're budgeting for monthly premiums. Claims can be submitted via the Healthy Paws phone app or on its website, and, according to the company, 99 percent of claims are processed within two days of submission. It's also the pet insurance of choice for Artforum editor-in-chief David Velasco. The average monthly premium for dogs is $33 and $17 for cats.
Best for customizing your policy
Petplan's comprehensive insurance for dogs and cats covers all accidents and illnesses with no restrictions on hereditary or congenital conditions. And unlike many insurance providers, Petplan will cover dental injuries and periodontal disease. This is particularly beneficial for small dogs, who often need professional dental cleanings. If you're looking to customize your policy, Petplan is the best option. The company lets you choose between an annual and a per-condition deductible and offers deductible amounts in $50 increments between $100 and $2,500. The average monthly premium for dogs is $29 and $18 for cats.
Best for large-breed dogs
For owners of large- and giant-breed dogs, Seger says Embrace is her top pick because of its preventative and wellness coverage, along with the coverage for surgeries often recommended for large dogs, including gastropexy to prevent torsion (twisted stomach) resulting from bloat. Embrace offers a standard plan that covers accidents and illnesses, a wellness plan that covers vaccines and regular veterinarian visits, and additional coverage for alternative treatments, such as behavioral therapy and prosthetic limbs, not usually covered by other companies. Embrace offers customers a wide range of choices to customize their policy, from various deductibles and reimbursement rates to annual benefit limits and prescription-drug coverage; of course, these added benefits will cost you more per month. Claims are easy to submit either by mail, online, or through a mobile app, and reimbursement can be expedited via direct deposit. The average monthly premium rate for dogs is $12.95 and $8.95 for cats.
Best for pet owners on a budget
Pets Best offers a variety of plans that include everything from illnesses to annual exams and alternative treatments. But if you're on a really tight budget and want to protect your pet should it get hit by a car or break a leg, Pets Best's accident-only insurance, though it won't cover cancer or any other illnesses, is better than nothing. Starting at just $6 a month for cats and $9 for dogs, your pet is covered for up to $10,000 a year after you reach the $250 deductible.
Best comprehensive wellness plan
While it may not make sense for all pets, some dogs and cats do benefit from increased wellness coverage. Nationwide's Whole Pet With Wellness Plan adds preventative care to its major-medical plan, giving you coverage for new accidents, injuries, or chronic illnesses as well as vet visits, vaccines, diagnostics, tick and heartworm prevention, and even some hereditary conditions like hip dysplasia and eye disorders. The company offers some choice around reimbursement rates, which can help lower premiums but can be risky if your pet needs to see the vet multiple times a year. Unlike many of the other pet-insurance companies, Nationwide offers policies for birds and exotic pets in addition to cats and dogs. Medical plans start at $35 for dogs and $19 for cats, while the wellness plans start at $59 for dogs and $31 for cats.
Best alternative to pet insurance
Reidenbach introduced us to the community pet-health sharing plan Eusoh, saying she has heard good things but hasn't had personal experience with it just yet. Instead of paying premiums, you pay a monthly subscription of $17, plus a monthly expense-share contribution depending on the number of expenses submitted to the community that month. Eusoh says the total monthly cost per member averages out to $38. But the company caps the monthly amount so you'll never pay more than $65 a month including your subscription fee. Whereas you would normally deal with a large insurance company, with Eusoh you join a group of fellow pet owners to share the cost of vet bills with reimbursements based on average national costs for procedures plus a geographical variance. Reimbursements cover 80 percent of the cost of injuries, illnesses, hereditary conditions, cancers, surgeries, annual checkups, prescription medications, and some wellness care. You will not, however, be reimbursed for the cost of treatments related to any preexisting conditions. There is a $250 annual out-of-pocket cost (essentially a deductible) and an annual maximum reimbursement of $8,500.
The Strategist is designed to surface the most useful, expert recommendations for things to buy across the vast e-commerce landscape. Some of our latest conquests include the best acne treatments, rolling luggage, pillows for side sleepers, natural anxiety remedies, and bath towels. We update links when possible, but note that deals can expire and all prices are subject to change.