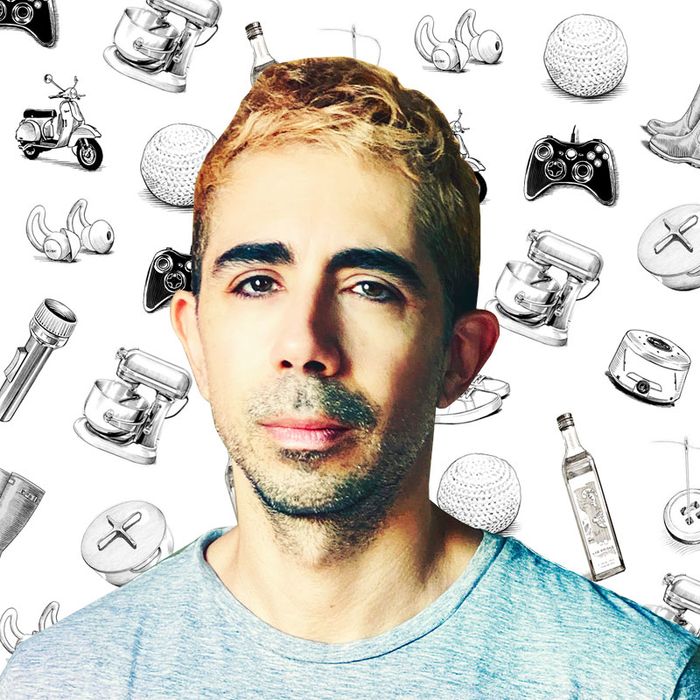 If you're like us, you've probably wondered what famous people add to their carts. Not the JAR brooch and Louis XV chair, but the hand sanitizer and the electric toothbrush. We asked Artforum editor-in-chief David Velasco about the indoor herb garden, lip balm, and books he can't live without.
I grew up poor as fuck, so when I got older, I wanted fancy things. When I moved to New York, I didn't have any money at all, and this was the most expensive lip balm to me. Sometimes I couldn't even really afford it — I would buy it with my last $25. It's one of the most luxurious items I can imagine affording when you have no money. Just having it in my pocket was comforting: It has this metal casing and this heaviness that I loved feeling. Also, it does feel great on your lips. But the kind of trivialness of it and its expense are part of its appeal, in a maybe not great way.
In the summer of 2004, I went to Los Angeles with my boyfriend. It was a magical trip. We had met a few months before, but that was the moment when we really fell in love. We stayed at a friend's house; she is an artist and had a lot of art books. I remember leafing through The Other Side and being totally transported by the pictures. It was one of those moments where I felt the miracle of art — how somebody could expand their world in a way that invited others in. It was an important moment for me. Nan has saved lives with her work, both in terms of preserving the lives she has encountered and then literally with her activism and interventions in the opioid crisis. She's just this unbelievable figure to me, somebody who is a life-giving force. And this book is something that actually manages to encapsulate that. Not an easy job for a book to do, but it does that.
Unlike the Fresh Sugar balm, this is a really inexpensive product. I have absolutely no idea what it does, but I put it on my face every night — and I have for years. My friend Kevin McGarry, who's a writer, turned me on to it. The cream is the base for all of my face care, and I always have it with me when I travel. It feels like something from a different era, like something a grandmother would use on her skin. It doesn't feel luxurious; it doesn't smell like anything. It's a really simple white cream. It also seems to really work.
I drink Coke Zero like I drink water. I decided to go dry in July, so when I go out to bars with people, I drink Coke Zero. I'll go through a two-liter bottle in a day — not always but sometimes. On ice in a glass with lemon. It's very comforting. It's also a lot of extra caffeine. But I drink a lot of coffee, so I'm totally caffeineproof at this point. I can drink coffee up until I go to sleep, and it doesn't matter.
Douglas is another person who saves lives. He is a friend; he was a friend until he died in July. He's also an ideal, somebody that made it seem possible for me to have the kind of life that I want. Before Pictures is a memoir that he published just a couple of years before he died. It's about the years leading up to him putting together this show, "Pictures," at Artists Space, which was one of the founding moments of postmodernism in art history. He tells the story in a way that brings together both art history and more prosaic details about his private life and sexual life, and he does it in this way that I've never seen before. It shows you how thinking and theory and interacting with art can fully saturate all of your life. To me, the book is a path for both how to live and how to write. I wrote about Douglas extensively in the December issue of Artforum; it's a piece I think is worth reading if you want to know a little more about him.
I stole my bottle of Anicka Yi's fragrance from its launch party at Gladstone Gallery. It smells great — like body, like a surprise, like art. It's very Anicka. She's an amazing artist who deals with scents, who's totally committed to that holistic idea of art in that she thinks about every element of the sensory experience. I feel a little guilty about stealing it.
Truvada was totally revolutionary for me. It took away my fear of sex, and I think that's incredible. I went on it pretty early, in 2014, which was around the time New York did a story about Truvada. I think that opened the door to a lot more people using it. I'm in this strange generation: I started having sex at the peak of AIDS deaths in America, in the early and mid '90s, right before there were really effective treatments for HIV and AIDS. So I grew up terrified of AIDS in a way that I think maybe some younger people I meet aren't. It's wonderful that they don't have that fear, but it's despicable how few people still have access to Truvada or information about it. For that reason, it's a responsibility of the people who do take it to talk about it, to proselytize, and to continue taking it.
Every morning after I wake up, the first thing I do is have a shot of coffee. I can't function enough to make coffee some other way, so the simplicity of putting a pod in a machine and hitting a button is magical. It makes me excited to get out of bed. I think the Nespresso machine is one of the great modern inventions: It takes this daily necessity and makes it as easy as possible. At that time of day, you need something to be simple. I order my pods, and now in New York the pods are recyclable. It used to be that you'd have to mail the pods to be recycled. But recently, they've made them more easily recyclable, which is even better.
This is a funny and beautiful testament to this counterculture in '70s queer life that still feels very true today. It's another book that feels like a path to me. It gives you some lessons about how to live collectively, how to join pleasure and friendship, and how to survive in a world that's trying to break you — which I think are useful now and probably, unfortunately, always. It also has these charming, whimsical illustrations by this artist Ned Asta, which give the book another kind of levity that I think makes it really accessible.
It's kind of amazing to be able to grow your own herbs inside. You feel a little bit like a survivalist but without the scariness of being a survivalist. I have one of these machines, and it's just nice to have something living in your living room. Mine has six basil plants growing at the same time. I wait for them to flourish, cut them down, and use them in pasta.
Pet insurance is so important. I have a 2-and-a-half-year-old rescue pit bull named Sister who gives great meaning to my life. She likes to eat everything on the street; earlier this year, she ate an entire corncob. We didn't think it would be such a big deal, but it turns out dogs can't digest corncobs so she had to have surgery. Amazingly, Healthy Paws covered the bulk of the surgery. If it hadn't, I would have been out like $5,000 or something. But it was great.
We take Sister to this sort of DIY dog park down the street from us. Sometimes we'll take her to the legit dog park, but pit bulls aren't always looked kindly upon in legit dog parks, even though she's very friendly. So we often go to these overgrown fields near our house that are not necessarily meant for dogs, where we play ball with her. Over time, we've lost many, many, many non-glow-in-the-dark balls in the grass, so we've started using these glow-in-the-dark ball toys, which are much easier to find and a lot more fun to play with.
I've had this pair of QuietComfort headphones for two years, I think. But I've had some kind of noise-canceling headphones for probably eight or nine years. The noises in my head are very loud but not loud enough to drown out the noises outside of my head, so I often need something that can quiet down my surroundings to hear myself think. I can't really do any serious editing or writing when there's noise — my brain will just go directly to whatever else is trying to attract its attention, so these are crucial for me to focus. I use them all the time.
Even if I didn't work here, I couldn't live without this magazine. It has the best writers, the best art; to me, it's the best magazine — although I also love New York. Artforum is such a strange and magical beast. It's an independent magazine that has retained its independence throughout its history. It's supported entirely by the community it covers, all of whom read it. It manages to be an art object in its own right. Everyone that works here is so fully devoted to every aspect of the craft of making this magazine, and it shows. People talk about the death of print media; it's not something I actually worry about much, to be honest. But I do think it's important to support the places that keep that craft alive.
The Strategist is designed to surface the most useful, expert recommendations for things to buy across the vast e-commerce landscape. Some of our latest conquests include the best acne treatments, rolling luggage, pillows for side sleepers, natural anxiety remedies, and bath towels. We update links when possible, but note that deals can expire and all prices are subject to change.