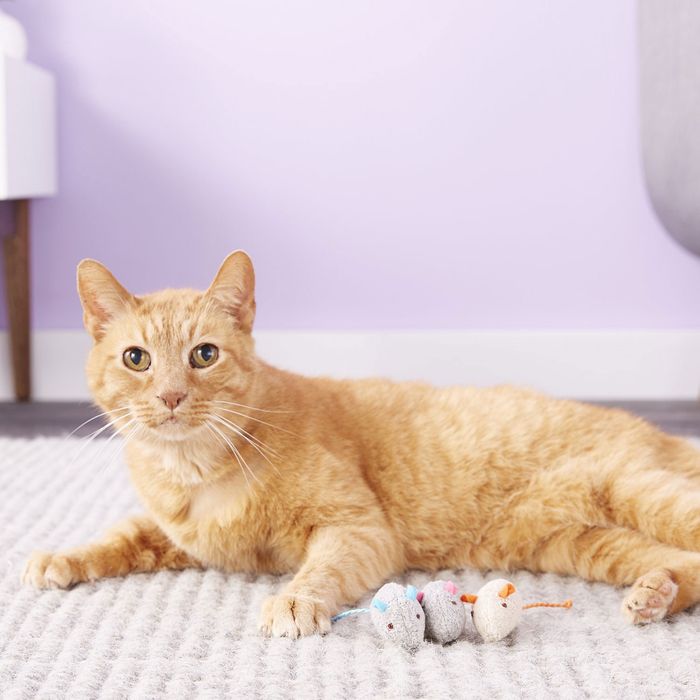 Photo: Courtesy of the retailer
Although cats are generally considered lower-maintenance pets than dogs, there's still a lot of gear — including food bowls, litter boxes, toys, carriers, and more — you'll need when adopting a new kitten or an adult cat. Since adopting two cats eight years ago (one of which has sadly passed away), I've tried out a lot of cat gear, and have pretty strong opinions on the items worth buying. Of course, all cats have their own preferences and personalities, but my picks below should be more than enough to get you started.
Feeding essentials for cats
You should always consult your vet about any dietary needs specific to your cat, but in my experience, Wellness wet food is my cat's favorite — so much that I've recommended it to other cat owners who've also become fans. Wellness wet food doesn't contain unhealthy grains or fillers found in other cheaper brands, but it's still affordable enough to buy in bulk. Most vets I've spoken with prefer wet over dry food because it has a higher moisture content, which can help prevent urinary tract problems, diabetes, or kidney disease. And no matter what type of food you ultimately choose, I'd advise setting up a subscription for regular food delivery like those offered on Amazon or Chewy. You'll usually get a little discount for subscribing, and it beats lugging a pack of two dozen cans (or a five-pound bag of dry food) home from the store.
When I'm giving my cat the occasional treat, I like these crunchy ones because chewing on them helps keep her teeth clean. They must taste great, too, because my cat devours them. Treats can also serve as positive reinforcement if you're training your cat to stay off the furniture, or only scratch her scratching post.
Since they're more durable than plastic, I've always used stainless steel bowls for my cat's food and water. Get ones that you can throw in the dishwasher or easily hand wash, as bowls often harbor bacteria — which can leave your cat with painful chin acne in addition to other health issues. Bowls should be wide enough that your kitten's whiskers don't brush up against the sides. Because whiskers are full of nerve endings, too much contact with a bowl can cause sensory overload or "whisker fatigue."
You definitely don't need a fancy wooden stand like this for your cat's food and water bowls, but it sure makes them look classier. I have a similar one from a now-defunct Etsy store, and I find it makes my cat's feeding area look that much more put together. Plus, you don't have to deal with cats pushing around or knocking over their bowls.
Cats, especially kittens, can be messy eaters (see the above bit about knocking around their bowls). I've also been guilty of dripping some chicken gravy on the floor during a bleary-eyed, early-morning feeding. An easy-to-wipe mat helps with controlling spills, no matter who causes them. I have this one, which I think is appropriately silly.
[Editor's note: This mat design is sold out, but ORE's equally silly newspaper-themed placemat is available for $6.]
If you want a heftier mat, this one has great reviews on Amazon, and its anti-slip bumps help keep bowls in place even when feeding the most enthusiastic kittens.
Litter essentials for cats
By the time kittens are ready to be adopted (usually around eight weeks old), they've typically already figured out how to use a litter box, which is a boon for their new owners. A basic, easy-to-clean litter box will work for most newly adopted cats, and this one has a little dip on one side so small kittens can easily climb in. But if you have more than one cat, you should also have a litter box for each one.
You're going to be doing a lot of litter scooping, so I think it's worth investing in a scooper that's durable, cleans up quickly, and comes with a holder so it's hidden when not in use. I've had this one for several years and it still looks great. It has a streamlined minimal style that doesn't scream "poop scooper."
Back in December, I called this litter my favorite purchase of 2018, and six months later I'm standing by that. Nearly everything about PrettyLitter is perfect. The crystals absorb liquid waste instead of clumping — so there aren't any huge clumps to scoop — and the only thing you have to remove is solid waste, which is flushable. It's as close to odorless as cat litter can get, and I find that it only starts to get dusty and a little smelly at the end of the month, when it's time to swap in a new bag anyway.
Photo: Adelson, Karen
Like the food-bowl stand, this attractive litter-box storage isn't a necessary purchase. But it's a huge aesthetic improvement over most plastic litter boxes. I keep mine in the bathroom with a tray on top to hold the litter scooper and some candles for odor-masking, and it really just looks like a nice piece of furniture. The brand sells a separate, removable inner liner for the box that fits inside perfectly and makes cleaning it very easy. I wouldn't buy this for a kitten, though, as the entrance might be too high for a little one to reach.
Even the neatest cats will leave the litter box with some bits of litter trailing behind them. A mat designed to catch stray litter can keep it from getting all over your home. I have a plastic mat that I like but don't love (the crevices that catch litter pieces are hard to get into and clean), so I'm eyeing one like this, which is supposedly very easy to vacuum.
Playtime essentials for cats
Whether your cat loves toys or is generally indifferent to them, I can almost guarantee she will freak out over this catnip-filled banana. As she's gotten older, my cat has become less interested in playing, but she still can't resist the banana. When I was researching the best gifts for cat lovers, Nora Wood, adoption event coordinator for Anjellicle Cats, a New York–based all-volunteer cat rescue and nonprofit, explained its universal appeal, calling the banana the "best catnip toy" because it's the "perfect shape" for cats to sniff, snuggle, and kick, and it's better than "lots of crap catnip out there."
A wand to chase around is another surefire hit for most cats. I've seen cats leap high into the air to try to "catch" this toy and then drag it around in their mouths. Playful kittens will chase it until they've tired themselves out, and it's also a great way for older (and lazier) cats to get some exercise, while enjoying your company.
Photo: Courtesy of the retailer
I'm always picking up little mice toys for my cat because they're a playtime favorite and often go missing under the furniture due to their size (thankfully, they're also often cheap). Let your cat sniff the toy to get a whiff of catnip and then toss it across the room and watch her bolt off to "hunt" it.
Cats instinctually need to scratch something (both to leave their scent behind and sharpen their claws). If you'd rather it not be your couch, invest in a scratching post, something just as attractive to kittens as it is to mature cats. Since they're vertical, posts help cats get in a good stretch, just like they would on a chair leg. This one is made from sisal (not cardboard), so it lasts a long time and won't leave cardboard scrapings all over the floor. Plus, the wooden top and base give it an almost elegant-looking quality, like a fancy pedestal or column.
Cats also like to scratch on horizontal surfaces, and although this scratching board is cardboard, I've had one for a few years and it has held up pretty well. I keep mine by a windowsill, where it can double as a little perch for my cat to sit on and look outside.
My cat's favorite place to perch, though, is her giant cat tree. Since cats love to climb and survey their surroundings from above, buying a cat tree is a very smart idea (trees also keep cats off furniture, if that's something you're trying to do). They range from basic to elaborate, and I recommend getting one with several levels that cats can grow into. Kittens might only be able to reach the lower tiers at first, but they'll quickly (after several adorable failed attempts) make it to the top. I personally own a stupid-expensive tree that's handmade from real bark, but I think this one is very good, too. It's got sisal scratching posts, a hanging toy for cats to bat at, a little hideaway nook, and soft padding on each level for napping.
Here's a less-expensive tree that has lots of the same features.
It's always good to have some loose catnip around to sprinkle on new toys, scratching posts, or trees to get your cat's attention as you introduce her to new gear. This is the same irresistible blend as the one in the banana toy.
Grooming essentials for cats
We've written about this cult-favorite pet brush before, and there really isn't anything better for grooming cats — especially ones with longer hair like mine. Regular brushing cuts down on shedding and regurgitated hairballs, which cat owners know are always an unpleasant surprise. As long as I'm gentle with it, my cat enjoys being brushed, and it's a nice way to bond.
Cats are vulnerable to tooth decay and will usually need a professional teeth cleaning once or twice in their lives (my cat just had hers done last year). I'd like to avoid another pricey procedure, so along with the dental treats, I'll use a bit of this toothpaste on my finger to give her teeth a little polish. Try to start at-home brushing when kittens are young so they get used to the feeling and don't put up a struggle.
Miscellaneous essentials for cats
You're definitely going to need a carrier for annual vet visits and any travel you plan on doing with your cat. Most cat owners I know, myself included, use the Sherpa, which is popular for a handful of reasons: It unzips on the sides and top so you can wrangle your kitty into it whatever way works best for her; it's lightweight and easy to carry, thanks to the shoulder strap; and the mesh windows give cats plenty of room to breathe and see. It's also approved by most airlines for in-cabin travel.
I discovered this candle at my vet's office, and although it's decidedly not a status candle (way too goofy-looking), it's exceptional at eliminating odors. It doesn't mask pet smells — burning it actually releases a blend of natural enzymes that apparently destroy airborne animal odors at a molecular level. I cannot speak to this destruction, but I will say my home smells less like cats whenever I burn it. My favorite scents are the citrusy "Orange Lemon Splash" and subtle "Clothesline Fresh."
I feel guilty admitting this, but my cat doesn't wear a collar. I've attempted to put one on her, but she freaks out and manages to wriggle out of it every time (thankfully I live on the fourth floor of an apartment building, so she'd have to navigate through three doors and an elevator before hitting the streets collarless). Using a collar is generally a good idea, though, and an elastic one with a quick-release breakaway like this is the safest option, since it'll snap open if it gets snagged on anything to prevent choking. This one's also reflective, making kitty easy to spot if she gets out at night.
The Strategist is designed to surface the most useful, expert recommendations for things to buy across the vast e-commerce landscape. Some of our latest conquests include the best acne treatments, rolling luggage, pillows for side sleepers, natural anxiety remedies, and bath towels. We update links when possible, but note that deals can expire and all prices are subject to change.