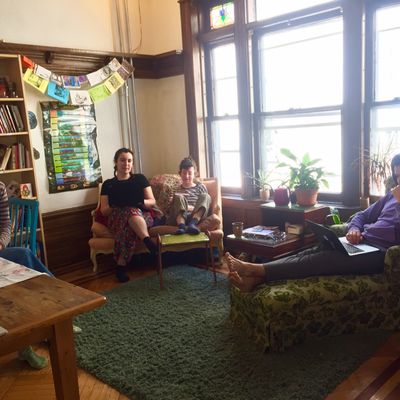 A literary agency assistant, program associate, social media intern, and line cook at work in our shared living room.
Photo: Kayla Levy
Despite my penchant for living with large groups of people, the coronavirus pandemic, and its social imperative to stay inside, has brought new meaning to living with roommates. Now, for the foreseeable future, I am living and co-working with four people (formerly five — one just left the city). The challenges of constantly sharing space with others abound: Our living room is now a virtual meeting space for morning interviews and conflict-resolution workshops, plus the site of someone's breakfast meal. Cookware that was once used sparingly is now used every day, often several times a day, and a bathroom that was cleaned weekly now (more than ever) requires daily sanitizing. Since 40 percent of adult renters live with a roommate (who isn't a partner), many others are finding themselves in a similar situation right now — especially as young, healthy people are one of the most important demographics to be practicing social distancing. So, in order to make the prospect of indefinite co-working from home a little bit easier, here is everything my roommates and I have used to navigate working, living, and socializing at home together, with some insight from others who are doing the same.
For co-working time
Setting up a workspace that mimics an office has been an important way for me and my roommates to take co-working seriously. In addition to my laptop, I keep my Nalgene and a notebook on hand to stay well-hydrated and focused on the day's tasks. My roommate Sophie Edelhart, who's a social media intern, uses a notebook from the Slingshot Collective that doubles as a journal: "There's enough space to make a to-do list in the morning and write about my day in the evening, and I think I'll be interested to go back and read about this time in my life later," she says.
Another office essential that's become even more of a mainstay than usual in our home is the coffee maker. Whoever gets up first makes a full 12-cup pot in our simple, yet effective machine, which one coffee aficionado calls a great choice for any "amateur coffee roaster who wants to flatter their grounds."
Everyone who is currently working from home with roommates mentioned that working apart, when possible, is essential for staying focused. I like to sit on the couch, whereas one of my roommates works at her desk. For those working from small (read: New York City) apartments, Strategist writer Louis Cheslaw recommends this best-selling Ikea armchair and ottoman, which does double as a comfortable workspace. "I wanted to separate where I sleep and work, but I can't fit a desk and chair in my room," he explains. This duo is slim enough to squeeze into smaller spaces, and he adds that "the lumbar support in this chair is just as good as an office chair, and it's roomy enough to prop my computer on my lap. Plus, it came in two days and took me 20 minutes to assemble."
When the same living-room-turned-office is being used for writing articles and conducting grant-making meetings, noise-cancelling headphones are an obvious choice. Cheslaw says this "brilliant" pair of tech columnist–approved Sony headphones sufficiently drown out the sound of his roommates' conference calls. Another Strategist writer, Jenna Milliner-Waddell, can't stand the sound of other people eating, so while working from home with a roommate, she's opted for a pair of Bose headphones to "block the sound out instead of drowning it out with music, which I can't really work to."
Lena Beckett's work in crisis services involves sharing sensitive and confidential information — now from the confines of her or her girlfriend's apartment, each of which has two other roommates. Before going remote her company supplied employees with this Jabra Wireless Headset, which Beckett says is "essential" for working from home with other people. "The microphone is really sensitive and the headphones have noise canceling features, so I'm able to quietly talk to someone in crisis while blocking out the sound of my roommates watching Parks and Rec," she explains.
For Beckett, a white noise machine is another go-to for "keeping your room quiet from the sounds of funemployed roommates who no longer need to go to bed before 2 a.m." Like Strategist editor Alexis Swerdloff, Beckett prefers the Yogasleep Dohm machine, but says that any generic white noise app will do the trick, which I can confirm works. Since last week, I've been using the app to successfully keep noise to a minimum while remotely tutoring someone for her bat mitzvah.
The main workspace in our home has only one outlet and now must accommodate up to five computers at any given time, so we've moved an extension cord into the room. If you're looking for a tasteful power cord that functions as a phone and computer charger, Strategist writer Liza Corsillo recommends this lime green one.
Professionals who work from home agree that breaks are essential for maintaining a work-life balance. In addition to a mid-day pause, my roommates and I have been taking a 5 p.m. walk together. "For me, the walk is in place of a commute, which is a transition between the work day and home day. Without the ability to physically leave an office it can be hard to have boundaries between work time and free time. Going on a walk is a good way to mimic that," explains my roommate Sophie Kreitzberg, who is a program associate at a philanthropic organization. Strategist managing editor Maxine Builder uses this timer to divide work in two-hour chunks, and we also have a list of well-reviewed clocks to help you keep track of your break times.
For roommate time
All of the people who I spoke with agree that accountability is of paramount importance when roommates are sharing more time in a joint co-working and living space. As such, my house is using a Google Spreadsheet to sign up for household responsibilities, and Beckett's roommates are using Muji's calendar notebook to "coordinate chores because they need to happen much more frequently now."
Cleaning is at the forefront of everyones' minds right now, especially when sharing space — and germs — with several other people. Cheslaw and his roommates used to clean the bathroom every two weeks, since they were home so rarely, but now they're being "hypervigilant" about daily sanitizing with an all-in-one cleaner. Eliza Klein, who works at a housing justice nonprofit, collectively lives with 13 people between two adjacent apartments, seven of whom are sticking around — and working from home — during the pandemic. "There are more dishes because we're all home for lunch. Before we only used natural cleaning supplies like vinegar and DIY dish soap, but now we're using generic more toxic brands, as well as Clorox wipes," she says.
In order to foster routine and support, my roommates and I have been having a nightly family dinner. "It's nice to mark my day with ritual, and sitting down to dinner every night and checking in is a great way to do that, especially right now," says Edelhart. In an effort to support folks in the food industry who have lost work because of the pandemic, we've also been ordering specialty ingredients from wholesale providers who are now doing home delivery. Beckett (who was formerly a line cook) has also seized the chance to order from wholesale providers, and make more elaborate meals that "take a while to cook, like bolognese." When it comes to recipes that simmer throughout the day and will feed several people, a good Dutch oven is a kitchen mainstay.
To mark the shift from daytime work to nighttime unwinding, my roommates and I pull out our portable bluetooth speaker and listen to music. "It creates an atmosphere that's more focused during the day and more relaxed in the evening," says Kreitzberg. This waterproof, JBL speaker can withstand any accidental cooking spills during group cooking at home, plus we have a roundup of 14 other well-reviewed portable bluetooth speakers.
Another part of our nightly routine is relaxing together, often with a round of Balderdash or Bananagrams. My roommate, and literary agency assistant, Emily Mernin says that playing games is a way for us to "keep our minds sharp" during a time of relative monotony. We also have a roundup of non-fusty puzzles and a list of well-reviewed adult board games, if that's more your speed.
Klein also agrees that "while it's important to be there for each other in emotionally challenging moments, we also want to keep our spirits up," so one of her housemates made a calendar of nightly activities to do as a house on a giant dry erase board. "Last night we all showed each other baby pictures of ourselves and watched half an episode of The L Word," she says.
With so many evening hours to fill at home, Beckett has utilized her roommate's Nintendo for the first time ever. "I had never played Super Mario Bros before and when I told my little brother, who is far away from me, that I lost, he thought that my inability to gather coins was hilarious," she says.
More leisure time means that our TV has also been in-use more than usual. An HDMI cable has been key for livestreaming events and workshops —including the Indigo Girls' forthcoming Facebook-live concert, the Metropolitan Opera's nightly livestream, and Sky Ting yoga classes — so that multiple people can see the screen at once.
The Strategist is designed to surface the most useful, expert recommendations for things to buy across the vast e-commerce landscape. Some of our latest conquests include the best acne treatments, rolling luggage, pillows for side sleepers, natural anxiety remedies, and bath towels. We update links when possible, but note that deals can expire and all prices are subject to change.