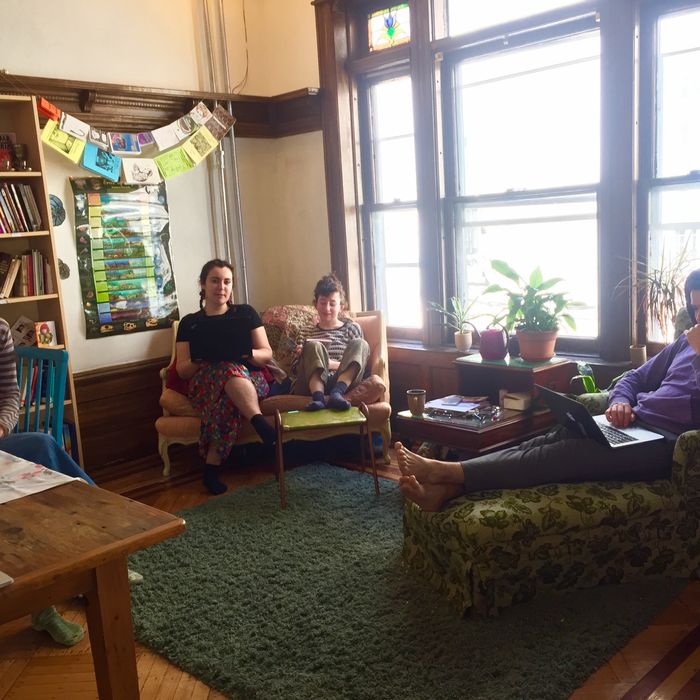 A literary agency assistant, program associate, social media intern, and line cook at work in our shared living room.
Photo: Kayla Levy
Despite my penchant for living with large groups of people, the coronavirus pandemic, and its social imperative to stay inside, has brought new meaning to living with roommates. Now, for the foreseeable future, I am living and co-working with four people (formerly five — one just left the city). The challenges of constantly sharing space with others abound: Our living room is now a virtual meeting space for morning interviews and conflict-resolution workshops, plus the site of someone's breakfast meal. Cookware that was once used sparingly is now used every day, often several times a day, and a bathroom that was cleaned weekly now (more than ever) requires daily sanitizing. Since 40 percent of adult renters live with a roommate (who isn't a partner), many others are finding themselves in a similar situation right now — especially as young, healthy people are one of the most important demographics to be practicing social distancing. So, in order to make the prospect of indefinite co-working from home a little bit easier, here is everything my roommates and I have used to navigate working, living, and socializing at home together, with some insight from others who are doing the same.
For co-working time
Setting up a workspace that mimics an office has been an important way for me and my roommates to take co-working seriously. In addition to my laptop, I keep my Nalgene and a notebook on hand to stay well-hydrated and focused on the day's tasks. My roommate Sophie Edelhart, who's a social media intern, uses a notebook from the Slingshot Collective that doubles as a journal: "There's enough space to make a to-do list in the morning and write about my day in the evening, and I think I'll be interested to go back and read about this time in my life later," she says.
Another office essential that's become even more of a mainstay than usual in our home is the coffee maker. Whoever gets up first makes a full 12-cup pot in our simple, yet effective machine, which one coffee aficionado calls a great choice for any "amateur coffee roaster who wants to flatter their grounds."