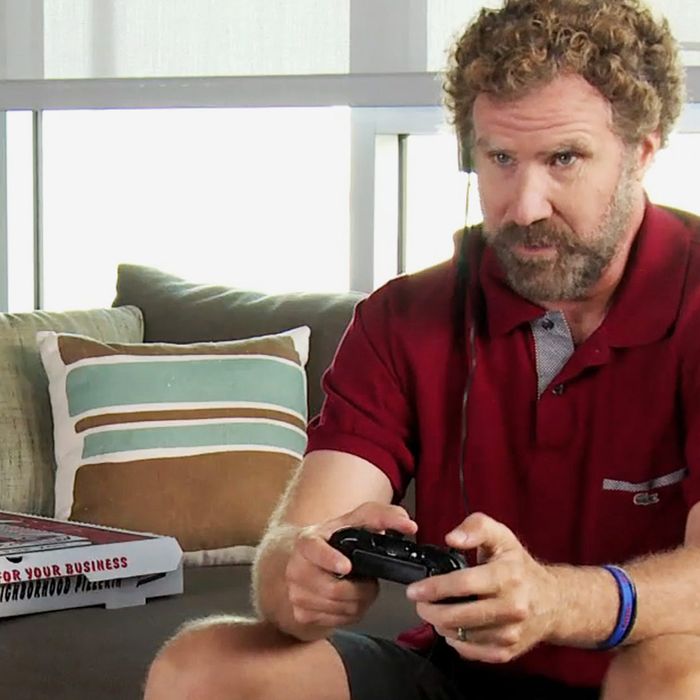 Photo: Courtesy Funny or Die
Here at the Strategist, we like to think of ourselves as crazy (in the good way) about the stuff we buy, but as much as we'd like to, we can't try everything. Which is why we have People's Choice, in which we find the best-reviewed products and single out the most convincing ones. (You can learn more about our rating system and how we pick each item here.)
And while we've written about video game accessories before — including gaming chairs and gaming mice — here, we've rounded up the best gaming headsets, as praised by the most enthusiastic reviewers on Amazon. 
Best-rated gaming headset
"Comfort" comes up in over 600 five-star reviews of this gaming headset from HyperX. One reviewer, who says they've owned "many headsets from Logitech, Plantronics and my last 2 were some higher priced Racer Carachias and Kraken Pro" says this headset "put all of them to shame … I use the default memory foam cups and they are the most comfortable headset I ever tried." Hundreds of reviewers also speak to the sound quality, including one who says, "Sound quality in and out is great. As someone who appreciates a good, clear low end, this headset can go low and make you feel it, without sacrificing clarity and volume in the highs." Other reviewers complimented the headset's incredible noise-blocking ability, with one reviewer exclaiming, "I thought my old headset was noise-canceling. Holy cow, talk about privacy! These REALLY do cut out outside noise."
Best-rated (less expensive) gaming headset
This gaming headset from NUBWO gets top marks for value. One reviewer even calls them " the best purchase I've ever made on Amazon so far. I bought these with low expectations and man, did it surpass that! Fantastic quality, mic and speaker wise. Feels and looks nice. Comes with an adaptor for different plug sizes and doesn't feel cheap AT ALL. This is the BEST bang for your buck." Many other reviewers were similarly delighted by this headset's affordability, with one writing, "They far exceed the $60 Turtle Beach headset I used to have … Very comfortable too, after hours of wear I forgot they were even there. You must get this, it's worth the extremely low price!" The headset's sound and mic quality were additional selling points for reviewers. "I've listened to headphones that cost hundreds of dollars and I think that this is a very comparable set," one satisfied owner writes. "The sound comes through clearly and I'm able to hear and speak with others through the microphone easily — I usually have to speak slowly and clearly but now it's as if I'm sitting right next to the people."
And now for some micro-picks of every type of gaming headset you might be looking for.
Best wireless gaming headset
Many reviewers lauded this gaming headset's wireless capabilities. One reviewer was delighted to discover the headset's range, writing: "I leave the headset on, walk out of my room, down a flight of stairs, through the living room and dining room, down another flight of stairs and into the basement and there's absolutely no cut-outs, no static, no signal degradation of any kind. WOW!" Lots of owners also praised the headset's long-lasting battery life. One particularly enthusiastic reviewer wrote: "Battery life is usually the downside to a wireless headset as you have to stop playing to recharge battery if you forget but not this one. It lasts forever. Love it!"
Best gaming headset with best mic
Dozens of reviewers agreed that this headset's main selling point was its mic. One reviewer, who says he has "the loudest roommate in the world," describes the mic sound quality as "NEXT LEVEL! I also have a cat that loves to yell at me. Doesn't pick it up at all." Another satisfied reviewer recounts a story that showcases the mic's impressive performance: "The first time I used it I had a 20-minute phone conversation with my boss while running from room to room to keep away from my toddler's screaming and barking dogs. When I finally gave up and apologized for my non-professional behavior and background noise, he responded, 'What do you mean? I didn't hear a thing.' This is exactly what I bought these 'phones for." Besides its high-quality mic, this headset's outstanding sound quality had many reviewers very satisfied. According to one excited reviewer, "Audio is its business and business is oh so good. The music that comes out just envelops me."
Best noise-canceling over-ears gaming headset
"I'm not your typical gaming headset user," one reviewer says. "I'm a realtor. I use them to watch movies and respond to incoming calls without having to stop the movie, find my phone, answer the call then get all connected again. These are the perfect solution." She continues, "The microphone projects well and I've not had any complaints about sound quality from the other end … I would imagine my boys would love to have them for gaming, but I'm so happy with them, I'm not going to share." And many others reviewers, who do use this headset for gaming, rave about its audio quality. "The noise cancellation is fantastic for people who want to ignore everyone, and I really commend these headphones for that," one reviewer writes. Another agrees, "Makes it great for playing video games, as you can hear every noise and footstep. They are very comfortable and with the noise cancellation, they shut out the outside world."
Best gaming headset for Xbox One
One reviewer says, "Can only speak for Xbox one compatibility but these are excellent headphones! Clear crisp sound, gets loud enough, when I speak it is also received as clear and crisp, not very noise canceling but comfortable and a nice no fuss adjustable headband." And many other owners of this headset agree that it's great for playing games on their Xbox. "They were so easy to connect/plug into my Xbox controller," one raves, adding, "The sound quality was amazing." Another reviewer says that this headset is so good, it's even changed the way they play: "I was playing my Xbox One with some very cheap and generic headphones, and after a couple months I decided to upgrade. As soon as I plugged these into my controller I was astonished with what I could hear and how these very well priced headphones enabled me to experience a different kind of gaming that I had yet to unlock with my original headset."
Best gaming headset for multiple platforms
"I bought these because my old headset didn't have comparability across platforms, was only a PC headset. This set has attachments for all the platforms which makes it easy to use for the Xbox then switch to the computer," said one reviewer who loved this headset's adaptability. And many others love that this headset is easy to use across different platforms, from the Nintendo Switch to Xbox One, even an iPad. "I play a lot on both PC and Xbox and it works great on both," one reviewer writes, adding, "No crackling, no buzz. Comfortable on my ears. In games where you need to hear what direction enemy footsteps are coming from, I can hear it clearly and know what side it's coming from." Many parent reviewers were happy to discover how durable and sturdy this headset was as well. "Bought these for my son who is a big online gamer, 13 years old, and has not had a decent headset. He is hard on all his equipment and did not think these would be decent headphones when I originally told him that I ordered them," one parent writes, adding, "They have been great, held up to his abuse, he wears them all the time … Very good for the price."
Best gaming headset with LED lights