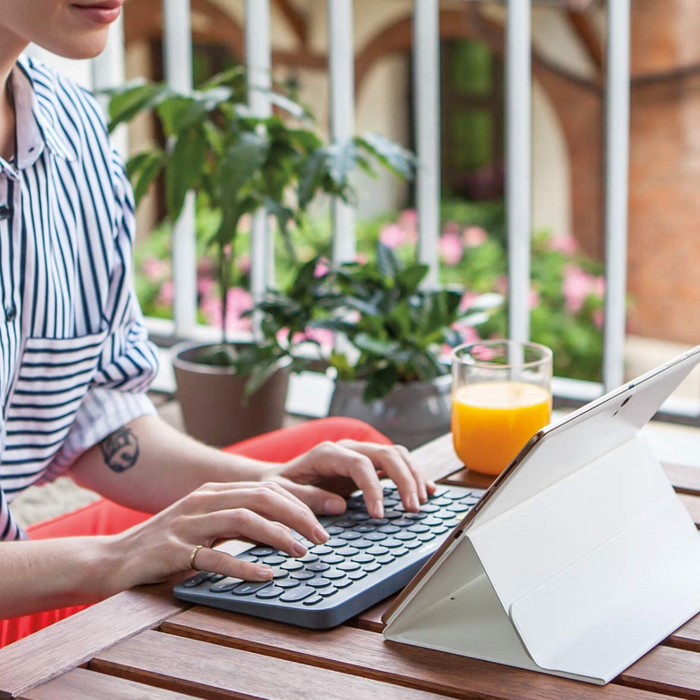 Since most folks will continue working from home for the foreseeable future, it may be time to upgrade your tech setup — like getting a keyboard that enables your iPad to double as a laptop (or movie-watching screen). And while we've written about lots of tech accessories before — including iPad styli, iPad cases, and an Apple dongle dupe — here we've rounded up the best iPad keyboards, as praised by the most enthusiastic reviewers on Amazon.
Related Article: Best Computer Monitors
Best-rated iPad keyboard
Purchasers say Arteck's bluetooth iPad keyboard is a great all-around performer, and they especially love the backlight with seven changing colors. Speaking to its general layout, one writes, "The keyboard is perfectly sized. I can type with ease, and don't have to hunt and peck due to weird key placement." Another writes, "The keyboard's backlighting helps see the keys easily," and, along with a few other reviewers, points out that the light "will shut off after about 5 seconds of non-activity, so it doesn't really drain the battery." If, however, you're particularly concerned about conserving the battery, many mention that the backlight can be easily turned off, and you can also choose between two brightness settings. Perhaps less practical, but very fun, is the ability to cycle through seven different backlight color options. According to one, "It's just fantastic. I like to change things up now and then."
Best-rated (slightly less expensive) iPad keyboard
"I needed a cost-effective solution when the Smart Keyboard for my iPad stopped connecting after about two years of use," writes one reviewer, and they couldn't be happier they went with this one. "This is a great little keyboard that's definitely made for Apple products — the function bar across the top has functionality for screenshots, iTunes, brightness, and sleep mode. Also, the command keys on the bottom of the keyboard are laid out like an Apple laptop (making my life way easier!)." Others also rave that this pairs seamlessly with their Apple products, and essentially turns their iPad into a laptop. "The keyboard is a nearly full-size QWERTY device, and I am easily able to use my typing skills, allowing my fingers to keep up with my brain," one writes, while another says: "Just because of this paired with my iPad, I have saved over $1,000 because I didn't have to go buy a computer." More than 10 percent of reviewers also mention the exceptional battery life on this wireless keyboard. One even says, "I still haven't changed the batteries from when I bought it months ago, and I use it all the time as I'm a full-time student."
Best bluetooth iPad keyboard
Reviewers with iPads of all sizes rave about this keyboard, which connects to any smart device via Bluetooth. In fact, over 150 other five-star reviewers describes the Bluetooth pairing as "easy," including one customer who "despises" checking their email on their iPhone or iPad and can now "quickly respond to emails and keep on with my day without missing a beat. Pairing to my devices took less than 30 seconds." Another initially skeptical reviewer says, "The keyboard synced with my iPad on the first try with the included instructions so setup couldn't have been easier," and they now happily use it to journal on their iPad mini. This keyboard's long battery life (advertised as up to 60 days of charge) and magnetic cover-slash-stand also get praise. "I've had this keyboard for nearly a year, and have only charged it three times," begins one reviewer, who says they use it almost daily in academic classes. "The stand works great for school, either on a desk or in my lap," they add. Another reviewer, who's used this keyboard with their tablet (in lieu of a computer) for over a year, says it's proven to be "extremely durable," adding that the case both "looks good and protects the keyboard when folded" and acts as a functional stand when open.
Best folding Bluetooth iPad keyboard
"This little keyboard rocks! I use it in conjunction with my iPad, instead of lugging my laptop everywhere, and since it tri-folds, this easily fits in a small backpack or tote bag/purse. Or if your a minimalist, in a cargo pocket," one reviewer explains. Other purchasers agree that it's compact and easy to transport, with over 100 five-star reviewers using the word "portable" in their comments. Another writes, to the same effect, "This keyboard is amazing. I've paired it once to my iPad and every time I've used it, I just open it up and start typing. No re-pairing, which I find to be a pain. Just unfold it and start typing. It folds up very small and is easy to travel with."
Best iPad keyboard case
Reviewers say this keyboard case from Fintie pairs well with their 10.5-inch iPad Pros and their iPad Air 3s, and they say it's a great option for anyone who is looking for an iPad keyboard with a built-in Apple Pencil holder. As one one five-star reviewer writes, "I absolutely love this case for my iPad Pro. It's super lightweight, and I like that the keyboard is detachable so that I don't always have to carry that around if I don't need it. The holder for the Apple Pencil is awesome because sometimes it's hard to keep track of." Another purchaser adds, "I really like the look and feel of this case. The magnetic keyboard and built-in pencil holder are wonderful." Many also praise this keyboard case as offering a great option for people who don't want to spring for Apple's premium-priced model, and as one satisfied customer puts it, the quality is surprisingly good and fits my iPad Air perfectly.
Best keyboard case for 12.9-inch iPad Pro
While most keyboard cases fit a range of nine- to ten-inch iPads, the most recent 12.9-inch model requires a bigger case, and this one from Chesona gets over 500 five-star reviews. "WHAT ARE YOU WAITING FOR? GET THIS!" begins one reviewer, who devotes over 1,000 words of praise to this keyboard case. "The keys depress easily, accurately, and there is no latency at all. I can type pretty fast, and I have yet to see a flaw in the key response or error in key selection," he says adding that the case "has a wonderful non-slip rubbery feel to the outside. This is awesome for carrying the case because it will not slip out of your hands." Another reviewer, who considered buying the Apple iPad keyboard case, says that this product is a "fraction of the price" and more protective. Plus, they add, "the keyboard stays in place magnetically and is very secure so you don't have to worry about it moving once it's in place or falling out of the case." In fact, dozens of other customers prefer this keyboard case to the Apple product, including one artist who appreciates the removable keyboard, for laying the iPad down to draw, and Apple pencil charging spot which enables them to "charge it without having to take my iPad out of the case."
Best keyboard for iPad mini
According to one five-star reviewer, this little keyboard "turns my iPad mini into a little laptop. Nice long battery life, and the keyboard is nicely laid out." And many appreciate that the keyboard fastens onto their iPads, which is why several say it turns it into a "computer." Another says, "I call it my 'MacBook Baby.' It weighs 19 ounces (with iPad mini 5) compared to my 54-ounce clunker MacBook Pro. Easy on the shoulders during my commute and between classes. Works perfectly."
Best multi-device iPad keyboard