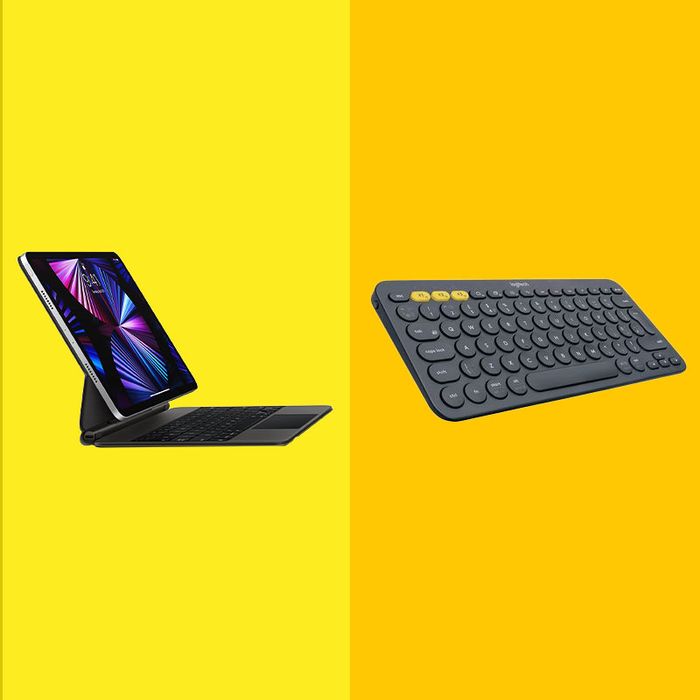 Photo-Illustration: The Strategist; Photos: Retailers
You can tackle most daily tasks with just an iPad. To minimize frustration and to get the most functionality out of one, though, you'll likely need some sort of keyboard (and mouse).
If you only need to do some occasional typing, you could go with a standalone Bluetooth keyboard. If you want your iPad to serve as a laptop replacement or tend to take your iPad with you on your commute or when you travel, you may want a protective case with a keyboard (and often a trackpad) built right in. Keyboard cases come in a variety of designs, like kickstand-clad cases with detachable keyboards, more robust (and heavier) cases that make your iPad feel like a classic MacBook, or simple folio cases with an attached keyboard that's ready to go at a moment's notice. Since 2017, I've tried a dozen Bluetooth keyboards and keyboard cases, looking for the best balance between portability and comfortable, responsive keys. I also talked to a YouTuber and a deputy editor at the Verge to find out what keyboards they use with their iPads. Here are the best ones I've found.
Our picks below include standalone keyboards and keyboard cases. For cases, we looked at how much protection they offered, as well as any additional features like a trackpad, extra ports, or multi-device pairing.
iPads connect to keyboards through either Bluetooth or Apple's Smart Connector, which was introduced with the iPad Pro lineup. The latter allows keyboards to pair instantly when physically attached and powers the keyboard (and trackpad) via the iPad's battery.
Few things can bring your day to a halt like realizing you forgot to charge one of your gadgets. Keyboards that connect using Smart Connector run off the iPad's battery and don't require a separate power source to work. Keyboards that pair over Bluetooth, on the other hand, will need to stay charged, though their battery lives can usually be measured in months (up to six, depending on your usage).
Unless you know you'll only be working in places with good lighting, you should get a keyboard that has a backlight.
Standalone keyboards can weigh as much as two pounds, while the most portable cases might weigh a little more than a pound.
As of this writing, the current iPad models are the iPad Pro, iPad Air, standard iPad, and iPad Mini. Most keyboard cases are available in versions that fit at least the first two, but be sure to check which model you need to avoid the hassle of returning it. A Bluetooth keyboard should work with any iPad.
Best overall iPad keyboard
Type: Standalone keyboard | Connection: Bluetooth | Power: Rechargeable battery, up to 36 hours | Backlight: Yes | Weight: 1.06 pounds | Model support: iPad, iPad Air, iPad Pro
If you're going to be using your iPad from a desk or table, Christopher Lawley, a YouTuber who works almost exclusively on an iPad Pro, recommends the Keychron K3 (from a brand we've written about several times). Unlike some more advanced mechanical keyboards, the K3 comes pre-built, and Lawley says it's compact enough to toss in a bag and carry it to another location. (Just don't be that guy and bring a clacky mechanical keyboard into a coffee shop.)
At a little less than an inch thick, it's about as slim as you can get for a mechanical keyboard, and small enough to drop into a tote. Despite its compact design, the K3 still manages to fit a row of function keys and a set of arrow keys, but it doesn't have a number pad.
Lawley uses the company's Q1 keyboard, but that requires a wired connection to work. The K3, on the other hand, can pair over Bluetooth, so you can use it with your laptop or desktop as well.
Best less-expensive iPad keyboard
Type: Standalone keyboard | Connection: Bluetooth | Power: Two AAA batteries | Backlight: No | Weight: 0.93 lbs | Model support: iPad, iPad Air, iPad Pro
If you'd rather keep your keyboard separate from your iPad and case, Logitech's K380 wireless keyboard is compact and thin enough to drop in a bag, and its keys feel great to type on. I've been using one in my home office since 2019, and while it lacks a number pad, it still has room for arrow keys and a row of function keys.
It can also pair with up to three devices, and I frequently swap between my work laptop, personal laptop, and iPad whenever I dock the keyboard into my tablet stand to work at my desk. It's not as seamless a setup as a case with a built-in keyboard, but it's still portable enough to get you by, and the keys are more comfortable than those of slimmer keyboards like Logitech's Combo Touch.
Fellow Strategist writer Ambar Pardilla also loves her K380 — hers is pink, an option she says not enough gadgets offer. "I have this keyboard with the matching mouse as part of my work-from-home setup," she says. "It's the first wireless keyboard I've ever owned, and I can't imagine getting another." She praises it for its easy-to-press keys and ability to easily toggle between her work and personal laptops. "It's ridiculously easy to connect," she says.
Best overall iPad keyboard case
Type: Fully-protective case with detachable keyboard, adjustable kickstand, and trackpad | Connection: Smart Connector | Power: Not required | Backlight: Yes | Weight: 27.51 oz | Model support: iPad, iPad Air, iPad Pro
I've been using the Combo Touch since about 2019, and I've found it, compared to the others I've tried, to be the best balance of practicality and comfort while getting work done. It's a two-part system: The case wraps around and protects the whole iPad, and a detachable keyboard connects via Apple's Smart connector — it's the only non-Apple product to do so — which means it's powered by the iPad's battery and doesn't require any pairing. Having a removable keyboard makes it a breeze to switch from "laptop" mode to tablet mode when I want to draw, browse the web, or play a game, and the keyboard's always nearby to tack back on when I'm done. When it's not in use, the keyboard folds over the iPad's screen, protecting it from dings and scratches when it's in your bag.
The case has an adjustable kickstand built right into the back, and you can use it to prop the display up while you're typing with the keyboard connected, or for a quick FaceTime call or Netflix binge session. Do note, however, that the kickstand system doesn't work as well on your lap as a hinged keyboard case with a flat base. If you're mostly working at desks and tables, this isn't an issue, but if you tend to work on the couch you may be better off with Apple's Magic Keyboard.
Since the Logitech Combo Touch uses Apple's Smart Connector technology, it doesn't require its own battery and doesn't require charging. Its built-in backlight makes typing in the dark as easy as typing on a laptop. The case does add a slight bit of bulk to the iPad, but not as much as the Zagg keyboard case I tested, and it's not heavy enough to notice while using the iPad in tablet mode. The convenience of being able to take the keyboard off and still have protection will be worth the trade-off for most people.
Best less-expensive iPad keyboard case
Type: Fully-protective case with keyboard | Connection: Bluetooth | Power: Rechargeable battery | Backlight: Yes | Weight: 19.49 oz | Model support: iPad Pro
If you don't mind a case with a non-detachable keyboard, Logitech's Slim Folio is a bit cheaper than the Combo Touch, still has an excellent keyboard, and provides full protection for your iPad. It only works at one viewing angle, but that angle works pretty well for working at a desk. That means you'll have to keep it charged, but that battery can last for up to a few months depending on how frequently you use it. Luckily, the Slim Folio charges via USB-C, just like all modern iPads, so you won't have to lug around another cable just to keep your keyboard charged.
The biggest issue with the Slim Folio is that it doesn't have a trackpad. That may not bother you if you're comfortable with navigating everything via touch, and you can always nab a wireless mouse to make up for that if you end up missing it.
Best upgrade iPad keyboard case
Type: Folio case with protection for front and back of iPad with keyboard and trackpad, adjustable hinge | Connection: Smart Connector | Power: Not required | Backlight: Yes | Weight: 1.3 lbs | Model support: iPad Pro
If you're willing to sacrifice a bit of protection and pay a bit more, Apple's Magic Keyboard for iPad Pro has the best typing experience and best trackpad compared to the other keyboard cases I've tried, and the adjustable hinge makes the iPad feel closer to a traditional laptop than those other cases. Its backlit keys are a joy to type on, the trackpad is responsive and spacious, and its hinge is easy to adjust for different viewing angles. Its flat bottom when in typing mode also makes it easier to type from your lap than the Combo Touch. While not as protective while in use as some of the other cases on this list, the Magic Keyboard does protect the front and back of the iPad when the case is closed.
Lawley has been using the Magic Keyboard since it was released in 2020. "The Magic Keyboard is a nice compact design that has space to type and a trackpad, and you can easily reach to the screen and tap on something," he says, "I can type type type, and quickly reach up and tap something on the screen, which makes for a smoother workflow." Lawley also noted the Magic Keyboard's additional USB-C port, which no other case offers. He uses it to charge his iPad while he uses the iPad's faster Thunderbolt-compatible port for copying video footage off an SD card.
Dan Seifert, deputy editor at the Verge, says the Magic Keyboard is the one he's been using for travel with his 11-inch iPad Pro for the last couple of years. "Despite the fact that it costs a fortune and isn't as versatile as Logitech's Combo Touch," he says, "the typing experience is best, it's easiest to use on my lap, the trackpad works the best, and it's the slimmest when all closed up (albeit kinda heavy)."
The Magic Keyboard has an array of magnets on the tablet portion of the case where your iPad can automatically snap into place. In my experience, those magnets have never failed and I've never had to worry about my iPad slipping while I'm working. Unfortunately, that design doesn't protect the sides of your iPad, even when the case is shut, though, so keep that in mind if you're particularly sensitive to scuffs and scratches on your gear.
Best protective iPad keyboard case
Type: Fully-protective case with detachable keyboard and trackpad | Connection: Bluetooth | Power: Rechargeable battery | Backlight: Yes | Weight: 2.04 lbs | Model support: iPad Pro
The Zagg Pro Keys with Trackpad, which works with both iPad Pro sizes, is sort of like Logitech's Slim Folio Pro, but the iPad portion is detachable, and it has a trackpad. It lacks a kickstand, instead using a foldout design that props the iPad's screen up at one of two viewing angles. That's a bit limiting, but it's fine for most use cases., and in my testing I never struggled to get a good view of the screen while working from my desk.
The case portion has openings for the speakers on the sides of the iPad, but there are raised bumpers around the corners to keep the whole thing more protected than Apple's Magic Keyboard would. The trackpad is responsive and the keys are comfortable to type on, even for long periods of time.
The Zagg is a Bluetooth keyboard, though, so like the Slim Folio Pro, you'll have to keep it charged, but I never had to worry about that over the couple months I tested this keyboard. On the plus side: The keyboard can pair with two devices, which can come in handy if you're a multi-iPad household.
•Ambar Pardilla, staff writer at the Strategist
• Christopher Lawley, a YouTuber who makes videos about getting work done on iPads
• Dan Seifert, deputy editor at the Verge
Other
iPad
accessories
we've
written
about
The Strategist is designed to surface the most useful, expert recommendations for things to buy across the vast e-commerce landscape. Some of our latest conquests include the best women's jeans, rolling luggage, pillows for side sleepers, ultra-flattering pants, and bath towels. We update links when possible, but note that deals can expire and all prices are subject to change.
Every editorial product is independently selected. If you buy something through our links, New York may earn an affiliate commission.