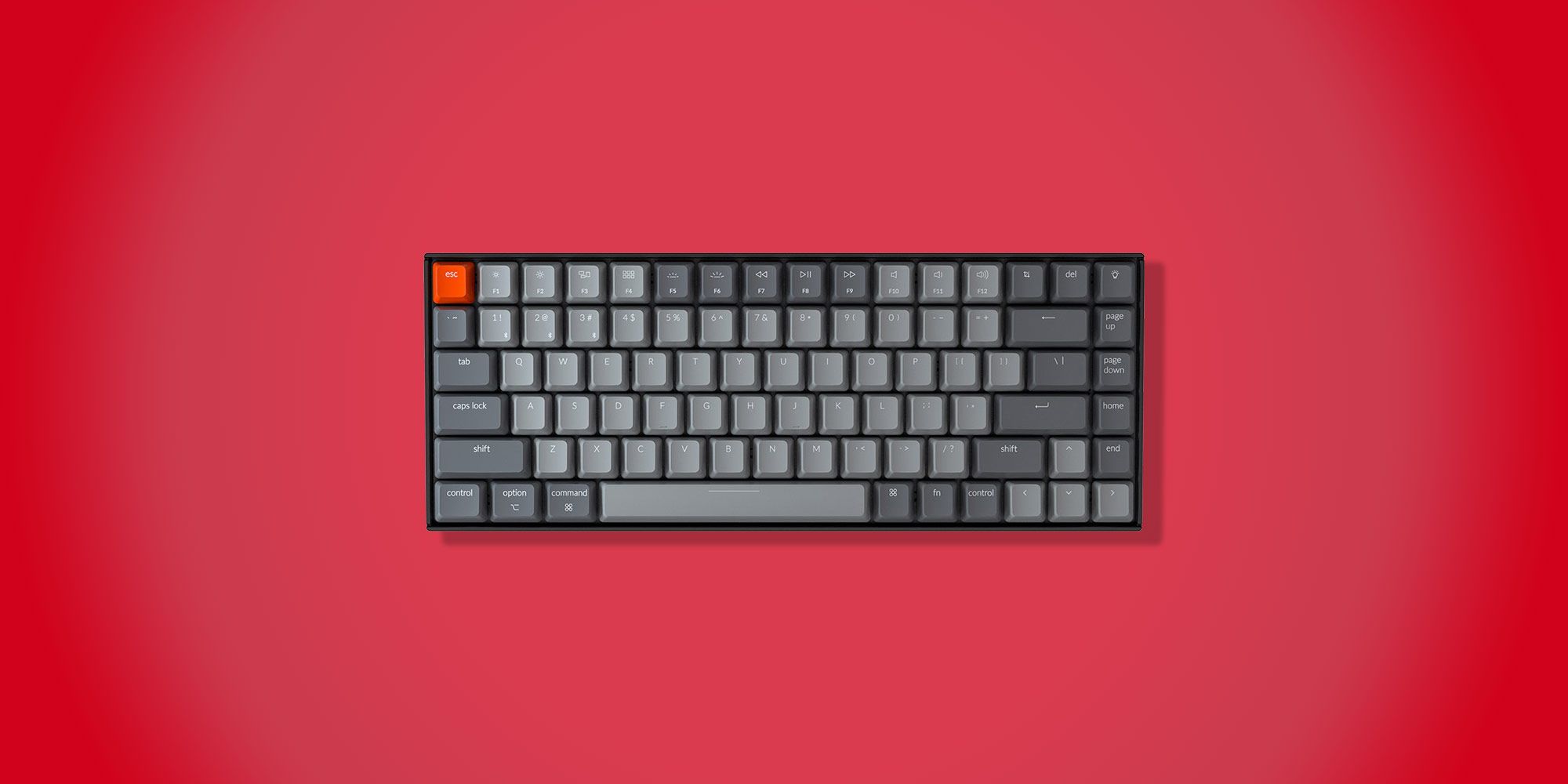 Using a mechanical keyboard is like playing the bagpipes: great if you're the person doing it, not so great if you're anywhere near the person doing it. In my last office job, I was the unlucky neighbor of a mechanical keyboard user, and I struggled every day to tune out the loud clacking of his keys. Instead of apologizing, he tried to convert me. He told me his keyboard was more efficient, faster, and actually fun to type on, but I just couldn't imagine doing that to the people around me. That's why, when I needed an external keyboard for my makeshift WFH setup a few months later, I considered my roommates and bought an inexpensive non-mechanical keyboard.
All of my colleague's talk of precise typing must have made me more sensitive, because when I typed on my new keyboard, I noticed problems I never had before. It wouldn't always recognize the key that I pressed, or I would accidentally mash two of the low-profile keys at the same time. Between those things and the overeager autocorrecting software on Gmail and Google Docs, I had to proofread everything I wrote, just to make sure there wasn't a word I'd never heard of, much less typed, in the middle of my sentences. It was frustrating. It got more frustrating when, after only a month, the keyboard broke entirely.
I broke, too. I pulled up an old email from another mechanical keyboard fanatic, a Battlestation-obsessed friend who insisted that I would benefit from things like "feedback" and "the feel of the key!," and who told me, more than once, that now he "types so much faster." Unlike when he first sent it, this time I read it with interest. From there I checked out the mechanical keyboard subreddit (738,000 members!), and I started to believe.
With most keyboards, I learned, when you push a key, the rounded base of that key touches a plastic membrane below it, completing a circuit to let the computer know which letter was entered. As manufacturers make components slimmer, the keys get slimmer, too, meaning there's less key to press into the membrane, and less resistance to press against. As I learned from my new subredditor friends, mechanical keyboards use big and chunky keys that your fingers can't miss. To register a keystroke you have to depress an actual metal spring to complete the circuit. The keys travel farther and they snap back up when you choose the next letter, making it very hard to accidentally press two at once.
The model I bought, with a white backlight and brown switches, is currently out of stock. This is the same keyboard, but with a rainbow's worth of backlight colors. If you want the less expensive white backlight, you can find it with quieter red switches or louder blue switches for $75.
My friend sent along a link to a keyboard he thought I'd like from Keychron (along with an equally convincing discount code), which was one of the brands that kept coming up on reddit. Mechanical keyboards offer three switch colors: red, brown and blue. This doesn't refer to the color of the keys themselves, but to the switches underneath each one, which determine how far you can push the key down, how loud the key is, and how hard you have to push to get the keystroke to register. I chose brown, which is right in the middle of the resistance (and click-noise) spectrum. It felt like an acceptable balance between really feeling my keys and really annoying my roommates.
Even though the keyboards are decidedly old-fashioned-looking, they have similar modern features as membrane keyboards, like Bluetooth connectivity for up to three devices. To switch from my iPad to my laptop is as easy as pushing two buttons. (When you do connect via Bluetooth the keyboard lasts at least a full work week in my experience.) You can also configure the keys in whatever way you want. So if you go from a Mac to a PC, you just pull off individual keys (like the Apple or Windows keys), replace them with the new ones, and flip a switch on the side of the keyboard. The keys are backlit — you can get a full array of colors, but I chose white, since it is cheaper and I find it less distracting — allowing you to pull up a number of superfluous light patterns that are probably fun for gaming, though I usually just keep them set on low.
Yes, it's kind of loud, but now that I'm the one making the noise, I love it — and I am never going back. As a writer, my job involves a lot of typing, and I feel like I finally have the right tool for that job. Although I'm now as big of a mechanical keyboard enthusiast as the people who converted me, there is one major difference: I close my door so I don't distract my roommates. Who knows what I'll do when I actually have to go back to an office.
The Strategist is designed to surface the most useful, expert recommendations for things to buy across the vast e-commerce landscape. Some of our latest conquests include the best acne treatments, rolling luggage, pillows for side sleepers, natural anxiety remedies, and bath towels. We update links when possible, but note that deals can expire and all prices are subject to change.