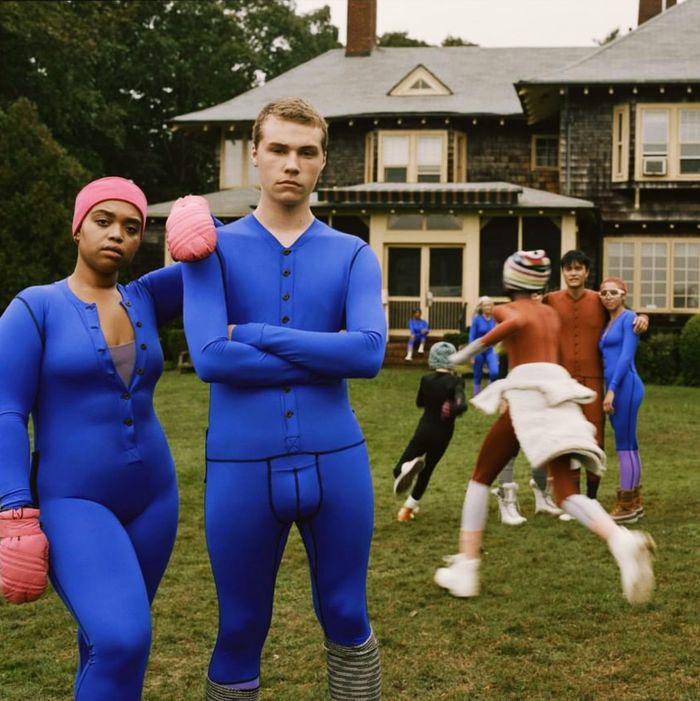 A few months ago, a new brand of "technical performance intimates" (otherwise known as long underwear) called Matek launched. Founded by former NikeLab designer Abigail Stern, Matek's pieces are inspired by retro 1960s and 1970s ski imagery — think Cher in a bright blue one-piece ski suit with white piping and a snow-white puffer — and are meant to be worn both on the slopes and off. Pieces include a surprisingly flattering button-down one-piece long john called a Gentoo, a sweat-wicking turtleneck leotard and legging set, and a weirdly charming unisex fleece turtleneck bib with arm holes called a Dik-Dik. The Dik-Dik, in particular, has been a hit — it's recently shown up on the necks of influencers from creative director Gia Seo (in lime green), Ralph Lauren's Sarah Brown-Rubenstein, and model Lindsey Wixson.
The popularity of Matek, and the DikDik, makes sense: skiwear has been showing up everywhere lately — yes, sometimes in its natural habitat (off the slopes), like Orlando Bloom's post-mountain ski pants and a cowboy hat (a look that GQ aptly dubbed "apres-ski freak"), but also farther afield. Man Repeller's Leandra Medine Cohen has posted many a selfie in Kule's striped balaclava; Bella Hadid recently donned some puffy white UGG Montara boots on the couch; and, of course, there's Billie Eillish's many ski-inspired sunglasses. And Matek isn't the only brand who has recently launched pieces that work as well in the city as they do in Aspen. Perfect Moment, a performance outerwear brand founded by documentary filmmaker and professional skier Thierry Donard, recently collaborated with Goop on a "Slope-to-Streetwear" collection, which included a striped full-body base layer that's easy to imagine layering with jeans ("we're starting to develop 'leisure' wear for our customers that want to wear our stuff off the slopes, and in cities, and at home," says the brand's creative director Jane Gottschalk). Balenciaga released some Ski Rectangle Sunglasses in their Spring/Summer 2020 collection, and Net-a-Porter, Farfetch, and Rent the Runway all currently have ski-dedicated sections on their sites, stocked with pieces that are decidedly city-street appropriate.
Street Ski is a logical next step for athleisure, says WGSN trend forecaster Sidney Morgan-Pietro. Like tennis-wear-as-streetwear before it (in 2017, Jacques launched with court-and-office-appropriate compression shirts, and the tagline "athletic meets Aesthetic, on and off the court") the trend is a more glamorous version of its crunchier sibling, gorpcore, the movement responsible for all of your Cobble Hill neighbors wearing Bear Mountain-appropriate hiking boots and a Patagonia fleece to the laundromat. "Gorpcore was about adventure, hiking, and exploring, and it brought a lot of outdoor retailers, like Patagonia and North Face into regular, day-to-day wear," Morgan-Pietro says. Like gorpcore, the ski trend draws from heritage brands — in this case luxe places like Moncler and Fusalp, an outerwear brand launched in the French Alps in the 1950s that specializes in sleek and sexy ski suits. Unlike gorpcore, though, it's elegant and slightly aspirational — skiing, as a sport, is expensive, and connotes a certain winter-y glamour (again: think Cher). 
As the trend mushrooms, it's become slightly more accessible: ASOS is now selling $150 ski pants that closely resemble Prada's slightly more expensive $1,630 pair. And earlier this fall, J.W. Anderson's Uniqlo collaboration launched with high-tech leggings — shown paired with a ski-top, and, in the next picture over, under a pleated skirt. All the look needed was a DikDik and a tote.