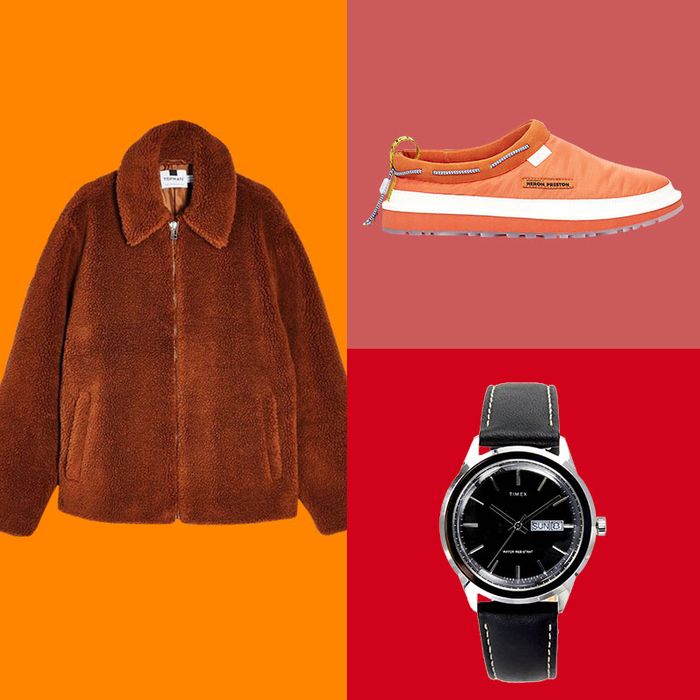 Photo: Courtesy of the vendors
Last week, we heard from trend forecasters at WGSN and Fashion Snoops about the items that will make the most popular women's gifts this holiday season. But that wasn't our first dive into predicting hot holiday gifts: We started checking in with forecasters back in 2016 ahead of the Black Friday/Cyber Monday crush. Since then, we've only gotten more specific — what kids' toys might sell out, what tech junkies will be buying in droves, and of course, items for men that will likely be the most popular holiday gifts. To find out which men's gifts to snap up this year before they sell out, we spoke to Sidney Morgan-Petro, a senior retail editor at WGSN; Mitchell Kass, the founder and creative director of trend forecasting agency Trend Council; Lindsey Smecker, a trend researcher and market strategist at ESP Trend Lab; and Hannah Polskin, director of TOBE agency. Read on for all the clothes, accessories, gadgets, and more that they suggest buying for that in-the-know man in your life — while you still can.
New 'smart' stuff
The guy who's into fitness (or just into tracking his steps) might already have a Fitbit, but there's no better time than the holidays to gift the latest iteration of a beloved item. Kass told us that he predicts the Fitbit Charge 3 will be popular this year because it's the most advanced version of the device. "Anyone into fitness and technology will want this item," he says. The new Fitbit boasts all of the fitness-tracking benefits of past devices, but with some smartphone-adjacent capabilities, including the ability to receive notifications from apps and, if you use an Android phone, to send quick responses. The Charge 3 also includes new goal-based exercise modes for activities including running, biking, swimming, and yoga.
As smart living starts to move beyond appliances and into everyday objects, Kass says we're starting to see "smarter" versions of our old standbys, like this temperature-control coffee mug from Ember, which he thinks will be very gifted this year. "This is an office item and has a lot going for it as it combines something as basic as a mug with heat technology," he says. "Anyone who hates drinking lukewarm coffee would appreciate this." This sleek cup (which comes with a saucer that charges it) can be set to the recipient's preferred drink temperature (between 120–145°F) and will keep the beverage at that temperature for one hour, if unplugged, or all day if the charger is plugged in.
According to Morgan-Petro, "smart" clothing made of fabrics with properties that help cool your body and soothe muscles will be another popular gift this year. She names Lahgo, the new men's line from Lunya (which makes bathrobes and pajamas we've written about before), as an example of a brand that's doing well in the category. Lunya's and Lahgo's Restore pieces are made with "celliant polyester," which a brand rep tells us is the key to the "restorative" feeling of the clothing. According to the rep, the clothes are made with mineral-infused fibers that convert body heat into "infrared energy" that helps regulate body temperature and soothe muscles.
Cozy luxuries
Smecker told us that "in a world where we are able to stream, shop, and order takeout from the comfort of our couches, there is a greater desire to stay at home and embrace cozy luxuries." The cozy luxury that she thinks guys will want this year is an extra-plush robe, like Brooklinen's or Pottery Barn's (the latter, made with fuzzy faux fur, is similar to another item — the men's teddy coat — that appears further down this list). Thicker than your average terry bathrobe, the plush styles that Smecker says are popular right now are extra-thick, making them even more suited for lounging. She elaborates: "We have all heard of FOMO, but get ready for a new wave of missing out: JOMO — or the joy of missing out."
For something truly luxurious (and cozy), Morgan-Pietro points to this slipper-shoe hybrid from a recent UGG and Heron Preston collaboration. They fit a trend that she says WGSN has dubbed "two-mile wear" (likely inspired by the Japanese concept of "one-mile wear"), which refers to shoes and clothing that one would wear within a two-mile radius of your home. Slippers that you can wear around your neighborhood are a particularly hot two-mile wear item, according to Morgan-Petro, who says, "UGG and Heron Preston is a slipper collab that is very cool for men."
If you're not shopping for a hypebeast (or just shopping on a budget), consider this less expensive slipper, which Morgan-Petro pointed to as another popular style for keeping feet plenty warm inside and outdoors on morning bodega runs. "Northface has this interesting recovery slipper that's padded and kind of quilted on the outside," she says of the slippers that look kind of like the brand's puffers. "We're seeing a lot of the truly outdoors brands like Northface taking your more traditional granola items and making them more fashion."
For the stylish and eco-conscious skier or snowboarder, Polskin suggests this modern take on long underwear, which comes from Matek. "Everything about this new brand, from the water soluble hang tags (for footprint-free packaging), to the Velcro butt flap (for easy bathroom breaks), feels thoughtful and cool," says Polskin, noting how these also make a great gift for sustainably minded givers. And they're not just for skiers or snowboarders — we think the long johns would look just as cool (and be just as cozy) worn on the couch beneath a super-plush robe.
Clothes and accessories
We heard about teddy coats when we talked to trend forecasters about women's holiday gifts, and according to Smecker, the fuzzy outerwear will make a popular gift for men this season, too. Consider it the great fleece evolution: If you gifted a knobby Patagonia fleece last year, now you can give an even fuzzier piece of outerwear. "A teddy coat is as cozy as his favorite sweatshirt, but stylish enough to wear out," Smecker says. "The teddy coats also come in warm toasted-brown and cream hues, which are trending colors for this season."
If the guy you're buying for wants a jacket that's substantial and stylish, Morgan-Petro points to styles she's "seeing from a lot of Japanese outdoor-apparel brands, with incredibly masterful technical details," rise in popularity. One such brand, according to her, is Snow Peak — the maker of what our Resident Cool Guy Chris Black calls "the Rolls Royce of Water bottles." This Snow Peak puffer jacket is also made with recycled down, which fits two other gifting trends we heard about this season: puffers and clothes with a focus on sustainability. If you're looking to splurge, the brand makes an equally handsome, lightweight down-filled waxed coat.
Photo: Retailer
Nanamica is another Japanese brand that Morgan-Petro told us will be popular this year. Keeping with the so-called smart-fabric trend, the line's Coolmax shirt is made with moisture-wicking material, and features a striped print that makes it a touch more interesting than your standard long-sleeve shirt (striped shirts, as we recently reported, are perennially popular). Should you want to give something from a buzzy Japanese brand that also checks the teddy coat/cozy luxury boxes, Nanamica has a nice cozy-looking fleece as well.
Another trend in this year's holiday gifts for men, according to Kass, is new watches that have a retro vibe. "Designers, collaborating with old-type watch producers, are making little mid-century modern throwbacks," says Kass, who says watches like these would be good gifts "for the hipsters." Hipster or not, we think this watch would appeal to any guy looking for a simple, traditional timepiece with the slightest twist.
"We're seeing holsters for your AirPods as a really big stocking stuffer," says Morgan-Petro, who notes that many holsters come in the form of a "chain that you can wear around your neck with a place for your AirPods." She notes that the trend is popping up "across the board," with holsters from Target and one that was recently released by Dior. AirPod holsters fit into what Morgan-Petro identifies as a larger theme of gifts that take into account the way we use technology in our day-to-day lives. "We're thinking more about how people are actually wearing their clothes, and what could be helpful," she says.
Grooming and self-care
Polskin told us about Counterman, a men's skin-care line that's part of a crop of new brands with minimal, gender-unspecific packaging and products that can be bought individually or together, should you want an easy-to-follow routine. She points out that the clean-beauty line's products — which include a cleanser, toner pads, an oil-free face lotion, and a charcoal body bar, among other things — make gifts that are "perfect for heading into the New Year with a fresh start, physically and emotionally." Another brand in this new class of men's skin care is West, which our resident beauty hobbyist Buzz Bissinger praised after testing some of its stuff earlier this year.
After an intense workout — tracked on one's Fitbit, of course — this Pressure Point Massage Gun, which comes recommended by Smecker, might come in handy. "A trending item this holiday season are therapeutic massage guns," she says. We've written pressure-point massagers before — specifically the NBA player–approved Theragun, which at $600 is a lot more than the Pressure Point (though a lower-priced version is now available). But the Theragun we wrote about only has two settings, while the Pressure Point has 15 and comes with five interchangeable massage tips. "It's great for the guy who is always in the gym, suffers from chronic back pain, or who simply wants a fantastic massage," Smecker says.
Things for the home
"For the JOMO enthusiast, gift a Sake and Tea Gift Box Set from Helen's Wines," says Polskin. "Netflix's new speed-binge tool pares well with a robust beverage selection for a night in." She told us that Helen's Wines is very popular for its cheery pairings — which include a Parmesan and wine box, and a wine and pancake-mix set — that will appeal to the natural-wine aficionado and the guy who likes his Parm locally sourced.
And for the guy who likes to cook, Polskin recommends this locally sourced olive oil, which comes in a bottle attractive enough to leave out on the counter. We heard about this olive oil when we talked to chefs about the best olive oils — Anna Hezel, senior editor at Taste and the author of Lasagna: A Baked Pasta Cookbook, told us that "everyone in food media seems to be totally nuts for Brightland olive oil." And take it from people who know: Once everyone in media is after something, it will become hard to come by.
We heard from both teen boys and girls that record players are at the top of their wish lists this year, so when Kass told us that they will be a popular pick for adult men as well, we were not surprised. "It is new to the younger generation and nostalgic to the older," he says. Kass says the record player to order is this Bluetooth-compatible model from Urban Outfitters, but if you want more options, click over to our roundup of the best turntables for new vinyl collectors.
"A curated set from The Sill will help the beginner gardener get started complete with soil, supplies and a stand," says Polskin. "Nothing beats burnout better than reconnecting with nature." While The Sill is not a new company, over the past year we've seen it grow (no pun intended) and expand its services to include popular subscription packages for plant beginners, like this one, which Polskin says would make an ideal gift for the guy on your list who aspires to be a "plant dad." (If a set sounds like too much for the beginner gardener, you can always start with an easy-to-care-for Alocasia Polly, which we included in our roundup of the best underexposed and underrated plants for all.)
The Strategist is designed to surface the most useful, expert recommendations for things to buy across the vast e-commerce landscape. Some of our latest conquests include the best acne treatments, rolling luggage, pillows for side sleepers, natural anxiety remedies, and bath towels. We update links when possible, but note that deals can expire and all prices are subject to change.