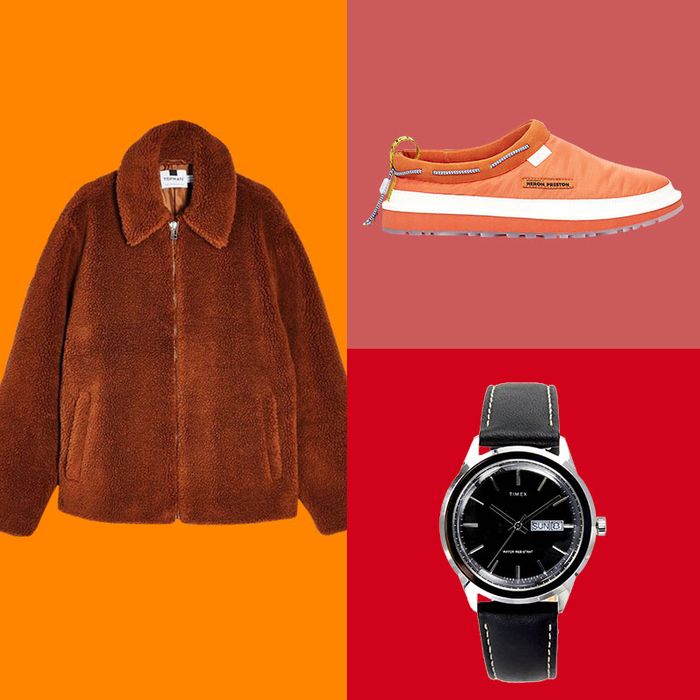 Photo: Courtesy of the vendors
Last week, we heard from trend forecasters at WGSN and Fashion Snoops about the items that will make the most popular women's gifts this holiday season. But that wasn't our first dive into predicting hot holiday gifts: We started checking in with forecasters back in 2016 ahead of the Black Friday/Cyber Monday crush. Since then, we've only gotten more specific — what kids' toys might sell out, what tech junkies will be buying in droves, and of course, items for men that will likely be the most popular holiday gifts. To find out which men's gifts to snap up this year before they sell out, we spoke to Sidney Morgan-Petro, a senior retail editor at WGSN; Mitchell Kass, the founder and creative director of trend forecasting agency Trend Council; Lindsey Smecker, a trend researcher and market strategist at ESP Trend Lab; and Hannah Polskin, director of TOBE agency. Read on for all the clothes, accessories, gadgets, and more that they suggest buying for that in-the-know man in your life — while you still can.
New 'smart' stuff
The guy who's into fitness (or just into tracking his steps) might already have a Fitbit, but there's no better time than the holidays to gift the latest iteration of a beloved item. Kass told us that he predicts the Fitbit Charge 3 will be popular this year because it's the most advanced version of the device. "Anyone into fitness and technology will want this item," he says. The new Fitbit boasts all of the fitness-tracking benefits of past devices, but with some smartphone-adjacent capabilities, including the ability to receive notifications from apps and, if you use an Android phone, to send quick responses. The Charge 3 also includes new goal-based exercise modes for activities including running, biking, swimming, and yoga.
As smart living starts to move beyond appliances and into everyday objects, Kass says we're starting to see "smarter" versions of our old standbys, like this temperature-control coffee mug from Ember, which he thinks will be very gifted this year. "This is an office item and has a lot going for it as it combines something as basic as a mug with heat technology," he says. "Anyone who hates drinking lukewarm coffee would appreciate this." This sleek cup (which comes with a saucer that charges it) can be set to the recipient's preferred drink temperature (between 120–145°F) and will keep the beverage at that temperature for one hour, if unplugged, or all day if the charger is plugged in.