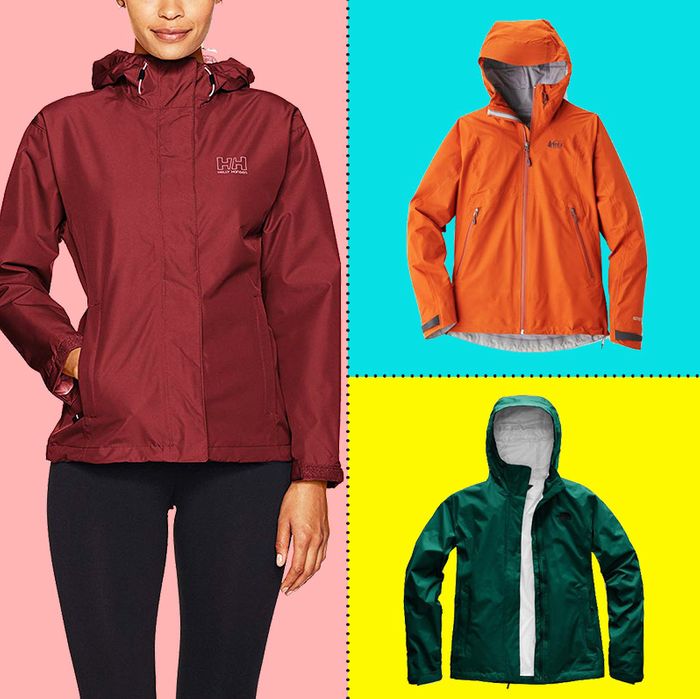 Photo: Courtesy of the retailers.
Grabbing a bike instead of taking the train to work is a fun way to swap sweaty subway commutes for outdoor exercise in warm weather. But fall and winter bike commuting, especially in the still-dark early morning hours, isn't for the faint of heart. Chilly winds and unexpected rain showers have a way of ruining your office outfit and can leave you looking soggy and crumpled.
What you need for cold-weather biking is a proper jacket. If you've been commuting via bike for years, you may already have a standby jacket to shield you from the wind and rain, but if not, we spoke to experienced female bike commuters about their favorite jackets and why they make biking every day a snap.
The best bike-commuter jackets for women
"Today, as on many days, I wore my Patagonia Rain Shell, Arc'teryx down puffer, and an Isabel Marant cotton bomber I bought at the Lane Crawford outlet in Hong Kong (on major sale)." — Meg Clixby, Studio Manager for Matthew Day Jackson
A great alternative to the Patagonia shell Clixby wears, the Venture 2 Rain jacket functions alone or as a rain shell for layering over your favorite puffer. With zippered armpit vents, it's a breathable jacket that'll keep you dry inside and out. We like this forest green color, which gives you greater visibility without making you look like a traffic cone.
"I layer these three because I need something that keeps me warm while also being lightweight, waterproof, and windproof — and the bomber is because I want to look cute if I end up going somewhere after work." — Clixby.
To add a cozy layer of warmth to any jacket like Clixby does, Everlane's lightweight puffer is a no-brainer. It's cute enough to wear alone, especially in this olive green, and fits easily under most wind- and waterproof shells.
When it comes to packable and layer-able puffers, Uniqlo is the ubiquitous choice. This seamless parka isn't packable, but it does look just a touch more polished than the OG version and boasts a more substantial hood that's perfect for stuffing snugly inside your helmet.
Clixby's patterned bomber from Isabel Marant isn't available any longer, but this one from Zara is not too far off and serves a similar purpose.
"Lately I've been wearing a Filson jacket, which is big enough for me to layer but also light enough to wear on its own if I get hot on the ride. It's super important to have that waterproof option for unforeseen rain, so I usually use this most days during the fall/winter — unless it goes below 30, then I switch to my parka." — Chelsea Scott, Fabricator in Brooklyn.
Carhartt has earned itself a reputation for hard-working outerwear, and this jacket, which shares the workwear inspiration of Scott's Filson jacket, is certainly no exception. It's perfect for biking thanks to its water-repellent duck cotton and polyester blend, extra stretch for freedom of movement, armpit and elbow gussets, curved cuffs to prevent gaps between your sleeves and your gloves, and a roomy three-piece hood.