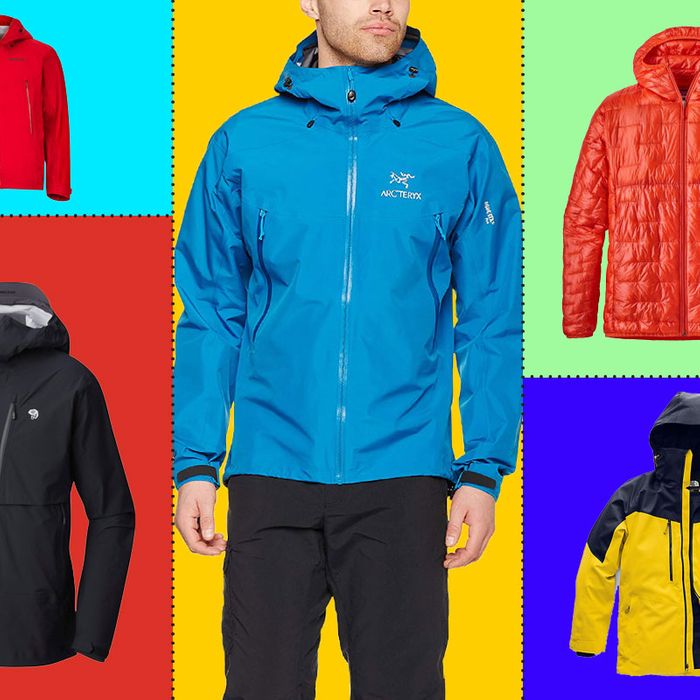 Photo: Courtesy of the retailers.
The perfect jacket for biking to work has to keep you warm, dry, visible, and, in some cases, looking like you didn't just ride through the rain over the Williamsburg bridge. Depending on your job, it also has to take you from fighting your way through traffic right into a business meeting in style.
Seeing as this is a very tall order, we talked to guys who've been biking to work everyday for years so you can benefit from their wisdom. Here are their secrets: from how to master layering and fit your helmet in your hood, to how to keep from getting hit by a taxi and prevent your gloves from getting wet. Plus, some pretty great jackets you should check out right now.
The best bike-commuter jackets for men
"I have clients for my consulting business all over Manhattan, so I try to bike every day almost year-round. In the summer, that means bringing an extra shirt to change into, but fall is the best weather for biking! This fall, I've been wearing this knit jacket. I love the front pockets because I can stick my detachable lights or gloves into them when I lock up my bike to head into a meeting." — David Bruno, Bright Endeavors.
Filson's Cover Cloth jacket also boasts big pockets, and is just as appropriate for meetings and a little better at protecting you from rain and wind.
"The best jacket to wear when cycling to work is a trick question, because there are two. Start with a down jacket as a base layer. My favorite is from Ibex, which is a wool-core down. But they've gone out of business. An alternative is Patagonia's Micro Puff Hoody. The hood is key." — Mike Radenbaugh, co-founder and CEO of electric bike company Rad Power Bikes.
For less than half the price, you can start with a hooded base layer from Uniqlo that is sure to keep you warm, and is slim and minimalist enough to fit under a blazer.
And for days that aren't quite so cold, this down vest from Eddie Bauer in a handsome khaki green is a great standalone or layering option.
"For the outer shell, the pro tip is to find a jacket that is waterproof, reflective, and with arms long enough to go over your wrists so that water will not trickle down your gloves. Preferably with velcro on the wrists so you can make a good rain-resistant seal.
Also, make sure it has a hood. When conditions get very tough, I have enjoyed having a jacket with a large hood (actually designed for skiing and snowboarding) that is large enough to go over my bike helmet. I recommend Mountain Hardwear's Superforma jacket, which has served me well on super cold, wet, and even snowy days." — Radenbaugh.
Big hoods are important, but so are taped seams, adjustable sleeves, and ultra lightweight durability. The Arc'teryx Beta LT is made of super repellent GoreTex which is simultaneously waterproof and breathable.
"I also always have this Patagonia shell on me in case the weather unexpectedly turns." — Bruno.
"For me, bright colors are important so cars won't hit me — I'm often biking to work in the dark because the school day starts so early. I wear this windbreaker shell while biking to work in rainy weather because it can be both lightweight or heavy if you add a layer underneath. Also, the armpit vents are very important for airflow." — Jacob Cohen, Teacher, Brooklyn Friends School.
"My other go-to jacket is a red Marmot rain jacket. I alternate between it and the yellow one from the North Face. This one is exceptionally good for windy days." — Cohen.
"I just moved here from Philly to manage NYC restaurants for the app Seated, and got the Triple FAT Goose Stratus to help with no-car commuting, and it's insanely warm. I use Citi Bike almost exclusively to go meetings with top-rated chefs and restaurateurs all over Manhattan — this jacket has storm cuffs so heat doesn't escape and a wire-lined hood that stays up during biking. Plus, the fabrication is really high-quality, so it looks formal enough to wear with work clothes." — David Ko, Director of Seated.