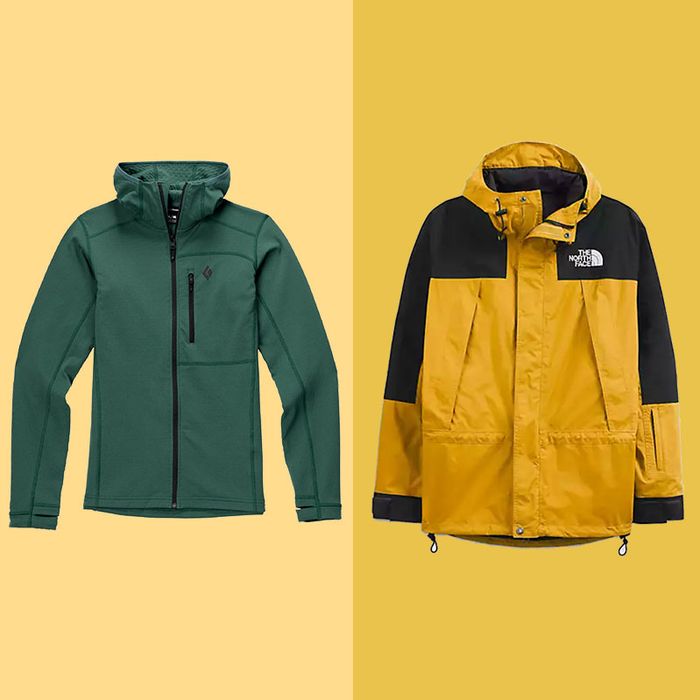 Photo-Illustration: Courtesy of the retailers.
The perfect jacket for biking to work has to keep you warm, dry, visible, and, in some cases, looking like you didn't just ride through the rain over the Williamsburg Bridge. Sure, lots of us are still working from home. But for the people who do go into work at actual offices, schools, and stores, biking has become a much more popular way to commute. Depending on your job, the jacket you wear might have to take you from fighting your way through traffic right into a meeting in style.
Seeing as this is a very tall order, we talked to men who've been biking to work for years (many of whom still bike to an in-person job), so you can benefit from their wisdom. Here are their secrets, from mastering layering to fitting your helmet in your hood to keeping from getting hit by a taxi to preventing your gloves from getting wet. And of course, there are also some pretty great jackets you should check out right now.
"The best jacket to wear when cycling to work is a trick question, because there are two," says Mike Radenbaugh, co-founder and CEO of electric bike company Rad Power Bikes. He starts with a down jacket as a base layer and recommends Patagonia's Micro Puff Hoody because it's warm and windproof and the cuffs have elastic that keep water and wind out. For the outer shell, his pro tip is to find a jacket that is waterproof and reflective with arms long enough to go over your wrists so that water will not trickle down into your gloves. And make sure it has a hood. "When conditions get very tough, I have enjoyed having a jacket with a large hood (actually designed for skiing and snowboarding) that is large enough to go over my bike helmet." Although his original recommendation, Mountain Hardwear's Superforma jacket, is sold out, this one from Mountain Hardwear is very similar.
Jonathan Lee, a cycling coach and elite cyclist/cycling commuter in Reno, California, agrees that buying two jackets that you can wear separately or layer together is a solid investment. His go-to for dry and moderately cold conditions (45–60, degrees he tells us) is the Black Diamond Coefficient Fleece Hoodie, and for similar temperatures with rain or other precipitation, he uses the Rapha Men's Hooded Rain Jacket. When it's colder out, he uses them together. "The CoEfficient Fleece Hoodie breathes extremely well and stops me from arriving at work in need of a shower, and the Hooded Rain Jacket does a fantastic job of keeping me dry, allowing me to use the hood with a helmet, and acting as a wind barrier on those particularly frigid mornings," he says. The fit of the CoEfficient Hoodie is slim, he says, but not uncomfortable, and the longer cut of the Hooded Rain Jacket is very effective at keeping road splash to a minimum. Finally, he likes that both jackets have a more casual, stylish aesthetic than the more serious cycling gear he wears for training.