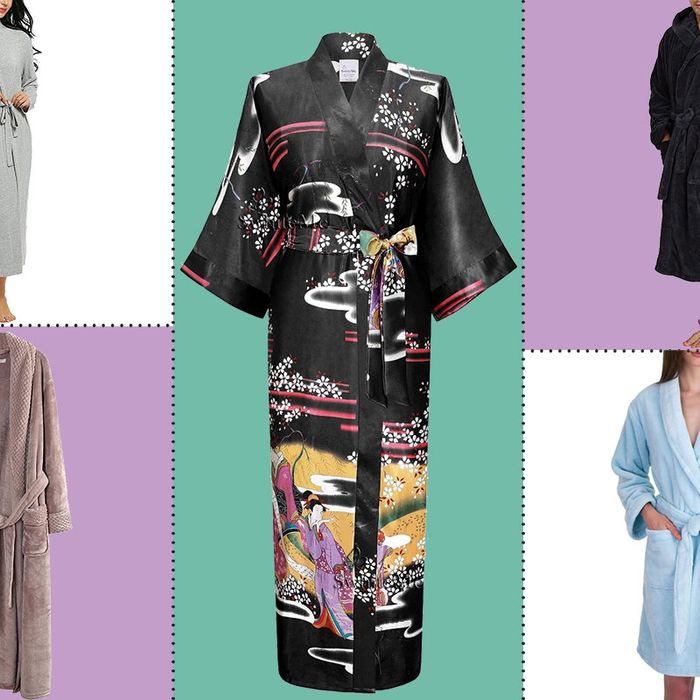 Here at the Strategist we like to think of ourselves as crazy (in the good way) about the stuff we buy (like bed sheets or pillows), but as much as we'd like to, we can't try everything. Which is why we're introducing People's Choice, in which we find the best-reviewed (that's four-to-five-star reviews and lots of 'em) products and single out the most convincing. Here, the best bathrobes on Amazon, according to the people (note that reviews have been edited for length and clarity). And while it doesn't have a ton of reviews, if you're looking for a linen robe, this Coyuchi organic one is the ticket.
4.3 stars, 794 reviews
"I was skeptical. I wanted something soft and comfortable to wear while I am applying my morning makeup, and having my first cup of coffee. Honestly, I can imagine purchasing this from Victoria's Secret, except it fits a realistic woman, and I can still afford to keep HBO and my phone at the same time. I am lounging in it now and, if I close my eyes, I can hear little birds chirping, and see cute, little mice making my dress for the ball. Now, if I can find matching, comfy slippers, I may never get to work on time again."
4.5 stars, 176 reviews
"I am SO glad I spent the money on this robe. I can't stand long or fitted sleeves after I get out of the shower, and for some reason, that's all that seems to be available. I am also very tall, and most robes seem to be so short, it might as well be just a shirt for me. I wash and dry this regularly, and it hasn't faded or shrunk. The belt is attached, which is a huge plus for me, because it doesn't slip down or get lost in the abyss of laundry mountain when it comes time to wash it. Great buy, I want another."
4.9 stars, 39 reviews
"This is my first review ever for a product, and I have ordered a ton of stuff from Amazon, but I LOVE THIS ROBE. I have been looking for a heavy robe because I am so cold when I get out of the shower. I ordered the one size because I thought the small/medium could be small, but the one size is pretty large, which I don't mind because I get to wrap it around me another time. I am five-foot-four, and it goes pretty long on me, just a few inches above my ankle. I smile when I get out of the shower now because I know I won't be cold anymore."
4.6 stars, 200 reviews
"Exactly what I wanted — I'm petite (five-foot-two) and the robe ends a few inches below my knee. It's very soft and not too poofy, so I don't look like I'm wearing a parka, even though I am toasty warm. Buying another one as a gift."
4.5 stars, 633 reviews
"This robe is what dreams are made of. When it arrived, I immediately put it on, went to the window overlooking the street in front my apartment, looked down at the people scurrying around in the rain, and said out loud, 'look at all those peasants living their robeless lives.' I wish one part of that review was made up."
4.7 stars, 1,690 reviews
"So I waited a while to post a review. Too many reviews I read were like, "I just got it! It's beautiful!" But I was looking for a bathrobe to really live in. I live in the upper peninsula — where winter is eight months long (seemingly), and it gets pretty cold — so although I wasn't looking FORWARD to spending so much on a bathrobe, I figured it could be worth it.
This is SO SOFT and plush! It's basically like if someone took my favorite blanket, and let me walk around the house with it draped over me (only without the dragging). I accidentally got the one with the hood, which I didn't even realize was an option, and I'm QUITE pleased. I was worried it wouldn't keep its softness after washing, so I put off throwing it in the washer for a while, but I needn't have worried. I've washed it three times now, and it feels just as wonderful as before."
Richie House Women's Bathrobe
4.7 stars, 957 reviews
"How do I even begin to describe accurately the luxuriousness of this robe! I swim every morning at an outdoor pool. With winter coming soon, I decided to get a hooded robe to help keep the chill off for the walk from the pool to the car. I can't even describe how soft, how heavenly, how warm, how cuddly you feel inside this robe! It is so high quality that it feels like it came from the most expensive store in the world! I got this by chance during a lightning deal, which gave me $10 off. I absolutely love this robe, and deal or not, I will buy more for my family to have. I normally wear an extra-large in things; I bought the extra-large, and it fits with lots of room! It's absolutely amazing! It comes with a beautiful belt and loops for the belt to sit in, as well as pockets … best garment I have ever purchased in person or online!"
4.5 stars, 70 reviews
"WOW! After a many-months search for the perfect robe to replace an oldie, THIS IS IT! It is exactly what I was looking for! I have looked at every big-box store and chain store at the mall. My daughter finally suggested I buy one off of Amazon, and return it for free if I didn't like it. I didn't want anything too thick or plush because it makes me hot. I didn't want a stiff, crunchy cotton one. I wanted a soft one, with two pockets, an inner tie, and a nice, long sash. I am five-foot-seven and 130 pounds, with apishly long arms, so I wanted a longer length and a good sleeve length to cover my whole arm. I would have ordered a large, but after reading multiple reviews that said, 'do not order up because it would be long enough,' I went with the medium. It is perfect! It's a little lighter than a jersey knit, but at least as soft as flannel — without the heat. I hope it holds up for a very long time, but I am considering ordering another one just in case."
4.7 stars, 352 reviews
"I bought this for my husband, who is ALWAYS cold. I am a seamstress with ten years of experience in fashion and textiles (yes, I could have made one, but who has time?). I am VERY picky about quality fabrics and this robe is wonderful! The fabric is very soft and plush! My husband LOVES this robe, he loves that it has a hood and that the length is just past his knees — he's five-foot-ten, and he loves how cozy it is. In fact, I put it on and I am SO jealous! I want one! I will probably give in and buy myself one. Can't say enough great things about it! I would highly recommend!
Update!
We have had this robe for two years. After a lot of wear and many washings, the color and thickness of the material remain intact! Just as fluffy and warm as on day one! Very happy customer here!"
TowelSelections Men's Fleece Bathrobe
The Strategist is a new site designed to surface the most useful, expert recommendations for things to buy across the vast e-commerce landscape. Some of our latest conquests include the best notebook, black T-shirts, fashion-editor-approved jeans, toothbrush, and apartment décor. Note that all prices are subject to change.

If you buy something through our links, New York may earn an affiliate commission.