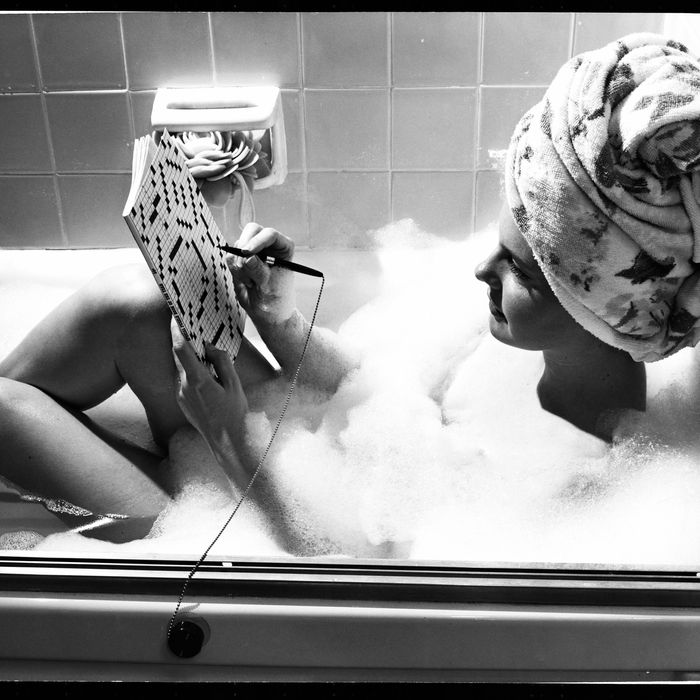 Photo: Hulton Deutsch/Corbis via Getty Images
Back when things were normal (remember those days?) if you were feeling particularly stressed, you might grab cocktails with a friend, or dine solo at your favorite restaurant bar, or go see a movie at your neighborhood theater, or head to an extra-sweaty spin class. But since you can't do any of those things right now, we decided to find you some at-home alternatives. We combed through the Strategist archives for the most zen-leaning items and asked professional destressers (including a yoga teacher, cannabis entrepreneur, and natural healer) for what they suggest for instant relief in these trying times.
Aromatherapy oil
Photo: Courtesy of the vendor, Getty Images
Strategist editor Alexis Swerdloff describes this Tata Harper potion as "an aromatic stress-treatment oil that's like Klonopin in scent form" — and if there's ever been a time for Klonopin in scent form, well, that time is now.
Lavender balm
While we're talking anxiety-medication dupes, how about a lavender stick that Strategist contributor (and formerly sleep-deprived new mom) Sara Gaynes Levy dubbed "Ambien without the side effects"? You don't even have to check with your doctor before combining the two.
If you need something stronger, Kirsty Godso, a Nike Master Trainer, applies Mineral Health Maison Recovery Salve every single night, "and wow does it work," she says. "I do A LOT to my body during the day and this balm is a life saver. It focuses on reducing inflammation and repairing the skin." She likes the combination of CBD and CBG (cannabigerol) in this formula. (If sweat is still your go-to stress reliever, Godso is currently offering yoga and fitness instruction on her Instagram. Nike also announced that its premium fitness content is now free for anyone who downloads the app.)
If you're CBD-curious but don't want to spend so much cash, Verena Von Pfetten, co-founder of cannabis magazine Gossamer, swears by Ananda Hemp's Spectrum Salve for her "morning dose of mobility." "I've been waking up every morning with the distinct and painful inability to move my neck or shoulders," she says. "A small scoop goes a long way." (Ananda Hemp is also where Von Pfetten's company sources cannabinoids for their sleep tincture Dusk.)
Acupressure mat
An acupressure mat is no substitute for the real thing, but if you can't visit your acupuncturist for the foreseeable future, it will help bridge the gap. This mat can provide a sense of calm and relaxation after a long day spent working from your couch, and writer Lori Keong also found it to be effective for her more intense back and neck aches, should you find yourself dealing with stress knots.
Acupressure rings
Photo: Copyright 2019. All rights reserved.
According to Yana Shept, one of the most popular photos she's ever posted on @gelcream, her Instagram account dedicated to non-sponsored beauty reviews, "is a picture of my hand with coiled metal rings on three of my fingers." Beyond being photogenic, though, these acupressure rings really work. Shept says they've helped her through some health and mental problems, and she turns "to the rings whenever I'm feeling blah or just want a little me-time moment on the go."
Magnetic stress balls
If that doesn't take care of your fidgety extremities, try these mashable magnets. They come recommended by Strategist editor Katy Schneider, who describes her fingers as "tiny, incorrigible beasts that cause actual, real-life damage: pick[ing] scabs until they bleed, unravel[ing] the sleeves of expensive sweaters." She likes them because they're "satisfyingly moldable" and "they're not particularly noticeable, the way a fidget spinner is — you can hide them in your palm easily while using them." She played with them through a dinner party undetected, but we think they'd be ideal for Zoom calls and FaceTime chats, too.
Massage pillow
Natalie Toren bought this massage pillow at designer Leslie Aitken's L.A. studio after hearing that Moon Juice founder Amanda Chantal Bacon and actress Dree Hemingway were fans. She wrote that it feels "as if real human fists were kneading me," and likens the massage nodes to "hot stones a masseuse might use for an actual spa treatment." Since it will likely be a bit until you can have an actual spa treatment, this is the next best thing.
Editor's note: Toren's Etekcity model is sold out, but this well-reviewed shiatsu massager is nearly identical.
Weighted blanket
Last year, Strategist writer Karen Iorio Adelson tested weighted blankets, which are said to relieve anxiety and improve sleep quality — something we could all use right about now. After Adelson concluded that "Baloo's thoughtful design makes it the most comfortable and aesthetically pleasing one of the bunch," the blanket quickly became a bestseller among Strat readers.
Fluffy bathrobe