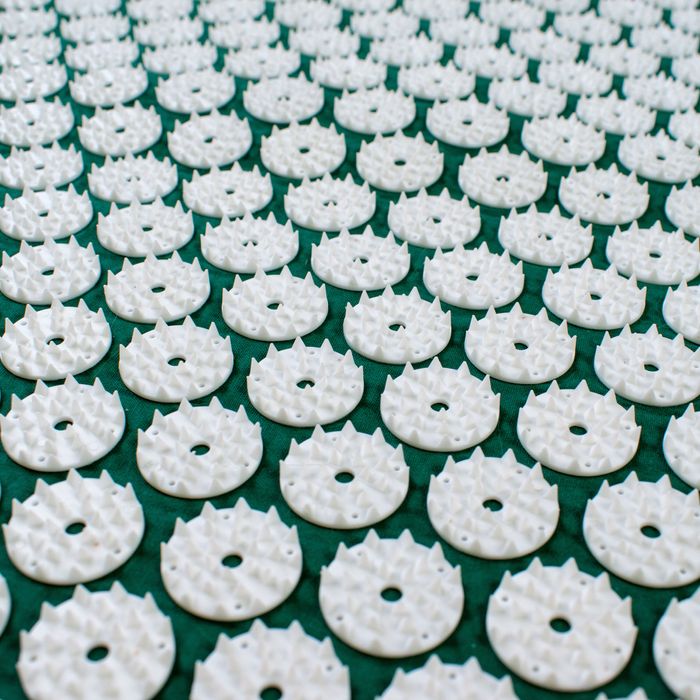 Photo: Anastasiia Babakova/Getty Images/iStockphoto
A few weeks ago, I came home complaining of an intense pain in my back and shoulders, radiating from my right collarbone to my upper back. No amount of stretching or rubbing helped. My roommate — the earthier of the two of us — was kind enough to offer me his best version of medicine, a curious pink mat covered with sharp plastic rosettes.
"I love it," he said emphatically as he passed it on to me, explaining that he had just gotten his mom hooked and used it nightly himself for muscle-pain relief, plus some added calm and relaxation after a long day. Acupressure mats, as they're called, work on contact — when you walk, stand, or lie down on them, the spikes exert pressure on your acu-points (commonly known as the "bed of nails" method).
Unlike acupuncture, which involves inserting thin needles at various acu-points on the body, acupressure is noninvasive and relieves aches and pains by diffusing your energy, or "chi" — as it's traditionally known in Chinese medicine — through touch and pressure.
I was skeptical, but willing to do anything to relieve the pain. Let's just say the mat was an acquired comfort. Most people prefer direct contact by lying on it shirtless, which feels about as comfortable as stepping on Legos — poking into the soft tissue in your back, digging into your shoulder blade, pressing in your neck and skull, and leaving impressions in your arms — no matter where you shift your weight. It's hard to say that I was feeling anything but discomfort while lying down on the mat, but the second I got up, there was generalized relief. The acute pain I was experiencing was gone.
Many people lie on it for 5 to 10 minutes at a time, sometimes as long as 20 or 30 minutes (as many mat brands recommend), and do this daily. But even after only five or six minutes on the first go around, I found that the soreness had mysteriously melted away and didn't return. I could roll my arms back and forth without any lingering tension — something I hadn't been able to do for days. I was astonished. I had to know, How does this stuff work?
For answers, I called up Oliver Grover, an acupuncturist and chiropractor at Hudson Wellness, whose explanation in tl;dr form is that certain areas of the body overlap on nerve pathways — when one part is stimulated, it can correspond with relief to another. For instance, "there's a large pathway along the large intestine that can treat a number of things when stimulated," says Grover, "one of them being a pinched nerve." Beyond the anecdotal accounts, there's also evidence that shows that acupuncture — and perhaps, by extension, acupressure — can help treat basic musculoskeletal pain on the back, neck, and knees.
Okay, but are there any harmful possibilities? Grover says his main concerns about using the mat are the seeming randomness of the spikes themselves, as mats covered with thousands of spikes stimulate so many different points on the body at once. It's the opposite approach to an acupuncturist's exacting method of targeting specific points in the body, and he notes that it can be taxing on the body.
Jacqueline Sutera, of City Podiatry, tells me that the risks of using the mat are relatively minor, though. (She actually uses an acupressure mat herself for neck and back pain, stopping short at her feet.) The real caution is for the elderly or diabetic with poor circulation or thin skin, lest you pierce the skin and get an infection.
Internist Dana Corriel agrees that as long as a patient is disclosing these practices with a trusted physician and they approve, there shouldn't be a problem. "Personally, I feel that if any practice helps to lessen tension, and relax my patients, this can be of help in the treatment of other illnesses, by secondary effect."
Consider me a convert. I just bought a mat for myself, and I'm finding the acupressure mat a comfortable middle ground for someone who's not ready to dip her toe into acupuncture (I loathe needles) and too cheap to fork out money on regular massages. My tech-neck can get down with some harmless self-soothing for an easy 50 bucks.
If you're into the idea of acupressure mats (or still a little wary), I consulted the experts for suggestions of which to buy, along with some similar solutions for back and neck pain.
As far as acupressure mats go, Grover notes that there aren't major differences between them — they're usually covered with hundreds of rosettes and do the same thing, so it just boils down to color and style preferences. In his practice, he says, "The Spoonk has come up a lot, and the Pranamat is another big one that seems to be hot in the yoga community, that a lot of patients have been talking about."
The Spoonk comes with a flat face pillow covered with rosettes instead of a roll that you can prop your head on, and if you're a Dr. Oz fan, you may recognize it.
And the Pranamat is a short mat with artful rosettes that's crafted from "earth-friendly linen" and coconut, if you're into that sort of thing.
This one also comes with a raised pillow for your head and neck — supposedly 6,210 pressure points in total — and some yin-yang decals for some added hippie appeal.
And for fellow tech-necks: a U-shaped neck pillow that targets neck and shoulder relief (with much fewer rosettes for a more targeted, comfortable acupressure massage).
Or, if you only want to dip your toe in with some entry-level acupressure, the most basic form would be this sea bracelet that's commonly worn to treat seasickness. Grover says that it works by applying pressure to a point on your wrist that's classically studied to treat nausea. "That point has been long documented for over 5,000 years. I teach all my prenatal patients to massage it when they're getting prenatal-induced nausea, especially morning sickness, every time they feel that coming on."
If you're experiencing muscle pain, another sensory stimulant Grover suggests trying at home is a TENS unit (otherwise known as Transcutaneous Electrical Nerve Stimulation), which is a form of electrotherapy that transmits an electric current through a sticky pad. "It's classically used in the chiropractic or physical-therapy world to stimulate the nerves and release some endorphins," which are natural pain killers that can reduce your sense of pain.
People usually only use them for minutes at a time (and consumer units are too weak to cause major shock damage), so he says there isn't too much cause for concern about negative effects. "It's a really old-school tool. I've had patients that say they've been using their TENS unit for over 20 years.
Another noninvasive treatment for muscle pain that's commonly used in physical-therapy practices (and is super popular among the fitness community) are foam rollers, which push against sore muscles and deep tissue as a form of deep-tissue massage. Grover says he has recommended them before, especially for athletes or people with chronic muscle pain. "They can definitely support treatments, if you're educated on the right way to use them." The one below came recommended by Physique 57 instructor Julie Cobble.
Dr. Corriel takes a more traditional approach to handling muscle pain, and says, "I typically focus more on telling people to use compresses (like Icy Hot) and use meds for pain control, with anti-inflammatory properties in it." Some of the more common inflammatory medications you're probably familiar with are aspirin, ibuprofen, and naproxen (Aleve) — and those you can usually find at your local drugstore.
The Strategist is designed to surface the most useful, expert recommendations for things to buy across the vast e-commerce landscape. Some of our latest conquests include the best women's jeans, rolling luggage, pillows for side sleepers, ultra-flattering pants, and bath towels. We update links when possible, but note that deals can expire and all prices are subject to change.
Every editorial product is independently selected. If you buy something through our links, New York may earn an affiliate commission.