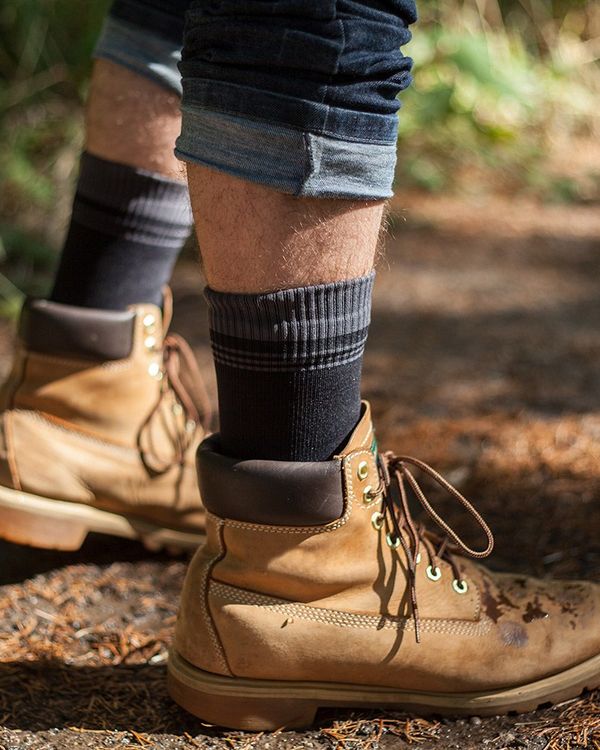 Showers Pass socks in action.
Photo: Courtesy of Amazon
If you spend much time outdoors jogging, hiking, or camping, then you probably have a pair or two of waterproof shoes. If you've ever been caught in a downpour, stepped in a stream, or had snow sneak down into your footwear, then you know that even the finest waterproof shoes and boots have one critical shortcoming: they are as good at keeping water in as they are at keeping it out.
So while waterproof shoes are a good starting point when you want to keep your feet dry, waterproof socks are the best way to be sure your feet stay dry in any conditions. Waterproof socks work exactly as you'd expect — put them on and your dogs won't get wet. They usually do this with dual layers: an external sock with waterproof nylon and an inner layer with the standard wool and elastane. They're ideal for outdoorsy situations that aren't always within your control. Here, the five waterproof socks I rely on to keep my feet bone-dry.
My favorite waterproof socks
These are the socks that opened my eyes to the brilliance of waterproof socks in the first place. When I got my first pair, I waited until a particularly rainy day before wearing them, then headed out for a run deliberately wearing shoes that were not water-resistant. My feet stayed totally dry (well, maybe a bit of sweat, but the lining actually does a decent job of wicking moisture given that there's a waterproof membrane just outside it) during a two-and-a-half-mile slog complete with steps right into deep puddles. Showers Pass socks are bulkier than traditional crew socks because they have a three-layer design (the inner sock that touches your foot is wool, then there's a waterproof membrane, then another nylon outer sock), but they're still flexible and comfortable, making them ideal for long runs or hikes or for use while you paddle.
My favorite less-expensive waterproof socks
A pair of Layeba socks is a good amount cheaper than other socks on this list with no appreciable loss of quality. The one issue with these socks is the fit: they run a bit large, and if a sock that's supposed to keep water out sags and has gaps at the top, that's a problem. So consider sizing down if your foot is on the cusp of a size range. Aside from that, they're breathable and flexible and they have decent padding under the heels, making them good socks for hiking. One other small issue is that you're supposed to hand-wash these socks, but I don't do it every time. It's fine.
Best knee-length waterproof socks
These offer protection against water for your feet and almost half of your legs. This makes them great socks for cold weather, especially if you're skiing, snowshoeing, or hiking through deep snowdrifts. They are also windproof, taking the sting out of cold gusts. Surprisingly, these are also great socks for hiking through wet terrain in hot weather, as they allow you to skip those waterproof pants that get stiflingly hot as your body temperature rises yet still keep yourself dry from the knee down. When you don't need socks that reaches your knee, you can always roll the things down.
Best waterproof socks for weekdays