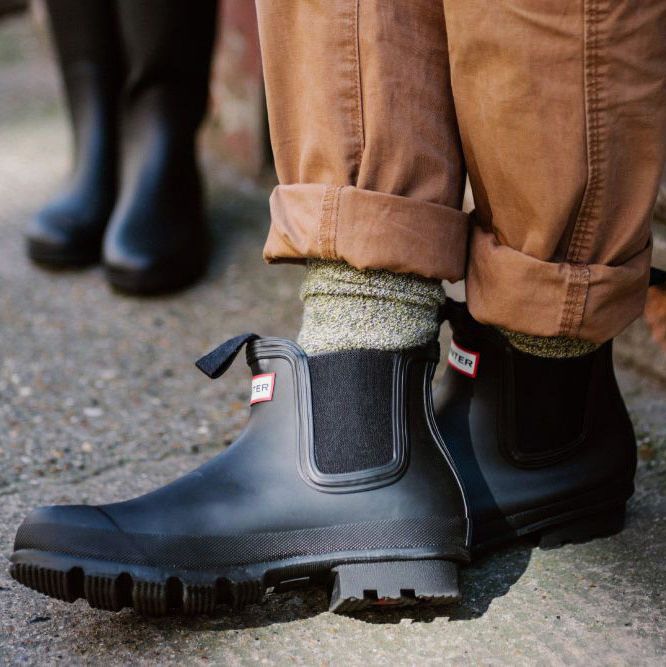 Photo: Courtesy of the retailer.
Rain can be a drag, but dressing for it doesn't have to be. The perfect pairs of rain boots are fashionable and functional, able to keep you fly — and dry — all day, whether commuting, running errands, heading to dinner with friends (or all three). For Rain Week, we spoke to several stylish men about their go-to, wet-weather footwear, and what they use to protect their non-waterproof shoes in unexpected showers. (Full disclosure: We stuck to shoes guys would wear on a normal day — not for a damp pheasant hunt, or muddy music festival, though the below boots would work for those, too.) Read on for our list of rain boots that will keep your feet dry, and look sharp while doing it.
The best Chelsea-style rain boots
We recommend a Chelsea-style rain boot to guys searching for waterproof footwear that pairs well with both jeans and dressier trousers. This twist on Hunter's classic Chelsea-style rain boot features a slightly narrowed toe and thinner sole, making it ideal for men who regularly wear suits or business-casual attire, too, according to fashion PR executive Fred Kim. "This is the refined version of the classic Hunter boot. If you're looking for a standard black pair to go with your everyday suit, it is great."
Hunter's Original Chelsea rain boot protects feet from rain just as well as its refined sibling, but features the more-rounded toe, chunkier sole, and red-and-white logo common among the brand's other boot styles.
Jeremy Smith, owner of menswear store Standard and Strange in Oakland, California, is a fan of the waterproof footwear by French boot-maker Aigle, which in 1853 became the first firm to make rain boots using vulcanized rubber. (Prior to that, the super-weather-resistant material was exclusively used to make tires, according to the company.) Smith swears by the brand's construction and quality — his wife is still wearing her ten-year-old pair — and recommends Aigle boots for Francophiles who want to look the part when rain starts to fall. "They're built like real footwear, which means a sole with traction, a mid sole with comfort, and expensive materials where it matters. They're what actual equestrians and hunters wear in France."
This chunky Chelsea-style rain boot by Norwegian brand Swims is designed to be worn all day, thanks to its cushioned insole and non-chafing, fabric-lined interior. The boot, also made from vulcanized rubber, features a thick sole, providing traction on even the slipperiest of wet streets. It comes in all black, too, for men who prefer a more neutral color.
Amazon reviewers praised Bogs boots as a must-have for inclement weather, but admitted some of the company's styles are not exactly stylish. This Chelsea-style boot by the Oregon-based brand, however, has a sleek silhouette — and features functional elements including an anti-slip outsole, extra cushioning, moisture-wicking technology to stop your feet from sweating, and odor control (for when those few balls of sweat do form).
Fashion PR executive Fred Kim also swears by the Chelsea style, which he says looks just as appropriate in the office as it does on the street. "I try to wear shoes that I don't have to change into or out of — I don't like to lug around more shoes." Sutterheim's Chelsea Rainwalker boots are mostly made of rubber (which, as their name suggests, allows you to splash through curbside puddles without fear of wet feet). But the boots' two non-rubber panels near the ankle still let air flow through them, according to Kim. "The sides of the Stutterheim boots aren't all rubber, so it's a little bit breathable in there."
The best classic rubber rain boots
Classic rubber boots do not all have to rise to just below your knee, says Smith, who suggests this six-inch style by Xtratuf — a rain-boot company known for outfitting Alaskan fishermen — as a stylish, budget friendly, compromise. "I like the shorter lengths, and they're not so expensive as to be precious. I'll probably get these myself for the next rainy season."
Aigle's mid-height rain boot is a slightly dressier version of the classic style, and features a chunky sole to grip slick city streets.
The best lace-up rain boots
L.L. Bean rain boots are ubiquitous — and constantly selling out — for good reason. They are impenetrable, and pair really well with jeans for guys looking to pull off a very specific, New England style. Smith particularly loves the Original Boot because it is unabashed by its primary purpose: to protect feet from rain. "They don't hide their rain-booted-ness. Plus they can be repaired and remade indefinitely. Everyone riffs off of their aesthetic, so why not get the original?"
These dark brown duck boots by Sperry are a great alternative for guys waiting for a restock of L.L. Bean's rain boots (or who seek a different style because their significant other already owns a pair of Beans).
The best non-rain boots for rainy weather
Strategist-approved Blundstone boots many not technically be rain boots, but they still keep feet dry in wet weather, according to influencer Patrick Janelle, who chronicles his stylish way of life on Instagram and in a weekly newsletter. "I slip on a pair of classic Blundstone boots when the elements are questionable," he tells us. "They're classics, and the whole point is that they look good while being very utilitarian. With these on, I'm set — whether the rain stays or not."
Guys not crazy about rubber can opt for leather boots to protect their feet from rain — providing the shoes are made with the right grain, says Kim, who regularly wears leather lace-up boots in wet weather. "Leather is underestimated in terms of how waterproof it can be, especially with something that has a larger grain." The fashion PR executive suggests a pebble grain — like that of this Thom Browne boot, which he also recommends for its thick sole and heel. "You want to find something with some grips on the bottom. These have a thick sole and a stacked heel, which is helpful for keeping water out of your shoes." This pair is pricey, but worth splurging on, Kim says, because you can dress them up or down, and wear them rain or shine. "You could wear them with anything — even a garbage bag."
Those not ready to invest in Thom Browne should consider these lace-up leather boots by Dr. Martens, which are also made with a pebble grain, a thicker sole, and a stacked heel.
Strat's resident cool guy Chris Black recommends these leather hiking boots for when rain starts to fall. Their Gore-Tex shell is waterproof and breathable, keeping feet dry and fresh for hours.
Podcaster Jeremy Kirkland, who interviews stylish gents — and ladies — for his menswear-themed podcast Blamo!, turns to another classic boot-maker when he needs to step out on rainy days. Timberland's Premium Boots feature a chunky rubber sole and heel to provide traction on wet surfaces, and a body made from waterproof nubuck leather, which allows the ever-relevant style to hold up over time, according to Kirkland. "They're for when you're going outside, but you really don't want to. Every cool dude has a pair of Timberlands. Drake will wear Timberlands, Kanye wore Timberlands — they're like the ultimate equalizer in boots."