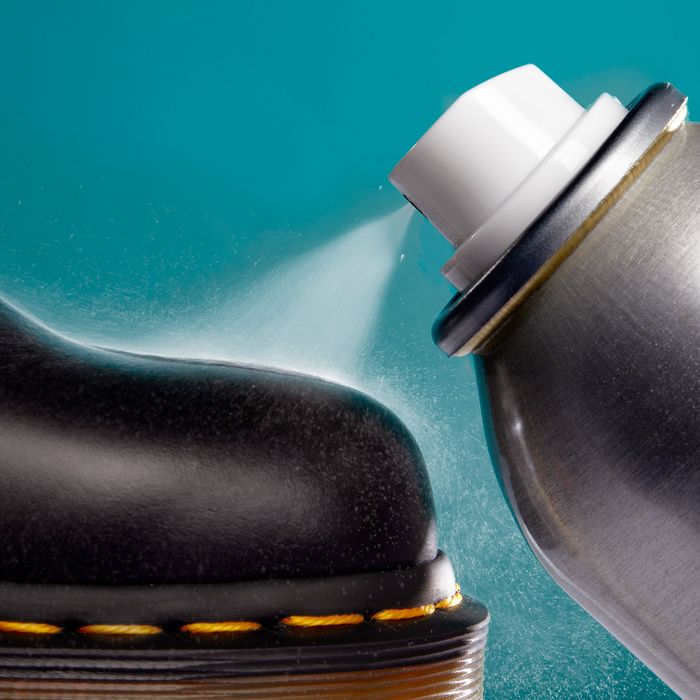 There are few things more dispiriting than wearing a new pair of shoes on a bad weather day, then coming home and finding water stains or rings of road salt once they've dried. Although there are plenty of ways to deal with stains after the fact, the best strategy against water damage is prevention, especially for shoes you plan to wear often or in unpredictable weather.
Waterproofing is most useful for shoes made from animal hide, especially nubuck and suede, which show damage quickly — it's "like having a shoe that's a sponge," says Edward Andrade of Cesar's Shoe Repair. You can also waterproof a pair of shoes with a fabric upper, whether that's a pair of wool sneakers or satin mules; I've ruined enough silk thrift-store shoes to recommend doing so. (A good rule of thumb is that a shoe made of a material you would dry-clean is sensitive enough to moisture that it would benefit from waterproofing.) Common materials that you don't have to worry about are rubber and patent leather, which aren't porous enough to be susceptible to water damage.
Both synthetic and natural waterproofers appear on our list. Many synthetic waterproofers are silicone-based, and non-synthetics contain natural waxes and oils like mink oil or beeswax. Both provide a strong seal against water — Eduard Shimunov of Cobbler Express says silicone-based sprays are like "an umbrella over your shoe," and Andrade compares mink oil to "a layer of wax on a brand-new car" — and natural products have the added bonus of nourishing the material beneath the surface. (For leather shoes, experts recommend taking the extra step of conditioning them before applying a waterproofer, which facilitates a better watertight seal and preserves the healthiest, best-looking version of your shoe until the next application.)
Both synthetics and natural products will wear off over time, which is actually a good thing — a stubborn waterproof layer will prevent you from maintaining the material beneath it or repairing scuffs and scratches. "My Blundstones also appear visibly darker post-wax, but they return to their original color as the wax wears off," says Strategist writer Jeremy Rellosa. Before waterproofing, make sure to get your shoes nice and clean; Charlotte Stone, founder of her eponymous shoe label, recommends brushing off shoes to make sure no debris and dirt gets trapped under a layer of product. Most waterproofers will need to be reapplied every two to three months, depending on how frequently you wear a pair of shoes.
Most waterproofers come as a spray, a cream, or a wax. They're all effective, but there are differences in application. Sprays are quick and relatively foolproof, but you'll need a drop cloth or other surface you're not worried about getting messy to protect your floors. Creams and waxes need to be worked in by hand or with a cloth and sealed with heat. "Heat up the leather by gently blowing with a heat gun or hair dryer. (I prefer to just let them sit in the sun for a few minutes)," says Rellosa. After applying the waterproofer, alternate between "heating lightly (too much direct heat could dry out the leather) and working in the wax with a cloth rag in a circular motion." This process can take longer but offers more control over how much you're applying to different areas of the shoe. For all types of waterproofers, be sure to follow drying times on the label closely to ensure a strong waterproof seal and avoid staining your shoes by overapplying.
Different shoes have different needs, and you shouldn't waterproof suede oxfords you plan to wear to work once or twice a week with a product designed for work boots that tromp through mud and slush. Many waterproofers are multiuse, with the biggest division being between heavy-duty products, which are usually wax- or oil-based and can alter the finish of the shoe, and products for everyday use, which are designed to be invisible and won't change the color of a leather upper or ruin the nap of suede or nubuck. Within those categories, we've noted the best picks for a variety of uses, from high-end leather dress shoes to heavy-duty snow boots.
Best overall waterproofer
Waterproofing ingredient: Flurocarbon polymer | Medium: Spray | Intended use: Multipurpose
Spanish leather-care company Tarrago's nano protector spray is a cult classic for shoes of all types from suede bucks to sneakers. "Leather is porous. It's essentially a skin, and like our skin, it has pores, so it breathes and takes in water through its pores," says Andrade. Tarrago's fluorocarbon polymer material "puts on a coating, sealing the pores so water won't seep in," he says. One thing to note: The Tarrago spray is not recommended for nylon, lycra, and silk, so check the material before applying to a shoe with a fabric upper.
Best waterproofer for leather
Medium: Spray | Intended use: Multipurpose; recommended for leather
Former Cut senior market editor Diana Tsui discovered Apple's water repellent while searching for the right product to protect an "insanely expensive" Celine handbag from scratches and water damage. After trawling PurseForum and polling friends, "the overwhelming response was to choose Apple," she says. "You'll still need to use an umbrella but on drizzly days … the water rolls off easily, without staining. I once even spilled half an iced coffee down the front, without leaving a mark. Two years and many wears later, my beloved Céline bag looks almost as good as the day I bought it." (She paired it with the brand's leather care kit: "Since leather is a skin, you want it to be as plump and hydrated as your face" when you apply the spray, she says.)
Shoemaker Lauren Brinkers is also a fan of the product for all kinds of leather, although she recommends reapplying every couple months: "If you are wearing your shoes often, you could spray them every few weeks if you needed to."
Best high-end waterproofer
Waterproofing ingredient: Fluoridated resin | Medium: Spray | Intended use: Multipurpose, suitable for high-end materials
French brand Saphir is "the crème de la crème of shoe care," according to shoemaker Lauren Brinkers. Its leather-repair cream has a devoted following, as does its waterproofing spray, which is reliable and versatile. It can be used on high-end leather and suede shoes but also bags and clothing including more delicate textiles like cotton and silk. Stone says that whenever she gets a new pair of shoes, she immediately sprays them with Saphir Invulner. "It doesn't change the color or texture of the materials and gives me the right amount of water and stain protection that I need," she says.
Best less expensive waterproofer
Waterproofing ingredient: Silicone | Medium: Spray | Intended use: Multipurpose
Personal stylist Vanessa Valiente recommends Kiwi's silicone-based spray for leather shoes. Andrade agrees that, while silicone-based products can be too harsh on fine or light-colored leathers, they're good for dark-colored and black leather shoes. He suggests paying special attention to the "edge of the seam where the sole meets the upper," a common spot for water to leak in.
Best waterproofer for sneakers and suede
Waterproofing ingredient: Fluor-silicone resin | Medium: Spray | Intended use: Multipurpose; designed for sneakers
Reshoevn8r's repellent is a favorite among sneaker-cleaning experts, including Raheem Rademaker, the founder of sneaker-cleaning company Weekend Ritual, and Waleed Cope and Cheryl Lee Bowers of Brooklyn laundry- and sneaker-cleaning store the Soap Box. Cope and Bowers use the Reshoevn8r spray on most of the sneakers that come into the store. They especially like it for suede: Some products leave suede feeling hard to the touch, they say, but this repellent leaves the material pristine.
Best less-expensive waterproofer for sneakers and suede
Medium: Spray | Intended use: Multipurpose; designed for sneakers
Although the Jason Markk Repel spray is designed for sneakers (Rademaker, normally a Reshoevn8r partisan, says the Jason Markk spray is also a solid option), Strategist contributor Priya Rao uses it on everything, from suede heels to leather skirts. "The waterlike mixture gently coats and protects just about anything: suede, leather, nylon, canvas," she says. She mists a coat of the spray over an item, "being careful not to 'oversaturate' them (if it starts to look wet, I simply dab with a paper towel)," and lets them dry for 24 hours before applying a second and final coat.
Best less expensive waterproofer for suede
Waterproofing ingredient: Synthetic | Medium: Spray | Intended use: Suede and nubuck
Both Valiente and Isobel Schofield, founder of Bryr Clogs, mentioned the Scotchgard Suede & Nubuck Protector as a great budget pick. Schofield says it protects well against both water- and oil-based stains.
Best heavy-duty waterproofer
Waterproofing ingredient: Beeswax | Medium: Wax | Intended use: Heavy-duty materials
Skidmore's is a classic brand that also makes a much-beloved, all-purpose leather cream, which Brinkers uses on boots, clothing, and leather furniture. She recommends this heavier-duty beeswax protector, which she says can "weatherproof the hell out of those Blundstones."
Best heavy-duty waterproofer for snow
Waterproofing ingredient: Beeswax | Medium: Wax | Indended use: Heavy-duty materials, designed for snow
Atsko's beeswax is a classic, inexpensive treatment for shoes that will deal with ice and slush, recommended by Andrade and Paul Ronto, an outdoorsman and content director at shoe-review site RunRepeat. After applying, it dries as a solid wax that seals out moisture. "Boots without a waterproof lining will never be 100 percent waterproof, but leather treated right can get pretty close," Ronto says.
Best mink oil heavy-duty waterproofer
Waterproofing ingredient: Mink oil | Medium: Cream | Intended use: Heavy-duty leather
Like beeswax, mink oil is a heavy-duty protectant best used on shoes the finish of which you don't mind altering — oil will slightly darken leather, similar to an oil stain on a textile. Andrade says applying mink oil will "act like a layer of wax on a brand-new car. If you do that once every two months, it'll keep your feet super-dry."
Best brush for suede
Material: Horsehair bristles | Intended use: Suede and nubuck
"Before treating a suede or nubuck item, you want to get the nap of the material up with a horsehair brush," says Valiente. This step has two purposes: It helps clean the shoe, preventing grime from getting trapped under a layer of waterproofing, and ensures that the spray coats the material evenly. Her favorite brush is this Star model, which she says is gentle enough to not snag or scratch delicate materials. After the waterproofer dries, Valiente says, brush again to restore the original texture.
Some more shoe care products we've written about
• Edward Andrade, owner of Cesar's Shoe Repair
• Lauren Brinkers, shoemaker
• Cheryl Lee Bowers, sneaker-care technician at the Soap Box
• Waleed Cope, founder of the Soap Box
• Paul Ronto, content director at RunRepeat
• Isobel Schofield, founder of Bryr Clogs
• Raheem Rademaker, founder of Weekend Ritual
• Priya Rao, Strategist contributor
• Jeremy Rellosa, Strategist writer
• Charlotte Stone, shoemaker
• Diana Tsui, former senior market editor at the Cut
• Vanessa Valiente, personal stylist
Additional reporting by Karen Iorio Adelson, Alex Ivker, and Ambar Pardilla
The Strategist is designed to surface the most useful, expert recommendations for things to buy across the vast e-commerce landscape. Some of our latest conquests include the best acne treatments, rolling luggage, pillows for side sleepers, natural anxiety remedies, and bath towels. We update links when possible, but note that deals can expire and all prices are subject to change.
Every editorial product is independently selected. If you buy something through our links, New York may earn an affiliate commission.