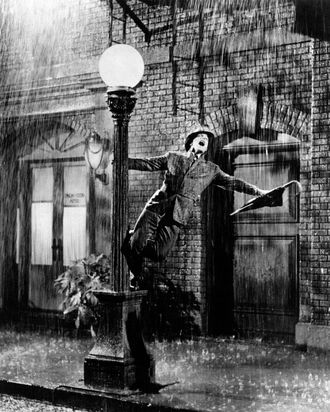 Photo: Mondadori Portfolio/Getty/Mondadori via Getty Images
Whether it's boots that barely survived last winter's sludge or new shoes that you stress bought while sheltering in place and hope to eventually wear outside (maybe even within six feet of other people, if you're dreaming really big), you probably have a pair of shoes that could use some weatherproofing. And it's not just rain and dirt that they'll be protected from. It's also you, and luckily most sprays work just as well against coffee and wine.
To help you find the best products to make your footwear last, we talked to seven cobblers, custom shoemakers, and shoe-store owners about the sprays, creams, and oils they swear by, whether it's to protect delicate suede clogs or rugged snow boots for next year. If you put in the time now — when many of us have already watched all of Netflix and are wondering what to do next — when you are actually allowed to go outside again, you and your shoes will be ready.
Best protector for high-end leather and suede shoes
Lauren Brinkers, a Brooklyn shoemaker, calls the French brand Saphir "the crème de la crème of shoe care." This spray can be used not only on high-end leather shoes, but also on suede, nubuck, and delicate textile items such as cotton and silk — without changing their color.
Best protectors for everyday leather shoes
Less precious shoes can handle a more heavy-duty spray, like this one from Spanish leather-care company Tarrago that incorporates nanotechnology — tiny particles that fill tiny openings in the leather to block water from getting in. "Leather is porous. It's essentially a skin, and like our skin it has pores, so it breathes and takes in water through its pores," says Andrade. "Nanotechnology puts on a coating, sealing the pores so water won't seep in. It keeps water from penetrating."
When you get a new pair of shoes, it's best to spray them right away with a protectant, our experts say. Brinkers likes Apple Brand Garde as a great budget-friendly option that works for all types of leathers. Silicone bonds to leather, creating a barrier that keeps moisture out, but you do need to occasionally reinforce that barrier. Brinkers recommends reapplying "every couple of months. If you are wearing your shoes often, you could spray them every few weeks if you needed to." The spray creates a necessary protective layer that shields the shoe from favorite vices like wine and coffee. Eduard Shimunov from Cobbler Express calls silicone-based sprays like this "an umbrella over your shoe."
This is Brinkers's all-time favorite cream: "It's all-natural and smells amazing. There is some beeswax in it so it brings back your shoes' shine. It smooths out cracks," she says. "I use the cream on my boots, which are pretty delicate. I use it on my leather jacket. I use it on my couch."
When San Diego–based personal stylist Vanessa Valiente's clients ask her how to protect their leather shoes, she recommends Kiwi's silicone-based spray. Andrade agrees that while silicone-based products can be too harsh on fine or light-colored leathers, they're very useful for dark-colored and black leather shoes. When you do your monthly reapplications, he suggests paying special attention to the "edge of the seam where the sole meets the upper," a common spot for water to leak in.
Best protectors for everyday suede shoes
Soft suede footwear requires special treatment. "Suede is like having a shoe that's a sponge, so anything that falls on it will be picked up," says Andrade. A material-specific spray — Valiente likes this one from Scotchgard — makes suede less absorptive without damaging the shoe. Isobel Schofield, founder of Bryr Clogs, confirms that this product works really well, protecting against water- and oil-based stains.
Schofield recommends Bickmore's Gard-More spray if you live in an area with particularly harsh weather conditions. It works on full-grain leather, suede, and nubuck.