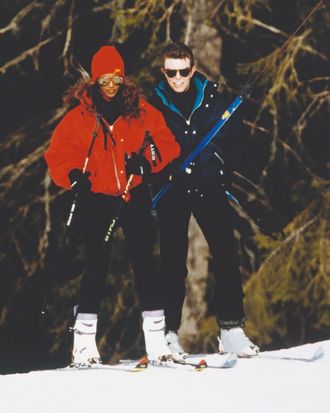 Photo: James Andanson/Sygma/VCG via Getty Images
Packing is hard. Especially when the destination might involve giant mosquitoes or Instagram-worthy hiking trails. What do frequent travelers to these spots — the ones who best know how to prepare for the conditions — put in their suitcases? We'll be tackling this in our series, the Trip List.
You can find dedicated ski bums on snow-covered mountains all year-round (when it's summer in the Northern Hemisphere, they'll just head south to Chile or Argentina), but right now it's the most popular season for casual skiers (and snowboarders) to join them at resorts. And if you're one of the latter — or a first-timer on the slopes — figuring out all the gear you need can be overwhelming. Here, we consulted with travel agents who specialize in snowy getaways, ski photographers, and several other people who have been skiing since they were old enough to walk, to find out what are the must-haves to pack for a wintry vacation. While we didn't ask them about equipment itself (which most casual skiers or snowboarders will likely just rent), their picks include everything else you'll need for both hitting the slope and après adventures whether you're headed to Vermont, Vail, or the Swiss Alps.
Base layer tops
Worn closest to the body, base layers lock in heat while pulling sweat away from the skin. Lots of experienced skiers we spoke with agreed that wool is the perfect choice for a base layer material. It's warm, dries quickly, and doesn't hold on to odor, so you can get several days' use out of a single piece. "Icebreaker offers some of the best quality merino wool on the market," says Backcountry Gearhead Matt Schroer. Sarah Plaskitt, founding director of the ski trip planning agency Scout, also wears Icebreaker base layers and likes the option of choosing between different weight pieces depending on the weather conditions. If the 200-level ones featured here are too warm for you, try out the 150-weight pieces that are slightly lighter. Lyndell Keating, a co-director of ski travel agency Powderhounds, is also an Icebreaker fan. She loves that their base layers are "really lightweight and offer lots of warmth, yet breathe really well."
If you don't like the feel of wool, synthetic materials (like the moisture-wicking blends used in activewear) will also keep you warm and dry on the slopes. Business consultant and blogger Kelli Marks has been skiing since she was 2-years-old, and says she's been wearing this Under Armour top for the last few ski seasons. She tells us, "it has a high neck which I like to help avoid any gaps for cold air to sneak in."
Base layer bottoms
Like Icebreaker tops, the brand's wool base layer bottoms are a favorite among skiers. "They perform very well in terms of temperature regulation," says travel writer Veruska Anconitano. Compared to full-length leggings, these cropped ones won't end up stuffed in your boots with your socks, which can limit circulation and cause cold feet. "My legs tend to warm up more than my upper body when skiing, so I prefer the legless bottoms to avoid overheating on a run," says Schroer.
Made from the same material as the Under Armour top, this bottom base layer is Marks' top pick for staying warm on the mountain. When she's done on the slopes, she'll shed her ski pants but keep these on for an après ski drink since they're thick enough to wear on their own.
Women will likely want to wear a sports bra underneath their base layer tops, but for both genders, wearing underwear with base layer bottoms is optional, according to the folks we spoke with. You're better off going without it than wearing cotton pairs that can chafe or hold onto moisture. If you do want the extra layer, choose a pair that's also made of wool or synthetics. We've written about wearing the Icebreaker women's underwear for running in cold weather, and they'd work for skiing or snowboarding, too. For men, the brand's temperature-regulating merino wool boxer briefs are a worthy equivalent.
Midlayers