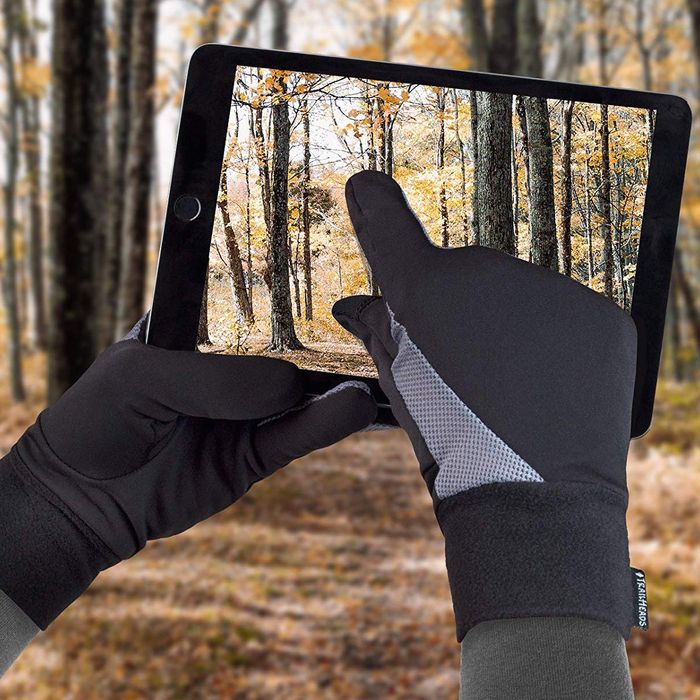 Photo: Courtesy of the retailer.
Here at the Strategist, we like to think of ourselves as crazy (in the good way) about the stuff we buy, but as much as we'd like to, we can't try everything. Which is why we have People's Choice, in which we find the best-reviewed products and single out the most convincing ones. (You can learn more about our rating system and how we pick each item here.)
And while we've written about lots of winter accessories before — including winter hats for women, winter boots for men, and winter gloves for women — here, we've rounded up the best touchscreen gloves, as praised by the most enthusiastic reviewers on Amazon.
Best-rated (and least expensive) touchscreen gloves
Nearly half of all five-star reviewers call these gloves warm. But lots also note that they're neither bulky nor ugly. One reviewer describes them as "really lightweight, keep your hands nice and warm and are extremely stylish." Another customer says, "They are warm, but still look professional and dignified." And lots of reviewers also appreciate that the touchscreen pads on the fingers work. "It was like I didn't have gloves on at all while touching my iPhone," one reviewer writes. Another writes that because her hands have poor circulation, "it's hard for me to do anything." Yet, "these gloves changed my life," she adds. She says the "touchscreen fingers work sooooo good" that she "hardly ever takes the gloves off," especially when it's freezing out. And one more who uses these while running errands adds, "The gloves are warm but not too thick so I can grab stuff out of my small purse without dropping it because I can't feel the items. I totally can do everything I need to without removing them until I'm inside again."
And now for some micro-picks for every type of touchscreen gloves you might be looking for.
Best lightweight touchscreen gloves
Over a dozen reviewers bought these because they're commuter gloves. One reviewer describes them as "comfortable, lightweight, and perfect for commuting" because they're "not too bulky and you can still carry on with your everyday life without having to take these off to do something." Another never owned touchscreen gloves before, but after wearing these, he says, "it's a game changer not having to take your gloves off to just swipe the phone." He only wears these for "cold morning commutes" because they just add "a little bit of warmth for your hands."
Best cold-weather touchscreen gloves
Customers say it's difficult to find touchscreen gloves that are also extremely warm, but these Timberland gloves do both. One reviewer calls these "truly excellent cold weather winter gloves," explaining, "These winter gloves are extremely well made and their tight knit wool weave have kept my hands warm in 0 degree weather." But aside from warmth, he says they fit "snug," which is what you want "so the touchscreen tips give you optimal control." Another customer says he's "extremely picky about gloves," calling these "fantastic." He even thinks that the touchscreen works "nearly as well as my own finger." And one more "connoisseur of Timberland products" couldn't see herself buying another brand for gloves. These didn't disappoint: "I leave from work late at night so my car is very cold and has to warm up, when I get in it and with these gloves on my hands feel wrapped in warmth and I can't tell how cold the car handle, the inside of the car or the steering wheel is."
Best leather touchscreen gloves
"These gloves are exactly everything I wanted in smart touch gloves," writes one reviewer of these leather touchscreen gloves, explaining, "They are stylish, they fit nicely and, most importantly, they work! Now I can stay warm and use my phone at the same time." Another customer specifically wanted leather gloves, calling the leather on these "soft" and good quality. She doesn't think these are meant for brutally cold weather, but would be good "for in between seasons or cool weather." But that doesn't mean they're not warm. Another reviewer describes them as "the best winter gloves I have ever owned," especially because of their style, which is "delicate and classy … so that they pair well and discreetly with any outfit."
Best touchscreen gloves for running
While lots of reviewers purchased these for activities like hiking or biking, one-third of reviewers bought these gloves for running, including one who originally thought it was a superfluous purchase. But she bought them "after one particularly cold and uncomfortable run." She writes, "They are warm enough while still allowing for lots of dexterity. They are lightweight, and while everyone will be different, I found them comfortable in 20–40 degree temperatures." One more says the best part for her is that she "can turn the cuffs up to cool off my wrists and keep my Fitbit in view." Another says they actually acted as her winter gloves too, because the touchscreen was so convenient: "The touchscreen fingers are very responsive even with a phone that has a tempered glass screen protector on it."
Best touchscreen gloves for running with mesh
For runners who don't generally like wearing gloves because their hands overheat, TrailHeads added mesh inserts around the fingers and on the back of the hands to keep them cool. That kept one customer "Totally comfortable during my 45-minute run at 37 degrees F today with a light breeze." She warns that your hands might "be a bit cool on cold windy days," but once you get going, it won't be a problem. Another reviewer thinks that the touchscreen tips on these gloves are "better than other gloves" he's owned before. And one more notes that the touchscreen function makes it easier for using his smartwatch and phone during long runs. But an underrated feature is the "high visibility stripe." He adds, "It does increase your visibility to drivers."
Best adjustable touchscreen gloves
The adjustable band around the wrist of these touchscreen gloves "locks out the cold," according to one reviewer, who also appreciates that they look "very elegant but can also be worn with a more casual jacket." But the touchscreen pads on the fingers are the real selling point of the gloves. "I can use my phone outdoors while being bored waiting for the bus," another reviewer writes. One more says she hates the cold and wanted to access her phone without taking off her gloves. She thinks these do the job, writing, "These match my awesome winter coat and fit my uniquely sized hands while still permitting me access to my phone frozen fingers free." Another reviewer maybe doesn't having "uniquely sized hands" because she says the fingers are a tad long, so she has "to scrunch it just a bit to use the phone." But she says it's not a deal breaker, adding, "Still, I do love these gloves! it's been such a long time since I have been able to find gloves that are not one-size-fit all, because one size DOESN'T fit all."
Best spandex touchscreen gloves