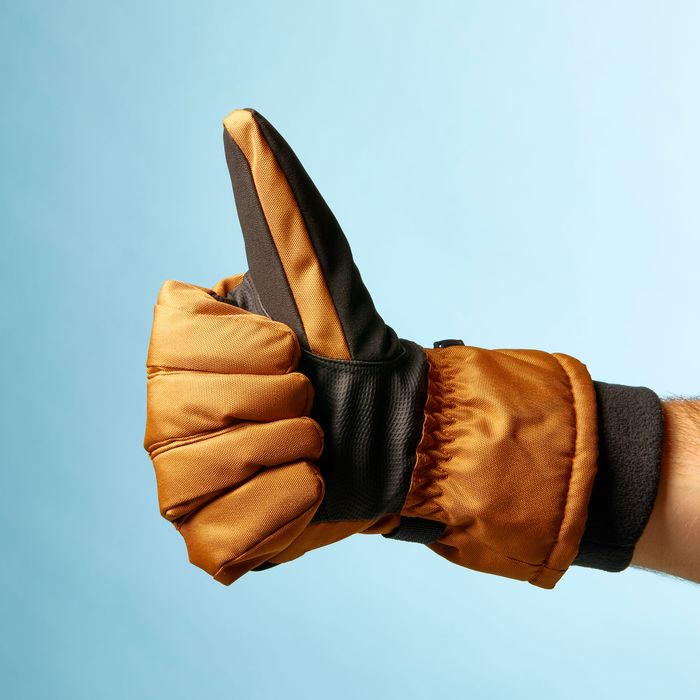 Warm gloves — whether they're fleece-lined, insulated, or waterproof — are a nonnegotiable accessory for making it through the colder months, whether you're wearing them to run errands, bike to work, or shovel a driveway for five hours. But finding a good pair of gloves that fits your needs could take you all winter.
So to make sure you get your hands on a good pair of gloves before the frostbite sets in, I talked to gear experts, ski instructors, fishermen, and filmmakers — whose hands are constantly exposed to the cold — for their recommendations and their favorite pairs. Plus, I've tested a lot of these gloves myself. Below, we've organized our top recommendations by glove type and the activity they're best used for.
The material of the glove will tell you a lot about the best use case and the level of warmth you can expect. Leather is windproof but not so good in damp conditions unless it's been treated. Polyester or fleece will dry quickly and let your fingers breathe, but that means it's not the most windproof. Neoprene gloves are designed to get wet (they're made with the same material used in wetsuits).
Thicker gloves will generally have more insulation, which keeps your hands warmer. More insulation usually equates to less breathability (which means your hands might get clammy), but some models are designed with more breathable construction, such as having less or lighter material on the back of the hand while maintaining warmth in other areas. If you'll be using your hands a lot while wearing gloves and need to maintain dexterity, you'll want a slim pair with a tight fit. If you're not going to be using your fingers much and just want to keep your hands warm, a thick, bulky pair may be your best choice. If you need warmth and some dexterity, you'll want a pair with medium thickness that packs in warmth but still gives your fingers some freedom. We've noted below whether each glove is thin (second skin), medium (warmer, but not so thick you lose dexterity), or bulky (minimal dexterity).
We've noted below if you can use touchscreens while wearing each pair.
Best overall gloves for men
Material: Fleece, nylon, and polyester | Thickness: Medium | Touchscreen compatible: Yes
If you're only going to buy one pair of gloves for cold weather, I recommend this touchscreen-compatible medium-weight pair from Black Diamond. They're not overly thick, nor too thin, and their polyester-fleece construction keeps my hands toasty while walking around town, biking, and on runs. (On truly frigid days, they're thin enough to wear as a liner inside of thicker, bigger mittens.) Thanks to their versatility, the Screentaps have been my main pair of winter gloves for two years.
The Midweight Screentaps are also our top pick for touchscreen gloves and one of our favorite pairs of women's gloves. They come recommended by Strategist writer Katherine Gillespie, who praised them for their comfort on chilly morning hikes in Patagonia's Torres Del Paine National Park. "They're thin enough to provide ample dexterity when fishing items out of a backpack or taking photos of scenic vistas yet thick enough to insulate against frosty mornings or random rainstorms," she writes. "The touchscreen fingertips are highly responsive, and the stretchy cuffs prevent cold wrists."
Best liner gloves for men
Material: Fleece and polyester | Thickness: Thin | Touchscreen compatible: Yes
When our columnist Chris Black went on the hunt for gloves that look cool, keep his "digits toasty," and don't cost a lot, he found these fleece gloves from the North Face. The fleece, which is made from 93 percent recycled polyester, is designed to keep hands warm for short periods or during movement, such as on winter runs or hikes. What Black likes most is that they're touchscreen-compatible. The fleece on the palm side of the glove is U|R Powered, which means you can use all five fingers on your touchscreen. Plus the palms have a gripper so you won't lose hold of your phone. NYC-based comedian Matthew Broussard likes the Etip Gloves for biking around the city, noting how their touchscreen compatibility allows him to check his phone for directions to his next gig. I've used these gloves for winter trail runs and loved how I could check my map and tap on my smartwatch with them on.
Best wool liner gloves for men
Material: Wool and polyester | Thickness: Thin | Touchscreen compatible: Yes
These liner gloves come recommended by filmmaker Jacob Krupnick, a dad and most-of-the-year cyclist. "You don't need a lot of warmth most the time unless you're skiing or outside all day — you need to be protected from the shock of touching cold things. Most winter, I live in glove liners," he says. "These are my favorite — light and elegant and not at all baggy." Unlike the North Face gloves above, Hestra's are made with wool, which is an efficient insulator for both dry and wet conditions.
Best mittens for men
Material: Leather and Thinsulate insulation | Thickness: Bulky | Touchscreen compatible: No
I've used these mittens from Give'r — a brand based in Jackson Hole, Wyoming, that specializes in insulated leather gloves — for two winters now, and they're the warmest, most durable pair I own. Strategist contributor James Lynch likes the original Give'r gloves, but I prefer the mittens and the four-season version, which are both warmer (the mittens being the warmest). The mittens' insulation is the most impressive thing about them: They have a layer of Thinsulate (used in gloves, jackets, and other warm apparel) wrapped in a heat-shield layer, then a durable, waxed cowhide leather exterior. Give'r can brand custom initials on each pair.
Best winter work gloves for men
Material: Knit acrylic and latex coating | Thickness: Medium | Touchscreen compatible: No
These Kincos are a must for Adam Butler, a general contractor in Portsmouth, New Hampshire. He and his colleagues "generally try to not wear gloves except for winter work as carpenters. In the northeast, at least, we like to develop calluses," he tells me. "Our winter work go-tos are rubber-dipped gloves like the Frost Breakers." They have a latex coating on the palm and on the fingers, which provide grip — great for lifting heavy objects and handling tools in cold environments. I've used these Kincos for bicycle maintenance, and have found their medium thickness and grip excellent for working with smaller tools that require more dexterity.
Best touchscreen winter work gloves for men
Material: Polyester, spandex nitrile metal wire | Thickness: Thin | Touchscreen compatible: Yes
For our roundup of the best touchscreen gloves, Grant Zwayer, founder of Cedar Hill Design & Co., recommended these cut-resistant gloves, which are coated with nitrile — a material that helps prevent punctures and scrapes against the skin. But that layer of protection doesn't mean the gloves lack dexterity or touchscreen compatibility. "With these, I don't miss customer calls trying to remove them — I can just answer the phone," Zwayer says.
Best waterproof gloves for men
Material: Polyester and nylon | Thickness: Medium | Touchscreen compatible: Yes
Eric Lin, a cinematographer based in Brooklyn, New York, swears by his Sealskinz gloves. "A few years back, after a memorable night shooting in freezing rain outside, I realized my warm gloves didn't mean much if they weren't waterproof," he says. "So I went on the search for waterproof winter gloves and I found Sealskinz gloves." There are probably warmer gloves out there, Lin says, but the fact that they were waterproof and allowed him enough movement to be dexterous with his fingers, he found them perfect for what he needed. Lin used an older version of the Waterproof All Weather Glove, but the line has since expanded to include an insulated version, which is built with a leather palm and neoprene.
Best less-expensive waterproof gloves for men
Material: Polyester, acrylic, and latex | Thickness: Thin | Touchscreen compatible: No
"I've been wearing Atlas Therma-Fits for about 25 years," says Christopher Nicolson, who works as a coastal fisherman in Bristol Bay, Alaska, and spends his winters as a winemaker in Red Hook, New York. "Since my hands are always soaked when I'm fishing, and since my hands are in the water all of the time, I like the Therma-Fits because they stay warm when your hands are wet." Nicolson likes how the Therma-Fits insulate similarly to a wetsuit and trap a little bit of water between his skin and the glove. He likes them because they have a very thick, grippy latex "dip" on the palms. Nicolson says they've worked equally well for him in dry conditions, but they are especially suited to wet environments. I've used Atlas gloves for dinghy sailing in college, where I was part of my school's club team. The latex grip allowed me to hold onto wet lines without them slipping out of my hands during maneuvers or strong gusts. (Some of my teammates created a fingerless version of the Therma-Fits by cutting off the finger tops with scissors, which allowed water to flow through them more easily.)
Best skiing gloves for men
Material: Leather palm, fleece and wool lining with GORE-TEX insert and PrimaLoft Gold insulation | Thickness: Bulky | Touchscreen compatible: No
Jeff Lane, a former snow ranger for the Mount Washington Avalanche Center, swears by lobster-claw mitts, which he wears at the ski resort and on cold days in the backcountry.
"Discovering this type of mitt-slash-glove was a game changer when I worked on Mt. Washington. Nothing beats a full mitten for warmth, but these come close," he says. "They give you a lot of dexterity that you don't get with a full mitten but still can keep your fingers warm on the coldest days. When it's a not too cold day, they live in the bottom of my pack with a balaclava, just in case."
Lane tells me he used a version from Outdoor Research for the last ten years, and the lobster-claw-mitt model the brand currently makes might not be exactly the same. He currently uses these Guide Finger Gloves from Black Diamond.
Best less-expensive skiing gloves for men
Material: Pigskin leather, cotton-blend canvas, and polyester elastic knit | Thickness: Medium | Touchscreen compatible: No
These ubiquitous work gloves come recommended by Lane of the Mount Washington Avalanche Center and by Ruben Kimmelman, a former snowboard instructor on Mount Baker. "These seem to be a standard uniform piece for ski-area employees everywhere," Lane says, noting that they're far less expensive than other outdoor gear brands but just as effective. "I wear them patrolling, and if they start to wear out, then they move into my garage for around-the-house use." Lane recommends applying a waterproof coating on them, like Nikwax. Kimmelman agrees: "Add a little Scotchgard or Minwax to waterproof them and they are the bomb for $30."
Best running gloves for men
Material: Grid fleece with water-resistant shell flap | Thickness: Thin | Touchscreen compatible: Yes
I've used the WindHood GridTech gloves for running on especially cold and blustery days. The hooded flap protects my digits from the bite of a strong gust, and it packs down into the wrist cuff when you're not using it. Lane of the Mount Washington Avalanche Center likes these gloves for high-output activities like winter running or nordic skiing. "The on-the-move adjustability is perfect," he says. "I start a run in mitten mode and after 15 minutes or so, when my blood is finally flowing through the fingertips, it's super-easy to pull back the shell and let the fingers breathe a bit more."
Best cycling gloves for men
Material: Wool, acrylic, nylon, spandex, with rubber grip | Thickness: Thin | Touchscreen compatible: No
These thin gloves come recommended by New York City bike messenger Paul Solis, who wears them for riding in cold, wet weather. After cycling through less-reliable models that claimed to be waterproof, Solis turned to this wool pair, which works similarly to the Atlas Therma-Fits and Kinco FrostBreakers above. "They've already survived a couple winters," according to Solis.
Some more men's winter gear we've written about
Our experts
• Chris Black, Strategist columnist
• Adam Butler, Portsmouth, New Hampshire–based general contractor
• Katherine Gillespie, Strategist writer
• Ruben Kimmelman, former Mount Baker snowboard instructor
• Jacob Krupnick, Brooklyn, New York–based filmmaker
• Jeff Lane, former Snow Ranger for the Mount Washington Avalanche Center
• Eric Lin, Brooklyn, New York–based cinematographer
• James Lynch, Strategist contributor
• Christopher Nicolson, coastal fisherman and winemaker
• Paul Solis, New York City bike messenger
The Strategist is designed to surface the most useful, expert recommendations for things to buy across the vast e-commerce landscape. Some of our latest conquests include the best men's wardrobe basics, white T-shirts for men, jeans for men, white sneakers for men, Chelsea boots, and flattering clothes for men. We update links when possible, but note that deals can expire and all prices are subject to change.
Every editorial product is independently selected. If you buy something through our links, New York may earn an affiliate commission.