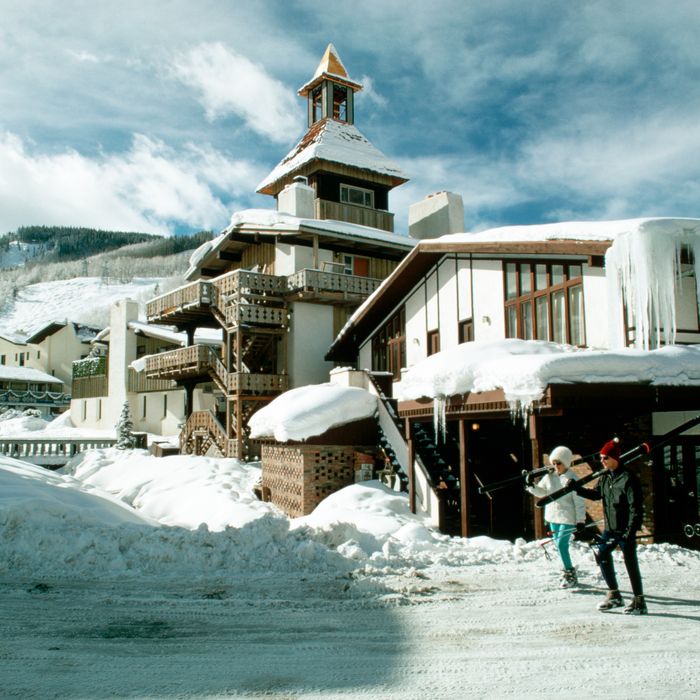 This is actually Vail! Now you can look like one of these locals, or are they socialites?
Photo: Dean Conger/Corbis via Getty Images
Status can be a funny thing. Of course its most obvious iteration comes with shiny hardware and easily recognizable logos, but it gets far more interesting as you narrow it down to the more opaque signals — when the way you tuck your shirt, or what you eat for breakfast, or your particular brand of notebook can mark you as in or out. And of course, what counts as a status item varies wildly across human tribes. In our series, Insider Goods, we're talking to tribe members (some with their real names, some anonymously) to find out the status items among art-gallery assistants, or Broadway actors, or architects. Today, we hear from Nicole, who lives in Golden, Colorado and has been skiing Vail for the past 20 years, about ski gear and the difference between a Vail local and a Vail socialite.
"There are definitely two different types of Vail residents. The more status socialite and then the other people there who take their skiing very seriously. Within that there are skiers and snowboarders.
We'll start with the more serious people who are definitely decked out in the latest Patagonia or Marmot gear, both pants and jackets. The skier Chris Davenport does this thing called Protect Our Winters that's all about sustainability and climate change. There's big support for that because if there's no snow in Vail, we don't have much ski season or resort traffic, and that's their bread and butter. That's why everyone has Patagonia jackets. Also, layering is important and their down insulation jackets are good because you can layer them over sweaters on really cold days or just wear that over a base layer for warmer spring days."