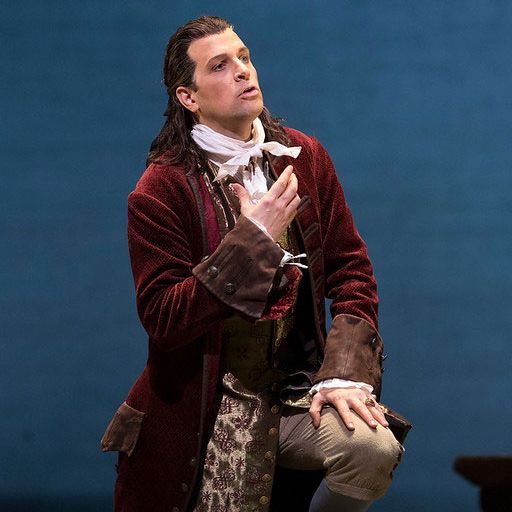 Photo: Marty Sohl/The Metropolitan Opera
Status can be a funny thing. Of course it is most obviously expressed through shiny hardware and easily recognizable logos, but it gets far more interesting when you start to observe the more subtle signals — the way you tuck your shirt, or what you eat for breakfast, or your particular brand of notebook can mark you as in or out. And of course, what counts as a status item varies wildly across human tribes. In our series, Insider Goods, we're talking to members of different tribes (some with their real names, some anonymously) to learn about the niche status items among art-gallery assistants, Broadway actors, or ballerinas. Today, we hear from Italian opera singer Luca Pisaroni, currently performing the title role in Mozart's Don Giovanni at the Metropolitan Opera, on the scarves, cough drops, and humidifiers you'll find in any singer's dressing room or carry-on luggage.
I'm a lip freak in the sense that I hate dry lips. As an opera singer, it's something I can't stand. This product comes from my dentist in Vienna. This is a lip balm that's organic and antibacterial, which I really like because it helps my lips stay moist and, in case I have to kiss somebody onstage, I know that I'm protected. I like the flavor and I like the design. In Vienna there are a lot of singers who use it. Here in New York, I see this one [Carmex] around frequently.
Everybody wears these. They are so frequently used in the opera industry because they are 360-degree, long scarves that you can wrap around your neck. We all have them because we are all throat and neck freaks. Especially when it's so cold, we love to be protected in the throat and also in the back [of the neck], so there's no air coming in and this is the perfect scarf. I have a huge collection of different colors. We all are totally unrecognizable outside because practically only our eyes are out and everything else is covered.
With a life on the road, constant time changes, and a very irregular schedule — rehearsals in the morning, performances at night, post-show adrenaline — almost all singers rely on caffeine for energy, and Nespresso machines are easy to travel with. [Morning rehearsals] are really hard because, being a physical activity, it takes a while for your body to wake up. For our rehearsal at 10:30, the majority of singers will be up by 7:30. To make sure that we're warmed up and that our bodies are awake, there's nothing better than getting up in the morning and having a liter of coffee. I am completely obsessed with coffee, and in my case it's the Kazaar because it's the strongest one that they have. It's the best way for me and, in general, everybody to wake up. Sometime in the rehearsal department they'll have espresso machines.
A backpack is a must-have for every singer. You always need stuff. You carry your iPad to rehearsal; if it's a performance I'll carry my lenses, a change of underwear, and some hair products; and if I'm not feeling well, maybe a nose spray or my humidifier. I've never seen a singer who comes to either the performance or the rehearsal with nothing. I like this one because it's huge. I was in the opera in Toronto and one of the singers carried it. I didn't know about this brand so I took a photo and then I went home and saw they had these really great backpacks. It's also become my hand luggage when I fly. I can carry so much stuff, it's really big, and really comfortable. I like these because they have a very hard back so they help me stand up straight.
I like Samsonite because it's incredibly lightweight. Sometimes we don't come home for three or four months so having a suitcase that's practical, fits as much stuff as you need, and has four wheels so you can carry it around easily, is really, really important. Between us singers, it used to be the Rimowa that we all liked, but Rimowa has become incredibly expensive and it's not as resistant, especially when it comes to the corners. So the new one that I was told was incredibly resistant and practical was Samsonite. And it's also reasonably priced.