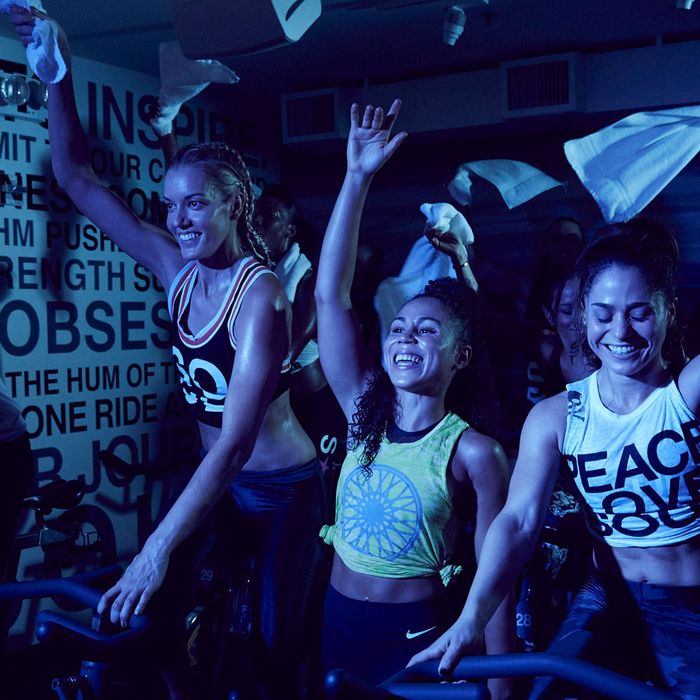 Status can be a funny thing. Of course its most obvious iteration comes with shiny hardware and easily recognizable logos, but it gets far more interesting as you narrow it down to the more opaque signals — when the way you tuck your shirt, or what you eat for breakfast, or your particular brand of notebook can mark you as in or out. And of course, what counts as a status item varies wildly across human tribes. In our series, Insider Goods, we're talking to tribe members (some with their real names, some anonymously) to find out the status items among art-gallery assistants, or Broadway actors, or architects. This time, we're entering the world of fitness with SoulCycle senior instructor Emily Turner.
"SoulCycle instructors love Lululemon (I'm a brand ambassador for their Soho store, too, which is a bit of an honor). They're one of the original luxury fitness brands, and it's the type of thing you'd wear once you've 'made it,' so we pretty much all wear that. Especially the sports bras. We're also all into Outdoor Voices, which is newer."
Unfortunately this is sold out, but the Energy and Invigorate Bras are similar.
Photo: Lem Lattimer/© Lem Lattimer Photography
"For post-class recovery, I know that a lot of instructors practice yoga as a balance to the riding. We ride a lot, a lot, a lot. I can think of at least ten other instructors off the top of my head who go to Laughing Lotus. And that is something true to our brand that goes beyond any product that I can buy or any handbag that I can carry. This is really specific to me and my colleagues. It's about finding the right balance. We like this studio because it has a similar vibe to SoulCycle. It's very positive, welcoming, a little bit hippie-dippie. You can go in and close your eyes and listen to good music, but it still honors what yoga is at its core. They talk about different mantras, and you feel like you're learning a bit more about what yoga really is, as opposed to going through an exercise flow. It's a little bit of a deeper connection."
"We have a rider, she doesn't just take my class, but bounces around to a lot of different instructors, and she developed this natural-beauty line called Lumion. She made this after-exercise facial spray that I use, and I know a lot of instructors use it in their post-class regimen. We go from one class straight into another and bounce around to different studios, so it's really important to have something that's quick and on-the-go, like this Lumion after-workout skin spray. That's a good insider thing. It's a post-workout skin cleanser."
"We also use argan oil morning and night, and after every face wash, which sometimes happens multiple times in a day."
"We all have our own cycling shoes. I use the Shimano single strap because it's easier to slip in and out, so it's what a lot of triathletes use, too. I've recommended that to many riders over the years. Everyone here has their own specific style of shoe that they like. It's a picky thing. The differences are just mostly fit, and the ease of taking them on and off. These are sleek, stylish cycling shoes."
"A popular nutrition bar among us right now is the Perfect bar. They're awesome. You have to refrigerate them because they're so fresh, so you won't just find them sitting around on shelves. It's all real, natural ingredients, not filled with different chemicals. That's a fan favorite between instructors right now and a go-to in between classes."
"We all drink Harmless Harvest coconut water. It's the best coconut water because there's no gunk in it, so it's just natural and better. In general, coconut water has potassium, which is great for muscle recovery, and it's also rehydrating. This morning, I taught a 90-minute class at 5:15 a.m., then went straight into a 45-minute class right after that. It's a lot of activity, a lot of sweat, and sometimes a bottle of water just doesn't cut it (for that, I always carry around a S'well, though, because it keeps the water so cold). Coconut water gives me that extra jolt of hydration, which is so important."