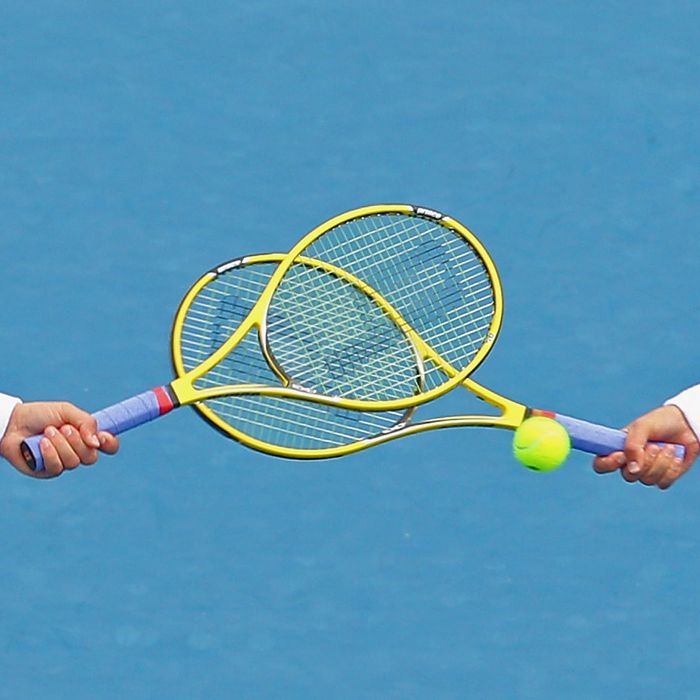 Photo: Scott Barbour/Getty Images
Status can be a funny thing. Of course, it is most obviously expressed through shiny hardware and easily recognizable logos, but it gets far more interesting when you start to observe the more subtle signals — the way you tuck your shirt, or what you eat for breakfast, or your particular brand of notebook can mark you as in or out. And, of course, what counts as a status item varies wildly across human tribes. In our series "Insider Goods," we're talking to members of different tribes (some with their real names, some anonymously) to learn about the niche status items among Broadway actors, ballerinas, or brain surgeons.
Today, we hear from members of the historic West Side Tennis Club in Forest Hills, Queens. The private club, which was founded in 1892 and was where the U.S. Open was held for 62 years before it moved to Flushing, sprawls with grass, clay, and Har-Tru courts, and counts among its 1,000 members former professional and extremely serious amateur players. Although it's a notoriously press-shy institution, we managed to track down seven West Siders, who told us about the custom orthotic inserts, emergency energy gels, and siccative hand lotions they keep in their duffels.
Racquets, strings, and grips
Seasoned players like these naturally have highly personal preferences when it comes to their racquets. Club member and audio engineer Geoff Strasser wields a Babolat Pure Strike 16/19 (the numbers refer to the configuration of vertical and horizontal strings): "I prefer the 16/19, which allows for more power, over the 18/20, which grants more control," he explains. On the other hand, another member, Trisha Goyal, founder of the tennis-meetup platform Break the Love, already has a lot of power and turns to the Wilson Ultra V4 for its lightweight construction, which lets her swing hard without sending the ball flying out of the court.
Some players can get even more obsessive about their strings than their racquets. According to member Robby Doyle, a Blackrock associate, the Luxilon poly strings, made from nylon, resin, and aluminum, are "very durable and let me generate good spin." Member David Chan sticks to Babolat's natural gut string even though it's more expensive because "it holds tension better and it's softer and easier to play with, so it's less demanding on your arm and prevents injuries," he says. Some players, seeking the best of both worlds — the stability of natural and the affordability of synthetic — will string their racquet with a precise mix of both types.
And then there are those gadgets and gizmos you add to the racquet and strings to fine-tune the feel. West Sider and video editor Danielle Minch is quite pleased with the NYC-themed shock absorbers she picked up from the Wilson booth at the U.S. Open last year. Meanwhile, former professional tennis player Lisa Bonder Kerkorian, who had a career-high ranking of No. 9 on the tour during her ten-year career, adds a tiny bar of Tecnifibre lead tape to the top of her Solinco Blackout racquet, "and it just helps you get a little more of a sweet spot at the contact point," she says. Each strip adds two grams of weight to the head of the racquet, which changes its balance and swing; a more head-heavy racquet adds leverage and generates more power.
"Sometimes you're sweating so much that even your shoes are dripping wet," Bonder Kerkorian says, which can make it difficult to keep ahold of your racquet. This is where the overgrip comes in: Although plenty of major tennis brands offer their own line of overgrips, nearly every West Side member we asked uses the Wilson Pro version — Strasser, Doyle, Goyal, and Minch all say that it's tacky to the touch and has enough padding to prevent blisters. Strasser, however, who's a prolific sweater, keeps an additional secret weapon on hand; he'll apply some Rhino Performance antiperspirant cream, which was originally developed for rock climbers, to his palms.
Between Memorial Day and Labor Day, West Side institutes an all-white dress code, "a tradition that stems from Wimbledon," explains communications executive and former professional tennis player Liz Kobak, who at one time was a WTA globally ranked player and the No. 1 ranked United States junior tennis player. She loves Venus Williams's apparel line — "[The clothes] have such an individual look to them and they make you feel like you can play like Venus," she says — and points to this white set with sweet eyelet detailing as a particular favorite. Goyal recently bought a stylish tennis dress from Wilson and especially appreciates the mesh panels and back cutout "because it's really breathable with the air holes," she says. "The proportions are great, and it's still cute to walk around in when you're not playing."
Since tennis whites can quickly become stained and dirty, clothing that can stand up to frequent washing is a big plus. Nike Dri-Fit and Lululemon were both touted as highly durable and long-lasting options, but Strasser likes to get thrifty and go hunting for vintage and secondhand athletic gear. "I'm constantly on eBay trying to find new tennis whites, because it would be insane to have to keep buying them new at retail. A pair of shorts is like $70," he says. He did, however, decide to splurge on some shorts from the brand Boast, because he liked the look of its logo: "It's a Japanese maple leaf, but it looks like a pot leaf."
Just like racquets, the type of sneakers players wear is highly subject to personal preference. Still, some have universal appeal: "The Nike Vapors are super popular right now. I feel like every other person at the club is wearing them," says Minch, who recently switched to the Vapors after wearing Adidas Barricades her entire childhood. Asics are also widely beloved: Chan and Doyle both shouted out the Asics Core FF3, which were released a few months ago. "They have a good balance of traction, but you can also slide with them," Doyle says, and Chan adds that the shoe's unibody construction means "the interior feels like a sock. So you're very stable and locked in when you're playing, but it's also flexible for you to move around." Strasser used to wear the Core FFs, but now swears by the Asics Gel-Resolutions, which are "a bit heavier — it takes me an extra millisecond to get off my feet — but they're so comfortable. I can play on them forever and have no issues," he says.
Even the most comfortable sneakers can use a few tweaks here and there to optimize support. Bonder Kerkorian credits her Exos orthotics, customized by her podiatrist, for warding off Achilles strain and tight ligaments. Strasser, who has plantar fasciitis, slips on this toe straightener to keep his foot properly aligned and "add an extra layer of cushioning right under my metatarsal to dampen the impact," he explains.
On weekends during the high season, members might arrive at West Side at dawn and leave at dusk. Especially in the summer, when the bubble enclosures come down and the club's 38 outdoor courts are open, spending hours under the hot sun means a water bottle is a must. Nalgenes and Hydro Flasks abound, but Minch likes the options from Brita, which have a built-in filter. "You fill up with tap water, throw some ice in there, and it filters through the straw so you're always drinking clean water," she says.
When you're sweating so much and exerting yourself for hours on end, it's crucial to replenish lost minerals and electrolytes. Multiple members depend on Liquid IV and Nuun tablets mixed into their water to ensure that they're properly hydrated — "I actually discovered Liquid IV when I had COVID, but it tasted so good I just kept buying them," Minch says. Gatorade and Pedialyte are also popular, but Chan prefers the Japanese sports drink Pocari Sweat. "It's similar to Gatorade, but it tastes more mild, so it doesn't feel like there's a bunch of artificial coloring in there," he says.
When Strasser is flagging mid-match "and I'm getting dizzy or I really need to snap into things, I'll start sucking on one of these Crank energy gel packets," he says, which he likes for their clean taste and low sugar content. Bonder Kerkorian, meanwhile, relies on Dubble Bubble chewing gum as a quick pick-me-up because of its sugar content: "I've gotten into this strange habit of popping one of those little chiclets when we're switching sides. I like the burst of sweetness — it gives me an added bit of energy," she says.
Tennis takes a toll on the body, and everyone we spoke to takes steps to ensure that they can keep playing well into their old age. "I'm 57 years old, and I've never had a major injury or any major surgery," Bonder Kerkorian says.
In terms of post-match recovery, foam rollers, roller sticks, Epsom salt baths, and Theraguns were all popular methods to soothe sore muscles, as well as pain-relief salves such as Advil and the menthol-infused gel Biofreeze, which is favored by Goyal. Its easy roll-on application provides an immediate cooling, tingly sensation, which makes it "feel more effective than something like a CBD balm," she says.
Performance-tracking tech
"Eighty percent of people I play with at West Side either have a Whoop or an Apple Watch," says Strasser, and it seems players fall into either one camp or the other. The Whoop, which tracks measurements like recovery, cardiovascular strain, and sleep, counts Strasser as a devotee for how it "gives me guidelines on how hard to push myself," he says. Doyle, on the other hand, has tried both devices, but gives the edge to the Apple Watch for its ease of use and ability to provide immediate feedback on your workout: "I just push a button," he says. "I never need to touch my phone."
Though West Side members get their own lockers, they still prioritize a hold-it-all racquet bag. (You'll also regularly spot Goyard and Chanel bowler bags mixed in among the more tennis-specific choices.) Strasser and Chan opt for duffel-style slings, which have a greater capacity to accommodate more racquets, while Minch and Doyle prefer backpacks, which can only hold one or two racquets but are easier to carry. For a slightly more elevated look, Goyal has used a Tory Burch convertible tennis bag for three years — it's shaped like a regular tote, but comes with a detachable front pocket that can hold two racquets.
The Strategist is designed to surface the most useful, expert recommendations for things to buy across the vast e-commerce landscape. Some of our latest conquests include the best acne treatments, rolling luggage, pillows for side sleepers, natural anxiety remedies, and bath towels. We update links when possible, but note that deals can expire and all prices are subject to change.