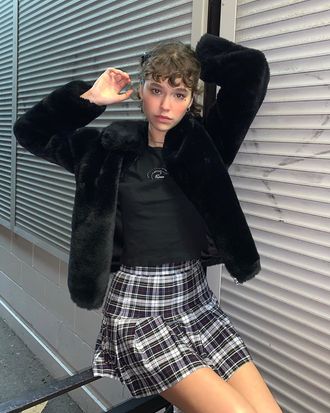 Photo: Courtesy @inyourdre4mz
Why are teens suddenly walking around with black hearts under their eyes and dressed like modern-day Jane Lanes? Last year's VSCO girl paved the way for the soft girl, which has since evolved into the e-girl. As the Cut explains, "The prototypical e-girl is really more of an idea — an aesthetic rather than a person. As the antecedent 'e' would imply, the e-girl is also 'very online' — maybe she's a gamer, a cosplayer, or spends a lot of time on TikTok."
E-girls don't just spend a lot of time on TikTok; the entire aesthetic was born on the app. (There's even a popular TikTok meme called "The E-girl Factory," where users film their own transformations with colorful wigs, winged eyeliner, and clothing that would not look out of place at Hot Topic.) "The e-girl aesthetic is hair clips, maybe some freckles, and cute outfits," explains Raven, a 20-year-old mononymous influencer, singer, and self-identified e-girl. "I'd say the overall goal is to resemble a Bratz doll."
We talked to six social media–famous e-girls and -boys to find out more, including what they're wearing, where they're buying it, and why everyone is drawing hearts under their eyes.
Puffer
Puffer jackets from brands like Patagonia and the North Face are ubiquitous among e-girls and e-boys (and teens in general, for that matter). You'll often find them layered over hoodie — either the aforementioned merch fleece or a classic Champion sweatshirt. Gauge Burek, a 19-year-old model and influencer, says the puffer is a great way to create a whole "streetwear look." He's especially into this one from Skoot, a brand with oversize, heavily graffitied clothing that looks tailor-made for Billie Eilish, because "it just looks mad," but you can't go wrong with a classic Nuptse.
Oversize tees
Gen Z girls — who, as we've noted in the past, are "experts at conveying a certain faux-effortless sexiness online" — love to wear XXL shirts with tiny bottoms, and e-girls are no exception. "I like oversized graphic tees because they are comfortable and can be worn with pretty much anything," says Jenna Beaver. She likes Doodles n Drips, a label of cartoonish merch designed by an artist friend, but any brand will do, really, from Hanes four-packs at the drugstore to Dragon Ball Z shirts procured on Amazon. Aviva Johnson, a 19-year-old TikTok star, agrees with Jenna, saying, "Oversized anything is huge right now." She wears hers atop bike shorts — or, occasionally, nothing at all.
Merch hoodies
Speaking of merch, e-girls and e-boys can't get enough of it, especially from artists like Joji, Frank Ocean, and Billie Eilish (the patron saint of e-girls). Jared Clark, TikTok star and e-boy, said one of the artists that defined e-boy culture was late emo-rapper Lil Peep. "This hoodie sweatshirt is one of my favorites, due to the impact his music had on the misfits of millennials and post-millennials today," he says.
Pleated minis
Brandy Melville is universally beloved by VSCO girls — a different social media aesthetic altogether — but the brand's schoolgirl skirts are also popular among e-girls, too. "Pleated skirts are a must-have for an e-girl," says Aviva, calling them "a staple for all of us." Lyssy Noel, a 21-year-old social media influencer, agrees, saying that pleated miniskirts are a necessary part of the "ultimate e-girl outfit."
Leg warmers
How does an e-girl keep her legs warm when she's wearing the Brandy skirt? "I love leg warmers, because they're perfect for breaking out skirts a little early in the spring season," Raven says. "These can add a little color to your outfit and keep you cute and cozy." Raven mostly wears her leg warmers with bare legs, but a lot of TikTokkers scrunch them over leggings and sweatpants, too.
Platform sneakers
Raven's favorite shoes are her platform sneakers, which she says she wears almost every day (often with leg warmers). "I love these because they give off massive Bratz energy," she says. Aviva also wears chunky shoes most days, as they help her seem taller and feel "powerful."
Lug-sole Converse