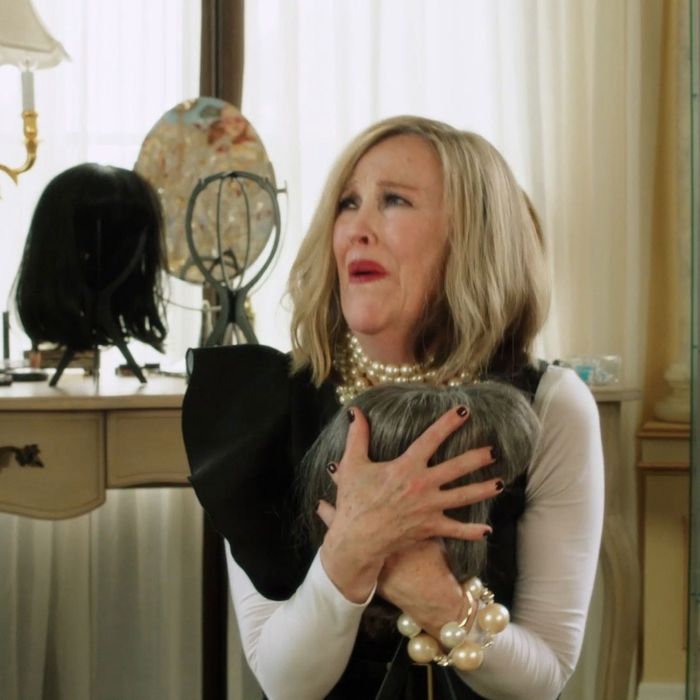 Here at the Strategist, we like to think of ourselves as crazy (in the good way) about the stuff we buy, but as much as we'd like to, we can't try everything. Which is why we have ​People's Choice​, in which we find the best-reviewed products and single out the most convincing ones. (You can learn more about our rating system and how we pick each item ​here​.)
And while we've written about Halloween costumes — including the best costumes for women, couples, babies, kids, even cats and dogs — here we've rounded up the best costume wigs, as praised by the most enthusiastic reviewers on Amazon.
Best-rated costume wig
Of this classic bob wig, one reviewer exclaims: "I bought five of these wigs to use as costume wigs, but they are so much better than that!" Others agree that it's "perfect for costumes" and that it's "such better quality than a typical Halloween wig." Customers were also "blown away" with the price, saying things like "the quality of this wig is wild for the price; people have thought it's my real hair" and "this is by far the best wig I have ever gotten and I've spent way more than this before." Reviewers also point out "the quality and the fullness" of the wig, and that it "has a lot of hair and sheds very little." Says another, "It swings and moves like real hair (not all stiff and snarled) and it looks like real hair (not like overly shiny Barbie hair)." Yet another reviewer writes that it "stayed on all night, even when I took a very short nap on my friends couch," with one more happy customer saying that they "wore it comfortably for eight straight hours." Shoppers have used it for a variety of Halloween looks; one "purchased it for a 1920s party and could not have been more pleased," another used it for a Captain Marvel costume, and a third "wore this when I went as Mia Wallace [aka Uma Thurman in Pulp Fiction] for Halloween this year — it worked out great." Others praise it for being "very easy to style" and "adjustable." As one reviewer concludes, "I have purchased a lot of wigs for Halloween costumes. I couldn't believe how real the hair felt on this wig. For the price, I was very surprised at the excellent quality." It comes in 14 different colors, from natural to neon.
Best-rated (less-expensive) costume wig
This is another bob wig that's great for costumes, according to one reviewer, who writes: "Wore this to a party where I was Mia Wallace from Pulp Fiction. Fit great and looked good." Others agree, including a reviewer who "dressed up as Willy Wonka (Johnny Depp version)" and says that "this wig was absolutely perfect." Customers were impressed with the quality of the wig, saying that it was a "surprisingly nice wig for the price. Looked realistic. Felt thick and well put together, and not overly shiny," and "for such an inexpensive wig it exceeded my expectations." "It's super sleek, fits really well, and truly made the costume perfect," agrees another reviewer. Yet another notes that it's "comfortable and offers better coverage than many of my other costume wigs," with a separate reviewer agreeing that "the material is great and it's not itchy at all on my head." Reviewers say this also has "a LOT of hair … it also doesn't fall out. I thought it was great quality" and that it stays put, with one happy customer writing: "I went out salsa dancing ALL night with this wig on and it stayed put and in great shape." This reviewer adds that "this wig had everyone fooled. It fit so good. I have never worn a wig that fit so well and stayed in place; the straps held everything together! Love love love this!!!!" It's also available in black, light and dark brown, and red.
And now for some micro-picks for every type of costume wig you might be looking for.
Best Kardashian/Jenner sister costume wig
"Just buy this wig. It is literally the best non-real hair wig you will find. I have never had a better synthetic wig that was NOT already in a hairstyle," raves one reviewer. Hundreds agree, including one who writes that "it feels just like a human-hair wig," another who says that "the hair is so soft. It feels and acts just like real hair," and a third who writes that "every day I have new people that are amazed that it's not my real hair." People love the color, too, saying that it's "absolutely beautiful, and looks very realistic." It's also great for costumes, as this reviewer attests: "Used it for a costume party. For the money it's really awesome. I immediately looked like the character I was trying to be." Two shoppers even used it for their Kylie Jenner costume, with one saying that "it looked great," and another agreeing, saying "I got it for the intention of dying it into my own Kylie Jenner wig and it worked out great." A third reviewer also used it to look like a Kardashian: "Let me just tell you this wig will change your life. Like, I'm currently trying to grow out a pixie cut, so I haven't felt as sexy or pretty, but girl as soon as I put this wig on I felt like Khloe Kardashian."
Best cosplay costume wig
Reviewers are "blown away" with the quality of this wig given its inexpensive price, with one writing: "The synthetic hair is such good quality that from afar, it looks like the real deal." Many others agree, like this reviewer who says that "the quality of the hair is amazing and looks so realistic," and others who say it is "beautiful" and "extremely soft and doesn't have that tacky wig shine to it." People also love the "gorgeous" color range — which includes blue, rose, silver, and more — with one cosplayer saying that they "would love to buy another one in a different color because they so look amazing. Loved my blonde one so much, I bought the red one as well for another cosplay. I'm also planning to buy at least two more." Customers say they have used the wig to dress as Black Widow, Nurse Joy, Hot Pants, Lucy Steel, Carmen Sandiego, and more, with one reviewer saying, "I used it in a Jean Grey cosplay, but you could easily use it for a bunch of other characters." As one happy customer concludes, "Do yourself a favor and buy this wig! It's versatile, soft, and genuinely flattering. The cut looks realistic — people don't notice it's a wig!"
Best costume wig to look like Khaleesi
"Wore this for Halloween (as Khaleesi from GOT, of course) and it was perfect," says one reviewer. Others agree, saying that it is "the perfect color for a Kahleesi cosplay," "stunning and the right color for Game of Thrones," and that it "looks just like Khaleesi." Reviewers were also impressed with the styling of the wig, calling out the "pre-styled braids" as "superb" and "gorgeous," as well as noting that "the color is phenomenal and the curls are beautiful." People also appreciate that it comes with accessories. "It also came with bobby pins, hair ties, and a mesh wig cap. Such a value," raves one reviewer. Another agrees that, for the price, the wig more than delivers, writing, "Hands down the best purchase I made. The quality is a thousand times better than I was expecting." Reviewers say it fits well, too: "Obviously, there's not front lace so it's not gonna look like real roots to your scalp. But it fits snug, has very heavy hair (which is a good thing), it's thick af, and the braids and curls are in PERFECT condition." Another satisfied customer writes, "I bought this wig for a work party. Nailed it. Wanted to be Daenerys and this wig did the trick. So much so that I won best costume. I didn't lose any hair all day and it stayed really well put together so overall this was an awesome buy."
Best Marie Antoinette costume wig
"The quality is better than I expected," is a sentiment many reviewers shared about this wig. "This is a super-professional-looking stage wig for a great price," agrees another. It's durable, too, as this shopper attests: "For the price, these wigs are EXCELLENT! They stay their shape after multiple uses on stage (and even getting tossed around). I wouldn't buy anything else for this style wig!" Another agrees: "It kept its shape all night that night and I wore it again this year. Still looks brand new." Yet another satisfied customer writes, "I do Antoinette-esque costumes on the regular, and I've worn this wig about a dozen times (more than any of my other wigs), and it has held up quite nicely." It's also "beautiful," with one reviewer saying that "the black rose and the little feather add a nice touch, so do the pearls. The curls are just perfect." Another raves that "this is a FABULOUS wig for the money. It looks fantastic. The hair feels and looks real, not synthetic, and the curls appear durable. Not a bit frizzy." A second reviewer agrees the wig is well-made, writing that "the ringlets are very neatly organized and the wig has a lot of dimension with the short sculpted curls on top, the sweeping bangs and long sausage curls brushing your shoulders. With all that going on, I got tons of compliments." Concludes this reviewer, "It looks so authentically Baroque. It was definitely worth the money."
Best Donald Trump costume wig
"Perfect wig for my Halloween costume. I dressed as the scariest thing I could think of, which is this man with his tiny hands on the nuclear weapons," writes one reviewer, with many others agreeing, including this shopper who writes that "this the perfect wig for my Trump costume. Massive comb over, somewhat all over the place." Says another: "Great wig for Halloween. My son was Donald Trump. Both the red hat as well. Neighbors wanted to give advice for the election instead of candy." Others agree that it's very convincing: "As soon as I put it on, I was denounced by Keith Olbermann." Customers also note that "the quality is amazing"; one says "I can see myself getting multiple uses from this high quality wig." Another writes that "the wig is actually a lot better quality than I expected. The 'hairs' are relatively soft compared to the nylon cheap stuff you get at Halloween shops and the hair is pretty dense. It fits on easily and isn't itchy. It comes with a comb and two wig nets/cap." It also makes a fun gift, as this reviewer explains: "It was actually a gag gift for an elderly friend of ours who is a Trump supporter, so we weren't sure how he would take it. But he loved it and so did all his friends! Everyone wanted to try it on and comb it!" Says another, "it got passed around as there are many old friends who have no hair and we all laughed our butts off." As this satisfied customer puts it, "Wonderful, funny, real state-of-the-art."
Best Little Mermaid costume wig
"I've bought a lot of wigs online, and I have to say that the quality of this one far outshone the others I've worn," says one reviewer. Another agrees, writing, "I own several more expensive wigs and this one is softer and SUCH a wonderful quality — especially for the price." Others were impressed with the "beautiful, vibrant color" that's a "a really pretty and bright red," with one reviewer, who calls the wig "luxurious," noting how "soft and easy to style" it is. Dozens of customers who bought it for their Little Mermaid/Ariel costume say that it delivered, like one who writes that they "wanted something true to character, but also nothing over the top cartoonish," and says that this "made me feel like a true Disney princess." Other reviewers say that the wig worked perfectly for their Jessica Rabbit and Poison Ivy costumes, with one writing that the wig is a true costume workhorse: "I've already worn it as Ariel, a leprechaun, an emcee at a vaudeville event, and to do a burlesque routine."
Best Cher costume wig
"For a 20 dollar wig it's the bomb diggity," writes one satisfied customer. Hundreds agree that it is "amazing" and "perfect," with one saying "it's so soft, doesn't tangle much, and so far, doesn't shed. I've gotten so many compliments." Another notes that "the bangs aren't too thick or thin, they're just right. The rest of the hair has just the right amount of waviness, AND the part isn't too fake either." Customers also love how realistic it looks, like this one who says that "the wig itself is very thick, so you can't really see the cap or tell it's a wig. It looks very natural." Another agrees: "I go out with this and no one notices it's a wig." It also works well for costumes: "Bought for a costume but is very life-like," says one reviewer. Another says they "ordered this wig for a Halloween costume," but "it's so amazing that I'm considering wearing it every day." It looks great right out of the box, too: "Even without styling, I just tried it on and it looks fantastic in photos," attests a happy customer. Shoppers also rave about the value of the wig, saying "for the price, it was beyond my expectations," and "just WOW, I have bought $100-200 wigs before and by far this wig is so much better than the expensive ones. It's so natural-looking, so easy to work with, and is very long lasting." This reviewer sums the praise up: "This is easily my favorite wig. It's comfortable, realistic, and super cute. I've had people tell me my hair's grown so long since they last saw me, not having a clue it's just a wig! Little do they know, I'm still bald as ever." It's available in 31 different hues.
Best mullet costume wig
"I have to admit I thought this would be pretty cheesy, but I was blown away," writes one reviewer. A second agrees that it looks "100 percent realistic," adding it is "very sexy" and "perfectly greasy." Raves a third: "This was quite easily the single best purchase in the history of mankind. It matched my hair color 100 percent perfectly." Yet another satisfied customer attests, "absolutely the best $10 I've ever spent." It is transforming, too, as this customer explains: "I bought 'The Bobcat' to wear in attendance of an Iron Maiden concert in Lincoln, Nebraska. I fit right in and even was catcalled a couple of times." Irony aside, customers love how fun the wig is, like this one who writes that "this gag gift kept the laughs going," and another who writes, "This is a no brainer if you are looking for a funny way to get some laughs and stares." As this shopper concludes, "I have dark brown hair, and I bought this because it seemed like it would match my hair color pretty well. Turns out it seemed to match so well that it was a little creepy. I will definitely get more uses out of this."
The Strategist is designed to surface the most useful, expert recommendations for things to buy across the vast e-commerce landscape. Some of our latest conquests include the best acne treatments, rolling luggage, pillows for side sleepers, natural anxiety remedies, and bath towels. We update links when possible, but note that deals can expire and all prices are subject to change.