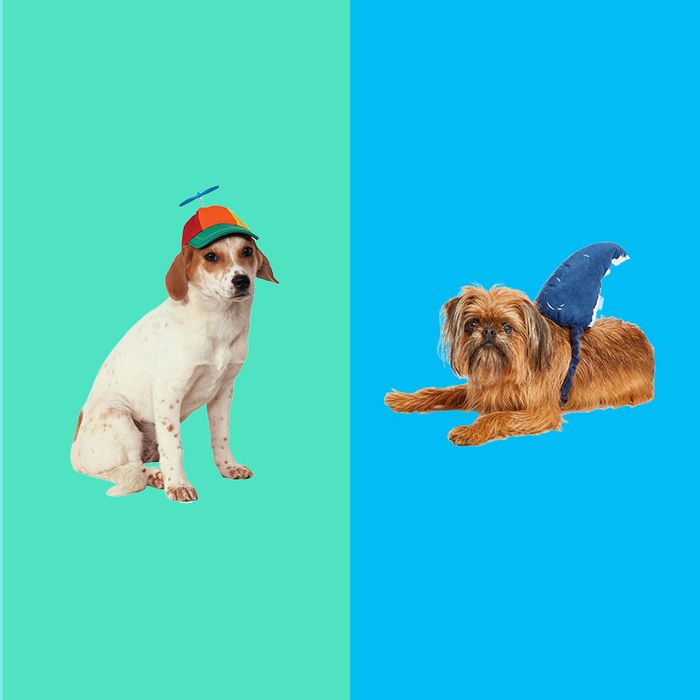 Photo-Illustration: The Strategist; Photos: Retailers
Here at the Strategist, we know that finding the "best" product really depends on exactly whom you ask — which is why we've devoted this series to squeezing in as many informed, trustworthy opinions as possible. And we've come up with dozens of ways to do this, among them: surfacing reader reviews from across the internet, taking quick polls of our most devoted fans and fellow shopping-obsessed Strategist editors, and partaking in some advanced internet snooping.
This time, we challenged ourselves to find the best Halloween costumes for dogs. Not every dog enjoys dressing up for Halloween — or dressing up at all. But for those who seem okay with it veterinarian Carling Matejka has a few important safety tips: "Make sure the costume doesn't restrict their movement or their breathing. Don't pick costumes with small dangling pieces that could be easily chewed off. And try on the costume first at home where you know your dog is comfortable." We asked Matejka, our co-workers and friends, the owner of a dog-clothing brand, and the founder of the Great PUPkin Dog Costume Contest in Fort Greene to help us come up with a list of creative, spooky, and adorable getups for dogs of all shapes and sizes. We also did a little bit of internet sleuthing. Below, our 12 favorite Halloween costumes for dogs, including a Strategist editor-approved crustacean, an LED-equipped rainbow for trick or treating at night, and some very funny canine headgear.
Strategist Approved: A crawly crustacean costume one senior editor's dog is wearing for the second year in a row.
Strategist senior editor Crystal Martin told us that, last year, this costume got a lot of laughs. "I think it's because lobsters are actually pretty ugly, so there's some contrast when you dress a cute dog like a crawly lobster," she says. According to Martin, the lobster costume, which comes in seven sizes from XS to XXXL, is surprisingly substantial. She likens it to a little varsity jacket with lobster legs and claws attached. She also points out that "the head with the big lobster eyes is nice because it's not a hood, meaning it doesn't have to be secured around the dog's head. There's stuffing in it — so if you can get your dog to just allow the lobster head to rest on its head, you get the full effect." Elizabeth Dimond, a New York City art handler, bought this same lobster costume for her goldendoodle, Hugo. "We're all dressing up as the Little Mermaid, and Hugo is going to be Sebastian. He's a big dog, so it's difficult to find costumes that fit him, but this one comes in XL, so I jumped at the opportunity to order it," she says.
Ask a Cool Person: Molly Shannon and her deer-head Chihuahua's favorite dog wig.
When we interviewed Molly Shannon for our celebrity shopping column "What I Can't Live Without" she told us about this dog wig, which she calls her dog's "I hate Mondays" wig. "We have a deer-head Chihuahua, and she's definitely the top dog. She's the boss of the house, and she goes along with the wigs a little better," Shannon says, noting that her corgi-shepherd mix isn't as much of a fan. There is a surprising number of dog wigs available to buy online including a pair of Wednesday Addams–esque pigtails that Strategist writer Erin Schwartz has always wanted to buy and an 18th-century-style powdered wig that comes as part of a Marie Antoinette dog costume. Whether you pair the wig with a piece of clothing to complete your dog's costume or simply let the wig speak for itself, it will definitely get your dog noticed.
Expert recommended: The costume dogs won't mind (or won't know) they're wearing.
Kath Hansen, who started the Great PUPkin dog-Halloween-costume contest in Fort Greene park 23 years ago, has seen thousands of wildly creative dog costumes over the years — including a regular contestant who once dressed as a lumberjack and dressed his dog as a log being cut in two by a chainsaw. She says most of the dogs competing each year show up in homemade costumes that can get pretty elaborate. But if you're looking for something cute and funny that your dog will actually agree to wearing, she recommends a subtle but classic shark fin because most dogs won't even realize they have it on. Another costume she says your dog might not notice is a feather boa attached to their collar to make them look like a flapper or a tropical bird.
People's Choice: A fuzzy lion's mane (and tail puff) with over 4,000 five-star ratings on Amazon.
Depending on the kind of dog you have, this lion costume is extremely convincing. Beige or tawny dogs like golden retrievers and wheaten terriers are probably the most obvious choice, but the costume will look good on any medium to large dog. One of the 4,461 reviewers who has given the costume five stars on Amazon wrote, "It's very easy to put on and adjust. We were looking for a costume that didn't cover the whole body, since my 90-pound yellow lab is old and overheats easily. This is perfect and he kept it on with no problems."
Quick Pick: Our favorite minimal dog costume after 30 minutes of online research.
There are three main types of dog costume: those that make a dog look like another animal, those that make a dog look like an object, and those that make a dog look like a person. It is my opinion that the last type is the funniest, especially when it involves only one accessory like a little hat or a wig. This propeller hat is subtle enough to make me think the dog chose it for himself, a thought I find hilarious. It comes in two sizes and features an elastic chin strap to hold it in place. Though my own dog barely tolerates clothing or hats of any kind, I think I could make this work for at least the time it takes to snap a picture.
Expert recommended: An easy DIY martini costume.
Jisu Kim, the owner and founder of the pet-clothing brand Little Beast, says her favorite dog Halloween costumes are the homemade ones she has seen at the annual Tompkins Square Halloween Dog Parade. Her primary criterion for a great costume is that it be funny. And dressing your dog as a giant martini is pretty funny. It's also something Hansen has seen done more than a few times. To create the glass, Hansen suggests using something most dog parents already have at home: a plastic recovery cone. "Those things are great as a base for costumes because dogs can't shake them off. The classic is to turn your dog into a big Martini, stick an olive in, and there you go," she says. If a plastic cone is torture to your dog, there are now a ton of soft recovery collars in cute shapes, like flowers or donuts, that double as simple Halloween costumes.
Quick Poll: The cutest (and funniest) dog costume according to an informal poll of Strategist writers.
Google "dog Halloween costume" and you will find a seemingly limitless selection of cute getups — from a pup-size UPS uniform to doggie Frankenstein to Macho Man Randy Savage, plus every exotic animal you can think of. But of all these costumes, the one that got the most votes among our team of Strategist writers was this bug-eyed snail with a metallic turquoise shell. Much like the lobster costume, the juxtaposition of a cute dog dressed as a slimy mollusk is just too funny to pass up.
Expert Recommended: Most creative dog costume according to a vet.
Once she had advised us on all the best ways to keep your dog safe and stress free this Halloween, Matejka let us in on the most creative (and only slightly gruesome) costume she has ever seen. "It was a three-legged dog that was dressed up as a piñata, and the owner carried a piñata-covered stick that looked like a missing limb," she says. While that exact costume was likely a homemade one-off, we did find an adorable costume to make your dog look like a piñata. You might just want to keep them away from any overly zealous kids.
Snooping: The costume Hailey Bieber bought for her dog, Oscar, in 2021.
We had already scoped out this hairy-legged spider costume for our list when we discovered Hailey Bieber bought the exact same one for her dog, Oscar, last year. Because of its extra limbs, you'd be smart to test out how well your pup can walk in this particular outfit before the big night. Or if your dog is small enough to carry, you could dress as a spiderweb and hold them in the web all night.
Strategist Approved: Best "dog mommy and me" costume.
Kim says costumes are always better when the whole family gets involved. And that's exactly what Strategist editor Maxine Builder did last year with her rescue dog, Harmony. Harmony is missing an eye, making her a perfect candidate for a pirate costume, so in keeping with that theme, Builder went as a kind of sidekick and dressed as a giant parrot.
Expert Recommended: The cutest costume you can buy at Party City according to its VP of Halloween.
To get a sense of the dog-Halloween-costume industry from the inside, we reached out to Odette Welling, Party City's VP of Halloween. Among other costumes (she likes the UPS uniform, too), Welling named this panda costume, which transforms any small dog into a stuffed animal, as her top pick. "It is my absolute favorite dog costume. It checks all the boxes; it's cute, funny, and cuddly," she says.
[Note: The less expensive panda costume from Party City isn't available to ship, but you can purchase it online for store pickup.]
Expert Recommended: The safest dog costume for after-dark trick or treating.
If you've ever taken your pup out for a walk at night, you know that visibility is key to keeping them safe. The same is true on Halloween. Matejka suggests finding a costume with reflective details or LED lights so they can easily be seen in the dark. This light-up rainbow costume is both cute and visible at night, making it a great choice, especially as the sun starts to set earlier and earlier.
The Strategist is designed to surface the most useful, expert recommendations for things to buy across the vast e-commerce landscape. Some of our latest conquests include the best acne treatments, rolling luggage, pillows for side sleepers, natural anxiety remedies, and bath towels. We update links when possible, but note that deals can expire and all prices are subject to change.