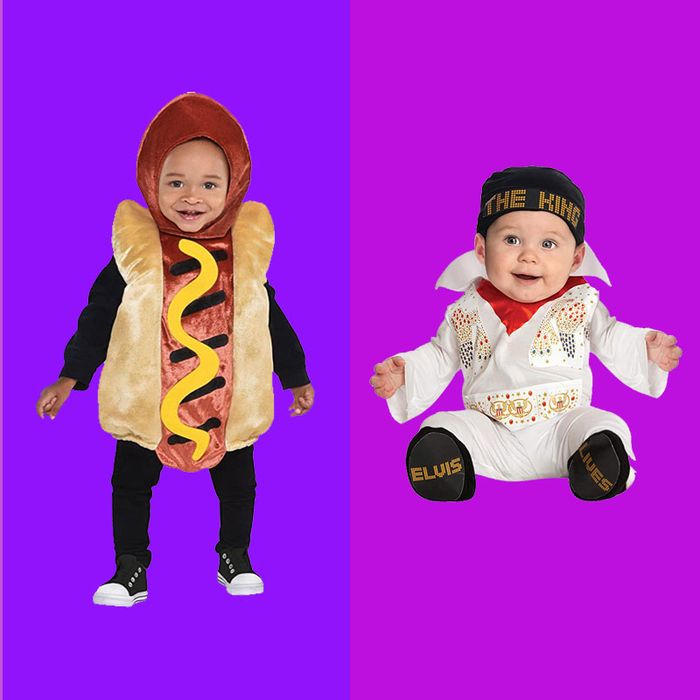 Photo-Illustration: Retailers
Here at the Strategist, we know that finding the "best" product really depends on exactly whom you ask — which is why we've devoted this series to squeezing in as many informed, trustworthy opinions as possible. And we've come up with dozens of ways to do this, among them: surfacing reader reviews from across the internet, taking quick polls of our most devoted fans and fellow shopping-obsessed Strategist editors, and partaking in some advanced internet snooping.
This time around, we sought to find the best Halloween costumes for babies. One of the most fun parts of Halloween when you have a very small child is picking out a costume that's just right, whether it's scary or awe inspiring or something somewhere in between. So we asked parents (including a video editor for Dodo Kids and the global social director at Condé Nast), polled co-workers and friends, and sleuthed our way into making a list of costumes to consider. The ones that follow include a fuzzy fuchsia flamingo, a bubble-tea-themed onesie, a miniature hot dog with grill marks, and a dupe for a costume that a Disney Channel star is planning for her daughter.
Strategist Approved: The mouse one-piece one of our parenting experts picked for her newborn.
Strategist writer Lauren Ro (who's been on the maternity beat) welcomed her second son, Solomon, this past spring. His first Halloween will be celebrated in this charming mouse sweatsuit, complete with Despereaux-like ears and a blush-toned tail. The idea to dress him as a mouse actually came from Ro's older son, Augie (regular Strategist readers might remember his subway-book obsession), though she's not entirely sure how he landed on it as he's going as a ghost this year. Ro found this fleece-lined one-piece on Etsy. The reviews — and accompanying snapshots of giggling little ones — won her over. She applauds the costume's construction, which is comfortable for a restless newborn and warm enough for a chilly October night. "It's a zip-up bodysuit, so it's relatively easy to get him into," she says.
People's Choice: An iconic Elvis jumpsuit with almost 1,000 Amazon reviews.
In the year of Baz Luhrmann's opulent Elvis, a costume dedicated to the singer-actor is pretty apropos. The costume — which comes with a beanie emblazoned with the words "The King" — is meant to be a miniature rendition of the bell-bottomed, eagle-embellished jumpsuit Presley wore at one of his broadcast Aloha From Hawaii concerts in 1973. It has a 4.5-star rating on Amazon with a number of reviewers calling the costume "absolutely adorable." One reviewer notes that "it fit my chunk like a glove," and many others have suggested adding sunglasses to complete the look.
Ask a Cool Person: The antler-adorned deer a Dodo Kids video editor bought for her 10-month-old.
Last year, Erin Hug, a video editor for Dodo Kids, relied on this jumpsuit from Party City for her daughter, who was 10 months old. Her then-5-year-old had proposed dressing her little sister as a deer. "At the time, the baby was very cheeky and liked to play hide-and-seek games," so her older daughter thought the deer really went with her personality, Hug says. Her search for the right costume led her to this one. Hug appreciates that many of the costume components — including a hood, tail, and hooves — were separate "so you could convince her to put it on easily." The baby wasn't a fan of the jumpsuit on the first try-on, but after being fawned over while wearing it (and taking a pre-trick-or-treat nap), she came around.
Saw Something, Said Something: The swaddle Trisha Paytas debuted Malibu Barbie in.
When controversial YouTuber Trisha Paytas gave birth to daughter Malibu Barbie weeks ago, the internet joked that the baby was a reincarnated Queen Elizabeth II. Aside from the snark, though, I was most curious about the strawberry-printed swaddle Malibu Barbie made her first public appearance in (Paytas, for her part, wore a matching robe in the pictures). After a fair amount of research, I'm confident it's from a brand called Milkmaid Goods. It happened to sell out right before the publication of this story (though there are still a few robes left), but if you're looking for something simple for a newborn who's only a few weeks old, this pumpkin-patterned set is perfectly on theme and still in stock.
Strategist Approved: The comfy cotton PJs that double as a costume.
There's something quite statusy about Hanna Andersson pajamas. Those who are unfamiliar with the Portland, Oregon–based brand may not know it has quite a Halloween selection of its cult-favorite sleepwear — including a variety of seasonal prints and several styles that can be worn as regular jammies long after the candy crush is over. While on the pricier side, Hanna PJs are beloved by many parents for their classic designs and soft organic cotton that easily lasts through multiple kids. I received that tip from Strategist senior editor Jen Trolio and Amelia Holowaty Krales, the senior photo editor at the Verge. Trolio has used the company's classic striped pajamas as the base for DIY costumes worn by her two kids. And Krales has scoured sales and Ebay for the brand ever since she was gifted a Hanna onesie when her daughter was 10 months old. She suggests adding a matching pilot cap to create a full look. Beyond this cow option, you could create an easy pumpkin, cat, or ladybug with the right hat.
Quick Poll: The Pottery Barn flamingo beloved by yoga moms.
When I put out a call on Slack to ask if anyone had recommendations for kids' costumes, Corri Skinner, the executive director of creative services at Vox Media, pinged me to share a photo of her (then-6-month-old) daughter, Marti, in this fuzzy, fuchsia flamingo one-piece from last year. Skinner was tipped off to Pottery Barn Kids' extensive selection of high-quality baby and toddler costumes by fellow moms in a baby yoga class — and this delightful flamingo won out for basically being a "glorified onesie." There was some serendipity involved, too: A fellow yoga-class attendee bought the same costume, and they took their little ones trick-or-treating together, "pushing our strollers down the street with our flamingo flock of two," Skinner says. Marti has since taken a liking to the animal, favoring a flamingo-shaped stuffie named Mingo.
Quick Pick: The cutest costume we could find after 30 minutes of research.
There's a lot to sort through when you Google the phrase "baby costumes" — and my search uncovered a couple of eye-catchers, including this precious peacock, a (not smelly) skunk, and a teddy-bear-esque Chewbecca. But the one I couldn't stop thinking about was this avocado courtesy of Carter's (an extremely well-known baby brand we've written about before). The three-piece set comes with everything you'll need: a long-sleeve T-shirt, stripy tights, and the pièce de résistance, a cushy zip-up "bubble body" complete with a pit in the middle.
Expert Recommended: The little lamb that's been a longtime best seller at Party City.
The most in-demand costume this year at Party City — according to the company's vice-president of Halloween, Odette Welling — has actually been a best seller for several years now. This year, it's the top seller in the baby category (both online and in store), Welling says. She speculates that the costume's popularity comes from parents' desire to capture another "first" — especially with a cute photo. As for what else has been flying off shelves, an out-of-stock Fuzzy Pumpkin and Mini Moo take second and third place, respectively. "We expect to see a lot of adorable baby farm animals" running about, Welling says, adding that the little lamb will fit right into a harvest (read: straw-strewn and leaf-decorated) backdrop.
Ask a Cool Person: The hot dog getup that was a huge hit in Brooklyn.
When it was time for her daughter, Nora's, first Halloween, Gena Kaufman, the director of global social strategy at Condé Nast, DIY'd a Julia Child costume in an act of "hormonal postpartum stupor." The "Droolia Child" costume ("because baby spit"), as she affectionately refers to it, wasn't the most practical, which is why she took a decidedly easier approach the next Halloween, costuming her 17-month-old as a mini hot dog. (Hers was purchased at Target, but she's almost sure this is the exact ensemble.) The little grill marks and removable hat — "in case she was being fussy about having something on her head (spoiler: she was)" — sold Kaufman on the costume. "I cannot fully do justice to just how hilarious and cute it was to watch a tiny little hot dog toddle down the street," she says. She and her husband wore coordinating condiment sweatshirts. She didn't see any other hot-dog-clad babies in Brooklyn, either. "It's easy, it's hilarious, it's not super overdone, it could come in handy again for a Fourth of July party," she says.
Snooping: A dupe for the One Hundred and One Dalmatians look seen on a former Disney star's Instagram.
Actress Ashley Tisdale recently posted a photo of one of the costumes she seems to be considering for her 1-year-old, Juniper — who looks frowny-faced in the black-and-white-dotted, red-collared onesie that resembles Pongo from One Hundred and One Dalmatians. ("So maybe not this costume?" Tisdale wrote in the caption). It was so sweet that I was determined to find something similar. The closest contender is this plush jumpsuit that has an almost identical hood and collar with a faux-gold medallion. (It's also available on Amazon but only through a third-party seller, and you'll have to pay a $6 shipping fee.)
People's Choice: The out-of-this-world astronaut with almost 15,000 Amazon reviews.
In my search for well-reviewed options on Amazon, I came across this astronaut jumpsuit that comes in both baby and toddler sizes (as well as unicorn and dinosaur forms). The costume has earned a 4.7-star rating across more than 14,800 reviews. Reviewers describe the costume — which is made from machine-washable fleece — as "supersoft" and "warm and cozy" with many commending the rollover cuffs that double as makeshift mittens and booties. Noteworthy finishing touches on the can't-miss, traffic-cone-colored suit include patches featuring the NASA logo and an American flag.
Strategist Approved: The Bedrock baby that scored so much candy
Candice Miller of Mama and Tata penned an ode to this Flinstonian set way back in 2016. Miraculously, it's still available to purchase. (Note: You can shop for different sizes, but don't dillydally as there's only one of each ready to shop right now.) After shuffling through ideas — most of which were variations on Disney princesses — Miller suggested Pebbles Flinstone to her then-2-year-old daughter, who happened to be a dinosaur obsessive. Miller says, "As we went from door to door down spooky Elm Street (yes, that's really its name), she came up with an appropriate twist on the Flintstones catchphrase: 'Yabba dabba boo!'" The "stone-faced" adults opening each door would sing the Flintstones theme song once they saw her kiddo, who ended up with a "mighty haul." (Note that if you have other kids who want to join the prehistoric fun, you can get a coordinating Bamm Bamm getup on Amazon.)
Quick Poll: The princess dress that one mom is packing for a Halloween trip to Disney.
This Halloween marks the first time that my friend Jess (who asked me not to use her last name) will take her daughter, Ginny (who's 11 months old), trick-or-treating. But before then, Ginny is marking another milestone: Attending Mickey's Not-So-Scary Halloween at Walt Disney World. As a combination costume-and-party dress, Jess chose this pastel tulle confection (along with a backup, just in case) reminiscent of the one worn by Rapzunzel in Tangled. "It will probably be one of the only times she lets me pick out her costume," Jess says. So she went with something slightly frillier. At just under $20, she was pleasantly surprised by the quality — and despite the fullness of the skirt, Ginny doesn't get fussy in the dress.
Ask a Cool Person: The strawberry cherry-picked by the Sill's head of PR.
"To me, there's nothing cuter than a dog dressed like Wonder Bread or a baby dressed as spaghetti and meatballs," says Alisa Richter, the head of public relations at the Sill. "So it just made sense to pick food as a family theme and run with it." This Halloween, she's planning on dressing up as a jar of sprinkles with her husband as a salted pretzel, her 3-year-old, Finn, as a glow-in-the-dark pumpkin, and her 6-month-old, Cecilia, as a strawberry who will help hand out candy to treat-or-treaters by Richter's side. Richter relies on Etsy for handmade costumes for kids — it's a "gold mine," she says — but "you have to know where to look." This strawberry costume, which features a seed-decorated onesie and stem-topped hat, is uncomplicated, she says. But it offers "maximum cuteness."
Expert Recommended: A food-editor-backed bubble-tea costume.
For her daughter's first Halloween, back in 2020, food editor Hillary — who asked me not to use her last name — went with this onesie from the AAPI-owned New York City institution Pearl River Mart for her baby daughter. It was one of the only costumes that came up in her search for a costume that consisted of just a one-piece and a hat "rather than the involved plush things a 6-month-old would never tolerate." She adds, "You've got enough to do when you have an infant, so a costume that's basically just a piece of clothing takes the stress away." It was a bonus that it turned her child into a cup of bubble tea — one of Hillary's favorite drinks — complete with a straw in the hat. Although her daughter couldn't participate in traditional Halloween outings, as the pandemic was in its first year, the costume received a warm reception online when Hillary posted photos.
Quick Pick: A fuss-free skeleton for someone expecting any day now
And if you're expecting and wondering what to wear, consider these top-rated PJs from Old Navy. They're imprinted with a glow-in-the-dark skeleton (and there are versions for an entire family to match if you're so inclined). The button-up one-piece is plenty festive and just spooky enough while being comfortable for staying in or going out. (Alternatively, if you prefer two-piece PJs, Motherhood Maternity sells a set that features a baby skelly over the bump.)
The Strategist is designed to surface the most useful, expert recommendations for things to buy across the vast e-commerce landscape. Some of our latest conquests include the best women's jeans, rolling luggage, pillows for side sleepers, ultra-flattering pants, and bath towels. We update links when possible, but note that deals can expire and all prices are subject to change.
Every editorial product is independently selected. If you buy something through our links, New York may earn an affiliate commission.