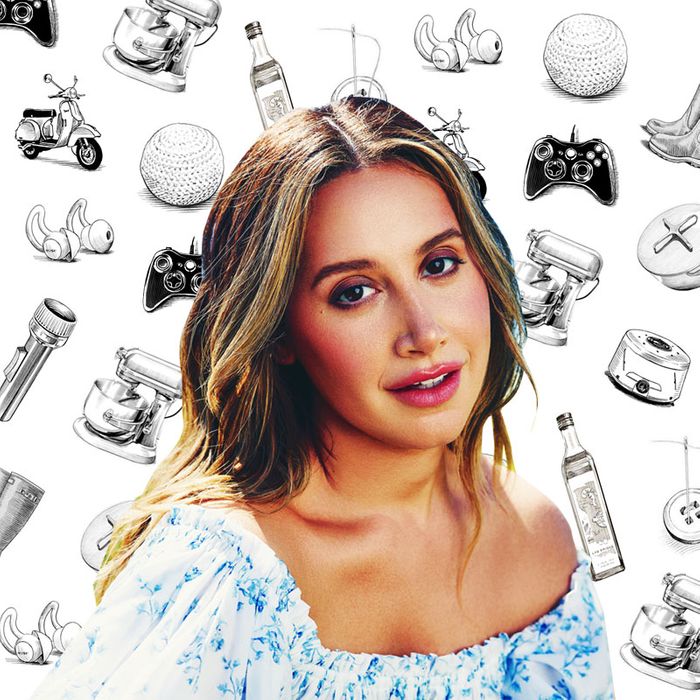 Photo-Illustration: The Strategist; Photo: Being Frenshe
If you're like us, you've probably wondered what famous people add to their carts. Not the JAR brooch and Louis XV chair but the hair spray and the electric toothbrush. We asked actress and entrepreneur Ashley Tisdale — whose wellness brand, Being Frenshe, recently launched at Target — about the sunscreen that doesn't break her out, the everyday earrings she likes to mix and match, and the book that changed her life.
I go to Nurse Jamie Sue Sherrill for facials and lasers (I'm a huge fan of lasers), but I also use her tools at home. This is like an ice roller, except better. What's amazing about it is you don't have to put it in the freezer at all. I don't know how it works, but the little orb just stays cold. I'm not one to go down to the kitchen every time I want to do my skin-care routine. This makes it really convenient. I use it in the mornings to depuff and rejuvenate my skin. I also have TMJ from stress and anxiety, and I found that her tools help. So it's not just for making my skin look good but also actually relaxes my face.
Kristen Ess is a friend of mine. She's dyed my hair and styled it for past events. She basically taught me everything I know about hair — even how to blow out my naturally curls. I'm just obsessed with her line, especially her curly-hair products, which I've been using all summer. Recently, I've been letting my hair naturally dry instead of blowing it out after every wash, and the Air Dry Creme tames my super-curly hair. None of her products have a particularly strong smell, including this, and the consistency is really lightweight. I pair it with a leave-in conditioner, and my hair never feels product-y.
I found this book while I was in Big Sur with my husband about three years ago and had just lost my dog Maui. I was grieving and trying to heal. When I saw the title at a bookshop, I felt like it was exactly what I was going through, even though I didn't know what the book was actually about. It really has changed my life. It's about how the body stores events that have happened to us as traumas and how we have to clear those traumas in order to really heal. I've personally dealt with anxiety, so this is something I like to have with me at all times for when I'm feeling off. It's not a book that's like, "Don't do medication" or anything. It offers practices to do in tandem with that, like setting rituals and practicing EMDR therapy. This book breaks down how to do these little exercises that can help you feel better and is a reminder that everybody deserves to live a happy and healthy life. It's very powerful.