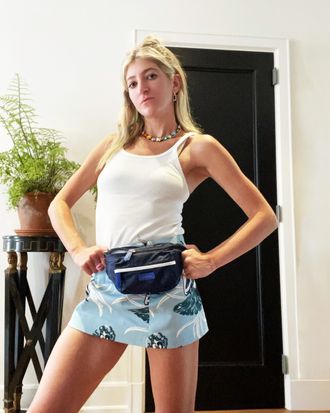 Photo: Courtesy Sarah Hoover
Instagram ads with stuff I "needed" to care for a baby began to pop up the minute I Googled, "Am I pregnant if my pregnancy test has two faint lines?" After a couple more searches — "What to do about a first-trimester identity crisis?" and "How to stop hating your husband for getting you pregnant even though all you wanted was for your husband to get you pregnant" — the ads went from occasional to overwhelming. More devilish than traditional ads, they seemed targeted to expose my deepest secret: I had no fucking clue what I was doing as a parent, or even if I really wanted to be one. They also suggested a solution to those problems: Buy lots of things.
From sound machines, to pacifiers with stuffed animals attached, to wipe warmers, to bassinets, to bounce seats, I began to dedicate my limited energy and mental capacity to making spreadsheets of these items and their recommended brands. Every time I added one, a new question would start violently swirling around in my brain: If you are stuck somewhere without a sound machine, will your baby ever sleep again? Why are room-temperature wipes so bad? Do I need a bassinet and a crib if the crib is on wheels and can be moved from room to room? How does a stroller cost as much as a used car? Feeling woefully insecure with no maternal instincts that I could identify, the only apparent fix was to buy, buy, buy. Then my prepartum depression kicked in. It manifested in symptoms like "mom brain," a melting of the mind that has zero scientific proof, but almost all birthing people report experiencing. Even with my spreadsheets, I couldn't muster the energy to purchase almost anything for my unborn, whose arrival I feared and dreaded.
It turned out that I didn't really need a lot of it. When I left for the hospital, I had only a crib, diapers, wipes (cold — because I'm a cruel witch), and a bunch of onesies. When I returned with my son, my supplies grew to include hospital-provided baby blankets, infant hats, formula bottles, diapers, and mesh underwear (restitution, I thought, for paying taxes to a government that seemingly could care less about its citizens' general health). I got by just fine with this stuff for weeks, bathing my child in the sink (without a folding bathtub or inflatable neck buoy), swaddling him in hospital blankets (no sleep sacks pour moi), and, with no desire to make space for a gargantuan diaper pail, disposing of his in a paper-grocery-bag-lined trash can. Eventually, it came time to leave the house and bring my son, too. That's when I discovered that, for day-to-day excursions, a fanny pack is far superior to any proper diaper bag.
Bags tend to fill up with crap the way gaseous substances expand to fit the room that contains them. Having successfully navigated my son's first few weeks without buying a lot of that crap, the thought of buying a diaper bag designed to tote it almost felt like a mockery of my threadbare parenting. Like a lot of the baby gear I added to my spreadsheet, a diaper bag also evoked terrifying thoughts about my failures as a mother that fed my depression as it evolved from prepartum to post. Looking nothing like a bag — diaper or otherwise — the Paravel fanny pack I chose to use instead did not conjure these thoughts. It has just enough room for the baby things I needed on daily excursions in my son's first year: Two diapers, a little Ziploc of wipes, and an extra onesie just in case he took a blowout shit at the Odeon and I had to make a quick judgment call. Now that he is older, my load is lighter — a diaper and a couple of wipes — but the compact pack does not tempt me to stuff it with more. His supplies go in its larger back pouch, along with my cell phone, while my ChapStick, keys, and credit cards fit neatly in a smaller pouch in the front.
The fanny-pack-as-diaper-bag has other practical benefits: As a parent, you want free hands. You don't want a bag that's big enough to take on an Arctic expedition, nor one that will slip off your shoulder and smack your kid in the face. And you definitely do not need to invest in something with a designer label. Paravel's pack, in its austerity and attention to smart design, goes well with jeans and simple dresses, but has a price that makes me not too worried if it ends up with a little baby puke on it. Plus, it covers my little mom bulge that has not gone away even three years postpartum — and may never, because I got too bored to complete the 18 recommended weeks of physical therapy to properly close a pregnancy-generated diastasis recti.
The Strategist is designed to surface the most useful, expert recommendations for things to buy across the vast e-commerce landscape. Some of our latest conquests include the best acne treatments, rolling luggage, pillows for side sleepers, natural anxiety remedies, and bath towels. We update links when possible, but note that deals can expire and all prices are subject to change.