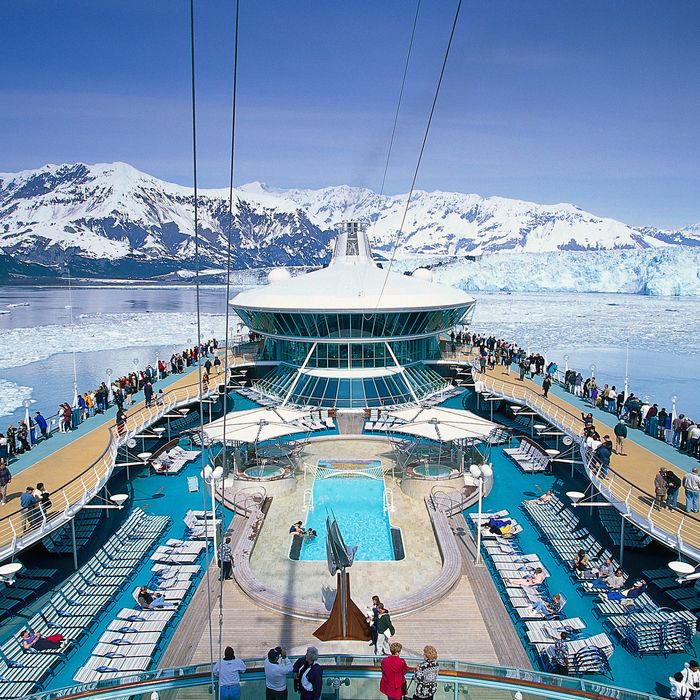 Photo: Jan Greune / LOOK-foto/Getty Images/LOOK
Packing is hard. Especially when the destination might involve giant mosquitoes or Instagram-worthy hiking trails. What do frequent travelers to these spots — the ones who best know how to prepare for the conditions — put in their suitcases? We'll be tackling this in our new series, the Trip List.
Here, we talked to cruise-line operators, wildlife photographers, and numerous others who've recently boarded a ship to Alaska. If you've ever seen a reality TV show set in this northern tip of the world, you know two things to be true: (1) It's a wild, wild place, and (2) that wild, wild place wants to kill you. Even though most of us taking a vacation there are more likely to confront surprise rainstorms and buggy beaches rather than avalanches and grizzly bears, you still need the right protection. Luckily, because the cruising season is short (starting in late April and continuing through September), most boat trips are booked six months to a year in advance — so you have plenty of time to gear up.
Clothing
Award-winning photographer and travel writer Susan Portnoy, a.k.a. the Insatiable Traveler, visited Alaska last year on Holland America Line's Land+Sea Journey. That's when she learned that dressing the part starts with proper layering. "If it's extra nippy outside or you're hiking a glacier, you're going to want a base layer," says Portnoy. "I love love love Columbia's stretch top with Omni-Heat technology. When you move, your heat is reflected back on to your body."
For the same reason, Portnoy loves the Omni-Heat bottoms, too. "The stretchy fabric is super comfortable and the midweight option never feels too hot," she says. "Plus, they've treated it with some kind of antimicrobial thingamajig, so after a long day [of wear], you don't feel like you have to throw them in the laundry."
Rory M. Martin, deputy director of Expedition Operations at Seabourn, has been with the cruise line since 2013 and joined the ultra-luxurious Seabourn Sojourn for the ship's last three seasons in Alaska. He, too, is a big proponent of layering. This lightweight, insulated marine jacket from Helly Hansen gives travelers "great mobility and core warmth," says Martin, and pairs well with a raincoat as needed. "It's warm enough to keep the chill out and light enough to keep you comfortable while moving."
Rebekah Law, a Cruise & Travel Director for Holland America Line, has 18 years of experience at sea. She is currently five months into her fifth Alaskan season on the MS Eurodam. First and foremost, she recommends a great pair of quick-drying pants. The lightweight nylon Sahara pants from REI have zip-off legs, making them easy to convert to shorts. (This two-in-one deal is helpful, says Law, because of rising temperatures during the Alaskan cruising season.)
Another Law favorite: The legs on the Kornati style can be rolled to capri length. Both these and the Sahara offer UPF 50+ sun protection, which comes in handy when you're out and about on daily excursions.
"Alaska is gorgeous in any weather, but during cruising season when it's not cold enough to snow, it's often raining," Portnoy says. "A common port like Ketchikan averages 13 feet of rain a year, meaning if it isn't raining, you're witnessing a miracle." Most travelers remember to pack a lightweight raincoat, but often forget the rain pants. "I was glad I had them, especially when outdoors for long periods of time," says Portnoy, adding, "They're easy to pack, fit over your regular layer, and will keep you warm and dry even in a downpour."
Martin is also a fan of the rain pant, particularly this multifunctional pair from Helly Hansen. It's waterproof, windproof, lined with quick-drying fabric, and packs into its own zipped thigh pocket, making it easy to tote on shore excursions.
"You cannot go to Alaska without thinking about and preparing for the rain," says Chris Gray Faust, managing editor at Cruise Critic and a four-time Alaskan cruiser. "The Inside Passage abuts the Tongass National Forest, which is a temperate rainforest. And what does it do in a rainforest? It rains!" Faust likes a rain shell with a hood and layers, so she can peel them off as needed. "Bonus points if it's lightweight, so you can stash it in your backpack when the sun comes out."
Also in Law's arsenal: a long-sleeve fleece. This midweight North Face pullover has a flattering modern shape and smooth brushed fleece texture.
Meanwhile, the hip-length Precip, made of recycled nylon fabric, is Law's choice for a water- and wind-resistant jacket. There is a hood hidden in the collar, zippers in the armpits for fresh air, and enough color options to keep your outfit interesting.