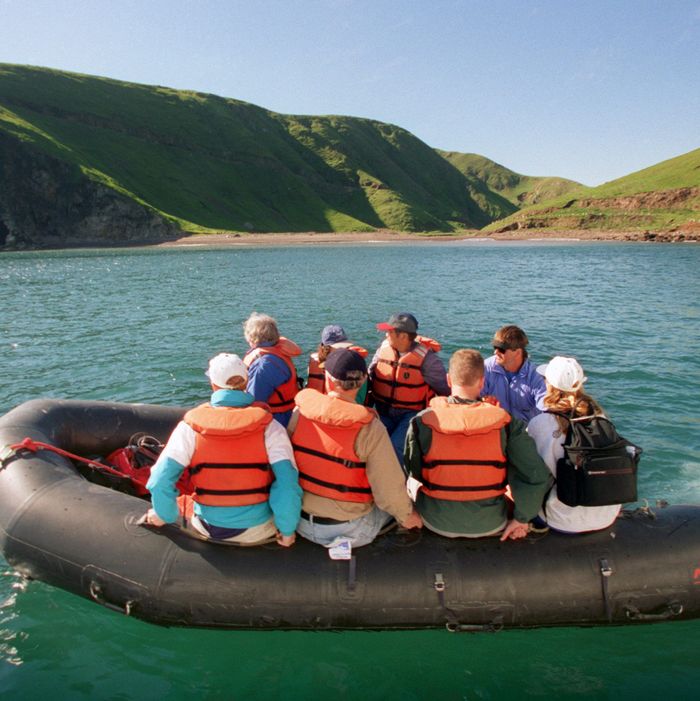 Photo: Alan Hagman/LA Times via Getty Images
Here at the Strategist, we like to think of ourselves as crazy (in the good way) about the stuff we buy, but as much as we'd like to, we can't try everything. Which is why we have People's Choice, in which we find the best-reviewed products and single out the most convincing ones. (You can learn more about our rating system and how we pick each item here.)
And while we've written before about lots of outdoor gear and boat stuff before — including the best stand-up paddle boards, the L.L. Bean boat tote we can't stop buying, and the best fishing rods — here we've rounded up the best inflatable boats on Amazon. 
Best-rated inflatable boat
An overwhelming number of the close to 2,000 positive reviewers mentioned, or included photos of, their dogs riding with them in this kayak. Other common things we saw in the reviews include easy transport compared to hard-shell kayaks, durability, and quick inflation. An excited reviewer with a goldendoodle said, "I LOVE this thing! It's portable. It deflates and fits easily into my sedan. No roof racks, no heavy kayak! It is easy to steer and fits my giant goldendoodle." Another reviewer who took it out with her four kids said she liked that it can hold a lot of weight and is really hard to flip. "I had four kids in it most of the week, they were jumping out in the middle of the lake and swimming. The kids range up to 16 years old and say it's very easy to get in and out of. As a matter of fact all four tried to tip it in middle of the lake by leaning one way and they were not successful!" And this reviewer (also a dog owner) mentioned easy inflation and how roomy this kayak is: "I can throw it in the back of my truck bed, inflate it in five minutes, have fun all day, then throw it right back in my truck. My dogs were able to crawl around, there was enough room for two. It was very sturdy and did not give at all. We got around the lake with no problems and really enjoyed it."
Best-rated (less expensive) inflatable boat
The two main things reviewers said about this boat is that it's a great deal and sturdier than expected. Many satisfied customers wrote that they didn't expect it to last as long as it has, including one reviewer who said he has used it "every summer since 2014." Another happy buyer said, "I think, for the money, there's a lot of innovation that went into this little thing." And a grandfather who uses it on trips with his grandson said, "I am a BIG man and this boat impressed the heck out of me! I take my grandson out on it often. It's NOT a glorified pool toy. It is very sturdy. I can pump the boat up in about 8 minutes. This gets my big ol' seal of approval." "This boat is far more sturdy than I expected of an inflatable boat," said a parent who takes his kids out in it. "We got in (and out of) some sunken tree branches without any problems. For the price, I would definitely say it's a bargain!"
And now, some micro-picks for every type of inflatable boat you might be looking for.
Best inflatable pontoon boat
Excited reviewers expressed their undying love for this pontoon boat, saying things like "THIS LITTLE BOAT ROCKS!" and "Best boat I've ever had!" According to them, its selling points include durability, lightness, easy assembly, and stability on the water. One such reviewer said, "Great boat, very easy to assemble and very sturdy on the water. Several of my friends have other versions of inflatable pontoons and all are envious of this one and a few have even talked of upgrading to this model. Have had it on two rivers and three lakes and it functions perfectly even in the rapids." Another fan of this boat said, "Whoever designed this really knew what they were doing. Very easy to row and works well with electric trolling motor." And a retired couple who plan to use their pontoon boats across the United States said, "We are in our 70s and had to give up kayaking rivers, so these are the alternative. We've been out several times and they are perfect for us. Used them on both lakes and class II rivers, they are very, very stable and maneuverable. We're taking them East this year in our quest to paddle all 50 before we are too old and these boats will get us there."
Best inflatable one-person kayak
We saw a lot of exclamation points in the reviews for this one-person kayak: "Wow!!!!," "This kayak is ultra light!!," and "the best $60 I have EVER spent." One reviewer who appreciates how easy this kayak is to transport said, "I'm a woman — I'm strong but I can't carry a hard plastic kayak. This fits in the back of my Lexus NX 200t." She also noted, "My dog can kayak with me, he naps and watches the birds go by. I'm never worried that his nails may puncture the kayak." Another reviewer who said that he is "a T-2 paraplegic and a water baby at heart" said that this kayak allows him to enjoy the water safely. "My lack of trunk control and balance has kept me from getting a kayak. This is AMAZING! It is completely stable and gave me no worries of flipping over," he wrote, adding, "I was able to unpack it, inflate it, get in and go in no time at all. The material is super tough and feels very solid." And according to this reviewer it's great for novice kayakers. "This is my first time using a kayak. It was fantastic! Easy to air, easy to carry and easy to board and maneuver. I am a short fat chick and this kayak was very stable for me, I felt safe. I highly recommend it for beginners."
Best 4-person boat with oars
According to reviewers this boat is well-built, sturdy, big, and can hold a lot of weight. A mom described this inflatable boat as, "Surprisingly big and very tough. I got this for floating in the lake by our house. It fit me, my husband, my teen-aged stepson, our life-preservers, a soft-sided cooler and four oars with room to spare." Another happy reviewer who had lots of tips for getting the most out of the boat said, "This thing has been an absolute freakin' blast … I also bought an extra-large duffle bag and the boat, oars, hand pump, and trolling motor mount can all be slung over my shoulder on the way to the water." And this reviewer spoke to the toughness of his new favorite boat, "I would highly recommend this! I am 6'1" and i would be able to lay down and take a nap in this if I wanted and it would be very roomie. It holds a lot of weight — about 1,000 pounds. It is a very durable material and I would not be afraid of hitting rocks or anything (although i would still be cautious). I would have no fear in standing up in this thing. It is so super well-built."
Best inflatable boat-shaped float for the pool
Reviewers of this boat-shaped pool float loved it for the low price and for how much their kids love it. One reviewer said, "My kids love this compared to the standard pool floaties like tubes or mats. The toy looks like a real jet ski, has two inflatable compartments, a handle on the front, and a little flag on the rear." But it's not just for pools. According to this reviewer, "My six-year-old daughter had lots of fun with this at a few beaches in Lake Tahoe and actually received several compliments about it. Great quality product and well worth the price." And this satisfied shopper said she bought it after her son saw another kid with one. "We saw one of these on our beach vacation and my son fell in love! I was so happy to be able to order through Amazon Prime and have it waiting for us by the time we got home. It pumped up quickly and has lasted the entire summer in our sweltering Texas heat! I am very pleased with the quality!"
Best inflatable raft