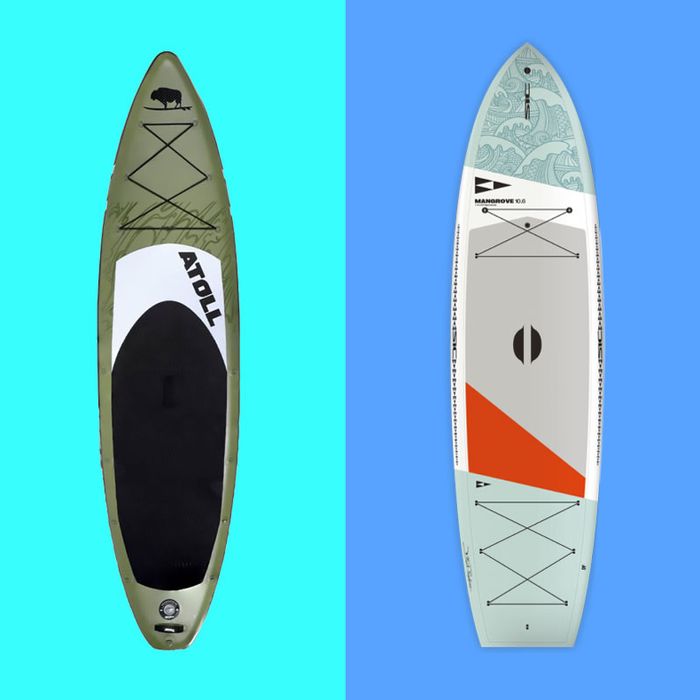 Like mountain biking, running, and hiking, stand-up paddleboarding became many people's favorite pandemic pastime, including mine. To help you choose the right board to suit your lifestyle, we spoke with six paddleboard experts, including instructors, athletes, race directors, retailers, a designer, and a stand-up-paddle coach, to find out what features separate a great paddleboard from a mediocre one and what they recommend for a range of activities and skill levels.
"Buy the right board for your needs and ability," says Byron Kurt, founder of the World Paddle Association. While a rigid SUP built for performance can cost a few grand, you can find a decent inflatable for a few hundred dollars if your primary focus is recreational use. However, all our experts cautioned against opting for too inexpensive a board because they degrade much quicker. "Pay a little more, and you'll get better quality and more performance," added Kurt, which is why most of our picks are between $750 and $1,000.
Jill Jaques, the owner of Deep Blue Yoga in Seattle, Washington, shared another piece of buying advice: "You won't just be buying a board," she said. "A lot of boards come with a paddle and leash, but not a life jacket. Get the best, most comfortable life jacket you can afford so that you'll want to wear it."
We looked for options readily available online, but as with cars, gaming consoles, and commuter bikes, continuing global-supply-chain issues are still causing some SUP models to be low in stock.
Best overall | Best less-expensive | Best for occasional use | Best solid | Best for families | Best for yoga | Best kayak hybrid | Best inflatable for touring | Best for kids | Best solid all-around for racing
What we're looking for
Build: All of our experts agree: you can't deny the smooth feel of a solid board. "Hard boards will perform better because they're more rigid," says Kurt. "The advantages are speed, efficiency, and glide — you can get further with the same output you would put into an inflatable." But they have disadvantages: They're usually more expensive, easier to ding up, and harder to store.
For recreational use, inflatable SUPS will suit most people better because they're easier to store and transport and tend to be more versatile and user-friendly. If you want to travel, hike to a lake, practice yoga, or use your board in various conditions, you'll be better equipped with an inflatable SUP.
Intended use: The hull — or shape of the SUP — comes in two basic styles: a planing hull or a displacement hull (some boards blend a combo of the two). A SUP with a planing hull is wide and flat, and usually has a rounded nose, making it optimal for most activities because it sits on top of the water, is easier to maneuver, and typically has more stability. They're usually best for beginners but can also be enjoyed by intermediate and advanced paddlers. A SUP with a displacement hull is shaped more like a kayak, with a narrower tapered nose designed to better slice through the water and increase efficiency. These SUPs are best for touring, racing, and fitness.
Most inflatable SUPs come with a manual pump. However, some work better than others. "If it's in the budget, get an electric pump for your inflatable," says Jaques. Typically, electric pumps with the correct pressure range of 15 to 20 PSI are in the $100-to-$200 range, and the OutdoorMaster Shark Electric Pump ($139) is a favorite among paddlers.
Dimensions: The best length, width, and thickness of a paddleboard will depend on your body type, ability, and the style of paddling you plan to do. Smaller boards, suitable for kids and surfing, will be under ten feet. All-around SUPs, best for multi-purpose use, are generally between ten and 12 feet long. Anything over 12 feet typically suits racing and touring, where maintaining efficiency over long distances is key.
Many people focus on length, but it's only one factor to consider, says Robert Stehlik, founder and designer at Blue Planet Surf in Honolulu. "A longer board will track better (a.k.a. go straight better); a shorter board will be more maneuverable," he says, adding that width makes a board stable, while a narrower board will be faster. The experts say a stand-up paddleboard between ten and a half feet and 12 feet long and 29 inches and 33 inches wide is the ideal size range for an all-arounder. We didn't pay too much attention to thickness as six inches is fairly standard in most inflatable SUPs.
Weight capacity: How much weight a stand-up paddleboard can hold is determined by its volume — the more volume a board has, the more weight it can support. Not buying a board with the right volume is a common mistake made by first-time buyers, says Bill Ennis, paddleboard instructor trainer and owner of Dig Paddlesports in Hurricane, Utah. If you choose a board with too much volume for your weight, it won't sit low enough in the water, resulting in less stability. Overweighting a board down will make it too low, causing drag and making it harder to paddle.
When picking out a paddleboard, consider your weight plus the weight of any other gear, people, or pets you plan to put on the board, and choose a weight capacity that corresponds to your needs.
Best overall stand-up paddleboard
Inflatable | All-around | 10' 6" x 32.5" x 6" | 320-pound capacity
The Blackfin CX Ultra is a supremely versatile inflatable SUP for nearly any adventure, whether you're cruising or crushing it. It's the mix of agility with stability that we think makes this board a top performer. It's lightweight (as in under 20 pounds), so it's easier than most to carry when you have a short hike ahead of you, and the backpack design is refined and compact, so not only is it more comfortable to haul around, it's easier to store, too.
This speedy and stable board comes with everything you need to get out on the water, including a carbon fiber paddle and electric pump — a big bonus to avoid tired arms. It's got bungee tie-downs on the front and back that can hold enough gear for a first overnighter, but can clip off to free up more deck space for yoga. For those new to paddleboard yoga, it might not be wide enough to balance on — yet — but with practice it will be. "As folks gain more experience they'll find they can paddle boards that previously felt 'tippy" with no problems, and may even prefer the agility and ease of paddling a narrower board," says Jaques. The CX Ultra has two removable longer side fins, but no center fin. It still tracks well, however, and the setup adds a fair amount of stability and maneuverability to the board and makes it ideal in conditions where a center fin might drag on rocks or sand.
Best (less-expensive) stand-up paddleboard
Inflatable | All-around | 11" x 32" x 6" | 315-pound capacity
The Atoll 11' is a durable all-around paddleboard that's slightly heavier and longer than our top overall pick, the CX Ultra, making it ever-so-slightly less maneuverable but still a worthy vessel for most paddling conditions. One advantage of the Atoll SUP is that along with the two small fixed side fins, it comes with a removable center fin, which helps the board track better. There are tons of D-rings (15) and bungee-cord storage on the front, but not the back. The board design is modern and fresh, and the board color matches the accompanying paddle and backpack, which makes the whole kit look extra sleek. The Atoll comes with everything needed to get started, including a leash and carbon-wrapped fiberglass paddle — accessories that are sometimes lacking with midrange boards.
Best inflatable stand-up paddleboard for occasional use
Inflatable | All-around | 11' x 33" x 6" | 330-pound capacity
If fun is your goal and you aren't overly performance-driven (or plan to use your SUP only a handful of times a year), the SereneLife SUP is an all-around recreational board that comes in well below $500. It's tough to find a reliable board at this price, but thousands of reviewers back the SereneLife inflatable. When The Strategist curated a list of the best-reviewed stand-up paddleboards of 2019, the SereneLife SUP had more than 800 five-star reviews on Amazon; now, it has more than 15,000.
The dimensions will fit most people just fine, and the shape is excellent for both lake paddles and splashing around in some light waves. The board features two fixed side fins and a removable screw-in center fin, which isn't as easy to install as a quick-lock fin, but it's a nice feature regardless. There's bungee tie-down storage for hauling gear, a roomy deck pad, and the wood-grain motif is stylish (it's even more eye-catching than some of the higher-end boards we considered). It includes the entire setup: aluminum paddle, leash, pump, repair kit, and decent enough backpack. If you prefer a more rounded shape or a different design, there are a few other SereneLife options.
Best solid stand-up paddleboard
Solid | All-around | 10' 6" x 32" x 6.1" | 200-pound capacity
All of the experts we spoke to called SIC Maui an industry leader in stand-up paddleboards, and the rigid ten-foot-six-inch Mangrove model is one of the most versatile boards in its lineup. This SUP is good for beginners to advanced paddlers because the length makes it easy to maneuver, the flat bottom gives it stability, the displacement hull allows it to plow through water — and there's still enough room to squeeze on a kid and a bit of gear. This board is stable and smooth for recreational paddling, a short touring trip, fitness, and yoga, with a textured deck pad for grip and bungee cords for storage.
An EPS core (durable, rigid foam) is sandwiched between oak-wood laminate and wrapped in fiberglass, making it built to last for years on the water, especially for new paddlers. "Beginners should opt for fiberglass because it's going to be less brittle than carbon fiber," says racing paddleboard coach Nicole Stimpson. The Mangrove comes with one removable center fin, but it's fitted with two side-fin boxes to outfit it for paddling in shallow water (however, you'll have to purchase the two side fins). It also doesn't come with a leash or paddle, but that's pretty standard for hard SUP boards.
Best stand-up paddleboard for families
Inflatable | All-around | 11" 6" x 34" x 6" | 370-pound capacity
The Thurso Max is like a typical all-arounder but bigger, suitable for cruising just about anywhere and less intense touring expeditions. My family is in love with ours because despite its larger size (it's a foot longer and a couple inches wider than a standard all-around SUP), it's still easily maneuverable and provides excellent stability, even when loaded down with dry bags full of gear, a squirmy child, and a large dog. We use this SUP on rivers, coastlines, ocean bays, and lakes, where it's stable enough to jump off and get back on.
This spacious board isn't as speedy as some of the more streamlined SUPs, and at around 30 pounds, it's on the heavier side, but it's durable, extremely rigid for an inflatable, and feature-packed. It has D-rings galore (16), plenty of deck room, and a seat can be added to make for comfortable kayak-style paddling. It has three removable fins that lock firmly into place (a setup that allows you to configure the board for different conditions), bungee-cord storage at the front and back, a grippy, full-length deck pad, seven carrying handles, and a camera mount. The Max stows in a rolling backpack and comes with a repair kit, a leash, a carbon shaft paddle that's lightweight yet strong, and a dual-chamber pump. However, it's still a bit of a workout to inflate given its size, so investing in an electric pump will save both time and your arms for paddling.
(Disclosure: I have contributed to the Thurso blog, offering advice on how to plan an overnight SUP camping trip, but that wasn't until I'd already purchased and paddled with the Max for nearly three years.)
Best stand-up paddleboard for yoga
Inflatable | Yoga | 10' x 35" x 6"| 400-pound capacity
To confidently practice your Vinyasa flow on the water, your stand-up paddleboard needs to be wide, flat, and stable, and, much like your favorite yoga mat, it needs to have good grip. Both the paddleboard yoga instructors we spoke to recommended going with an inflatable SUP. "For yoga, an inflatable is great because it's a lot softer. It's not as hard on your body when you're doing certain moves, and it's a lot more forgiving if you fall," says Carleen Birnes, SUP yoga teacher and co-founder of Chesupeake in Severna Park, Maryland.
The Lotus Glide stand-up paddleboard got multiple shout-outs from our experts. It's the personal favorite of certified paddleboard-yoga instructor Jill Jaques, who has been guiding yogis out on the water for a decade. "They're super durable, have great features for yoga like a full-length deck pad and extra width, and they're made in the USA," she says. The added width makes it optimal for balancing poses because it won't rock side to side as much, and the removable center fin makes it easy to stash in the storage bag.
Best kayak stand-up paddleboard hybrid
Inflatable | Hybrid | 11' 6" x 35.5" x 6" | 425-pound capacity
If you plan to sit as much as you stand, the versatile Isle Switch converts from a SUP to a kayak with the addition of a clip-on seat and footrest and can be configured for tandem-kayak use. The inflatable seat is the cushiest we've seen, with a fiberglass-reinforced back that is supportive for a full day on the water. Webbing loops run the length of the board, allowing the rider to position the seat and other accessories where and how they want.
At under 20 pounds, it's ultralight, yet can support 425 pounds of weight — the highest capacity of any of the inflatable boards on our list. The traction pad runs the entire length of the deck, offering good grip if you're piling kids or dogs onto the board or want to use the SUP for yoga, and there's plenty of storage room for gear. The flexible 9-inch single fin is easily removable, and the board design is slick looking, especially in the seafoam color. The Switch comes with a convertible paddle, storage bag, repair kit, pump, leash, and small dry bag for essentials.
Best inflatable touring stand-up paddleboard
Inflatable | Touring | 14' x 30" x 6" | 350-pound capacity
If you want an inflatable SUP that can handle a multi-day excursion or prefer a board that can cut through the water quickly, the Badfish Selfie 14 is your best bet. "I gravitate toward boards that are going to give me more performance for each paddle stroke," says Bill Ennis, owner of Dig Paddlesports in Hurricane, Utah, which is why he opts for a touring board with a longer length and narrower nose like the Selfie. Badfish boards are also durable, says Ennis, who uses them in his rental fleet, where they hold up well despite significant wear and tear.
The Selfie 14 is stable, smooth, and fast, and whether you're planning your first overnighter or heading out on a week-long trip, this board is suitable for lake, ocean, and river expeditions. The three bungee cords (most SUPs have one or two) and 19 stainless-steel D-rings make configuring gear more manageable, and when loaded down, it's well balanced with a refined shape that can handle choppy water. The three removable fins are easy to install, and allow you to configure the board for different conditions, but there's also the option to use an extra screw for added security, ensuring you won't lose a fin mid-journey. The Selfie does come with a pump, leash, and backpack, but there's no paddle included, so you'll have to purchase one separately.
Best stand-up paddleboard for kids
Inflatable | All-around | 9' x 31' x 6" | 220-pound capacity
The nine-foot Nautical board perfectly suits people under five feet tall. Some kids' SUPs are eight feet long, but you'll get more use out of your investment with the Nautical board as the extra length gives kids more room to grow into while still being highly maneuverable for little paddlers.
This SUP comes in four fun colors with everything typically included in a full-sized setup to get your child on the water: leash, paddle, pump, and carrying case. There's bungee cord storage on both the front and back of the board so kids can haul their own adventure gear, and the three removable flip-lock fins are easy for kids to figure out. Plus, there's an action mount for a camera and tons of D-rings, and the lightweight paddle floats (beware of kids' paddles that don't float because they'll inevitably get lost while children get the hang of SUPing). Grab handles are at the front, middle, and back, so if your child's arms tire out, you can hook up to the front handle for towing. The backpack doesn't come with wheels — they're an add-on — so if your little one can't pack around 20 pounds yet, wheels are an upgrade worth considering.
Best solid all-around racing stand-up paddleboard
Photo: Flying Fish Board Co.
Solid | Racing | Custom | ~300 pounds
"I race on a Flying Fish," says Birnes of the custom stand-up paddleboard makers in Stuart, Florida. "It's really fun to be able to design your own race board, and do it online," she says. "What appeals to me is that they're made in America, and this custom board is basically the same price as if you were to buy a high-end production board."
If you want to get into racing, having a paddleboard that fits and is dialed into your needs is ideal, especially for smaller people who might have difficulty finding SUP gear for their size. On the Freedom board, you choose everything from the length to the width, thickness, colors, deck pad, bungee cords, and more. The Freedom is the most versatile race board by Flying Fish, and if you plan to surf, ride downwind, and navigate both choppy and flatwater, it's a solid bet.
Our experts
• Carleen Birnes, co-founder of Chesupeake in Severna Park, Maryland, stand-up paddle instructor, yoga teacher, and SUP race director
• Bill Ennis, co-owner of Dig Paddlesports in Hurricane, Utah
• Jill Jaques, stand-up paddle-yoga teacher, instructor trainer, and owner of Deep Blue Yoga in Seattle, Washington
• Byron Kurt, founder and president of the World Paddle Association
• Nicole Stimpson, SUP race coach, certified stand-up paddle instructor trainer, and sales manager at Chesapeake Light Craft in Annapolis, Maryland
• Robert Stehlik, founder of lead designer, Blue Planet Surf Gear in Honolulu and stand-up paddleboard instructor trainer
The Strategist is designed to surface the most useful, expert recommendations for things to buy across the vast e-commerce landscape. Some of our latest conquests include the best acne treatments, rolling luggage, pillows for side sleepers, natural anxiety remedies, and bath towels. We update links when possible, but note that deals can expire and all prices are subject to change.