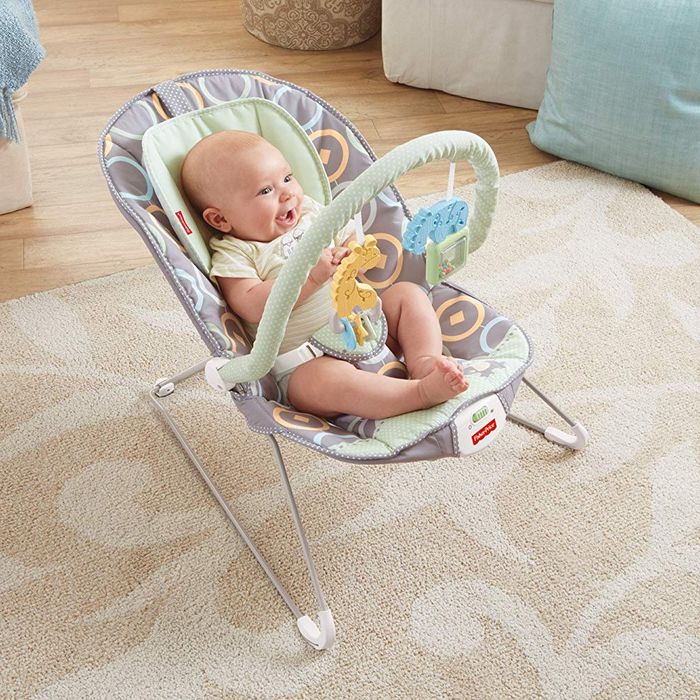 Here at the Strategist, we like to think of ourselves as crazy (in the good way) about the stuff we buy, but as much as we'd like to, we can't try everything. Which is why we have People's Choice, in which we find the best-reviewed products and single out the most convincing ones. (You can learn more about our rating system and how we pick each item here.)
And while we've written about baby gear before — including the best swaddles, products for getting babies to sleep, strollers, and baby monitors — here we've rounded up the best baby bouncers, as praised by the most enthusiastic reviewers on Amazon.
Best-rated baby bouncer
Reviewers often cite this product's versatility, which allows the rocker to be used as their child grows up, from baby to toddler. "This review is given almost two years after purchase," writes one parent. "Product was bought at the birth of my first baby. She had jaundice and we needed to expose her to UV radiation for several hours a day with a biliblanket (basically a blanket that emits UV light). We basically laid the biliblanket in the rocker in bassinet mode … Eventually, we transitioned to rocking mode as a rocker/bouncer that could contain the little one while grown-ups got things done. As a toddler rocker, it's my toddler's favorite chair to sit in while she watches her shows. It was easy to put together, light, easy to transport, and easy to clean."
The rocker itself is also easy to adjust, writes another satisfied customer. "You actually get four different head elevations because you can release the bar at the bottom and you can adjust the top of the seat as well … This is especially accommodating for my reflux-y baby who is almost 3 months old. This is the one place he will sit (other than mom's or dad's arms) after a feeding without fussing." Reviewers were also impressed with the quality of this bouncer, and many found that their little ones enjoyed it enough to allow parents to take a few minutes for themselves. One woman said, "This has made life as a new mom so much easier! I take this wherever I go in the house, and my baby really seems to love it. One of the best uses is that I can put her in it in the bathroom while I shower, so she can be close by and I don't have to give up on my hygiene. Seemed impossible with a newborn."
Best-rated (less expensive) baby bouncer
Many reviewers bought this piece as an inexpensive second bouncer for travel or day care, only to be blown away by the quality. "We spent hundreds on other bouncers and swings and she only likes this baby bouncer," wrote one parent. "This thing is a lifesaver," said another. "It is so cheap, and my baby loves to be in it — it keeps her happy while I get things done around the house." Dozens of other reviewers also call this chair a "lifesaver," including one parent who brought it on vacation and says that it "literally changed our lives! My son loves the vibration and he's obsessed with the little monkey toy. Great price, compact, and soothes our baby."
One unexpected benefit of the chair came up time and time again: Its strange ability to make babies instantly produce a bowel movement. Several reviewers dubbed it the "poop chair," and mentioned its "magical" poop powers. "Put your gassy or fussy baby down and in no more than five minutes they will be relieved," wrote one parent. "If you're a parent you know why this is so phenomenal. When my son is clearly uncomfortable we just sit him in this chair and he poops almost EVERY time."
And now for some micro-picks for every type of baby bouncer you might be looking for.
Best baby bouncer with toys
Several baby-bouncer skeptics became baby-bouncer believers after purchasing this inexpensive and lightweight option. One parent initially thought "the toy attachments were cheap and useless," but quickly discovered, "My baby LOVES this stupid thing." She's owned it for six months and calls it "the most used baby item I bought — the baby loves slapping the toys, and it's light and portable, making it easy to plop baby down wherever you happen to be." Many other reviewers mention that the three-toy bar is a source of entertainment for their babies: For one, it's even "enough to get her tired within 30 minutes and down easy for a nap. We don't even use the vibrating function."
Best baby bouncer with music
Though this deluxe bouncer was lauded for it's cute, plush dog insert and soft toys, the main factor that differentiates it from others are its sound effects. "Baby now loves to take his naps here with the vibrate setting on and music playing," said one parent, who notes that her baby stays "safe and sleeping for hours" in this bouncer. "The nature sounds are very soothing even for the adults in the house." The volume is adjustable and has several musical sound options, which reviewers also appreciated. One parent — who notes that baby, mom, dad, big brother, and cats all love this bouncer — writes, "Our son loves the lullaby music and especially enjoys the nature sounds —listening to the birds chirp is his favorite!" A third says, "The little sounds are nice, and the vibration seems very soothing … My husband wishes they made one for adults."
Best motorized baby bouncer
"I did NOT want to love this bouncer as much as I do," writes one reviewer who was initially wary of the price of this BabyBjörn bouncer. "I felt like it was way overpriced for such a minimalist​ bouncy chair, but let me tell you, after three months, this is my favorite piece of baby gear … The 'bounciness' is very receptive to baby's movements and soothes her, much more so than our other more traditional bouncy chair." And many reviewers agree that this soft bouncer offers babies the right level of bounce. "My once colicky baby is instantly soothed by this bouncer," writes one reviewer, who adds that though she was worried that it wouldn't work because it relies solely on her baby's movement, her baby "started easily (and quickly!) bouncing up and down. She instantly calmed down. This has absolutely been the best purchase for us! Within a few minutes of being in the bouncer she falls asleep, and she is a baby that did not sleep much prior to this. If you have a fussy baby that can only be calmed down by rapid bouncing, BUY this."
Best high-tech motorized baby bouncer
For hundreds of five-star reviewers, the easy-to-use Bluetooth-enabled app and small footprint of this motorized baby bouncer make it well worth the price. "I don't know about you, but as the parent of a newborn, baby gear has overtaken my house," writes one new parent who bought the mamaRoo at the recommendation of their friend. "After owning and using this for a week, I highly recommend it too. My husband would add that he vastly prefers the way the mamaRoo looks over our previous, bulkier swing and he likes the Bluetooth app connectivity too." The app allows users to control incline, white-noise options, and five different motion settings, which one mother of four described as "very soothing." Before the mamaRoo, this reviewer says her infant would constantly scream unless she held him, which made homeschooling her three other children and keeping up with housework complicated: "I tried swings and manual bouncers and nothing worked. This was my last ditch effort and I was hesitant because of the price. It is worth it if you have a screamer like I do that needs to be held constantly. Since I have gotten the mamaRoo I have had way more time for everything."
Most stylish baby bouncer
Multiple reviewers appreciate that the design of this bouncer is sleeker than other options, with one even calling it "modern design that isn't such an eyesore in the home compared to other bouncers." Another reviewer said, "I really like the chair design. The dots are fun and fascinating for baby, and the colors are nice and muted — not too babyish and not too garish. Just right!" But there are plenty of stories of satisfied babies in the comments, as well: "My baby LOVES this chair. She was very colicky for the first 3.5 months of her life, and we couldn't put her down in anything, despite the multiple expensive baby rockers we tried. This was the first thing she would ever sit in, and she still loves it at 7 months old. What a lifesaver this has been! … Fussy baby approved."