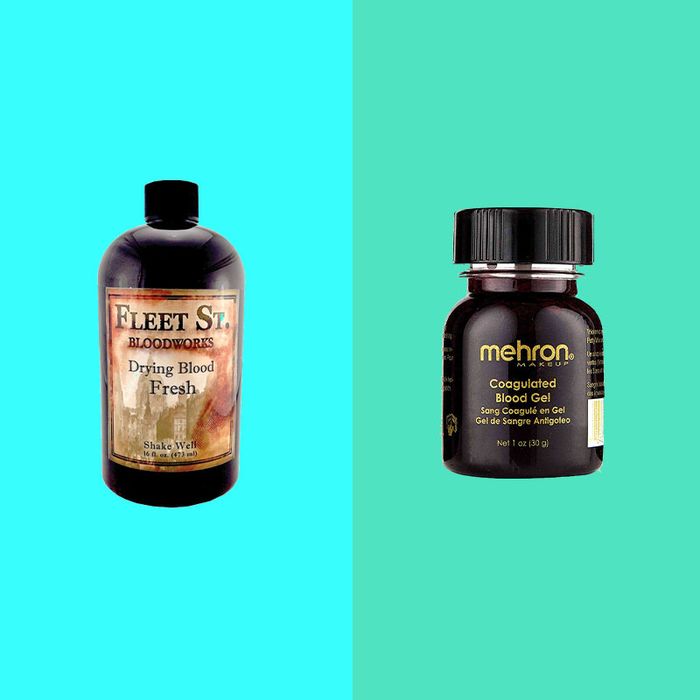 Photo-Illustration: The Strategist; Photos: Retailers
Whether you're going for the full Carrie or just adding some gore to your Nathan Fielder costume, fake blood is the easiest way to win Halloween. While red food coloring will work in a pinch, there's a surprising array of much more realistic theatrical makeup products — from gooey congealing pastes to spray-on splatter — that are worthy of a CSI set. Below, find fake-blood recommendations from experts in the know, including Quentin Tarantino's go-to blood guy and the makeup artist who helped kill off the cast of Bodies Bodies Bodies. We also got some insider tips on how to remove fake blood from skin and clothing as well as a couple of washable fake-blood brands that'll help you avoid those stains in the first place.
Best overall fake blood
Many cheaper fake-blood products will remain moist for hours after application. This means they'll be drippy and realistic looking but also rather messy. Fleet Street's drying blood, meanwhile, is designed to set in place while retaining a liquid look. It comes highly recommended by Howard Berger, an Academy Award–winning industry veteran whose extensive resume includes Tarantino gorefests Inglourious Basterds and the Kill Bill films as well as AMC's zombie-ridden The Walking Dead. While he usually prefers to mix his own custom formula on sets, Berger turns to Fleet Street when he knows an actor will be wearing fake blood for an entire shooting day as opposed to one brief scene. "It looks very real," he says, adding that spraying down your clothing with a little water before application will make the product look "even more organic."
Best (less expensive) fake blood
For a slightly messier but still plenty realistic effect, Kryolan's movie blood is HBO approved and similarly comes in both light and dark shades, depending on how fresh you'd like your fake wounds to appear. The actress Chloe Cherry told us this is the brand used on the Euphoria set, and she's also fond of it for her own Halloween costumes.
Best washable fake bloods
A permanently blood-stained Halloween outfit isn't the end of the world, but the situation is totally possible to avoid should you desire to. When applying fake blood on the set of The Northman, makeup artist Maralyn Sherman didn't want to ruin costumes that would need to be reused in future scenes, so she used Maekup's body blood in the darkest shade to match director Robert Eggers's gloomy color palette. "It worked well, with no complaints and no staining," she says. Similarly, Bodies Bodies Bodies makeup artist Sarah Graalman says the special-effects staff went through "gallons" of Joshua Turi's No Trace Blood, w