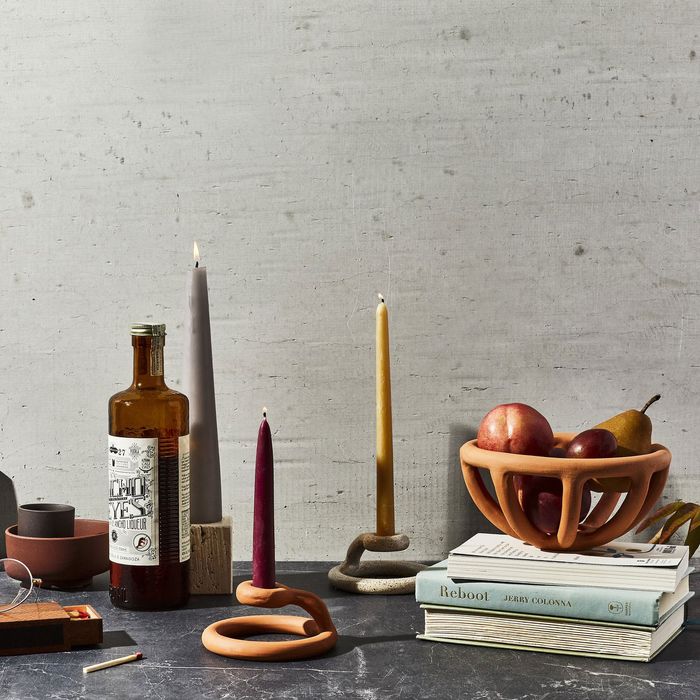 Brooklyn-based Virginia Sin makes ceramic candlestick holders and fruit bowls (that you'll find below).
Photo: Retailer
One way to shop more consciously, as we've written before, is to patronize businesses owned by members of underrepresented communities. Those who've read our (ever-growing) guide to AAPI-owned businesses or contributor SuChin Pak's lists of products and gifts she loves from AAPI-owned brands have probably noticed a good chunk of the companies mentioned focus on décor for the home. To give you an even better idea of what those businesses have to offer, we combed through their inventory to find pieces to zhuzh up every inch of a home, from fruit bowls for the kitchen to alarm clocks for the bedroom to magazine racks for the living room (or bathroom). We've also put together a separate list of wall art from Asian and Asian American artists, for anyone looking to gussy up their vertical space. Like our list of AAPI-owned businesses and gifts, this one is always growing, so we'll be updating it with more home décor as we uncover it.
Hudson Wilder founder Conway Liao says his brand focuses on reinterpreting classic styles of dishware and drinking glasses, like this gold-handled handblown cup made from borosilicate glass. It's resistant to thermal shock, meaning you can safely use it with both hot and cold beverages.
Husband-and-wife team Ted Vadakan and Angie Myung founded Poketo, a lifestyle brand and boutique, in 2003. Based in Los Angeles, it stocks stationery — including planners that are beloved by teachers and productivity experts alike — and lots of stuff for the home, from stylish organizers to vases and planters to tableware, like this set of four bamboo plates in sunny stripes.
Wing On Wo & Co. is New York Chinatown's oldest continually operating store and is primarily known for its ceramics. Still, there are lots of other items to choose from, like this silk lantern that would make any room feel a bit more ethereal.
We — and Pak — love the Brutalist, coiled ceramic creations from Brooklyn-based designer Virginia Sin. Filled with lemons and limes, this fruit bowl would make any kitchen counter or table look way more sophisticated.
This cheekier Leg Bowl would be just as head-turning whether empty or filled. It comes from design duo Chen Chen and Kai Williams, who are best known, perhaps, for the popular stacking planter they created for Areaware. The ceramic conversation-starter even comes with tiny Mary Janes.
[Editor's note: This bowl is out of stock, but the shop owners expect it will be available again at the end of October. Join the company's mailing list if you'd like to be reminded when that happens.]