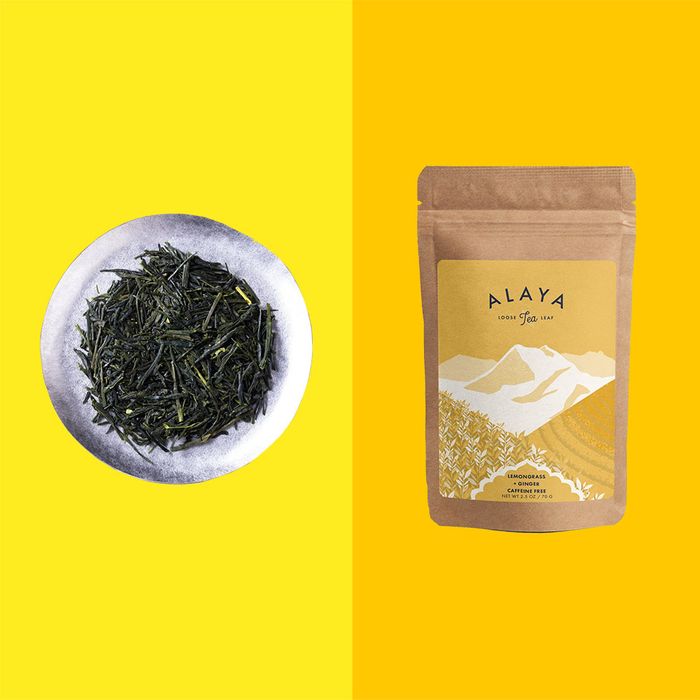 Photo-Illustration: The Strategist; Photos: Retailers
Tea is the oldest and most popular beverage in the world, second only to water. Emperor Shen Nong discovered it in China some 5,000 years ago, in 2737 BC. One of my earliest memories of tea is sharing some with my grandma as an 8-year-old in China, where I grew up in a coastal city within Liaoning Province. I was a peculiar child who refused to use the bathroom at school; on this particular day, I was minutes away from home when my body couldn't hold it any longer. You'd think shame would be the first thing to bubble up whenever I look back on that day, but what I remember most was the cup of tea my grandma gave me after my accident. Drinking it made the world slow down enough that even my young mind was able to move past any embarrassment and instead focus on the warmth I felt (both literally and figuratively) from my grandma's gift of that cup of tea.
It was with this memory in mind that after immigrating to the United States and working in the (notoriously grueling) fashion industry for more than a decade, I decided to change course and pursue a career in tea back in 2015. Growing up, the teas I knew were brewed from loose whole leaves of all sorts. They were beloved both for those leaves' complexity in aroma and taste but also because brewing loose-leaf tea is a ritual meant to be as nourishing and enjoyable as drinking it. Moving to the U.S. introduced me to another kind of tea: The stuff you find in bags, which were designed to make tea fast, convenient, and cheaper — all things that are somewhat at odds with how I culturally understood it as a child. The hot dogs of the tea world, tea bags are only sometimes tasty and often filled with the worst-quality ingredients.
In developing and now running my own tea brand, the Qi (which specializes in tisanes, or herbal teas, brewed using whole flowers), my market research has required me to study both the teas of my childhood and newer varieties. Perhaps not surprisingly, many of my favorites come from companies founded by other Asian or Asian American entrepreneurs. While all are not Chinese, all of the tea companies on this list (which is by no means exhaustive) are rooted in their founders' cultures, which means their products subscribe to an ethos of quality over quantity and are developed in a way that honors how those cultures have enjoyed teas for thousands of years. Before I get to the list, some general brewing guidelines: Darker teas like oolongs and pu'ers can handle hotter water of up to 210 degrees Fahrenheit; green teas and tisanes only need water to reach 180 to 190 degrees. With the exception of tisanes, most teas below need to only be steeped for one or two minutes or else they can get bitter.
Founded by Taiwanese American Elena Liao and her husband, Té Company operates a tiny tearoom in the West Village. (Due to the pandemic, that tearoom is still operating at reduced capacity.) The brand specializes in oolongs, teas that are native to parts of southeast China and Taiwan; the latter is where some of the most-sought-after oolongs, grown high up on mountains, are produced. Of all the varieties you can get at Té, my favorite is the Baozhong '90 Vintage, an oolong with deep grassy and ginseng notes. Like wines, teas also have vintages; a good one like this (which Té Company says was made roughly 30 years ago, around 1990) will age well when correctly stored — away from sunlight and moisture — and grow even more complex in flavor over time. Pro tip: If you like a particular tea vintage, I always suggest buying some extra and storing it away for five or ten years to see how its profile evolves.
Photo: Retailer
Before the pandemic, the Japanese couple that owns Setsugekka would mill various tea leaves into matcha (or tea powder) right before your eyes in their East Village shop using a stone grinder they brought over from Uji, Kyoto. While that in-person service has yet to return, the owners are still making their House Ground Matcha and selling it online. It may be the most fragrant — and the freshest — matcha I've ever tasted. You can get it in two styles; I recommend trying the Tsuki first, but I've tried both, and each is vibrant and intense when it comes to flavor. Setsugekka sells all of its matchas via the same link, so just be sure to look for the House Ground Matcha when you get to its website.
The phrase tea drunk refers to an ancient Chinese saying about how a cup of really spectacular tea can make you feel you're in an alternate state of mind. Tea Drunk's Chinese American founder Shunan Teng has a master's degree in tea and specializes in blends for Chinese gong fu tea ceremonies, rituals that are all about slowing down, practicing your brew, focusing on serving your friends or guests, and savoring the moment. Her teas are as authentic as they come. Each is sourced from only the most legendary tea-growing mountains in China. While pricey, this single-tree pu'er tea sips like a fine red wine — and ages like it, too. Tea leaves are picked multiple times during a harvest season, but the first spring pick is considered the most precious harvest because the leaves have spent all fall and winter taking in the earth's essence and nutrients. These leaves were grown on NanNuo Mountain in China's Yunnan Province, which has a terroir that gives the tea a silky, sweet taste. Like true Champagne is only produced in Champagne, authentic pu'er teas can only come from Yunnan, which is considered the birthplace of tea.
Though Ippodo isn't a small business, it is a Japanese company that has been making what many call the best (ceremonial-grade) matcha powder for centuries. The Kyoto-based company has been selling its teas since back in 1717; I met the Ippodo team hundreds of years later, in 2016, and its expertise and passion completely blew me away. My favorite tea from the brand is this Kaboku, which is a classic Japanese green tea. It's my go-to for the spring and summer because it's light, clean, tangy, fragrant, and refreshing — just like any good green tea should be.
Run by female Indian American founders Esha Chhabra and Smita Satiani, Alaya works directly with Indian tea farmers, cutting out all middlemen in an industry overrun with distributors, exporters, and importers. I'm a big sucker for anything herbal, especially when I feel under the weather, which is why the brand's Lemongrass + Ginger tea is another go-to. India not only grows the most ginger in the world but also some of the best. The tea is potent, with a spiciness I absolutely love, but the lemongrass tones it down a bit and gives it a nice balance.
Photo: Retailer
Okay, I know I came down pretty hard on tea bags. But bags themselves aren't necessarily a bad thing; it's more about what's inside them. Five Seasons TCM was founded by Zoey Gong, whom I've known for a few years now. A former chef and nutritionist, she is training to be an herbalist in the style of traditional Chinese medicine. To me, no person or brand knows how to blend Eastern holistic wellness and herbal medicine with Western nutrition better than Gong. And she does it all with an eye for beautiful colors, flavors, and tea blends that are totally out of the box in the best way. Her "tonics" combine loose-leaf teas and adaptogenic herbs; this Better Than Coffee variety that I like pairs green tea with ginseng and goji berries. You can steep and drink it — or use the bag's contents as seasoning the next time you're cooking a favorite dish, to give it a boost of flavor and nutrients.
Tea Dealers, owned by Korean American Shin Won-Yoon and her husband, Stefen Ramirez, stocks a swoon-worthy selection of Korean teas and stunning artisanal teaware. When I visited their East Village tearoom 29B, it was easily one of the most refined tea experiences I've ever had. Compared to Chinese, Indian, and Japanese teas, Korean teas are not as well known or easy to find in the U.S. The leaves of this Woojeon green tea are also prized, early-spring picks. Its origin, cultivar, color, and tasting notes (bitter with hints of stone fruit and golden flowers) fascinate me. While I have not tried it, the tea is definitely on my list. If it is anything like the Tea Dealers teas I have tasted, it will not disappoint.
When I first visited Yunnan, I met a few 800-to-900-year-old tea trees that many revere as godlike (most commercial tea bushes are under 20 years old). But what really took my breath away were the roses that locals use to brew flower tisanes. Despite being someone who has enjoyed tea her whole life, I had never discovered anything quite like those tisanes until that trip. They're not widely known to people outside of the small remote villages where the flowers come from, like Shangri-La, which is where the roses for this tisane are sourced. This means they are not really accessible — something I tried to change by launching the Qi. Flower tisanes are not true teas: One difference is that they're caffeine free; another is that you can eat the flowers you use to brew them. They also can't really be overbrewed and won't get bitter if steeped for a long period of time. Of all the Qi's tisanes, my favorite is this single-origin one made with roses that grow 10,000 feet above sea level. It has a light floral taste, and I suggest leaving the (edible) flower in the cup to enjoy its visual beauty as you sip.
The Strategist is designed to surface the most useful, expert recommendations for things to buy across the vast e-commerce landscape. Some of our latest conquests include the best acne treatments, rolling luggage, pillows for side sleepers, natural anxiety remedies, and bath towels. We update links when possible, but note that deals can expire and all prices are subject to change.