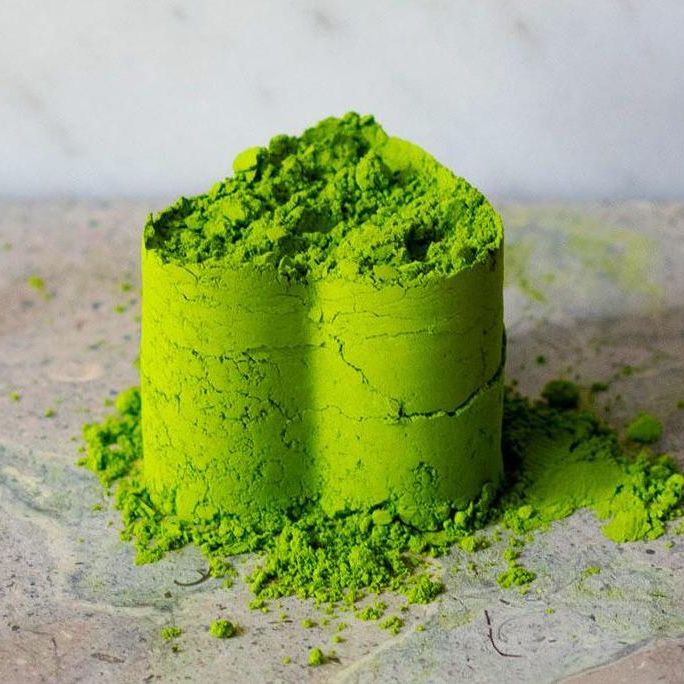 Preparing a cup of matcha can be a finicky process, even more so than brewing the perfect cup of coffee, and that starts with the matcha powder itself. When we went on the hunt for the best matcha powder, nearly all of our 12 experts (and regular matcha drinkers) warned us that matcha powders can be inconsistent, varying in flavor and bitterness by tin, due to rushed or irregular tea-leaf processing. So picking the best matcha powders is a critical first step to enjoying the final matcha-filled product, whether you're planning on drinking it straight or baking with it.
One way to ensure that you're setting yourself up for success is by looking for brands that import tea from Japan; in general, processing there is more consistent than in other places. Or, to make it even easier, we talked with a tea-ceremony expert, a Japanese confectionery chef, an artist who splits her time between New York and Tokyo, and nine more regular matcha drinkers about the powders they whisk into their chawans (or tea bowls) and mugs every day (and got some tips on how to make the best cup too).
Best matcha powders for beginners
Matcha can be sorted into three grades — ceremonial, premium, and culinary — and though it can be expensive, ceremonial-grade matcha is what most of our experts recommended drinking, straight-up. Chef Justin Iso, a Japanese confectionery chef and avid matcha drinker since childhood, says that the matcha from Kyoto-based Ippodo is best for first-time drinkers, in part because of its long history, which dates back to the 1700s. The quality is consistent, tin to tin, and it's not too bitter. The most popular matcha among his beginner, "non-tea-loving friends" is Sayaka, whose flavors Iso describes as "balanced with just a touch of bitterness and medium body."
For those who really aren't sure where to begin, New York Magazine's literary critic, occasional Strategist contributor, and daily matcha drinker Molly Young, recommends trying out this flight of matcha from Breakaway Matcha. Breakaway Matcha "treats matcha like fine wine," Young says, assuring that their matcha is "super consistent in quality, unlike a lot of brands where it can vary widely from tin to tin." This testing flight includes four jars of matcha with varying notes, all of which, according to the website, have a "rich, vibrant" base and "little bitterness or astringency," so you can find which flavors you like best before committing to a whole $50 ceremonial-grade tin.
Though MatchaBar is a hallmark, its ceremonial-grade matcha is actually very good for beginners. "When I first was learning to make it myself — and I am still not very good at all — I feel like I screwed up a lot. With this, it still tasted good," says Strategist writer Chloe Anello. And even if matcha turns out to not be your cup of tea, Chloe also notes that it's a nice option for experimenting — like in baking or in smoothies — thanks to the lower price point.
Best ceremonial-grade matcha powders
If you've got your technique down and are looking to really get into matcha, Karina Hoshikawa, a beauty and wellness writer at Refinery29, also recommends the powder from Ippodo, which she calls "the best matcha I've ever had." Her go-to is the "earthy, creamy" Ummon matcha, which she drinks plain, preparing it "the way my obaachan taught me: With the whisk (chasen) and li'l matcha bowl (chawan)." Though if she's in a rush, she'll use "one of those vibrating milk frothers to blend the powder and really get the foamy, airy texture." Chef Justin Iso also likes using Ippodo's Ummon matcha for cooking, finding its "forward flavors" with "more umami and astringency" perfect for foods and desserts.
When Young isn't drinking Breakaway Matcha, she drinks Kenko Ceremonial Grade, which is "zippy and fresh, not bitter at all, and works in any application" — be it tea, smoothies, or lattes. "Sometimes, if I'm feeling wild, I stir a spoonful of matcha into my oatmeal," Young says. "It's like eating a pale-green bog!"
Best organic matcha powders
"I'm originally from Kyoto, and my grandparents have their own pottery business, which goes hand in hand with leading tea ceremonies," says designer and stylist Yuri Tachi, who splits her time between Tokyo and New York City. "When I'm in New York, my mom sends me organic matcha grown in Kagoshima, which is known for their matcha production." Tachi recommends the organic, ceremonial-grade tin above, which is sourced from Kagoshima. "The traditional way is to add hot water to a couple scoops of the powder and whisk it rapidly — as grandpa says: 'It's all in the wrist' — until it's foamy," she explains. "It's 100 percent green tea, which is usually pretty bitter, but it's not as bitter as other ones I've had. It's superrich but balances out sugary sweets, so you don't feel like a solid cube of sugar [if you drink it] after dessert."
Actor Kristen Bell of The Good Place, a daily matcha drinker, told us that she's "tried a lot of brands," but this organic matcha powder from Encha is "the very best." It's sourced from the Uji mountains of Kyoto — one of Japan's largest green-tea distributors — and, according to the brand, it has a "frothy and full-bodied texture," and a "subtle, sweet vegetal taste."
Best matcha powders for lattes
Writer and self-proclaimed matcha obsessive Sydney Gore likes this option from Matchaful, which she mixes with oat milk, cashew milk, and medicinal mushroom maple syrup. (She prepares it with her Sharp tea-maker, though a matcha bowl and whisk will do just fine.) Gore describes it as "rich, smooth, and a bit buttery," and — crucially — not too bitter. "The less I have to sweeten, the better," she says. "[It's] truly a sip of joy."
"Golde's Pure Matcha is the best-quality matcha I've ever had," says Strategist intern Aisha Rickford. "They import it from Uji, Japan, so it's super authentic." Rickford describes the flavor as "bright, vibrant, and rich," with a "pleasant, almost green fragrance." It's flavorful enough to drink on its own with water, or can be mixed into a latte with oat milk and honey.
Kourtney Kardashian told us back in 2019 that she has a matcha latte "pretty much" every day, which she makes with this Japanese matcha powder from Maeda. When mixed with almond milk and maple syrup, it makes the "best matcha latte I've ever had in my life." She added, "Whenever I have a friend over and we're hanging out, I love to make matcha lattes. Especially in the summer."
Best matcha powder for smoothies
Surfer Kelly Slater doesn't drink matcha every day, but he "drinks it a lot, like multiple times a week." He uses this ceremonial-grade matcha from SunLife Organics, a California-based smoothie and health-food shop, which he describes as "really high quality" and "a little bit bitter, but I've grown to like it." It can be enjoyed on its own with water, or as SunLife Organics serves it: blended with ice, coconut, and protein powder.
Best sweetened matcha powder
"I've never been a coffee person — it makes me jittery. For some reason, matcha doesn't make me jittery, even though I've heard that it has more caffeine than coffee," actor Michael Zegen told us back in July. "Whatever the case, I definitely feel awake after drinking this, and there's no crash." After the pandemic hit and a friend gifted Zegen this matcha latte mix, he says it's since "become my morning ritual." And since it's already sweetened with cane sugar, you won't have to add anything else but your milk of choice.
Best matcha bowls and whisks
There are lots of ways to enjoy matcha — including putting it in smoothies or baking with it — but if you are going to prepare matcha the traditional way, Souheki Mori, a certified Japanese tea-ceremony master and owner of Setsugekka, a matcha tea house located in the East Village, advises using water heated to 180 degrees Fahrenheit, combining two ounces of water to every 1.5 grams of matcha powder, and whisking in an M or W motion to create a fine foam. With that said, here are some of the tools that our experts like to use (and mentioned in passing).
If you're going to prepare matcha the traditional way, a matcha bowl and bamboo whisk are necessary to achieve the proper foamy, creamy consistency. "I bought my set in Japan as a replacement to a set that I inherited from my grandma," says Hoshikawa, but for those who aren't able to travel to Japan, she recommends this "beautiful" matcha tea set from Palais des Thés. "It even comes with a traditional matcha spatula — chashaku — the little spoonlike stick thing to scoop out a single serving," she adds.
Mori told us that handmade bamboo tea whisks, unlike machine-made ones, are best for making foam, since they're able to "dance in the hot water." Tachi sticks to bamboo whisks for preparing her matcha as well, replacing them "whenever the bristles start to break." She likes this one, which is made in Japan from pesticide-free bamboo.
While Gore is committed to her Sharp tea-maker for preparing her matcha lattes, she told us that she's "tempted" to buy these easy-to-grip matcha bowls from Summer School. They have a wavy, satiny exterior and, since they're handmade, each one is unique.