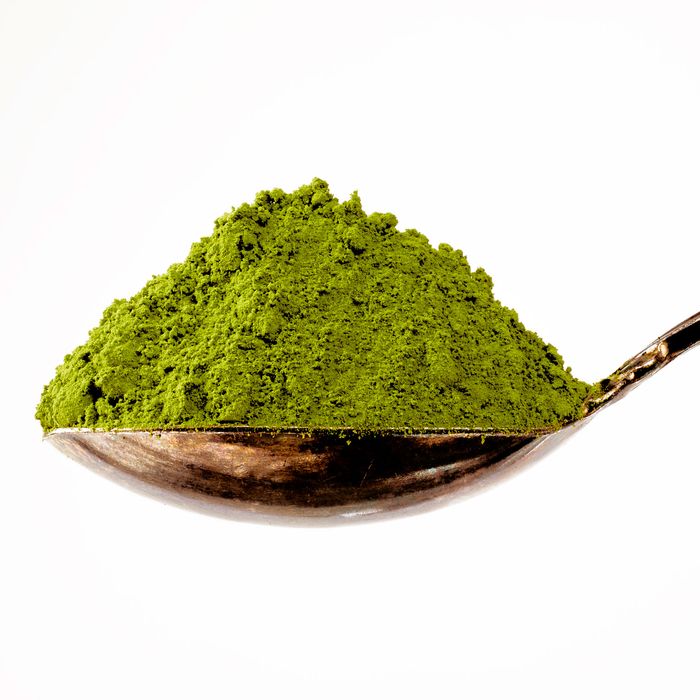 Making matcha — green tea that you fully incorporate, instead of steep, into water — can be a finicky practice. It all starts with creating the powder, an ancient process that dates back to 12th-century Japan. (The overall technique of drying, pulverizing, then mixing whole tea leaves into water to drink dates back even earlier, to tenth-century China.) Today, even with their proliferation in countless shops and grocery stores, matcha powders are not necessarily made equal. When we went on the hunt to find the best ones, nearly all of the experts we consulted warned us that products can vary in flavor and bitterness due to rushed or irregular tea-leaf handling.
One way to ensure you're setting yourself up for success either way is by looking for brands that import tea from Japan because the processing there is generally more consistent than in other places. To make your search even easier, we talked with many experienced matcha drinkers and bakers about their favorites.
What we're looking for
There are two common categories of match powders to know. Ceremonial-grade is best for drinking, whether that's the traditional way, in water, or in something like a latte. According to Michelle Puyane, founder and owner of Chalait in New York City, "There's no official definition or regulation around what 'ceremonial-grade' is, but it generally means matcha made from the youngest, most tender leaves, ground with stone to keep them cool." Culinary-grade matcha is better for baking. "Culinary-grade should have a more intense taste, so that it can stand up to sweetness or dairy or whatever else it mingles with, " Puyane says. "If the matcha is too subtle or smooth, the flavor will get lost." (It should be noted that you can — and many people do — bake with ceremonial grade powder. You just want to be careful you're not wasting a super expensive product somewhere it will disappear.)
This is, of course, a subjective category, like defining the tasting notes of wine or olive oil. But the more matcha you try, the more you'll come to understand that some lean more bitter, others smoother. Some have chocolate undertones, others a strong sense of umami. I did my best to describe each, based on what the experts and the company websites said.
Best overall matcha powder
Grade: Ceremonial | Flavor profile: Earthy, creamy, umami, robust
Karina Hoshikawa, beauty and wellness writer at Refinery29, told my colleague a while back that Kyoto-based Ippodo makes "the best matcha I've ever had." When I checked back in recently, she told me she's still loving it. Her go-to is "earthy, creamy" Ippodo Ummon Matcha, which she drinks plain, preparing it "the way my obaachan taught me: with the whisk (chasen) and little matcha bowl (chawan)." Although if she's in a rush, she'll use "one of those vibrating milk frothers to blend the powder and really get the foamy, airy texture."
Justin Iso, a confectionery chef and avid matcha drinker since childhood, is a fan of Ippodo and notes the company's long history, which dates back to the 1700s, and the consistent quality of its product. He likes using Ummon for cooking, finding its "forward flavors" with "more umami and astringency" perfect for foods and desserts.
If you're just getting into matcha, he says the most popular variety from Ippodo among his beginner, "non-tea-loving friends" is Sayaka, which he describes as "balanced with just a touch of bitterness and medium body."
Remy Morimoto Park, creator of the wellness blog Veggiekins (and an avid matcha drinker and reviewer), says that Ippodo is a longtime favorite, "because they have the most extensive variety — from powders that are rich and deep with umami to ones that are lighter and grassier." The price points vary, she says, but she had been pleased with every type she has tried.
Best less expensive matcha powder
Grade: Culinary | Flavor profile: Balanced, moderate sweetness
For a less expensive, highly accessible matcha powder, Ayaka Ando, founder and chef of New York City's Tadaima, believes Ito En is a solid choice. She notes its approachable flavor profile, which she describes as having "little astringency and a moderate sweetness with bitterness perceived as low." It is, she says, good straight but works quite well in smoothies, lattes, and sweets, in which "it keeps its beautiful bright-green color." Ito En also makes a sweetened version of its powder.
Best matcha powder for beginners
Grade: Ceremonial | Flavor profile: Umami, rich, vibrant, sweet
Those who really aren't sure where to begin (or just want to add some variation to their matcha drinking) might want to try this flight of powders from Breakaway, recommended by Molly Young, New York Times book critic (formerly literary critic here at New York) and a daily matcha drinker. "They treat matcha like fine wine," she says, assuring that the product is "super-consistent in quality, unlike a lot of brands." With four different jars, you can find which flavor you like best before committing to a whole $50 ceremonial-grade tin. Of course, they have varying notes (that's the point), but according to the website, you can count on each to have "lovely umami," a "rich and vibrant" taste, and a "strong finish that leaves a sweet and delicious aftertaste in the mouth."
Best high-grade matcha powder
Grade: Ceremonial | Flavor profile: Ambrosial, umami, concentrated sweetness
If you're already an avid matcha drinker and want to expand the types in your pantry, Puyane recommends the higher-end teas from Kettl, which makes "matcha for the matcha connoisseurs," she says. "When you get to that level, you're really just comparing tasting notes. Powders from the Fukuoka region might be really floral, while powders from the Uji region — the birthplace of matcha — might have more umami. And every master that blends for Kettl has secrets and techniques to how they prepare their product." Indeed, Kettl has close relationships with growers, understanding the intricacies of what they do and buying tea directly from them on a weekly basis. The company packages in Japan, too, allowing for the highest-quality powder to be sold in the U.S. at reasonable prices. This variety, which Kettl describes as having a "rich, heady fragrance and lingering sweetness," is just one of many to browse.
If you're intrigued by Kettl but want to start with something cheaper, Kader Meroni, co-founder of Atlas Tea Club, says its Soukou Matcha is a "fantastic one that won't break the bank." Kettl itself says this particular variety offers "much more than most starter matchas," working just as well whisked straight into hot water or blended with milk. "It's very smooth, and I love the notes of hazelnut," Meroni says.
Best matcha powder for baking
Grade: Culinary | Flavor profile: Deep umami, bittersweet chocolate, kombu
Puyane's own company, Chalait, makes several different tiers of ceremonial-grade matcha — Everyday, Top Ceremonial, and Limited-Release. But it most recently added to its lineup this culinary-grade powder, specifically meant for baking and whisking into smoothies and milk-based drinks. Its bolder quality means it will stand up to other flavors instead of getting lost. I'm personally more of a coffee person when it comes to my caffeine intake, but I did recently use it for baking (after using its Everyday in the past) and thought the end result was delicious. Plus, with 50 grams per tin, it's more than three times the size of its other offerings so you don't have to feel precious about wasting any top-of-the-line stuff that would be better appreciated mixed with water.
Best less expensive matcha powder for baking
Grade: Culinary | Flavor profile: Strong, bitter but not too bitter, deeply vegetal
"I'm always experimenting with different types of culinary matcha for baking," says Amy Ho, creator of Constellation Inspiration. "This one is my favorite right now." She describes Paragon's matcha as similar to Chalait's above: bold enough to stand up to butter, sugar, and other flavors she might add while baking cookies, pound cakes, cheesecakes, or any number of treats. "It's strong and it's bitter, but not too bitter," she says. "It has a really deep vegetal flavor."
Best matcha powder for drinks
Grade: Ceremonial | Flavor profile: Well-rounded, sweet, balanced
Asia Lui Chapa, author of The Home Café, has been using Jade Leaf's matcha for five years or so — even longer than she's been developing drink recipes. To this day, it holds up. "It's sweet, it's balanced, and it has that vegetal quality," she says. The balance allows her to use it in many different drinks, whether that's straight with water, combined with tonic water, added to smoothies, and even in a cocktail, where the matcha almost acts like a replacement for bitters, she says.
Best matcha powder for lattes
Grade: Ceremonial | Flavor profile: Smooth, balanced, grassy
Strategist-favorite brand Golde makes superfood products accessible — both in terms of price and in terms of how they're presented (meaning, no high-minded, out-of-reach wellness rhetoric) — and its matcha is no different. The powder comes in the company's signature bright, bold packaging, but it's the good stuff — ceremonial grade from Uji. While the brand says you can use the powder in a variety of preparations, the instructions on the site are particularly for making matcha lattes — and that certainly seems to be most people's favorite use, with plenty of videos of the drink dotting its Instagram and a dedicated frother always used in demonstrations. Food writer and editor Aliza Abarbanel has been turning to Golde's matcha for a few years as a pick-me-up. "When I'm getting sleepy at 2 p.m. but don't want to max out on caffeine, this is what I reach for," she says. "The gently grassy tea is perfect for mixing with oat or coconut milk for an afternoon energy boost."
Best sustainable matcha powder
Grade: Ceremonial | Flavor profile: Floral, honey, cream
While all of the matcha powders on this list (with the exception of Ito En) source their leaves directly from Japan, Matchaful's process has an "extra level of sustainability," says Park. The company shades its plants — an essential part of the growing process — with solar panels that generate power for nearby towns in the Shizuoka region. "The founder spent a lot of time learning," Park explains, "and has a deep relationship with the farmers now." As for the powder itself, she says it's very high-quality, creating no lumps when you whisk, with a light and floral taste.
Other teas we've written about
Our experts
• Aliza Abarbanel, food writer and editor
• Ayaka Ando, founder and chef of New York City's Tadaima
• Asia Lui Chapa, author of The Home Cafe
• Amy Ho, creator of Constellation Inspiration
• Karina Hoshikawa, beauty and wellness writer at Refinery29
• Justin Iso, confectionery chef
• Kader Meroni, co-founder of Atlas Tea Club
• Remy Morimoto Park, creator of Veggiekins
• Michelle Puyane, founder and owner of Chalait
• Molly Young, New York Times book critic
The Strategist is designed to surface the most useful, expert recommendations for things to buy across the vast e-commerce landscape. Some of our latest conquests include the best acne treatments, rolling luggage, pillows for side sleepers, natural anxiety remedies, and bath towels. We update links when possible, but note that deals can expire and all prices are subject to change.