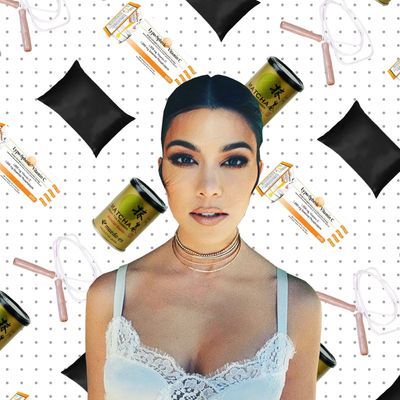 Photo: Courtesy of the subject
If you're like us, you've probably wondered what famous people add to their carts. Not the JAR brooch and Louis XV chair, but the hand sanitizer and the electric toothbrush. We asked Kourtney Kardashian — whose wellness brand Poosh has partnered with Saje — about the matcha, foundation, and silk pillowcase she can't live without.
First of all, I love to jump rope. But when I travel and if I'm not sure I'll have access to a gym or if I'm with my kids, I may not want to leave and go work out, so I will do that. And you can do it anywhere, like in your hotel room. I would do it by the pool in Italy. Our whole summer in Italy, I would jump rope every day for 20 minutes — my trainer says that jump-roping is like double running, so if I jump-roped for 20 minutes, it's like running for 40 minutes. I just think it like, lifts my butt. It's hard — it's something that you have to build up to — but I just put on music and jump rope for 20 minutes. It's amazing. And I like that this one's not plastic.
I went to this artist's house one day, and they had this special tin of matcha that was from Japan. That was the first time I've ever had matcha. I hope this is the right one, by the way, because we were looking through my pantry and I was like, I think that's it. But that's how I even became aware of matcha, and this was before matcha lattes were everywhere. They made it the traditional way with a specific water temperature. Then I ordered the powder and started making lattes with it — the recipe's on Poosh, it's like, literally the best matcha latte I've ever had in my life.
I've been practicing making it at home for so long. And whenever I have a friend over and we're hanging out, I love to make matcha lattes — especially in the summer, it's just so good. I don't have coffee, so I pretty much have one matcha latte every day. I love it with oat milk, but even though it's gluten-free, my doctor still doesn't love me, with my gluten allergies, to have it, so I make it with almond milk and maple syrup.
I use this every day for the gym. I used to bring a real plastic, you know, water bottle, but obviously I just feel it's so dated to use plastic water bottles. And then in my house I have boxed waters. But I feel very strongly that if you're leaving the house and need to take a water to go that everyone should use the S'well bottles, or have a glass of water at home. But just to even fill it up for the day and know how much you're drinking, I think is important. I think it's nice for everyone in my house to do that.
I try to drink 12 glasses of water a day, so depending on which size S'well I'm using, I kind of calculate it by that. I also have the smaller size for my kids to bring to school. And I've seen friends of mine who keep them filled and in the fridge so when they have guests, instead of giving them a bottled water, they give them that. That same friend travels with her empty one to the airport and then fills it up after security, so instead of buying a plastic bottle of water, she goes to one of the coffee places and it's free. I thought that was a great idea.
So I used to use the original version, but this is a newer formula that has hyaluronic acid in it — it's a much thinner formula. And it scores really well on EWG — hold on, my mom is sick, and I'm having bone broth dropped off to her — okay, so, yeah, that's what made me curious to switch. I always get nervous with trying different sunscreens, that it's going to make me break out, but it's also really important to me that it's safe to use every day. I love that I'm using something that is clean. And it does not make me break out. I also put it on my hands, and make sure I put it down to my neck and chest. It's the last step of my skin care, depending on what I'm doing for the day. If I don't have to put on makeup, I won't; if I'm filming, or, you know, going somewhere, then I will put on makeup.
I always have to sleep on a silk pillowcase. I remember when I was maybe 15, and one of my mom's best friends, she was an actress, told us the No. 1 beauty tip is to sleep on a silk pillowcase. I've done it since I was in high school. And now I travel with mine. If I'm going anywhere for more than like, two nights then I definitely bring my silk pillowcase. I have to have my pillow and silk pillowcase on the plane to sleep on, so I usually bring it. I love it — I think it's great for skin and hair, and they say it helps with wrinkles. I just think it's amazing.
Okay, so this is the foundation I use every single day. At a point my skin was breaking out a lot from just different makeup artists using different foundations on me. Even me, like depending on the occasion, I would use different foundations. So my dermatologist suggested that I try to stick to one foundation, and this one is actually good for your skin. I think it's even healing, it lets your skin breathe. This is the only foundation I use now. Whenever I have anyone do my makeup, I have them use this on me. The coverage is good actually, sometimes I even wish it was a bit less because I don't always want so much coverage. And I apply it with my hands, I find that works the best with this formula. But, yeah, I mean it definitely has coverage. I could use that and not have to use concealer for anything if I just want to do quick makeup and nothing else.
I want to say my mom told us about these maybe like, ten years ago. She said this doctor said that this is the best way to take vitamin C. I never take those sugary, to-go vitamin C — I think this is like, the real deal. I try to take it every morning, but if I feel slightly like I'm getting sick and 100-percent when I'm on an airplane, I take it. When I'm traveling, just as an extra boost, I'll even take up to two a day. I keep my travel bags packed always, like, I have one that's all supplements, and I keep that in there. And I think they're great for skin too, like internally, for your immunity, for so many different things, I love them.
I think scent is really powerful. I'm really drawn to gardenia, so I have gardenias growing outside of my house. I don't know if there was something from my childhood, but Kim and I both feel the same way about gardenias. And then, I just love the smell of Christmas, I can't wait for my whole house to smell like Christmas, just like, the trees and gingerbread. My mom always has these gingerbread houses delivered to us, and they make your whole kitchen smell like gingerbread.
Now I love having a specific scent for my home. With our Poosh oil blend I definitely have that going. I think it's important to put it in areas that you spend a lot of time in. I have one in my bedroom, I have one in my kitchen. So this blend has top notes of rose, lavender, and grapefruit. We wanted it to have a positive, uplifting feel, but it definitely relaxes and calms. When I walk into my house, there's just something about that scent — it's just nice, without even realizing it. The only time I switch it up is when I'm sick; I do a vapor kind of thing where you inhale the mist and steam your face. I do that with peppermint, lavender, and thyme. I have a natural doctor that I go to, and that's what he told me to do when I was sick. I had this really bad sinus infection, and that really helped me.
The Strategist is designed to surface the most useful, expert recommendations for things to buy across the vast e-commerce landscape. Some of our latest conquests include the best acne treatments, rolling luggage, pillows for side sleepers, natural anxiety remedies, and bath towels. We update links when possible, but note that deals can expire and all prices are subject to change.